This post may contain paid links. If you make a purchase through links on our site, we may earn a commission.
Air fryers live up to the hype: quick cook times, less oil than other methods, and simple recipes (even for burgers and steak!). Follow my kitchen-tested Air Fryer Tips to get the best results every time, whether you're new to air frying or already love to air fry everything!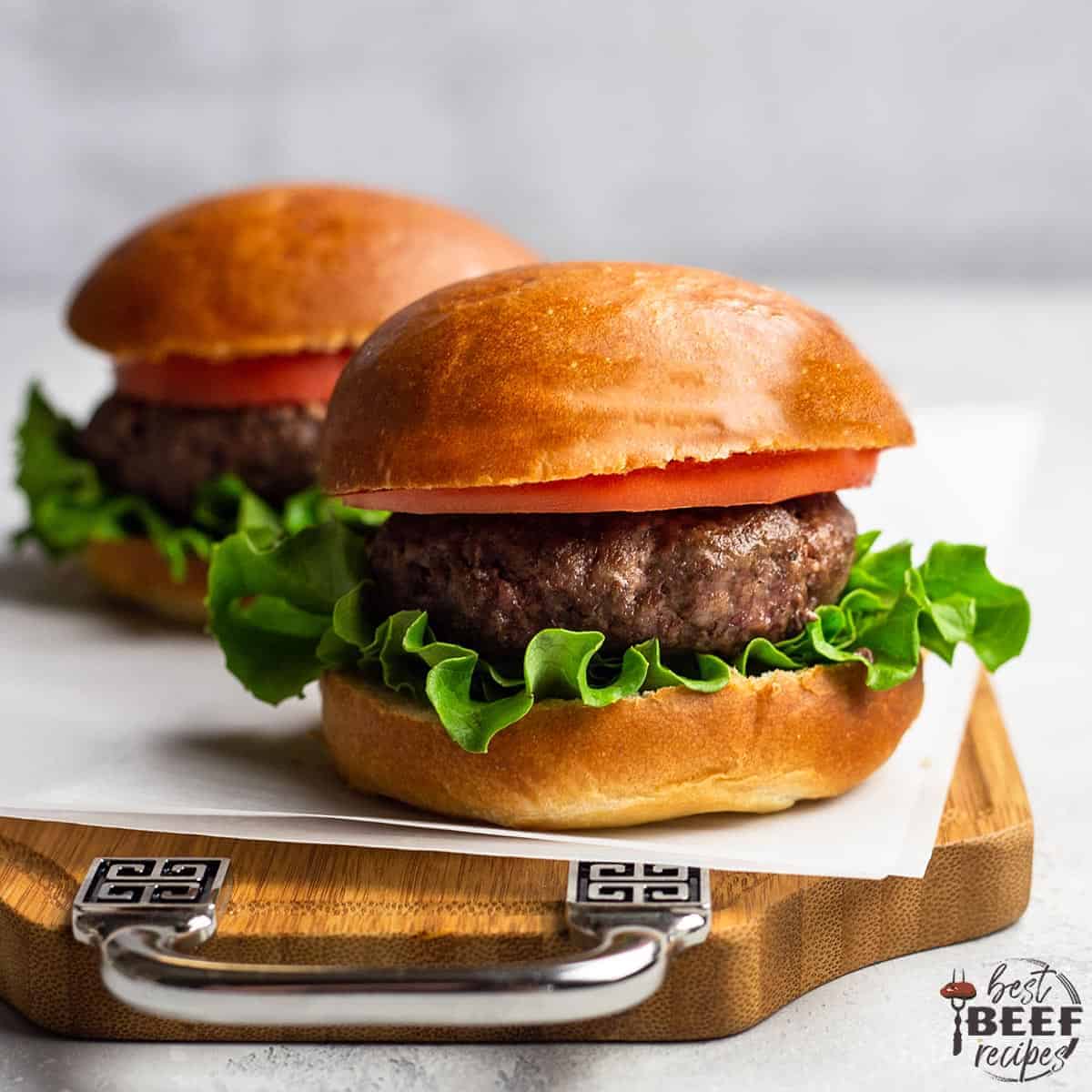 Jump to:
What is air frying?
An air fryer is essentially a mini convection oven, a type of oven that uses a fan and vent to circulate and evenly distribute heat, which helps cook and brown food evenly and more quickly. Similarly, air fryers cook food using high heat and a high-power fan that circulates heat around the food, and can cook oven recipes in less time with even cooking results. Some use miniature baking trays, while other use baskets.
Air fryers are a for-sure way to change your kitchen, and how you cook, forever! The most important thing to know about them is what they can do, and what they can't. They may seem like a magic appliance, and they are- but only when you know how to use them!
There are a few key factors to making the best use out of your air fryer, starting with how to use oil in the air fryer, how to use an air fryer, and proper air fryer cooking times!
Do you put oil in an air fryer?
While it's true that the air fryer can cook up tasty, crispy dishes without using nearly as much oil as other cooking methods, you do still need to add oil. Here are the basic rules and tips for how to use an air fryer with oil:
Never use aerosol-based oil sprays like PAM, or other cooking sprays! Aerosol sprays chip the nonstick coating of air fryer baskets. Oil added to a kitchen spritzer is safe.
The basket should always be oiled before adding food unless the food itself has been oiled beforehand, or else food can stick and tear. Pouring oil on a paper towel to rub over the basket works great for this.
The food being added to the basket still needs to have a thin layer of oil! This will help crisp the food, and keep it from getting dry while cooking. I recommend tossing the food in oil before adding it to the basket.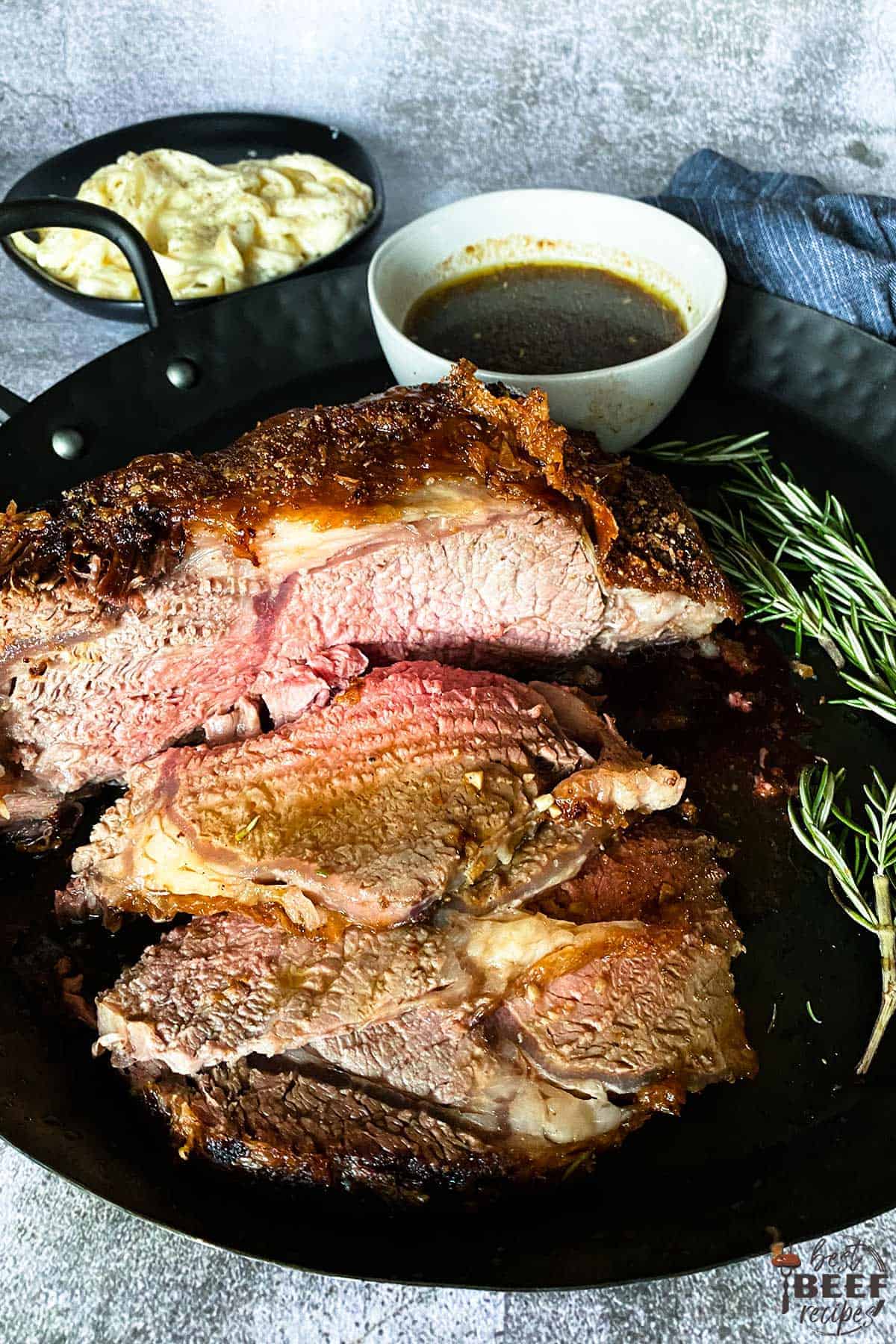 How to Use an Air Fryer
1. Preheat your air fryer.
A lot of air fryer recipes will start with preheating, which may leave you asking, how do you preheat an air fryer? Just set it to the cooking temperature for the recipe, and the time to 4 minutes. Let it heat without anything in the basket. Some air fryers have a built-in preheating option to save you some time.
2. Don't overcrowd the basket.
An overfilled basket can keep the food from cooking evenly, or sometimes keep it from cooking at all! Make sure not to stack meat on top of meat or place food too closely together. It's always better to just cook in batches instead.
3. Shake the basket for foods like fries and wings.
Shake the basket every few minutes to ensure food like fries and wings cook evenly. This isn't necessary for larger foods like burgers, steaks, etc. - just flip those.
4. Add water or bread to stop grease from smoking.
Grease tends to collect in the bottom of the basket. This grease is easy enough to clean, but can start smoking and stinking up the kitchen, To avoid it, when cooking high-fat foods, add a cup of water or a slice of bread to the bottom of the pan.
5. Use toothpicks to keep lightweight food in place.
Air fryers are powered by a fan. What this means is that very lightweight items like can get blown around and even stick to the heating element, which can ignite and cause a fire. Use a toothpick to hold lightweight foods, like bread on top of a sandwich, in place.
Air Fryer Cooking Times
The size of your air fryer may change cooking time to account for more or less space surrounding the food, so you may need to adjust depending on the size of your air fryer.
The wattage of your air fryer will impact cooking time. 1400 watt air fryers cook more slowly than 1800 watts; if yours has 1400 watts, you may need to adjust the cooking time and even temperature to get the same results as a higher watt air fryer.
Most oven recipes can be converted to air fryer recipes and will cook in half the time. Use the same temperature you would in the oven, cook for half the time, and adjust as necessary for doneness.
When cooking meat, the most important part when cooking with the air fryer is to check the internal temperature. If you're cooking beef, use my Beef Temperature Chart and a meat thermometer. For chicken, use my Chicken Temperature Chart, and for pork, use my Pork Temperature Chart.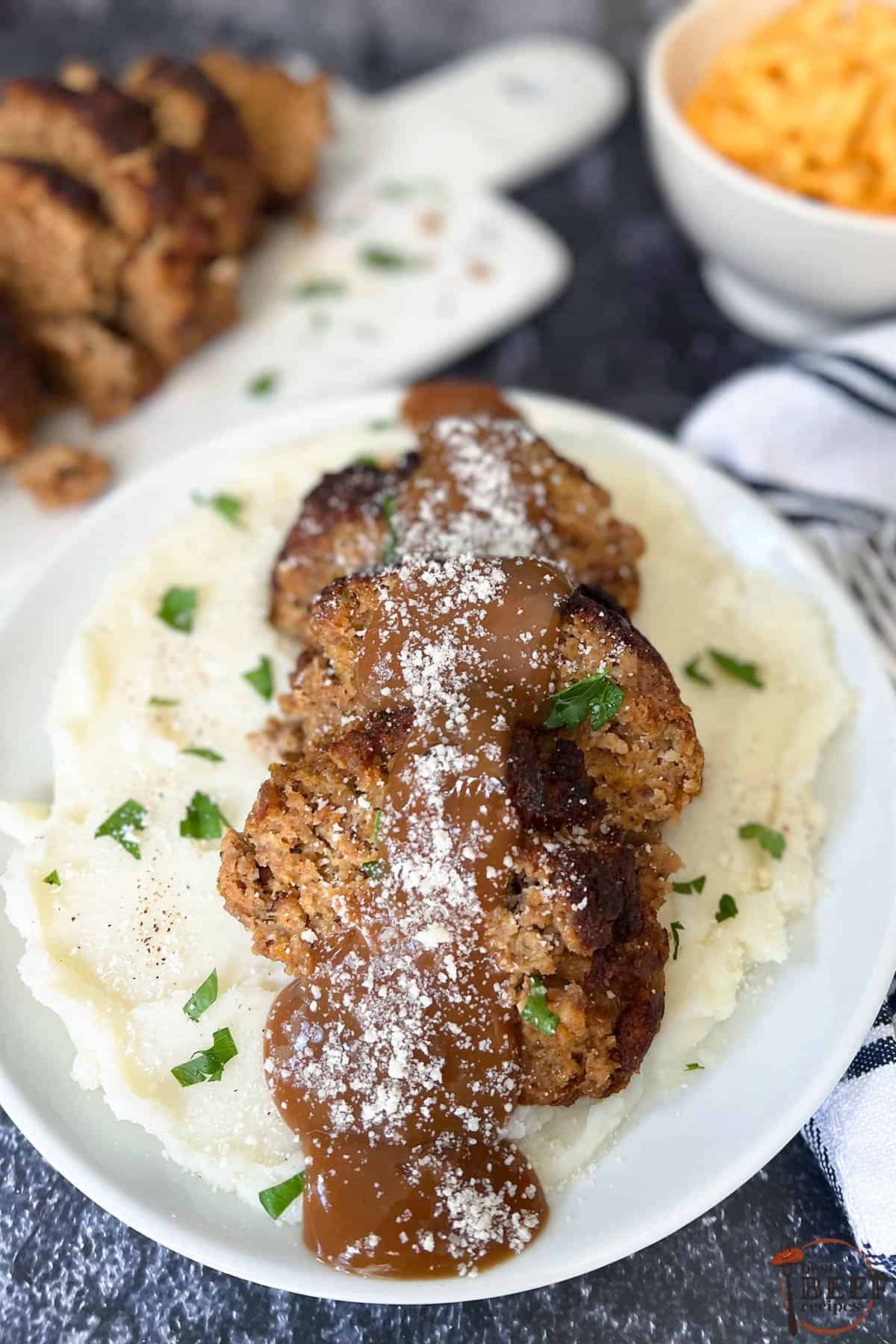 How to Clean an Air Fryer
You've made a delicious meal- so how do you keep this appliance clean? It's not so different than cleaning a pan! Here are all my favorite air fryer cleaning hacks and a step-by-step guide to keeping your new favorite appliance as fresh as the day you bought it!
How to clean an Air Fryer basket:
Once the basket is emptied of food, let it cool for 5-10 minutes.
Remove the basket from the pan and wipe down with a soapy sponge or towel, gently scrubbing at any stuck-on bits.
Dry the basket thoroughly, then clean the pan with soap and water and dry as well.
You can speed up the drying process by putting the air fryer basket back in the air fryer and running it for a few minutes.
Air fryers have a heating element in very close proximity to the food compared to ovens, so it's important to clean them regularly to ensure grease doesn't harden and get stuck. Do so carefully, following the instructions below.
How to clean an Air Fryer heating element:
Unplug the air fryer before you ever touch the inside of the machine. Make sure it is completely cooled down.
Damp a towel or sponge with lightly soapy water, and wipe down all of the inside surfaces, including the exposed heating element.
Dry all surfaces thoroughly.
If grease is really stuck on, add 1 cup of water to the air fryer basket and let it cook on high for a few minutes. Let it rest until the water has cooled, then wipe the inside of the air fryer down again.
The most important part of cleaning an air fryer is to never put your air fryer basket in the dishwasher! Just like with pans, the nonstick coating of an air fryer basket will quickly start to bubble, peel, and get ruined, and the metal can even start to rust.
Air Fryer Recipes for Beginners
Here's a secret about air fryers- there's almost no difference between recipes for beginners and experts! It makes everything so easy, you'll be cooking up incredible meals in no time! Here are some of my favorites!
Air Fryer Burgers
My life changed when I first tried making burgers in the air fryer! They turn out perfect every time and it's completely mess free. Just give the basket a scrub, and you're all done- never deal with oil spattering all over again!
get the recipe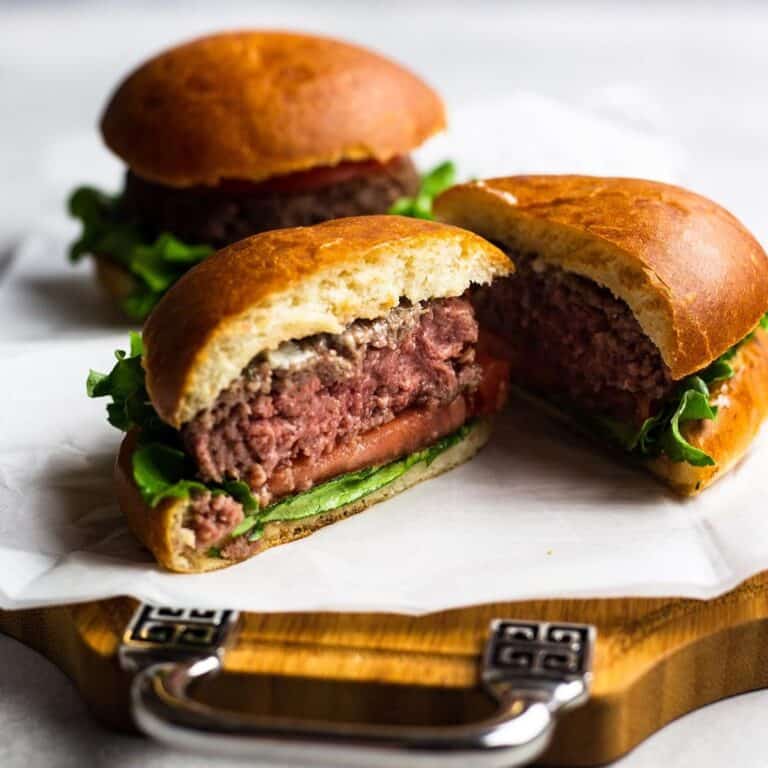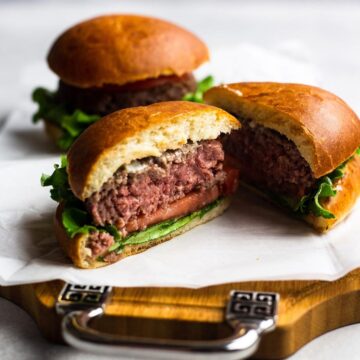 Air Fryer Prime Rib
Prime rib in an air fryer might sound like an odd choice, but you would not believe how perfect it turns out! It's fast, easy, and incredible every single time. Air fryer cooking can be easy and luxurious!
get the recipe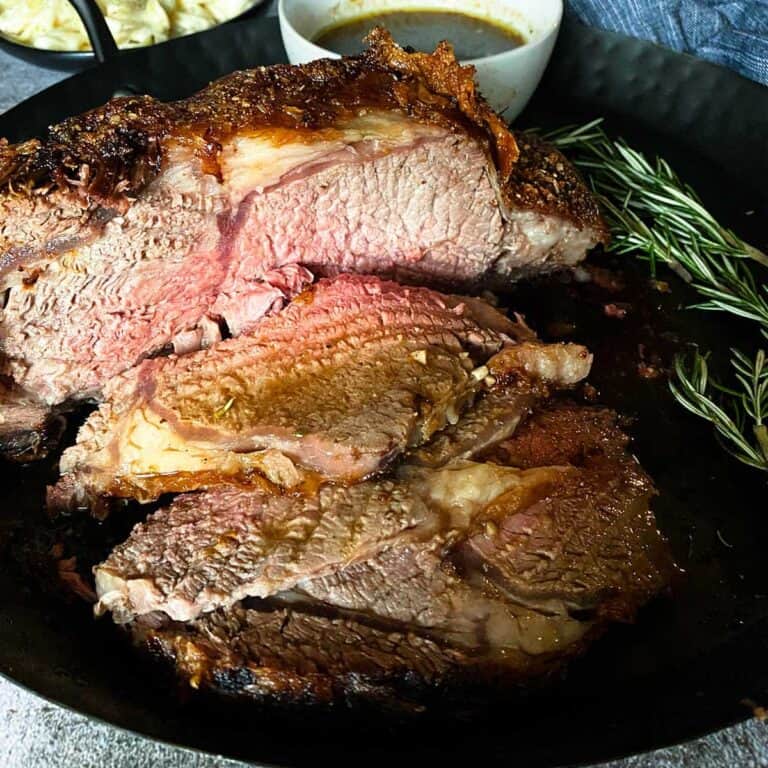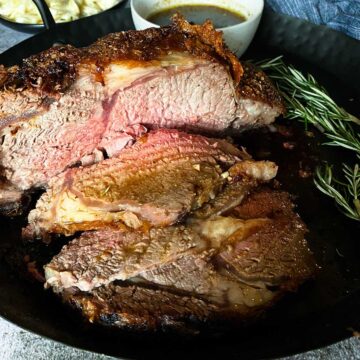 Air Fryer Meatloaf
Whip up a cozy taste of home in an all-new way with meatloaf in the air fryer! Recipes like this one are what taught me the true power of the air fryer. It really can make anything fast and as delicious as ever!
get the recipe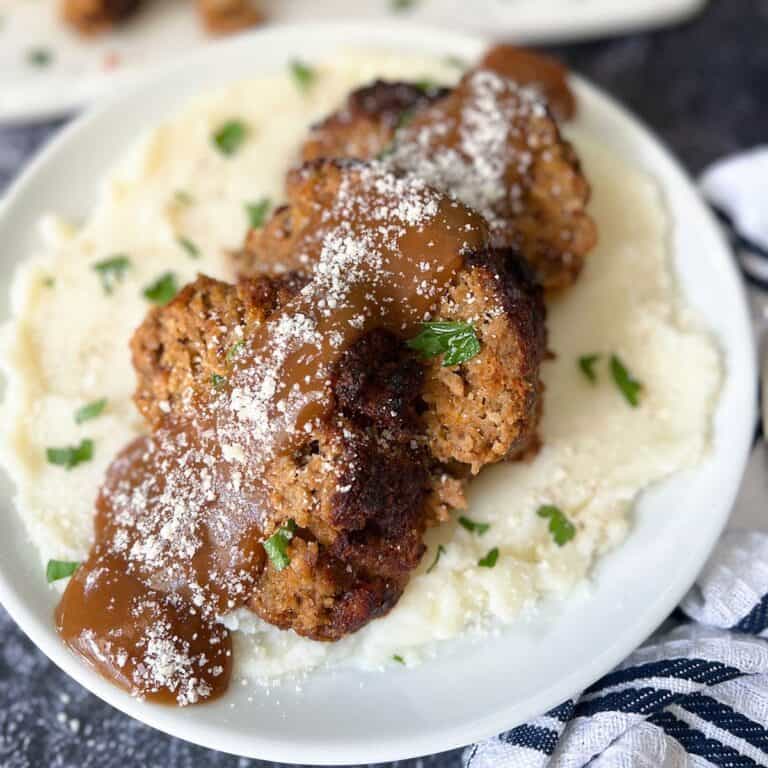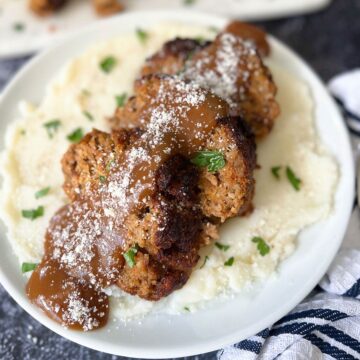 Air Fryer Meatballs
What's better than meatballs? How about meatballs done in less than ten minutes? The air fryer makes this recipe so fast and easy, they'll be done before the pasta is done cooking! It's my new favorite way to make meatballs!
get the recipe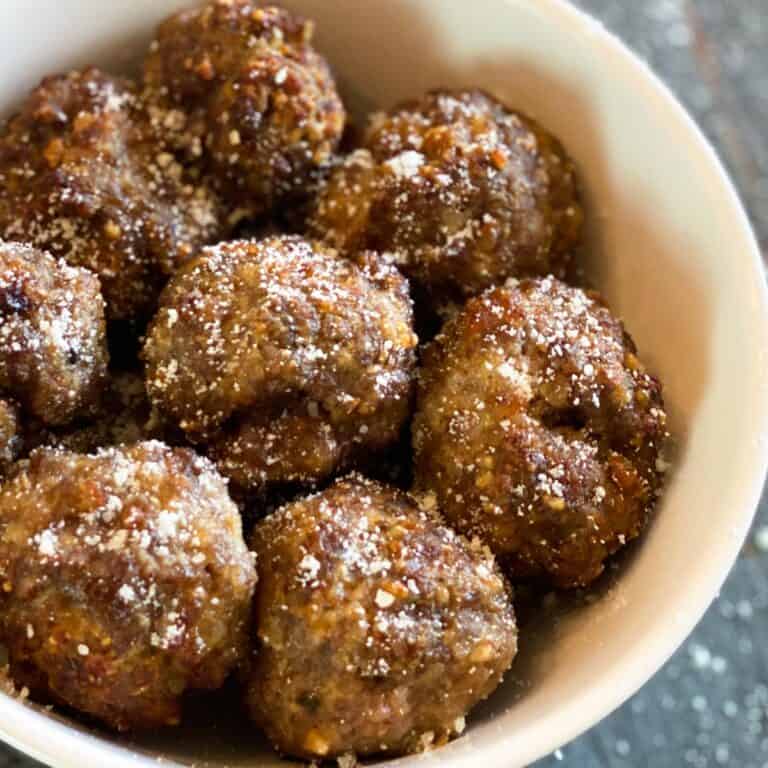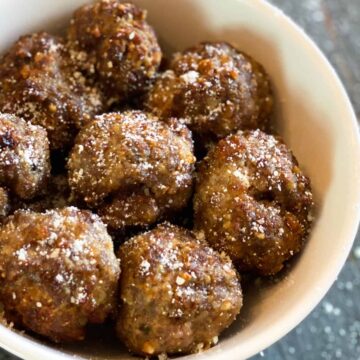 Air Fryer Steak Bites
Steak bites alone are hard to resist, but pair them with cowboy butter dipping sauce and you won't be able to get enough of them! And with the air fryer, this recipe is so easy, it's almost criminal how delicious it turns out.
get the recipe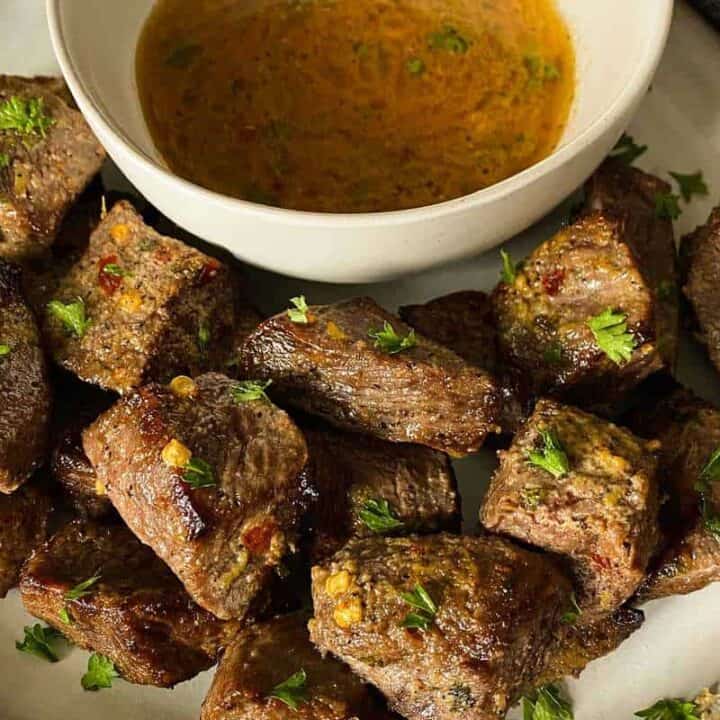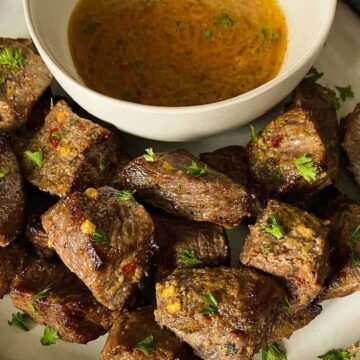 Air Fryer Philly Cheesesteak Egg Rolls
No need for a deep fryer- make the perfect crunchy, crispy, melty egg rolls in a matter of minutes with the air fryer! These Philly cheesesteak egg rolls are the perfect party platter appetizer and can even be made ahead or frozen for later!
get the recipe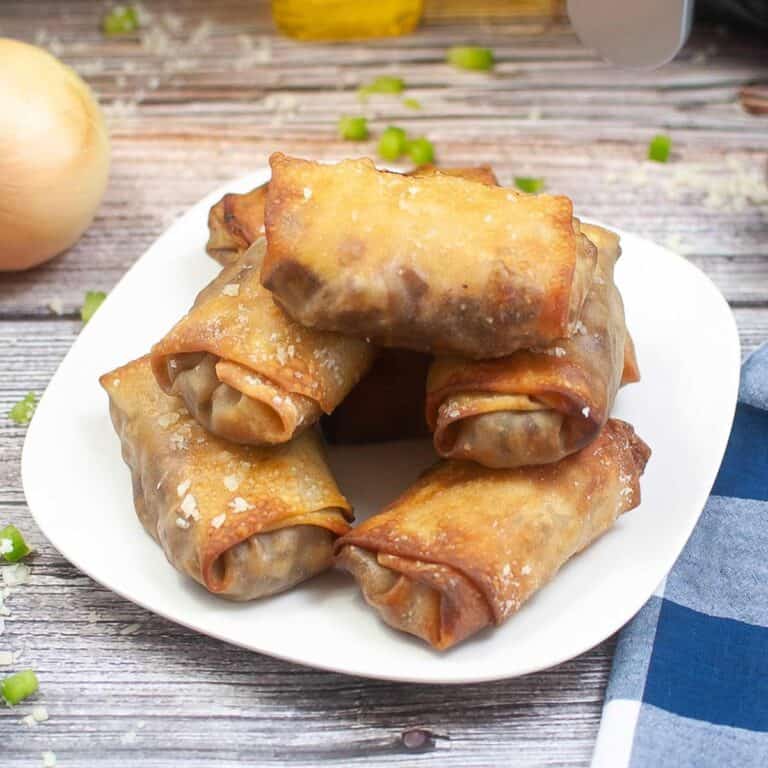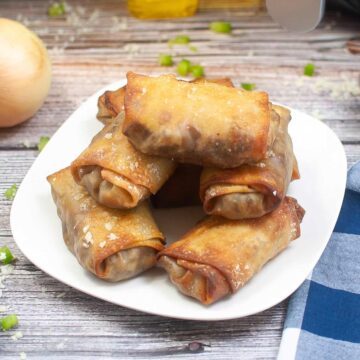 Air Fryer Tips FAQs
What cannot be cooked in an air fryer?
Food with a wet batter tends to not cook well in an air fryer, as it will leak through the holes of the basket. Your food should also be the correct size to cook in the air fryer, or it won't work - so make sure it fits in the basket without getting too close to the heating element before planning to air fry it.
Can I put aluminum foil in an air fryer?
Anything that is oven-safe is air fryer-safe, so you can use aluminum foil in the air fryer in addition to things like oven-safe baking dishes and so on.
Air Fryer Steak
Yes, seriously- air fryer steak! Steak can be one of the hardest meals to cook correctly, with it taking only minutes for the meat to overcook and get tough. Trust me, I love steak, and I still can have a hard time getting it just right! Never mind the absolute mess it makes of the stove!
Air fryer steak is the answer to all my woes. It's so easy to adjust the time to how you like your steak, and cleanup is a breeze. Want perfect steak every time? Try the air fryer! Scroll below for the recipe!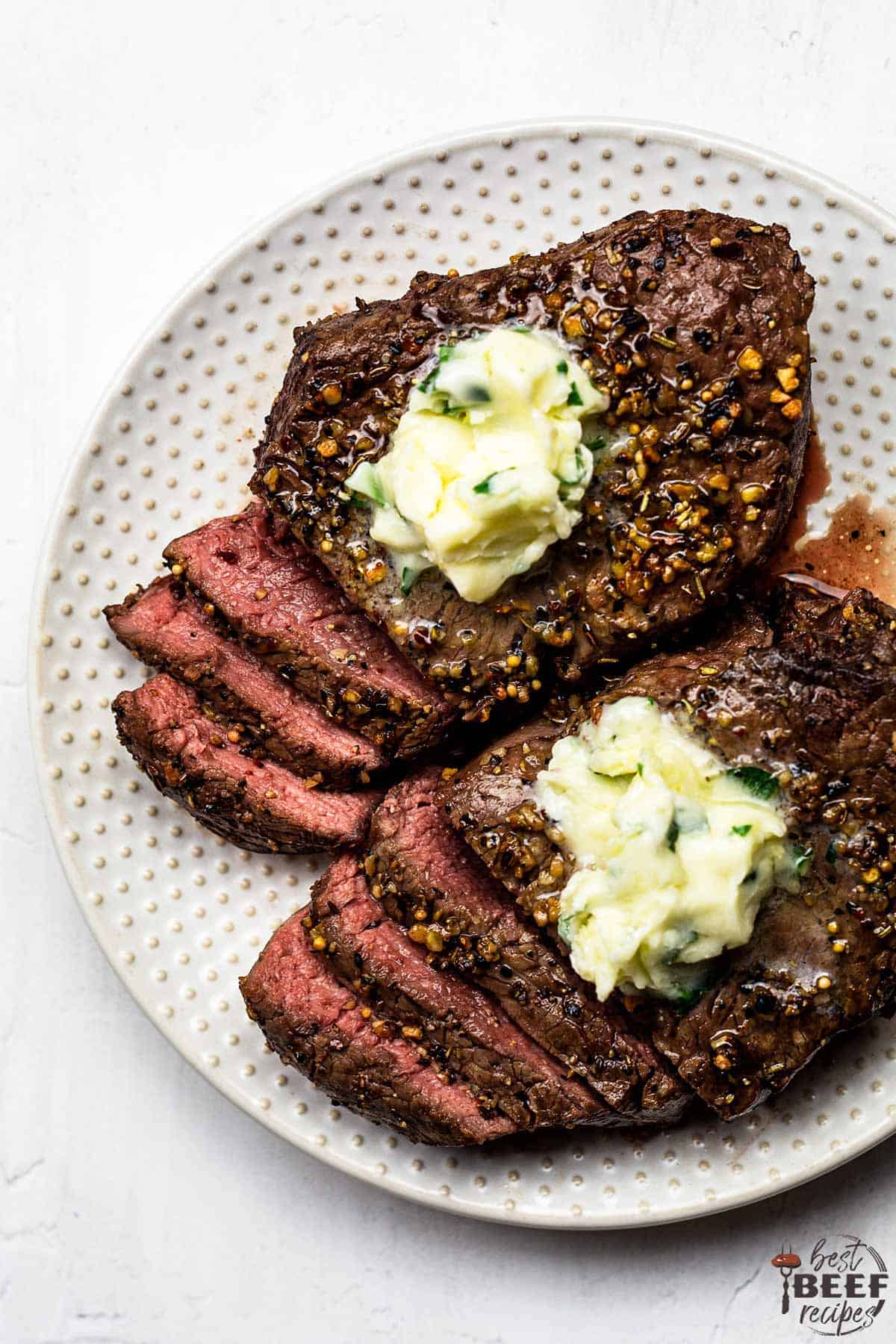 📌 Pin it for later!
Did you enjoy this page? Save it on Pinterest for later!



Did you try this recipe? Leave a comment and a rating below to let us know what you think! We love to hear from you!
📋 Recipe
Air Fryer Tips (+ Air Fryer Steak Recipe)
Get the most out of your Air Fryer with my tips and tricks! Air fryer tips for cooking, cleaning, and amazing recipes, all in one place - including a recipe for air fryer steak!
Ingredients
See our Beef Temperature Chart for helpful tips on cooking any cut of beef!
Instructions
Sprinkle 2 tablespoons steak seasoning on to each side of the steaks, patting it down to make it stick.

2 six oz. filet mignon steaks,

2 Tablespoons Chicago steak seasoning

Set on a plate and cover, then refrigerate 2 hours or overnight to marinate. Remove from the fridge, brush with olive oil, and place in the air fryer basket. Cook 4 minutes at 390°F.

Flip the steaks, and cook for approximately 4 minutes more. Remove and top with garlic butter. Let the steaks rest for 10 minutes, then slice and serve!

2 Tablespoons garlic butter sauce
Notes
Using thick steaks. If your steaks are thicker than the steaks shown here, you may need to cook them for an extra minute on each side.
Use a meat thermometer. To check if the steaks have reached your desired degree of doneness, we always recommend using a meat thermometer. If they aren't quite where you need them to be, cook them for a minute longer on each side until you reach the desired results.
Cut against the grain. Always cut the steak against the grain for the most tender bites of steak. The grain looks like lines running through the steak. You will easily be able to see them before and after cooking.
Nutrition
Serving:
1
steak
|
Calories:
493
kcal
|
Carbohydrates:
15
g
|
Protein:
5
g
|
Fat:
49
g
|
Saturated Fat:
24
g
|
Cholesterol:
92
mg
|
Sodium:
313
mg
|
Fiber:
2
g
|
Sugar:
4
g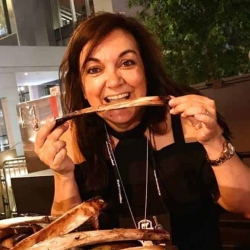 Latest posts by Isabel Laessig
(see all)