This post may contain paid links. If you make a purchase through links on our site, we may earn a commission.
Defrost ground beef just in time for dinner with my handy guide on How to Defrost Ground Beef, listing all the best methods for thawing quickly, and a few to stay away from!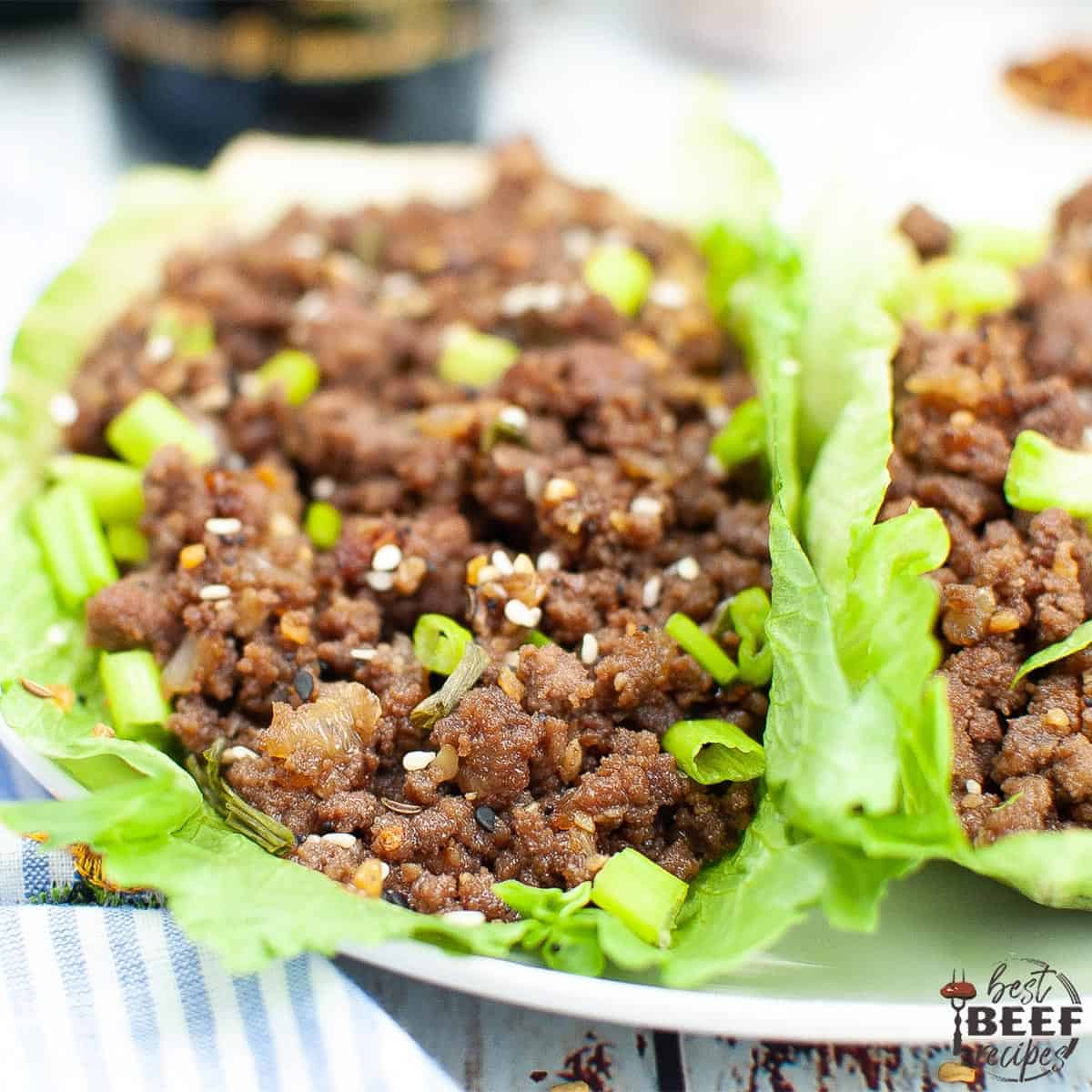 Jump to:
How to Defrost Ground Beef Fast
You'll never find my freezer without at least one package of ground beef tucked away! Ground beef is the perfect meat to store for a rainy day. It freezes well, cooks easily, and can be made into practically anything! What other meat can be burgers, meatballs, cooked into sauce or made into tacos?
And best yet, defrosting it is so easy. There are methods for how to thaw ground beef fast so that in just a few minutes, it's ready to be cooked up into tender taco filling, or seasoned and stuffed into empanadas!
Follow my handy guide below for the best ways to defrost ground beef quickly and easily, and you'll never have to struggle with having it ready in time to cook dinner ever again!
How to Defrost Ground Beef in the Microwave
If you have access to a microwave with adjustable power settings, then using the microwave is the fastest way to thaw ground beef! You can thaw any amount of beef this way in only a matter of minutes. Note, you should only use this method if you're going to cook the beef immediately after thawing it.
First, remove the ground beef from its packaging, and place it on a microwave safe plate. Cover loosely with plastic wrap.
Set the microwave to 30% power, or a preset Defrost setting, if applicable.
Place the plate in the microwave, and microwave on 30% power for 4-5 minutes per lb.
Flip the ground beef, and microwave 1 more minute.
If not yet fully thawed, break the beef into chunks and continue microwaving in 30 second bursts.
The secret to knowing how to thaw ground beef in the microwave is in knowing how to use power settings! Keeping the microwave on a low power setting will keep the beef from cooking while it thaws. Just make sure to use the beef right away, so bacteria has no time to grow.
How to Defrost Ground Beef in Cold Water
If you have more time to prepare dinner, cold water is a great way to defrost ground beef, as it is unlikely to ever reach the 40°F mark where bacteria can start to grow. It's also super simple and takes very little work!
If you want to know how to thaw ground beef quickly without a microwave, this is the way. Just be warned, it will still take an hour or more.
Set out a large bowl and fill it with cold water.
Place the ground beef in a waterproof plastic bag and press out all of the air. I find submerging the bag completely aside from the opening makes this easy!
Completely submerge the bag in the water, using a pan or bowl to weight it down if necessary.
Change out the water every 30 minutes until completely thawed.
This method will reliably keep the beef cold, making it a very safe method for defrosting the meat quickly! It will take a small package of ground beef about one hour to thaw, while packages of 3+ lbs. will take anywhere from 2-3 hours.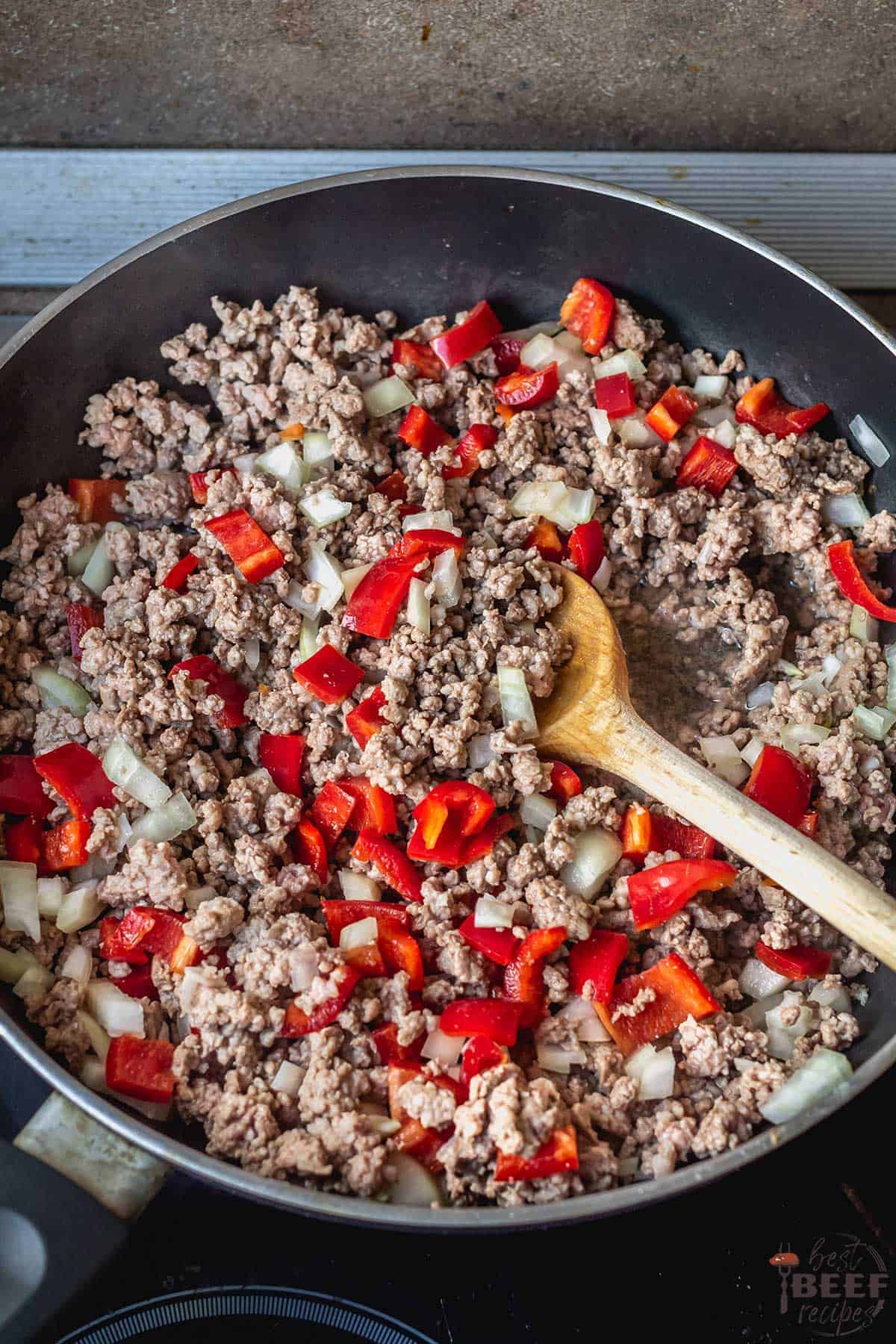 Thawing Ground Beef Overnight
By far the safest way to defrost ground beef is by thawing it in the refrigerator. This will ensure there's no chance of the beef raising above the 40°F mark, and you can start thawing it early and use it whenever you want, so you don't need to use it the instant it's thawed out.
Place the package of ground beef in a dish and place the dish in the fridge below any produce. This will keep any juices from dripping while it thaws.
Let the ground beef rest in the fridge until thawed, usually about 10 hours.
This method is simple, safe, and easy, but it's far from fast. Even a small package of ground beef will need to defrost overnight or longer, and a larger package can take 2 days or longer.
Because it can take a while, be sure your beef wasn't frozen too close to its expiration date if you plan on defrosting in the fridge.
How Not to Thaw Ground Beef
There are plenty of safe ways to defrost ground beef, but just as many commonly suggested ways that are unsafe and should be avoided. In particular, you should never try thawing ground beef on the counter. It seems like the fastest and easiest way, but defrosting ground beef on the counter means it will defrost unevenly, leaving plenty time for bacteria to multiply in the warmer outer layers of meat.
It's also similarly unsafe to try thawing ground beef in warm water. It's unlikely that the beef will defrost evenly, meaning the parts of the beef that heat up first will stay warm for far too long for it to be safe.
Remember, as soon as ground beef hits 40°F, bacteria starts rapidly multiplying in the meat and it must be cooked as soon as possible. Any method that leaves parts of the beef warm for more than a few minutes should always be avoided.
Cooking Ground Beef from Frozen
If you're truly short on time, you can cook ground beef directly out of the freezer. This will work for taco fillings and other uses that don't require the beef to be shaped, but because the meat will cook unevenly, the texture can leave something to be desired.
Additionally, you will need to cook the beef for longer than if you start from thawed to ensure that all parts of the meat are fully cooked. Overall, it may end up faster to defrost the meat in the microwave and then add it to a pan!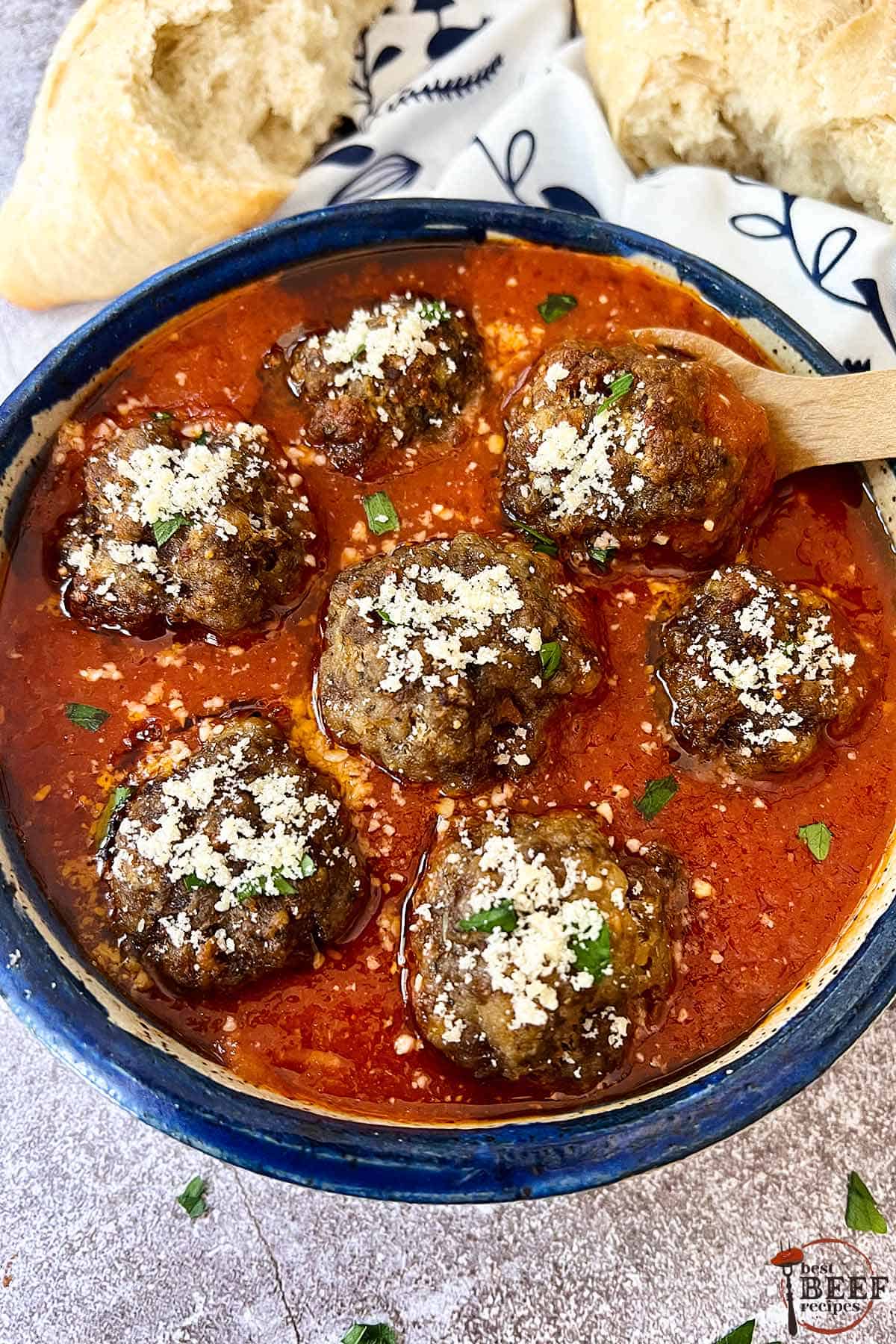 Defrosting Ground Beef FAQs
How long does it take to thaw frozen ground beef?
When you're thinking about how long to defrost ground beef, what you should first consider is what method you're using. In the microwave, defrosting ground beef takes 5-10 minutes. Using cold water, it will take 1 hour or more. In the refrigerator, defrost the ground beef overnight to 2 days.
How do I defrost ground beef quickly?
The fastest way to defrost ground beef is in the microwave! Use the defrost setting or set the microwave to 30% power, then microwave the beef on a plate loosely covered in plastic wrap for 4-5 minutes. Flip the beef, and microwave another minute, until fully thawed.
How do you defrost ground beef in 30 minutes?
The only method to reliably defrost ground beef in 30 minutes is to use the microwave defrosting method. This method will thaw any amount of ground beef in less than 30 minutes.
How long does it take ground beef to thaw in cold water?
The cold water method of thawing ground beef typically takes about one hour for a small container of roughly 2 lbs. of ground beef, with the water needing to be changed out every 30 minutes. For larger containers of beef, it may take anywhere from 2-3 hours.
Ground Beef Recipes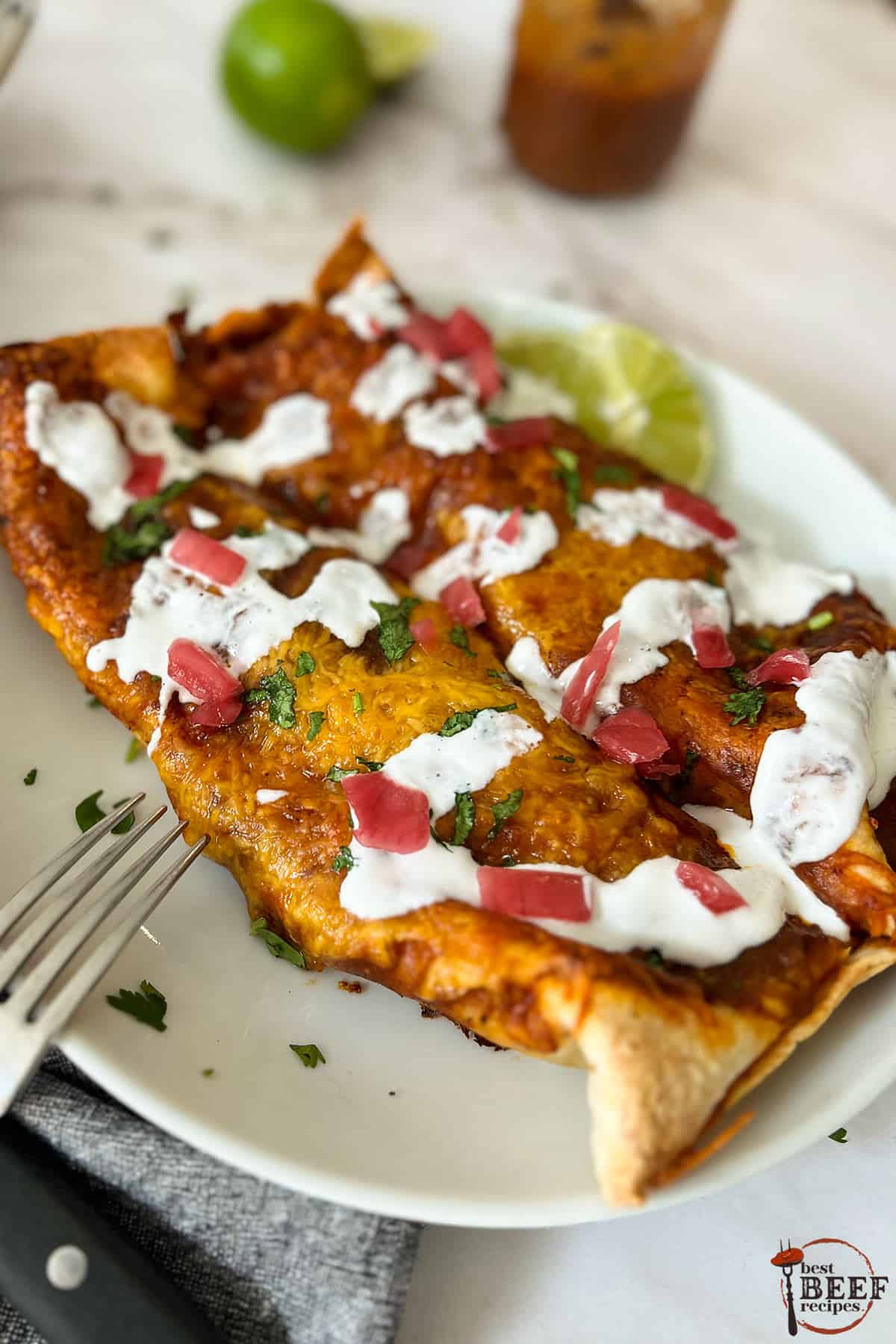 📌 Pin it for later!
Did you enjoy this page? Save it on Pinterest for later!



Did you try this recipe? Leave a comment and a rating below to let us know what you think! We love to hear from you!
📋 Recipe
How to Defrost Ground Beef
Learn how to defrost ground beef safely, quickly, and easily to make amazing recipes like Slow Cooker Taco Meat you will love!
Equipment
6-quart Slow cooker

Wooden spoon
Ingredients
3

Pounds

90/10 Lean Hamburger

1

Cup

Water

3

Tablespoons

Chili Powder

2

Tablespoons

Garlic Powder

2

Tablespoons

Dried Chopped Onion

1

Tablespoon

Coarse Ground Black Pepper

1

Tablespoon

Paprika
Salt

to taste
See our Beef Temperature Chart for helpful tips on cooking any cut of beef!
Instructions
Place fully defrosted ground beef in your crock pot, breaking it up well into small chunks with a wooden spoon.

3 Pounds 90/10 Lean Hamburger

Add the seasonings, stir well, then pour the water on top and stir again.

1 Cup Water,

3 Tablespoons Chili Powder,

2 Tablespoons Garlic Powder,

2 Tablespoons Dried Chopped Onion,

1 Tablespoon Coarse Ground Black Pepper,

1 Tablespoon Paprika,

Salt

Place the lid on to the crock pot and set to High, then cook for 3 hours.

Once cooked, taste and adjust seasonings as desired, then serve!
Notes
You will need at least a 6-quart Slow Cooker Crockpot.
If you want to cook the beef on low, it will need to cook for 6 hours.
Even if you place the meat in the slow cooker chopped up when raw, it will cook into a big disc. So, you'll want to break it up really well so all the flavors can reach as much of the hamburger as possible.
The water helps the hamburger remain moist and not dry out through the slow cooking process. It's important and shouldn't be omitted!
Nutrition
Serving:
1
serving
|
Calories:
215
kcal
|
Carbohydrates:
3
g
|
Protein:
23
g
|
Fat:
12
g
|
Saturated Fat:
5
g
|
Polyunsaturated Fat:
1
g
|
Monounsaturated Fat:
5
g
|
Trans Fat:
1
g
|
Cholesterol:
74
mg
|
Sodium:
110
mg
|
Potassium:
452
mg
|
Fiber:
1
g
|
Sugar:
1
g
|
Vitamin A:
883
IU
|
Vitamin C:
1
mg
|
Calcium:
28
mg
|
Iron:
3
mg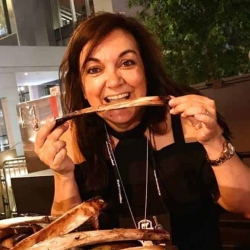 Latest posts by Isabel Laessig
(see all)