Best Beef Recipes is an Amazon Associate. We receive compensation for purchases made through affiliate links.
This Poached Egg Burger Recipe is the burger dreams are made of! Topped with caramelized onions, smoky Gruyere cheese, and a golden runny egg, it is one of the best burger recipes you will ever bite into. Ready in under 30 minutes!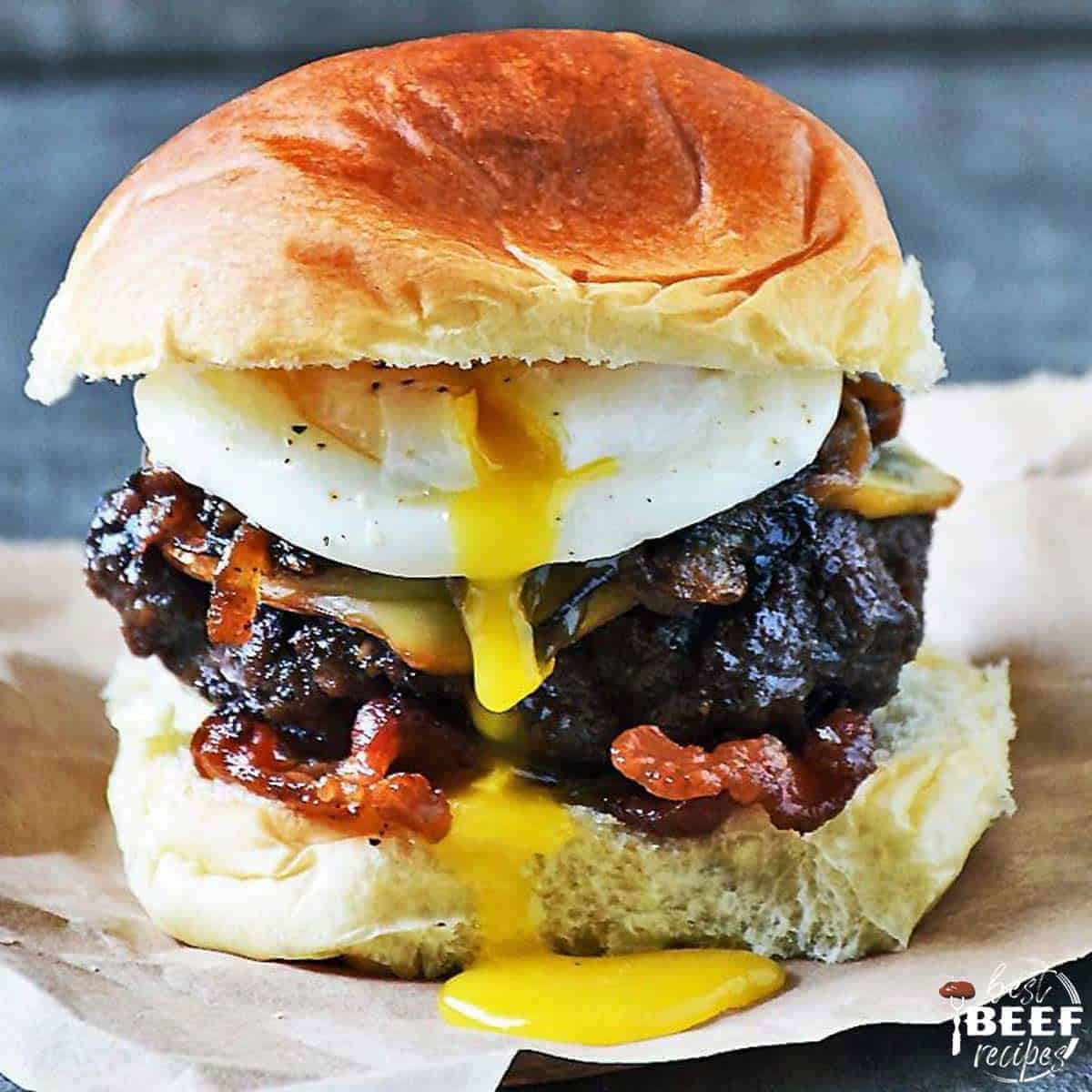 Jump to:
If you know me, you know I love burger recipes! This burger with egg recipe is one of my all-time favorites. The caramelized onions give it a sweet and smoky flavor that pairs deliciously with smoked gruyere cheese. And oh, if you haven't tried egg on burger before, you have to! It gives it so much texture.
Tools
Grill or skillet
Spatula to flip the burgers
Take just one bite of this juicy burger with egg and onions, and you will swear by eggs on burgers. This is the juiciest, most delicious loaded burger recipe. The rich, smoky, and sweet flavors will blow you away!
You can make this egg burger recipe on your grill or on a skillet on the stove. Either way, it is guaranteed to be delicious. We love grilling recipes, and have to say, this burger is especially delicious when cooked on the grill!
For this burger with egg, we use a poached egg, which also calls for a saucepan, mesh sieve, a bowl, and slotted spoon to make the egg.
The mesh sieve is not actually necessary for poaching eggs, it makes it much easier and will give you beautiful eggs every time. We recommend giving it a try for this egg burger recipe!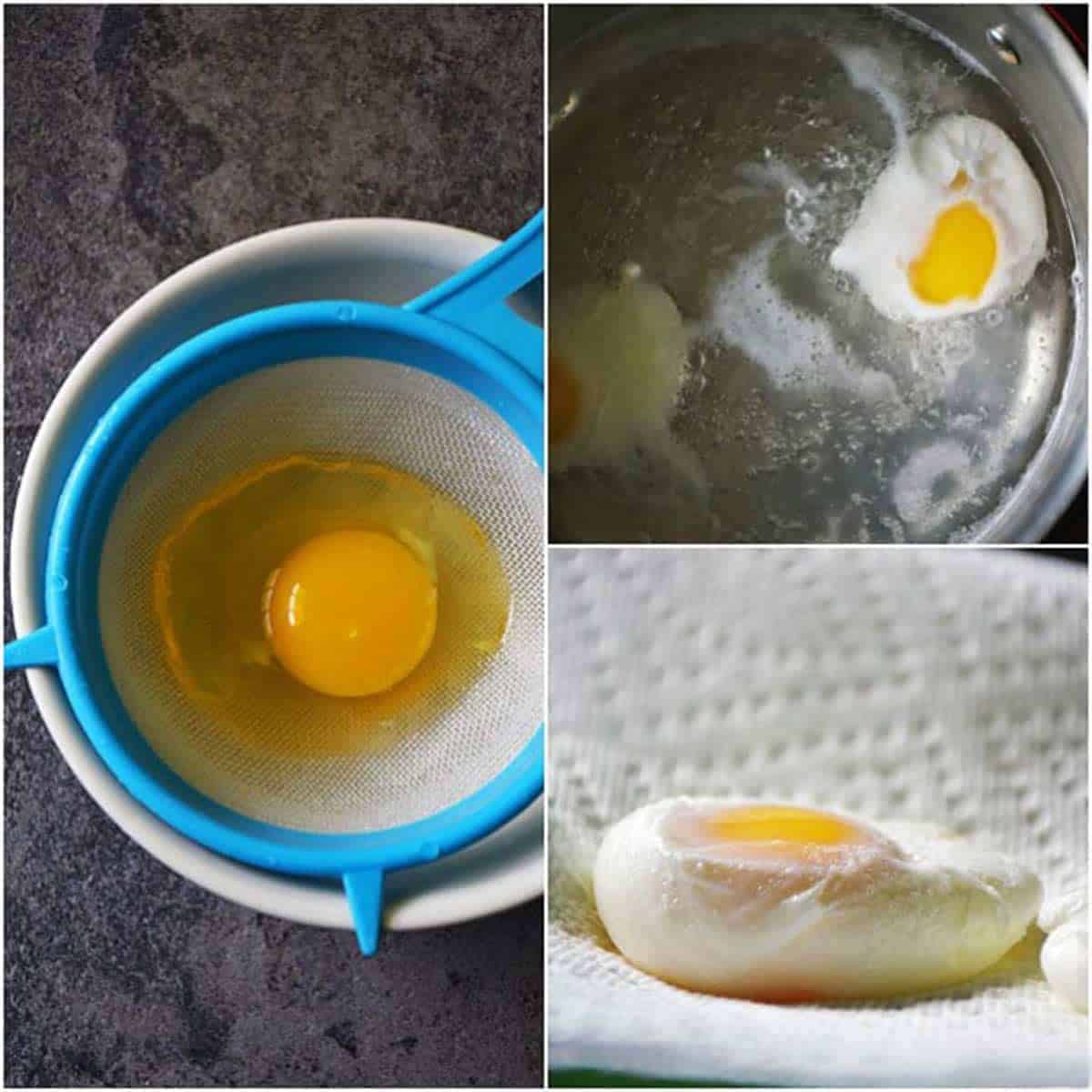 Ingredients
ground beef chuck
salt and pepper
smoked Gruyere cheese
poached eggs - or eggs cooked to your liking, such as a fried egg
burger buns
Though we use a poached egg for our burger with an egg, you can use a fried egg, too. Runny yolks work best for this breakfast burger, so we recommend cooking your egg over easy or over medium.
However, perfectly poaching eggs isn't hard to do. Follow this guide on how to poach eggs easily. You will love this burger with an egg even more if you use poached eggs!
For the caramelized onions, we use a delicious recipe for sauteed mushrooms and onions. You can leave out the mushrooms if you like, but they taste incredible with this egg burger recipe! Earthy mushrooms pair very well with sweet caramelized onions, smoky Gruyere cheese, and the runny egg.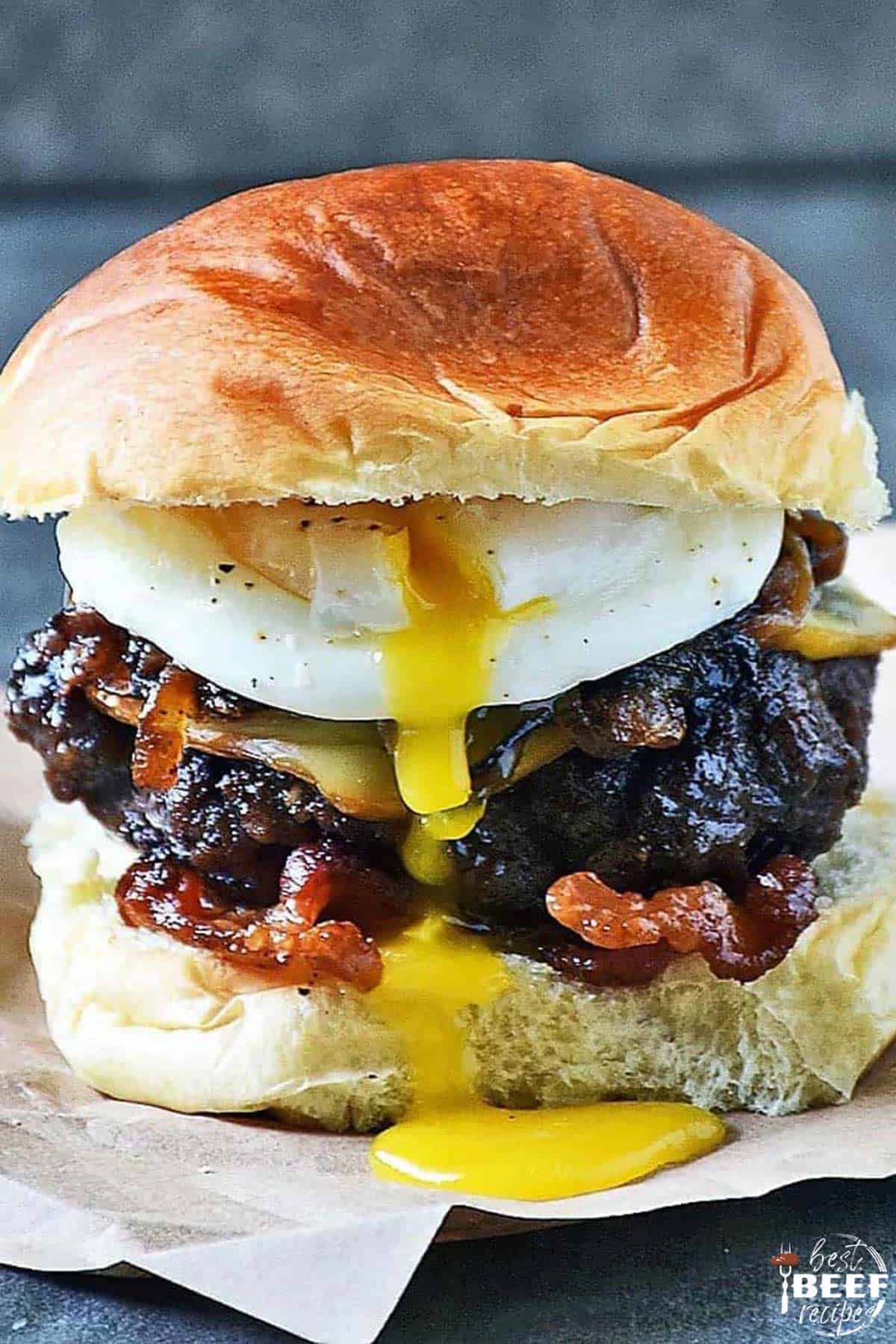 How to Make a Burger with Egg
Prepare the caramelized onions before the burgers. If you want to cook them a few days ahead of time, cook, then cover and store in the fridge. Simply reheat when ready to enjoy on the egg burger recipe.
Heat the water for poaching eggs just before cooking the egg burger. This way, the water will be at the perfect temperature for poaching eggs while the burgers rest.
TOP TIP: Don't move the burgers around! Trust us, it's best to leave it alone. Let them sear until they come up easily from the pan or grill with your spatula. If they stick, they need more time.
Use a cast iron skillet on the stove. If you're cooking this hamburger with egg on the stove, you'll want to use a cast iron skillet or cast iron grill pan. Cast iron skillets make a world of difference when cooking beef. You will get the most beautiful sear using one!
Always let your burgers rest after cooking. This will give you the best results for temperature and how juicy the burgers are. Follow our Beef Cooking Chart for more info.
Strain the poached eggs while the burgers cook! This way, your eggs will be ready to poach right away. It makes it a lot easier to prepare the eggs ahead of time so everything comes out perfectly.
Burger Toppings
You can add so much to an egg-on-burger recipe to jazz it up even more! We love the caramelized mushrooms and onions, but how about adding a little bacon? Or maybe some flavorful, herby garlic butter sauce?
Here are some of our favorite suggestions for how you can mix things up with this egg burger recipe:
Make it a fried egg burger recipe by using a fried egg instead!
Side Dishes for Burgers
Burgers are better with sides! When it comes to choosing the best sides for burgers, you really can't beat a good serving of fries. But if you're grilling these breakfast burgers, a potato hash is incredible, too!
Best Burger Recipes
This was so good!

@sharyljean

Yum!!! It was delicious!

@tishstump
I made this tonight and it was truly amazing so tender and juicy. Will definitely be making it again.

@bz4u22003

Fantastic and Super Moist!

@supplee2

Did you try this egg burger recipe? We would love to hear from you! Let us know in the comments below what you think, and be sure to leave a rating. It helps us know what type of recipes you want to see more of!
📋 Recipe
Best Egg Burger Recipe with Caramelized Onions
This is the Best Egg Burger Recipe you will ever try! Topped with caramelized onions, a golden runny egg, and Gruyere cheese, it's the perfect blend of smoky and sweet.
Ingredients
1

pound

ground beef chuck

½

tsp.

salt

½

tsp.

pepper

8

slices

smoked Gruyere cheese

4

poached eggs – or eggs cooked to your liking

such as a fried egg

4

burger buns
Instructions
Preheat your grill or a skillet on the stove to medium-high heat.

Season 1 pound ground beef chuck with ½ teaspoon each of salt and pepper. Mix well and shape the beef into 4 burger patties.

Grill the patties or cook on the stove until you reach a nice sear, about 3-5 minutes. If the burgers stick when you try to flip them, they aren't ready! Let them sear another 30 seconds to a minute until they come up easily.

Flip the burgers and sear the other side about 3-5 minutes, or until the burgers are done to your liking. After flipping, top each burger with 2 slices or more of smoked Gruyere cheese. Cook until it melts. We tend to add the cheese closer to the final 2 minutes of cooking time.

Remove the burgers from the heat and let them rest 5-10 minutes. While they're resting, cook 4 eggs according to how you like them (ex. fried or poached). If poaching, follow the guide for poached eggs linked above. It's easy, we promise!

Toast 4 burger buns. After cooking the eggs, place a burger on each bun. Top with a spoonful of caramelized onions and an egg. Place the top buns back on the burgers, but be gentle so the egg doesn't break. Serve with plenty of napkins and enjoy!
Notes
Don't move the burgers around! Let them sear until they come up easily from the pan or grill with your spatula. If they stick, they need more time.
Nutrition
Serving:
1
g
|
Calories:
734
kcal
|
Carbohydrates:
24
g
|
Protein:
47
g
|
Fat:
49
g
|
Saturated Fat:
22
g
|
Cholesterol:
331
mg
|
Sodium:
981
mg
|
Fiber:
1
g
|
Sugar:
4
g
Photos by Marion Myers.