This post may contain paid links. If you make a purchase through links on our site, we may earn a commission.
Everyone loves meatballs, so arm yourself with all the most delicious Beef Meatball Recipes! From appetizers to spaghetti to soups and subs, these are all the best ground beef meatball recipes, all in one place. They're always easy, and always delicious!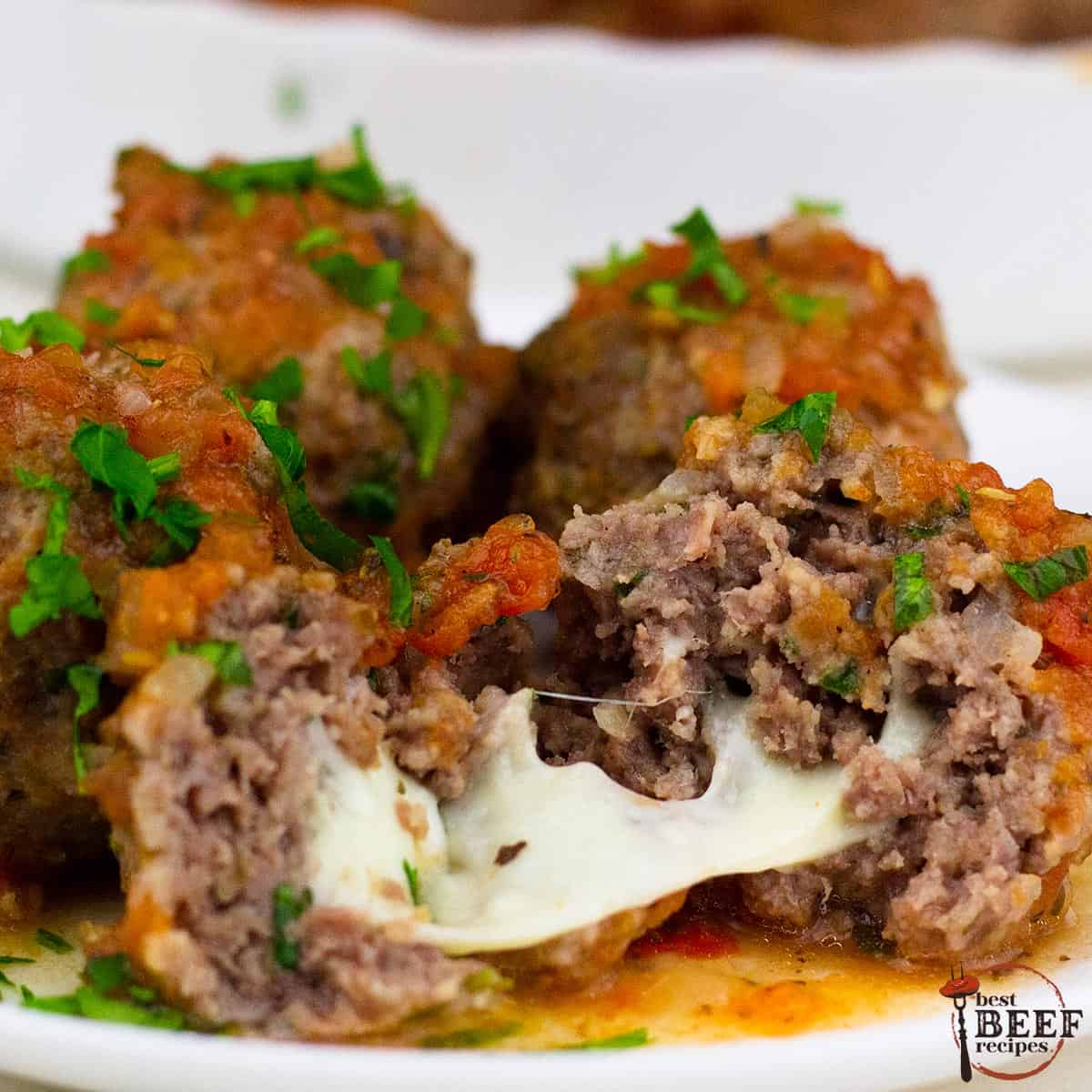 Jump to:
Easy Meatball Recipes
My favorite thing about meatballs is there's a meatball recipe for every occasion! Whether you're cooking for a party, family dinner, or just to prep a bunch of meals for later, meatballs have you covered. They're so versatile, I like to prep big batches and make my own homemade bags of frozen meatballs for later!
What makes these meatball recipes easy is how quick and simple they are to make. They're always one-bowl meals that take almost no prep- just mix up the ingredients in a bowl, form them into meatballs, and cook them in the oven, slow cooker, air fryer, or even Instant Pot!
Looking for a fast dinner? Try your meatball recipes baked or in the pressure cooker. Or, for an ultra-easy dinner choose from my crock pot meatball recipe! Meatball sauce recipe included for the easiest spaghetti and meatballs you'll ever serve!
Italian Meatball Recipes
Italian Meatballs
Italian meatballs are a classic for a reason! These baked meatballs are ready in just 30 minutes and are perfect for freezing for later to make weeknight meals a breeze. If you're like me, you'll always have some on hand!
get the recipe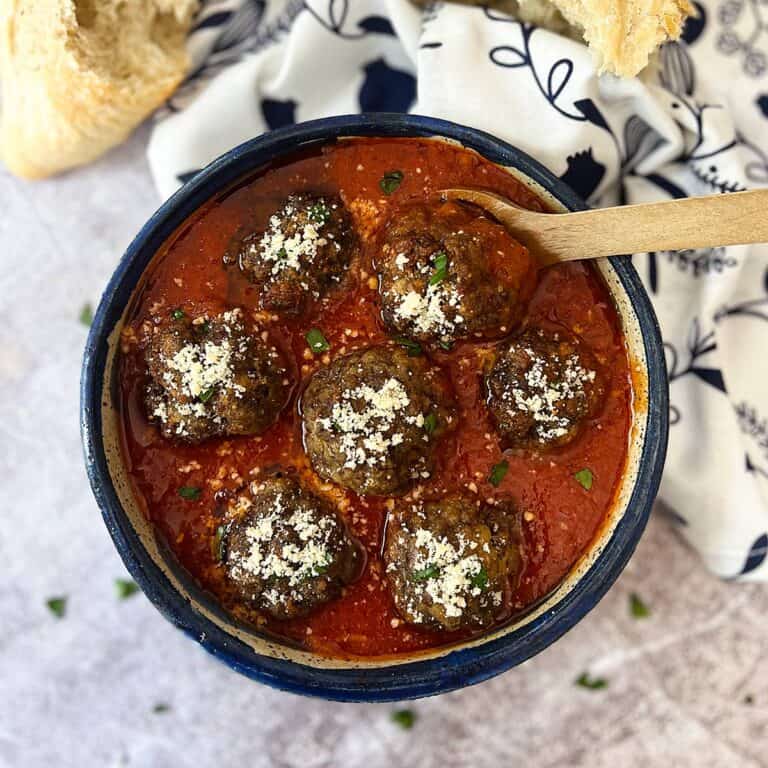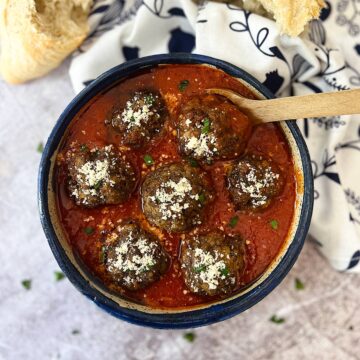 Italian Wedding Soup
Looking for meatballs without the spaghetti? Try out Italian Wedding Soup! It's full of delicious orzo pasta, tender meatballs, and savory broth you won't be able to get enough of. Perfect for cold winter nights!
get the recipe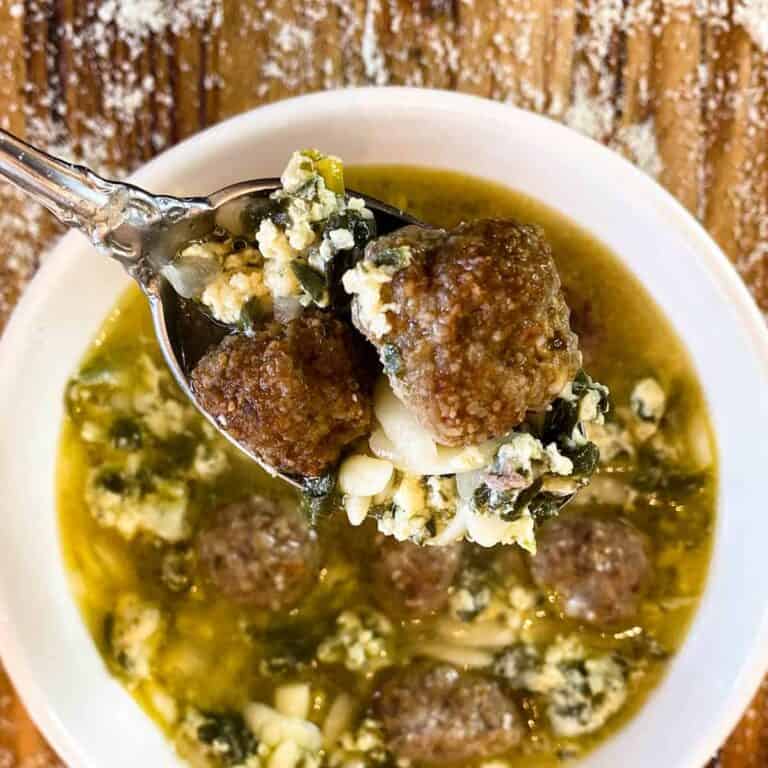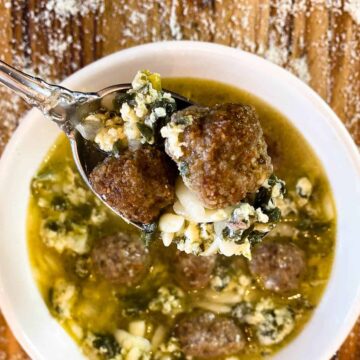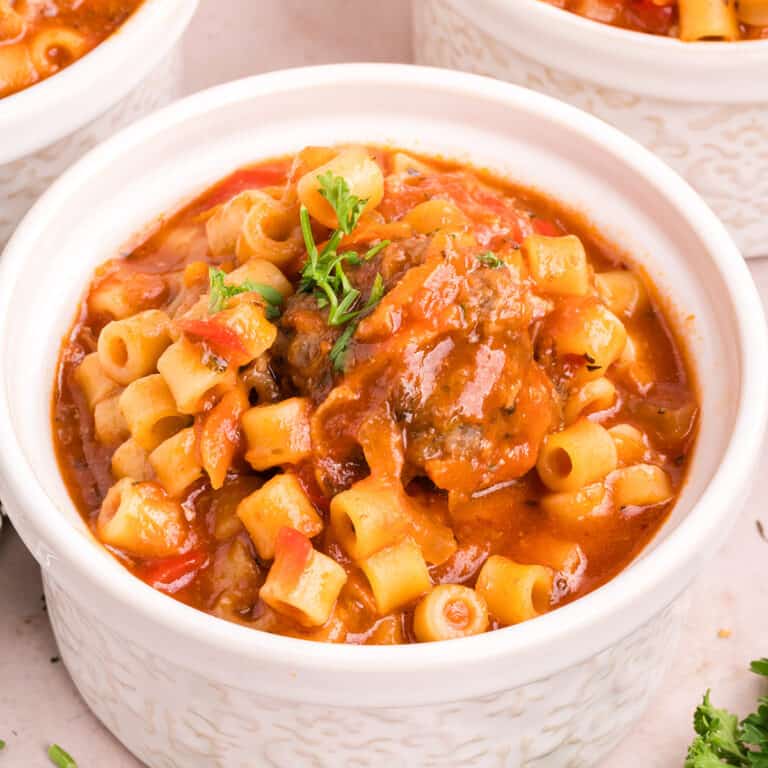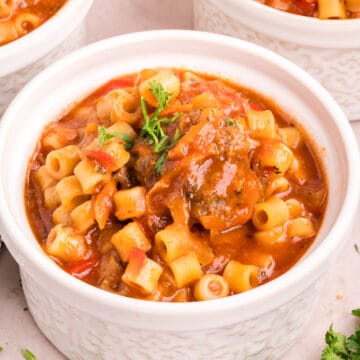 Instant Pot Meatballs
The best thing about meatballs is you can practically cook them in anything easily! This Instant Pot Meatball recipe is a testament to that. Perfectly tender, flavorful Italian meatballs, done in 15 minutes and just right every time.
get the recipe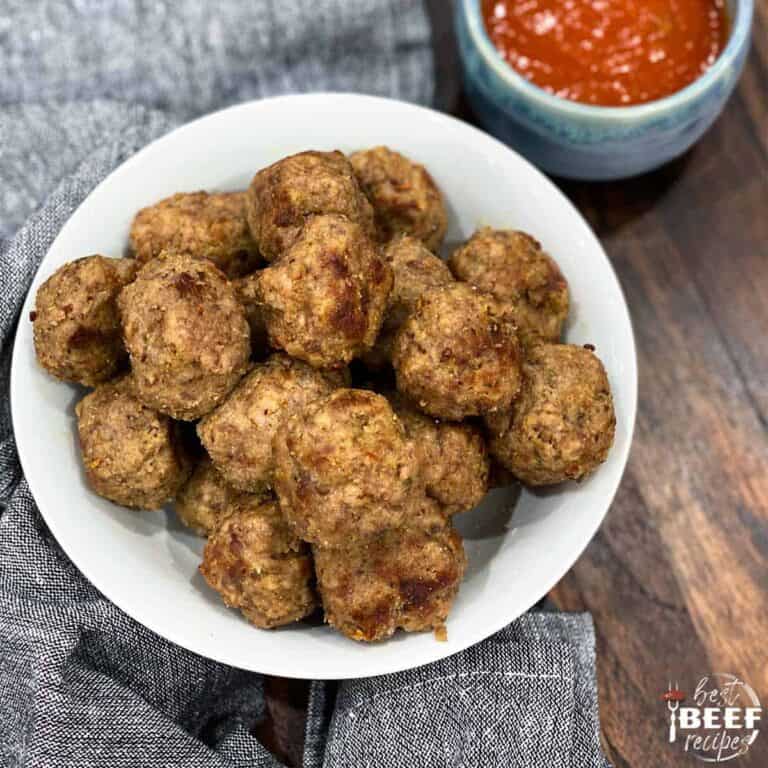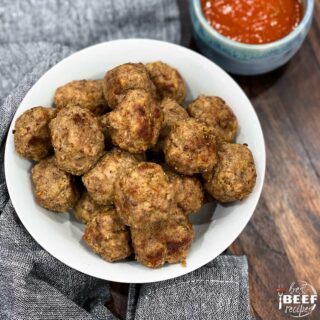 Air Fryer Meatballs
All the amazing flavor of Italian meatballs, done in 15 minutes! That's the magic of the Air Fryer!
Scroll to the bottom of the page for my go-to recipe for tender, fluffy Italian meatballs in the air fryer. It's one of my best Italian meatball recipes, and up there with the best meatball recipes for spaghetti!
Meatball Recipe Ideas
Cocktail Meatballs
These amazing Hoisin sauce meatballs are the perfect choice for a cocktail platter, snacking, or served on a steaming bowl of rice! With sweet and sour meatballs like these you'll be serving them on everything.
get the recipe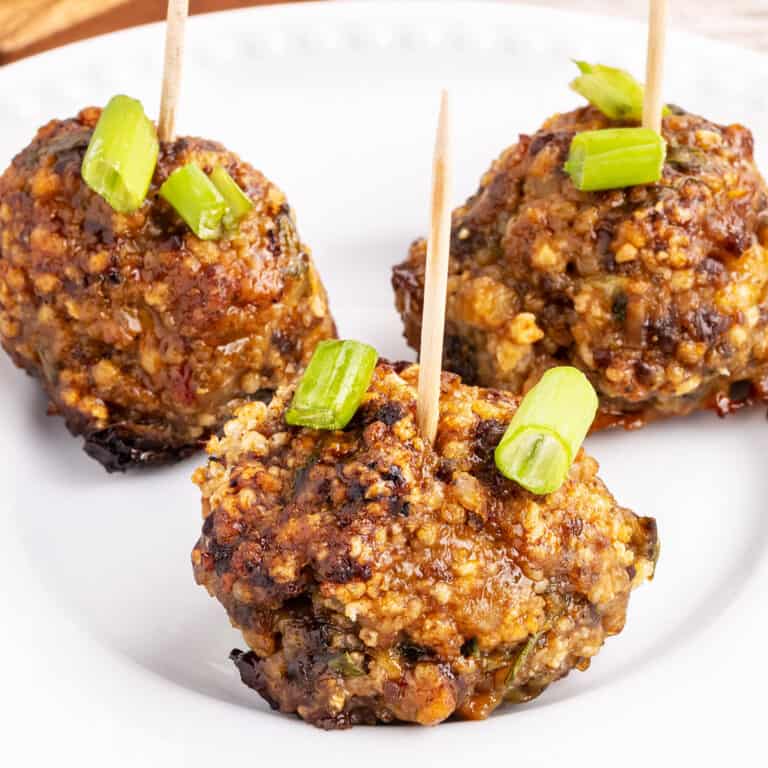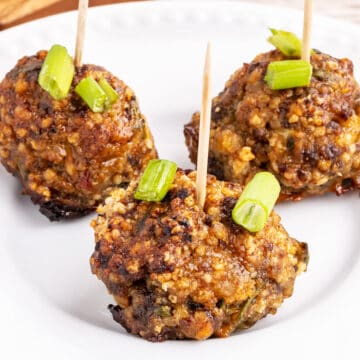 Swedish Meatballs
Who doesn't love Swedish meatballs? Serve these up when you're tired of spaghetti sauce and you'll find yourself coming back for more! Creamy brown gravy, silky egg noodles and plenty of cheese make these tender meatballs the perfect one-pan meal.
get the recipe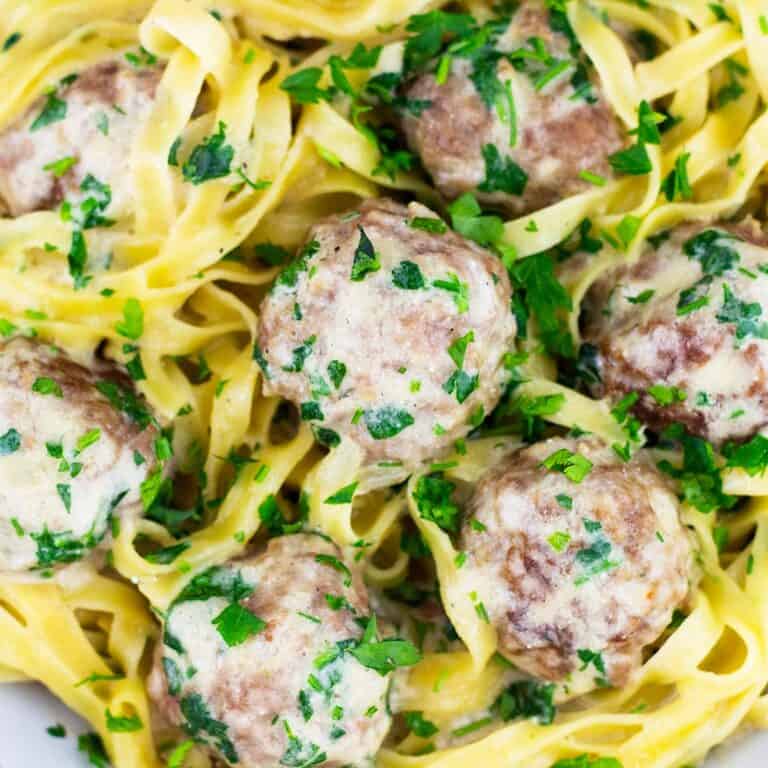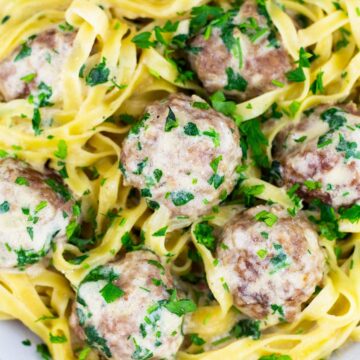 Honey Sriracha Meatballs
Sweet and spicy honey sriracha meatballs are the next big hit at the dinner table! Serve up these flavorful meatballs over rice and steamed vegetables for a quick and delicious dinner, or load them up on bread for a new twist on a meatball sub.
get the recipe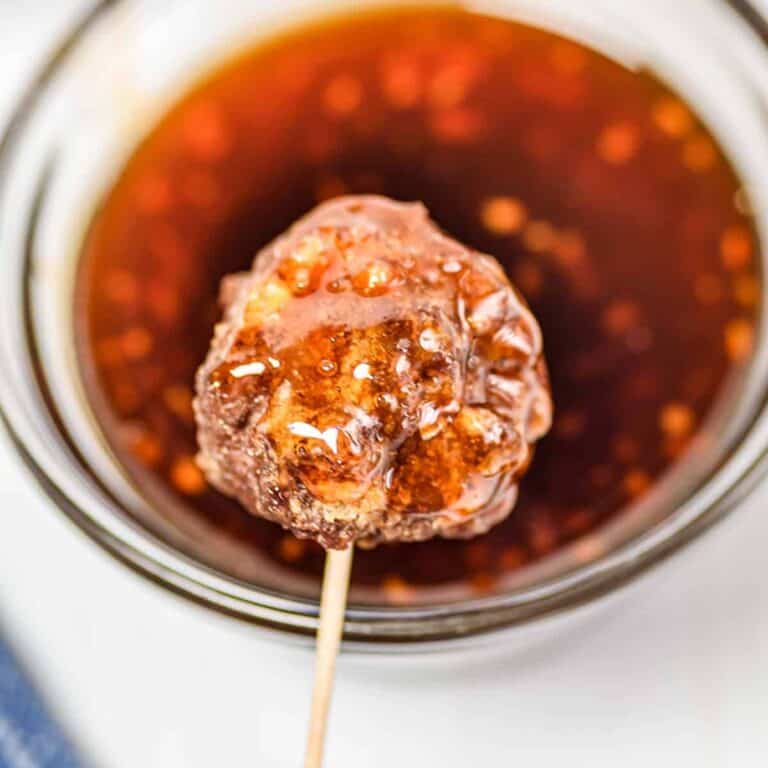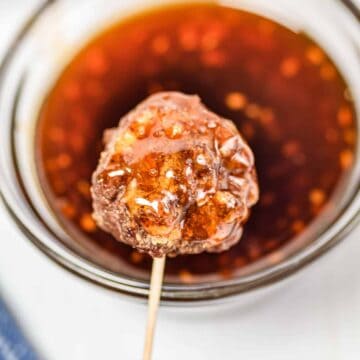 Stuffed Meatballs
Meatballs don't get more decadent than this! Soft, fluffy meatballs bathed in tomato sauce and stuffed with melted mozzarella, you can serve these on spaghetti for a surprise treat, or just eat them right out of the sauce- they're so good, you'll be making more!
get the recipe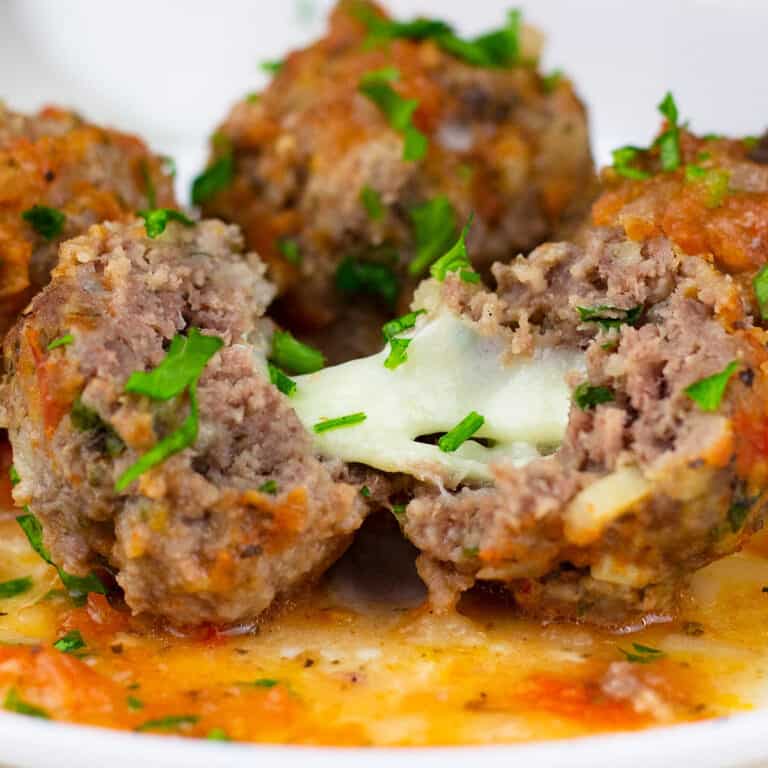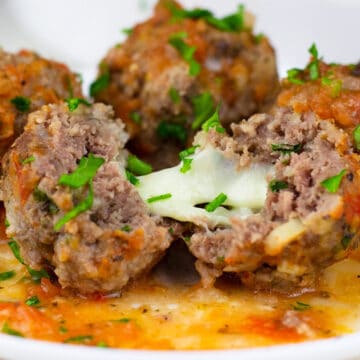 Don't feel limited to just Italian meatballs! Try out some of my other amazing meatball recipes, ranging from amazing Sweet and Sour Meatballs, perfect as a meatball appetizer recipe, or my best Swedish meatball recipes! There's really no going wrong!
Recipes Using Meatballs
Meatball Subs
Not feeling spaghetti? How about serving up an incredible meatball sub for dinner? This recipe is a perfect way to use up leftover meatballs and sauce, and you can use any flavor or style of meatball you'd like- it's going to be delicious no matter what!
get the recipe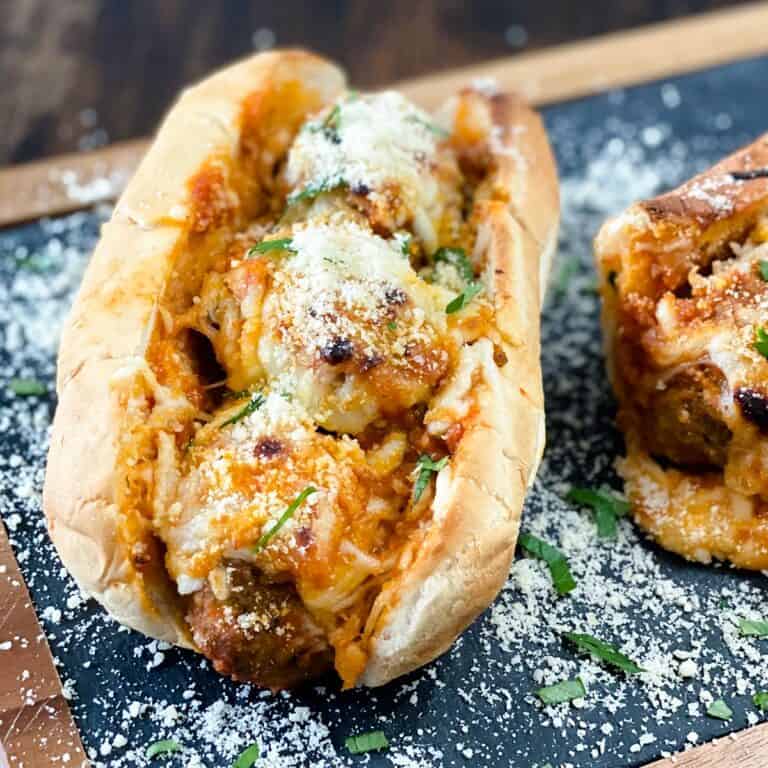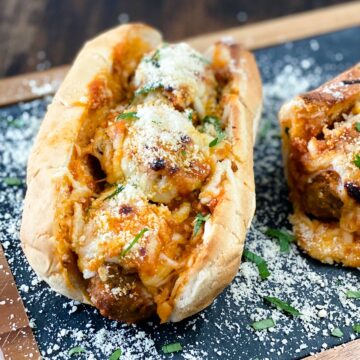 Meatball Sliders
Game night favorites have never been easier than my Meatball Sliders Recipe! It's the perfect way to use up leftovers and so quick and easy!
get the recipe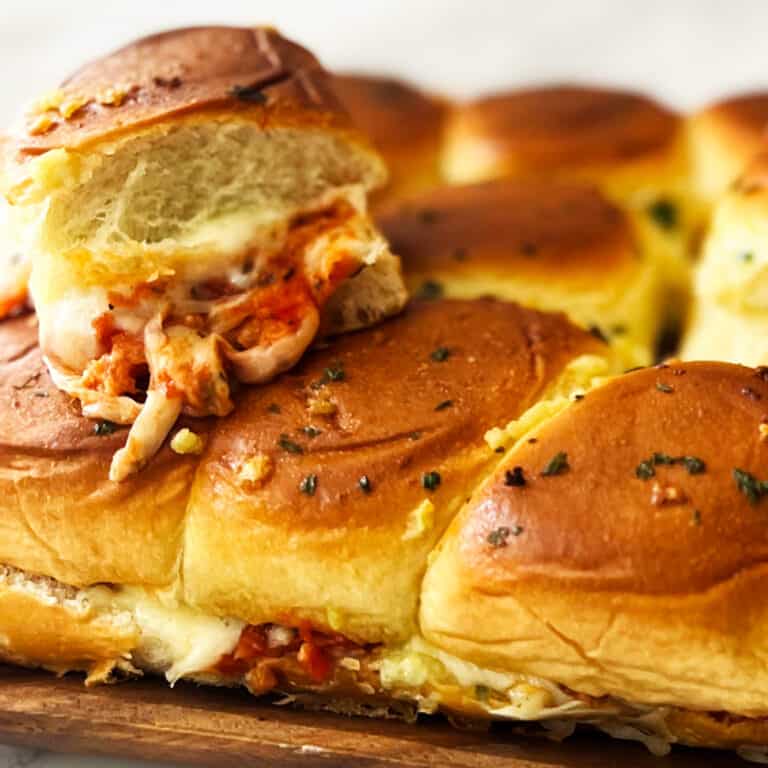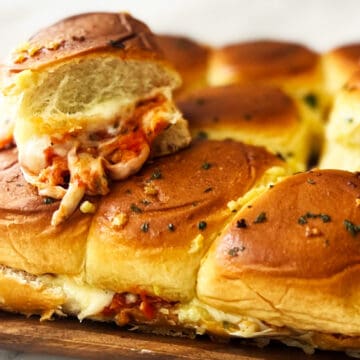 Meatball Sauce Recipe
Nothing pairs with Italian meatballs quite like a good meat sauce! Try out my favorite Spaghetti Meat Sauce recipe to top off amazing meatballs with extra amazing sauce. It's quick, easy, and delicious every time!
get the recipe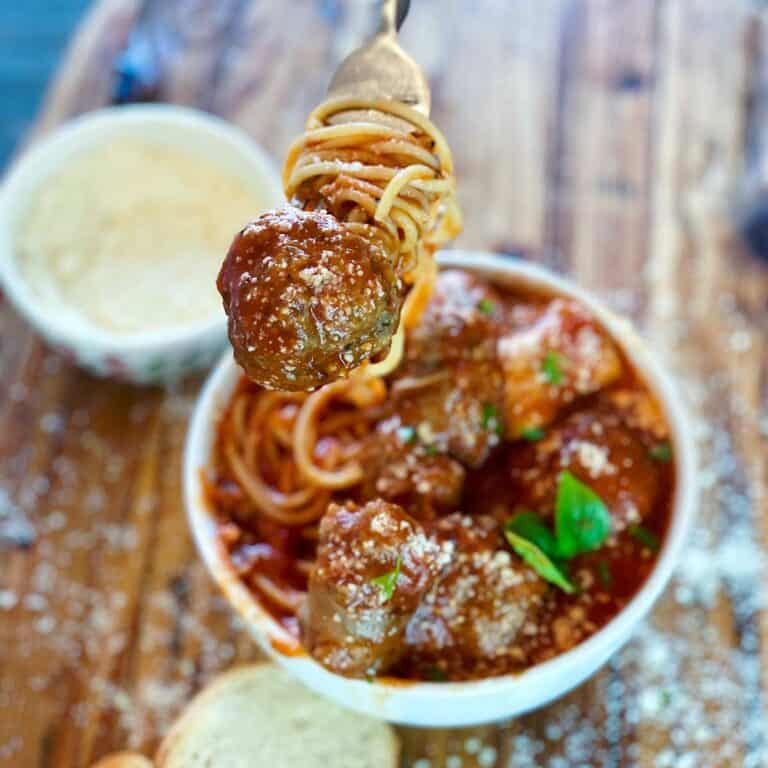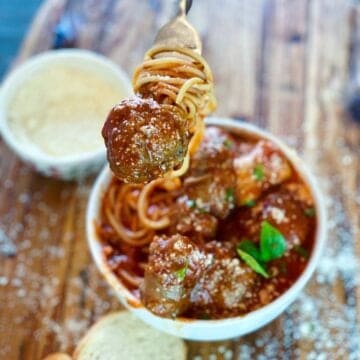 Meatball Seasoning Mix
If you make meatballs often, then keeping this mix ready and on-hand is a great way to always be prepared for a quick meal! Or try it out in new ways like adding it to meatloaf or burgers. The options are endless!
get the recipe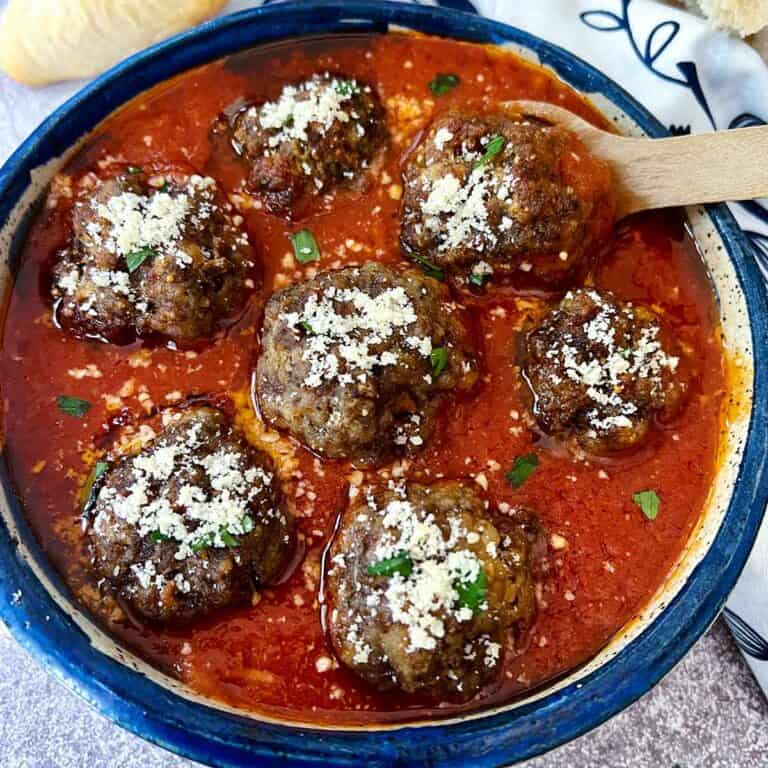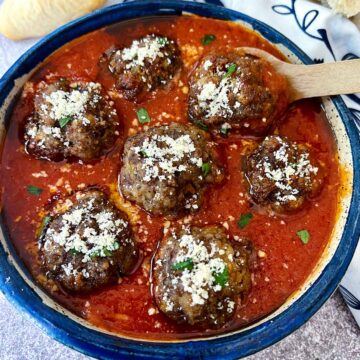 Of course, a good meatball can be served in so many ways! Above are my favorite accessory recipes for meatballs, from ways to serve them to how to season up your own favorite recipe.
How to Freeze Meatballs
Meatballs are the perfect meal for making ahead and storing for later!
To freeze meatballs, mix and roll out the meat mixture, then place them on a pan lined with parchment paper in the freezer.
Transfer them to a freezer-safe bag once fully frozen and store, frozen, for up to three months.
How to Cook Frozen Meatballs
Cooking meatballs from frozen is so easy to do! No matter what you're cooking the meatballs in, add about ⅓rd more cooking time. For example, for a recipe that cooks for 15 minutes, cook the frozen meatballs for 20 minutes.
Make sure to always check the internal temperature of the meatballs with an instant-read thermometer! Meatballs need to be cooked to 160°F to be safe for consumption. Check my beef temperature chart for more!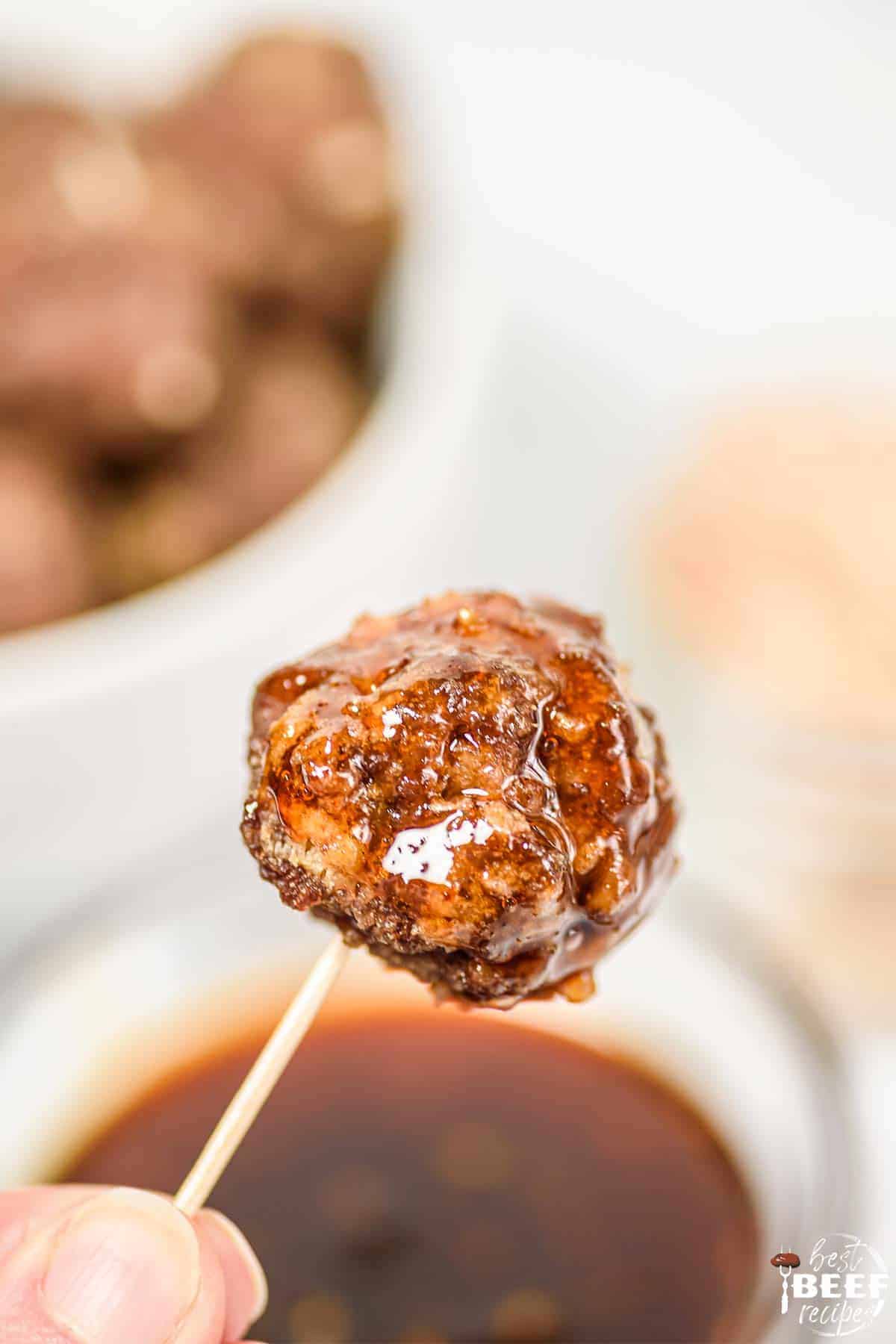 Meatball Recipes FAQs
Do meatballs taste better fried or baked?
Meatballs taste incredibly cooked any way, whether you fry, bake, or cook them in a slow cooker. Each has its benefits! Pan-frying meatballs tend to give the best-browned crust but can be the oiliest. Baking them cooks each meatball perfectly evenly but doesn't always give the perfect browned surface. Personally, I love air frying my meatballs for the best of both worlds.
Is milk or egg better for meatballs?
It's commonly wondered if milk or egg is better for soft meatballs, but they actually serve two completely different purposes! The egg is added to bind together the meat mixture so it doesn't crumble while cooking. Milk, in the meanwhile, is added to add moisture to the mix, so it stays juicy and doesn't get dry.
Is it better to brown meatballs before putting them in sauce?
If you want to brown the meatballs before adding the sauce is up to you and how much time you want to spend cooking the meal! Browning them first can add a satisfying crust to the meatballs, but in slow cooker recipes, it's not practical to spend time browning the meat before adding the sauce. In most recipes, you can skip browning them and it will be just as delicious.
How to make the best meatballs?
The best meatballs are made with a mix of milk, eggs, a fluffy filler like breadcrumbs, meat, and seasonings. It's important to add all of those aspects to ensure that the meatballs stay tender and fluffy after being cooked instead of getting dry or tough.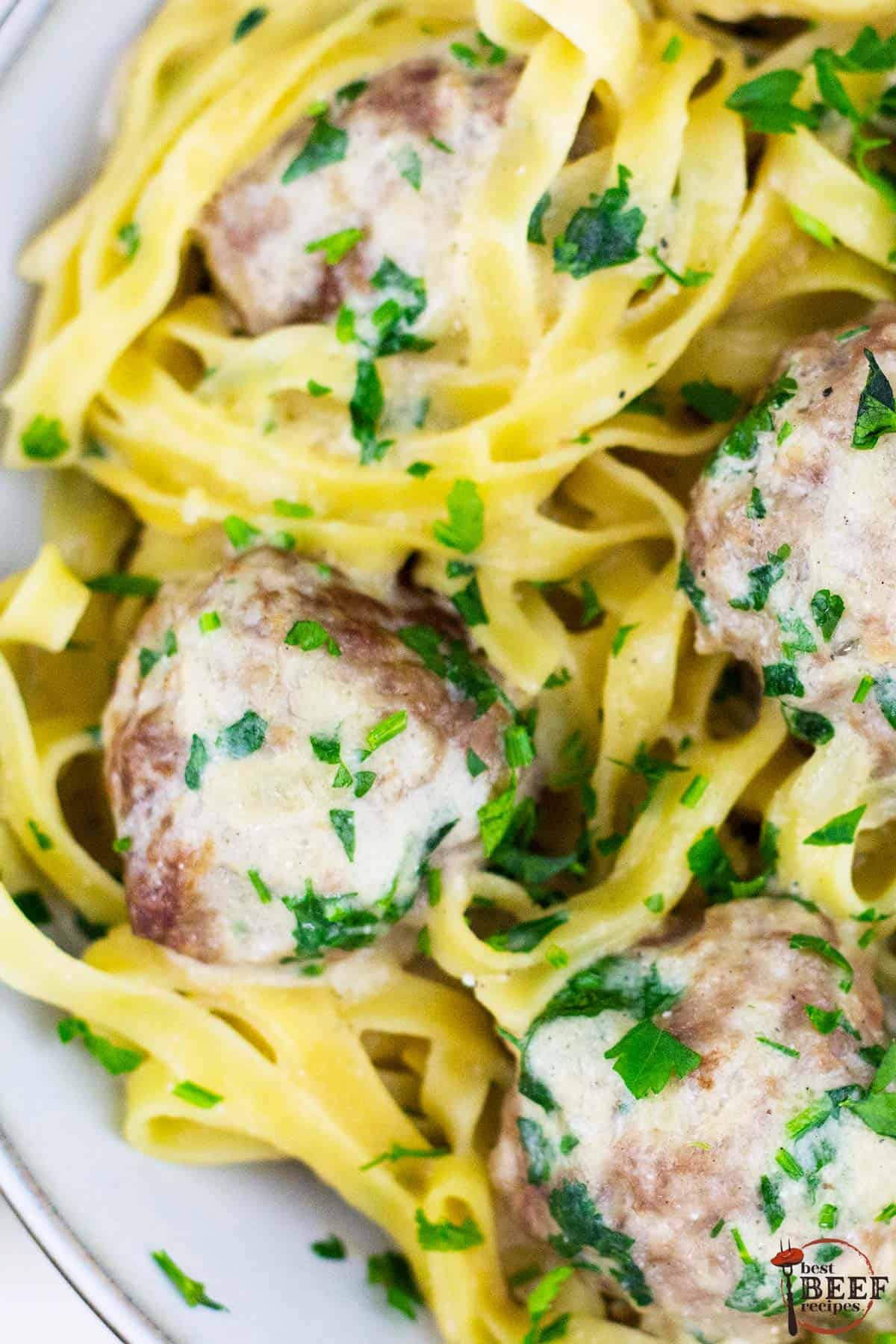 📌 Pin it for later!
Did you enjoy this page? Save it on Pinterest for later!



Did you try this recipe? Leave a comment and a rating below to let us know what you think! We love to hear from you!
📋 Recipe
Meatball Recipes - Air Fryer Meatballs
Whether you're air frying meatballs or cooking them in the Instant Pot, our Best Meatball Recipes have every method you need to make the best meatballs!
See our Beef Temperature Chart for helpful tips on cooking any cut of beef!
Instructions
Place the ground meat, breadcrumbs, and all seasonings except for cheese in a large bowl, then add all 4 eggs, beaten.

2 lbs. ground beef,

1 lb. ground pork,

4 eggs,

1 cup Italian breadcrumbs,

1 teaspoon garlic powder,

1 teaspoon onion powder,

1 Tablespoon Italian seasoning

Add the Parmesan cheese, and stir to combine completely.

Take gold ball sized hand fulls of the meat mixture and roll them into meatballs. Place on your air fryer rack or in the basket of your air fryer.

Bake in air fryer at 400°F for 5 minutes. Once 5 minutes is up, shuffle the racks, or turn the meatballs over if using a basket. Cook for another 5 minutes.

Sprinkle with sea salt. Serve as is or use in recipes, and enjoy!
Notes
This recipe makes approximately 3 dozen medium-size meatballs. It is great for making enough to freeze for leftovers or make-ahead recipes.
Don't overcrowd your racks when cooking them - spread them out so they cook evenly!
Line your rack with aluminum foil for easy clean up!
Nutrition
Serving:
1
meatball
|
Calories:
129
kcal
|
Carbohydrates:
3
g
|
Protein:
9
g
|
Fat:
9
g
|
Saturated Fat:
4
g
|
Cholesterol:
47
mg
|
Sodium:
120
mg
|
Potassium:
124
mg
|
Fiber:
1
g
|
Sugar:
1
g
|
Vitamin A:
57
IU
|
Vitamin C:
1
mg
|
Calcium:
50
mg
|
Iron:
1
mg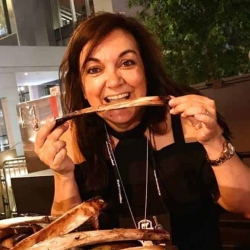 Latest posts by Isabel Laessig
(see all)