This post may contain paid links. If you make a purchase through links on our site, we may earn a commission.
My classic Stuffed Bell Peppers with Ground Beef make a flavorful but super easy lunch or dinner! Filled with cauliflower rice, beef, and cheese, these beef stuffed bell peppers come together in just 45 minutes and are so delicious.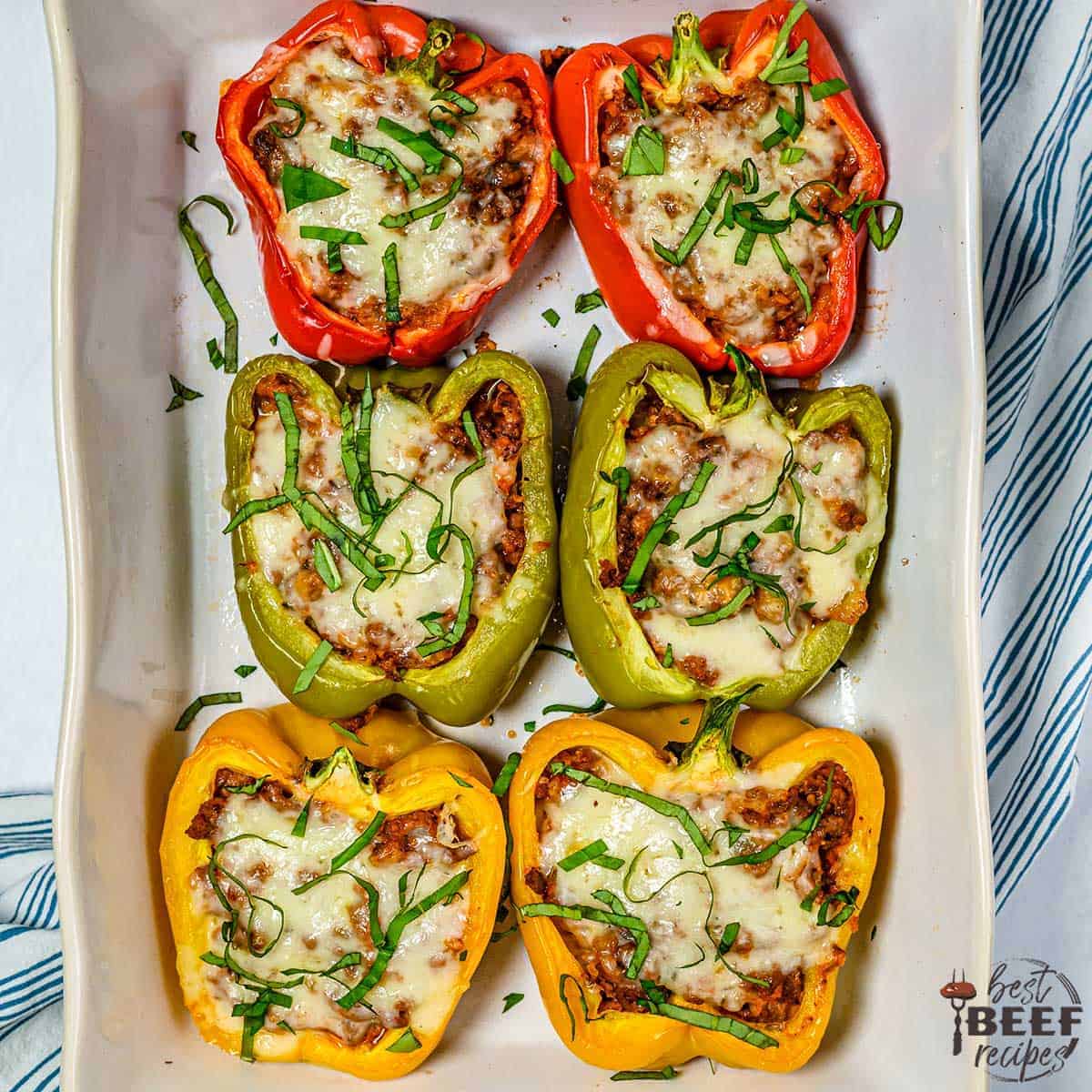 Jump to:
Stuffed Peppers with Ground Beef
I am always looking for new ways to serve ground beef, especially if I can find ways that cut down on the carbs and load up on protein. These stuffed bell peppers with ground beef have quickly become one of my family's favorite dinners, so I know you'll love them, too!
Here's what makes this recipe for stuffed peppers so spectacular:
It uses lower carb ingredients than other stuffed pepper recipes by replacing traditional rice with cauliflower rice for the stuffing. Which also means you won't have to cook rice to make them!
A mixture of two different kinds of cheese, plus Italian seasoning and fresh garlic, give these peppers a unique and cheesy flavor that sets them apart from others.
They're easy to customize. Switch up the ingredients however you like! You can even use leftover ground beef (I love to make a big batch of crockpot taco meat to use).
Hands down the best stuffed bell paper recipe I have ever tried. Will never make them any other way.

Brian via email
Ingredients for Beef Stuffed Peppers
Bell peppers: I like to use a mix of colors for a fun appearance. Any variety will do!
Olive oil
Onion, diced
Ground beef, 80/20 mix; you can also use lean ground beef
Cauliflower rice: Buy premade cauliflower rice, or make my cauliflower rice recipe (link).
Italian seasoning: If you have none on hand, you can make your own Italian seasoning using a blend of dried basil, dried oregano, dried rosemary, dried parsley, and dried thyme.
Tomato sauce
Garlic, minced: Use fresh garlic for best results. Garlic powder may also be used, if necessary.
Fontina cheese: You can use any decent melting cheese for this dish, but I find Fontina has the best flavor to match with the Italian seasoning.
Parmesan cheese
Salt and pepper
Red pepper flakes: This adds a nice kick to the dish. You can leave them out if you don't want any spice.
Fresh basil or parsley, for garnish
How to Make Stuffed Bell Peppers with Ground Beef
Preheat the oven to 400°F. Oil a large 9 by 13-inch baking dish.
Cut the peppers in half and clean out the seeds and membranes. Rub a little olive oil on the inside of each pepper. Place in a baking dish and sprinkle with salt and pepper. Roast for 15 minutes until the peppers are soft, but under-cooked. Remove from oven and set aside.
Meanwhile, heat a large skillet over medium heat. Add the remaining olive oil and saute the onion until soft, about 3 minutes. Add in the ground beef and cook until no longer pink. Drain off any fat if necessary.
Stir in garlic and cook until fragrant, about one minute. Stir in the tomato sauce, cauliflower rice, Italian seasoning, salt, and pepper to taste. Sprinkle with red pepper flakes. Cook for about 2 minutes more.
Turn off the heat and stir in half of the Fontina cheese and all of the Parmesan. Spoon this mixture into the par-baked peppers. Top each one with the remaining Fontina.
Lower oven temperature to 350°F and bake for 20 to 25 minutes, until cheese is melted and pepper is soft and tender, and the edges are starting to brown.
Remove from oven and allow to cool for just a couple minutes.
Sprinkle with fresh basil or parsley if desired, and serve warm.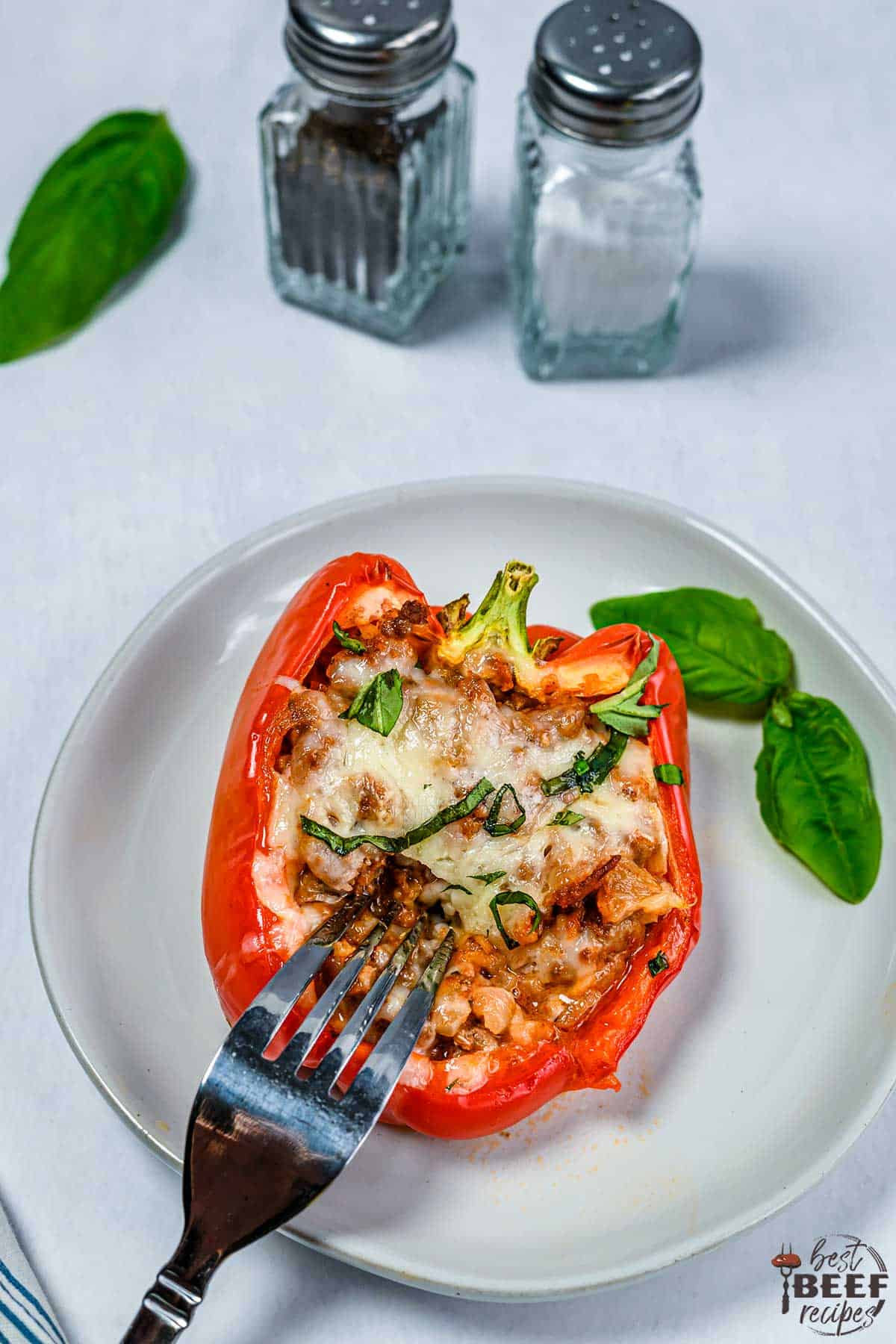 Tips for Making Stuffed Beef Peppers
You can substitute ground turkey or Italian sausage for the ground beef in this recipe, if desired.
Mozzarella cheese and cheddar cheese can also be used in place of Fontina and Parmesan.
If you don't want to use cauliflower rice, you can use regular white rice or brown rice for these easy stuffed peppers. When I'm in a real hurry, I'll use those packets of microwaveable flavored rice to save myself some time and mix things up.
FAQ
Can I make this dish ahead of time?
You can stuff the peppers a day ahead of time, then bake them the next day. I will often make a big batch of ground beef at the start of the week to use in different recipes; you can do the same for these peppers.
Are bell peppers low carb?
According to Everyday Health, bell peppers are a great option for people looking to stick to a low carb meal plan. See: low carb vegetables.
How long do they last in the refrigerator?
Stored in an airtight container, stuffed bell peppers will last about 3 days in the refrigerator. Reheat in the microwave in a microwave-safe dish, or in the oven at 350°F, covered in foil, until heated through.
Can you freeze stuffed peppers?
You can freeze beef stuffed peppers. Allow the peppers to cool after baking, then transfer to a freezer-safe baking dish or another freezer-safe container to store. Label with the freezing date and store for up to 3-6 months. Bake straight out of the freezer at 350°F for 30 minutes when ready to enjoy.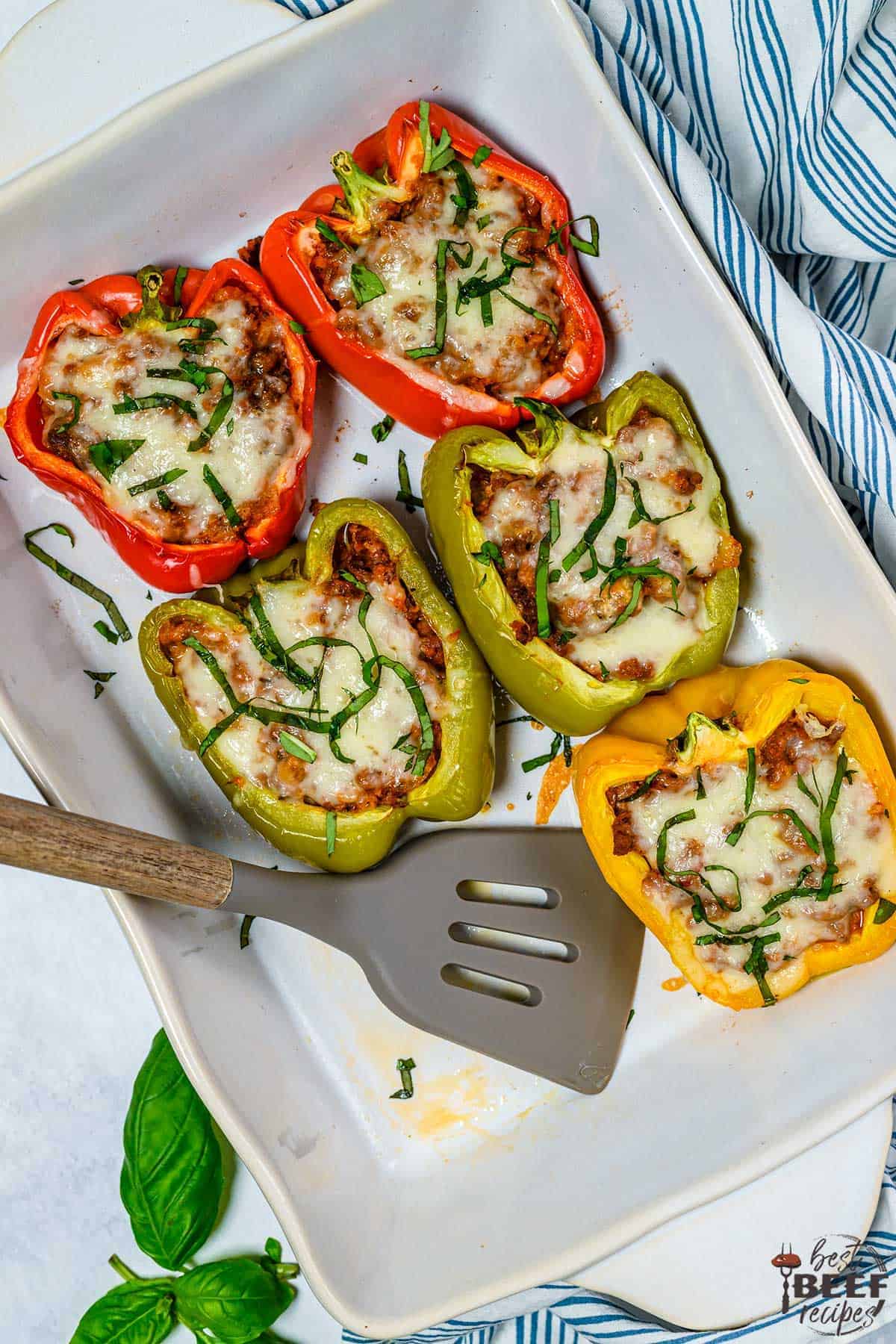 Ground Beef Recipes
📌 Pin it for later!
Did you enjoy this page? Save it on Pinterest for later!


📋 Recipe
Stuffed Bell Peppers with Ground Beef
My classic Stuffed Bell Peppers with Ground Beef are filled with cauliflower rice, beef, and cheese, for a super flavorful lunch or dinner that comes together in just 45 minutes!
Equipment
9x13-inch baking dish

Wooden spoon or spatula

Knife

Cutting board
See our Beef Temperature Chart for helpful tips on cooking any cut of beef!
Instructions
Preheat oven to 400°F. Oil a large (9x13") baking dish.

Halve the peppers and clean out the seeds and membranes. Rub a little olive oil on the inside of each pepper. Place in baking dish and sprinkle with salt and pepper. Roast for 15 minutes, until peppers are soft but undercooked. Remove from oven and set aside.

3 bell peppers,

Salt and pepper,

2 tablespoons olive oil

Meanwhile, heat a large skillet over medium heat. Add the remaining olive oil and saute the onion until soft, about 3 minutes. Add in the ground beef and cook until no longer pink. Drain off any fat if necessary.

2 tablespoons olive oil,

½ medium-sized onion,

1 pound ground beef

Stir in garlic and cook until fragrant, about one minute. Stir in the tomato sauce, cauliflower rice, Italian seasoning, salt and pepper to taste. Sprinkle with red pepper flakes. Cook for about 2 minutes more.

1 tablespoon Italian seasoning,

¾ cup tomato sauce,

3 cloves garlic,

Salt and pepper,

1 teaspoon red pepper flakes,

1 cup prepared cauliflower rice

Turn off heat and stir in half of the fontina cheese and all of the parmesan. Spoon this mixture into the par-baked peppers. Top each one with remaining fontina.

1 cup shredded fontina cheese,

¼ cup grated parmesan cheese

Lower oven temperature to 350°F and bake for 20 to 25 minutes, until cheese is melted and pepper is soft and tender, and edges are starting to brown.

Remove from oven and allow to cool for just a couple minutes. Sprinkle with fresh basil or parsley if desired and serve warm.

Fresh basil or parsley for garnishing
Notes
Fontina and parmesan cheeses are used here to add to the Italian flavorings in this stuffed pepper recipe, but feel free to substitute other cheeses. Mozzarella can be used instead of the fontina. Gouda, gruyere, or provolone are all fine substitutes for the fontina as well. Romano could also be used in place of the parmesan.
Store any leftovers in an airtight container in the fridge for up to 3 days.
Reheat in the microwave, or in the oven at 350°F covered in foil, until heated through
Nutrition
Calories:
378
kcal
|
Carbohydrates:
9
g
|
Protein:
22
g
|
Fat:
28
g
|
Saturated Fat:
11
g
|
Polyunsaturated Fat:
1
g
|
Monounsaturated Fat:
12
g
|
Trans Fat:
1
g
|
Cholesterol:
83
mg
|
Sodium:
468
mg
|
Potassium:
566
mg
|
Fiber:
3
g
|
Sugar:
5
g
|
Vitamin A:
2346
IU
|
Vitamin C:
92
mg
|
Calcium:
214
mg
|
Iron:
3
mg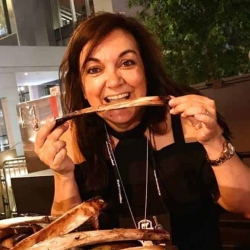 Latest posts by Isabel Laessig
(see all)