Best Beef Recipes is an Amazon Associate. We receive compensation for purchases made through affiliate links.
My Paella Recipe with Beef will be one of your favorite one-pot dishes! It's a breathtaking combination of flavorful arborio rice with beef, chorizo, seafood, and vegetables. Let my easy paella recipe be the crowd-pleaser at your next cookout!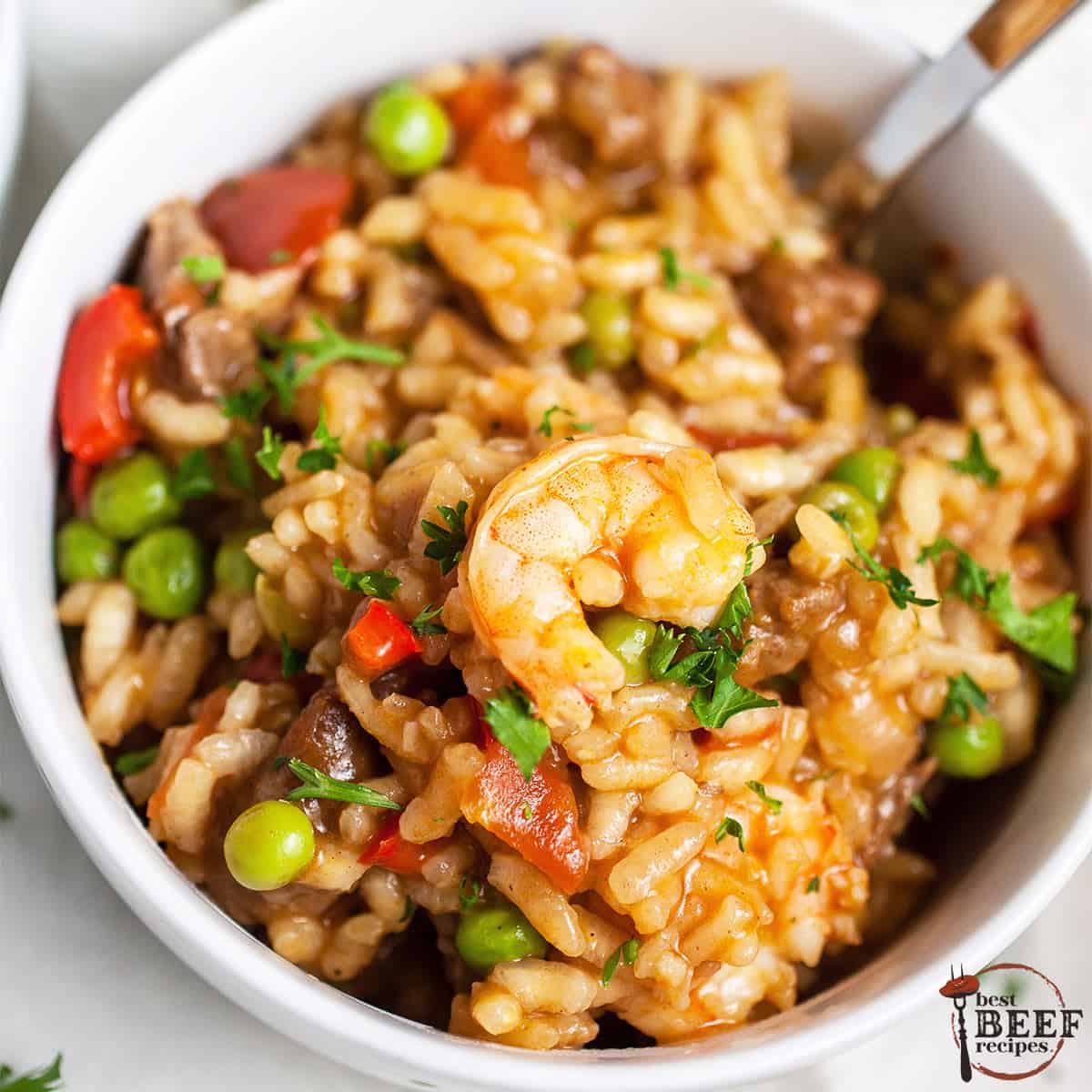 Jump to:
Shrimp Paella with Beef
My shrimp paella with beef is loaded with everything you will love: juicy and tender seasoned sirloin steak, crisp beans, fresh shrimp, and the best part of the dish - colorful arborio rice with those crispy toasty little bits. It really is the paella recipe of your dreams!
Only needing one pot and just 30 minutes of cook time, you are sure to fall in love with this easy steak paella recipe. It makes a great dish for gatherings of all kinds, but especially cookouts. Cook up a big batch and watch it disappear!
You won't need a special paella pan, either - my easy paella recipe is able to be made in a regular skillet. Enjoy!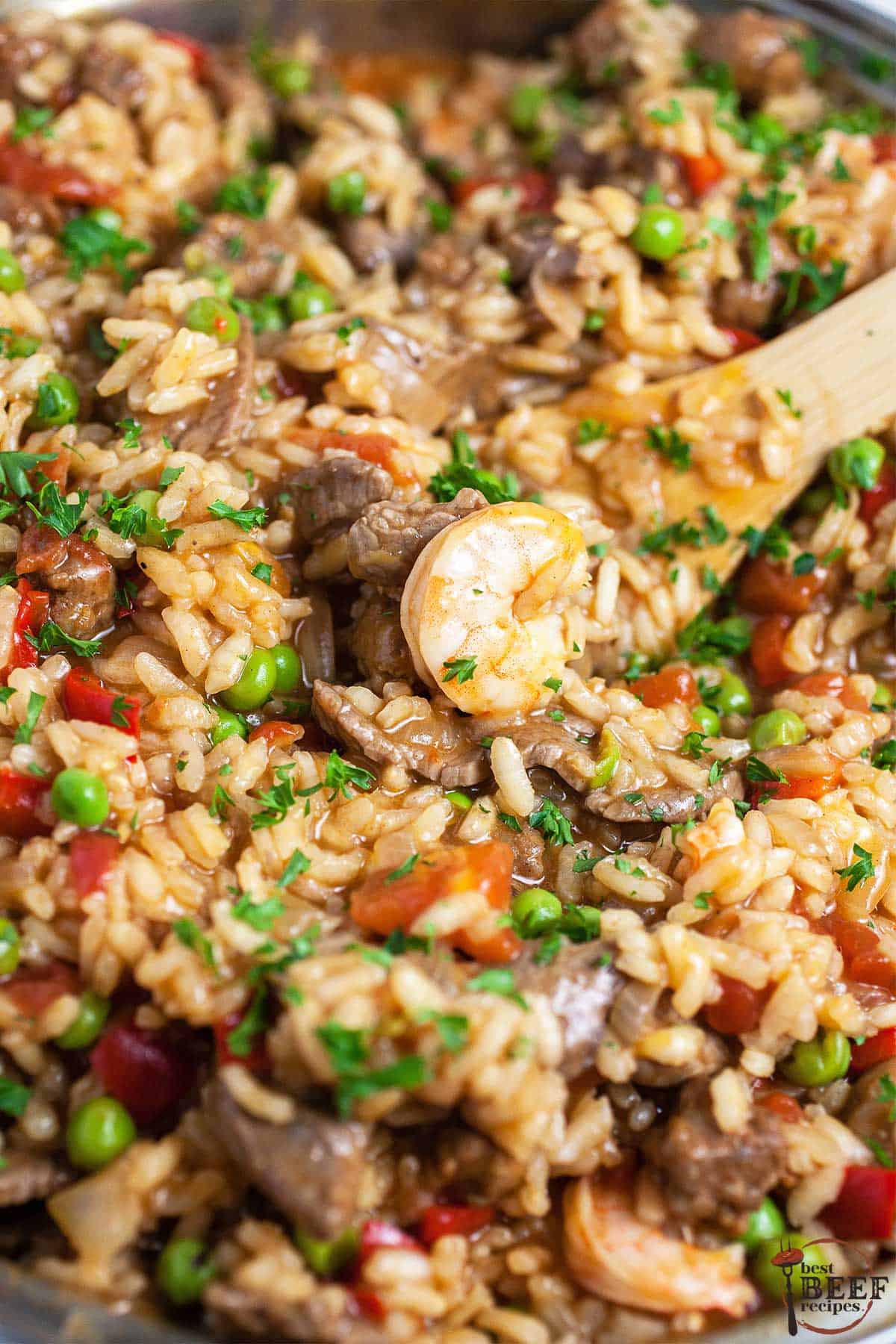 Steak Paella FAQs
Should paella be burned on the bottom?
Paella is a rice dish that benefits from crispy bits of rice mixed into the dish. Let the paella brown on the bottom, instead of stirring it throughout, for the best and most intense flavor.
Do you cook paella covered or uncovered?
Traditionally, when cooked in a paella pan, paella would not be covered and is more of a dry rice recipe than a steamed rice. However, using a regular large skillet calls for covering the paella to boil the liquid ingredients and cook the shrimp and peas. For this paella recipe, the paella should be covered when the liquid ingredients are added.
Do I need a paella pan to make paella?
In traditional paella recipes, a paella pan called a paellera is used. This is a wide, shallow pan left uncovered while the paella cooks to give the rice a crisp texture on the bottom and less of a moist texture throughout. However, a paella pan is not necessary to cook a paella recipe - simply use the largest non-stick frying pan you have to spread the rice out as much as possible. Do not use a cast iron pan.
Beef Paella Ingredients
Sirloin steak
Shrimp
Olive oil
Chorizo
Onion
Red bell pepper
Garlic
Red pepper flakes
Dried oregano
Arborio rice
Worcestershire sauce
Bay leaf
Lemon zest
Beef broth
White wine: Water may also be used.
Diced tomatoes: Do not drain these!
Frozen peas
Parsley
How to Make Paella with Beef
In a large skillet (I used a 12-inch skillet), heat olive oil over medium-high heat until it begins to shimmer. Sear 1 pound of thinly-sliced sirloin steak on both sides in the skillet, quickly, then move it to a bowl or plate to cover with foil and keep warm.

Add remaining olive oil to the pan along with chopped onion, bell pepper, and chorizo. Cook 5-6 minutes until vegetables soften.

Add in minced garlic, red pepper flakes, and oregano. Cook another minute. Then, add arborio short-grain rice to the skillet. Stir to coat the rice with the oil and cook for about 3 minutes without any further stirring.

After 3 minutes, stir in Worcestershire sauce, bay leaf, lemon zest, beef broth, white wine, and diced tomatoes. Bring to a boil, then cover. Reduce the heat to medium-low and simmer for 20 minutes. Do not remove the lid while it simmers, and do not touch or stir it!

When 6 minutes are remaining, lift the lid and stir in shrimp and peas. Cover again and cook until the shrimp is opaque pink and the rice and peas are tender. Remove cover and stir in the beef. Garnish with parsley, serve, and enjoy!

Cooking Paella Tips
You can use a large skillet if you don't have a paella pan. If you do have a paella pan, feel free to use it!
I used thinly-sliced sirloin steak as it is easy to cook quickly and tastes amazing in the paella. However, you can use leftover steak or any steak you like so long as it is sliced thinly and cooked through before adding to the dish. See: Cuts of Beef
How to Store Leftover Paella
Store leftover paella in an airtight container in the refrigerator for up to 4-5 days, or cool then freeze for up to 1 month. Make sure to label the container with the freezing date.
However, I recommend enjoying any seafood in the dish on the same day, as it does not reheat well.
How to Reheat Paella
Easily reheat paella on your stovetop, in the oven, or in the microwave.
Stovetop: Add a little oil to a skillet and cook over medium heat, stirring until the paella is warmed and ready to eat.
Oven: Transfer paella to an oven-safe baking dish, and bake at 350°F with a little bit of water in the dish for about 20-30 minutes or until paella warms through.
Microwave: Reheat in a microwave-safe bowl in 30 second increments until paella is warm and ready to serve.
More Best Beef Recipes
📌 Pin it for later!
Did you enjoy this page? Save it on Pinterest for later!



Did you try this recipe? Leave a comment and a rating below to let us know what you think! We love to hear from you!
📋 Recipe
Paella Recipe with Beef
One of my favorite one-pot dishes, Paella with beef is a breathtaking combination of a saffron-flavored rice dish made with chicken, seafood, and vegetables. Let my easy paella recipe be the next crowd-pleaser at your cookout!
Ingredients
1

pound

sirloin steak

thinly sliced

2

Tablespoons

olive oil

divided

8

oz

chorizo

smoked and finely diced

1

cup

onion

chopped

1

medium

red bell pepper

chopped

3

cloves

garlic

minced

⅛

teaspoon

red pepper flakes

½

teaspoon

dried oregano

2

cups

Arborio short grain rice

1

Tablespoon

Worcestershire sauce

1

bay leaf

dried

1

lemon

zested

30

oz

beef broth

1

cup

white wine

can sub water

14 ½

oz

diced tomatoes

DO NOT DRAIN

1

pound

shrimp raw

de-veined, tail-on shrimp

1

cup

peas

frozen

parsley

for garnish
See our Beef Temperature Chart for helpful tips on cooking any cut of beef!
Instructions
In a 12-inch skillet, heat 1 tablespoon olive oil over medium-high heat until it begins to shimmer. Quickly sear 1 pound thinly-sliced sirloin steak on both sides in the skillet, then remove to a bowl or plate keep warm. (The easiest way to do this is to cover with foil.)

2 Tablespoons olive oil,

1 pound sirloin steak

Add remaining 1 tablespoon olive oil to the pan, along with 1 chopped onion, 1 chopped red bell pepper, and 8 ounces of diced chorizo. Cook for 5-6 minutes until the veggies soften.

2 Tablespoons olive oil,

1 cup onion,

1 medium red bell pepper,

8 oz chorizo

Stir in 3 cloves minced garlic, ⅛ teaspoon red pepper flakes, and ½ teaspoon dried oregano. Cook for another minute or so. Add 2 cups Arborio short grain rice to the skillet. Stir to coat with the oil and cook for about 3 minutes.

3 cloves garlic,

⅛ teaspoon red pepper flakes,

½ teaspoon dried oregano,

2 cups Arborio short grain rice

Stir in 1 tablespoon Worcestershire sauce, 1 dried bay leaf, the zest of 1 lemon, 30 ounces beef broth, 1 cup white wine (or water), and a 14 ½ ounce can of diced tomatoes (do not drain). Bring to a boil, then cover and reduce the heat to medium-low. Simmer for 20 minutes. Don't touch it while it's simmering!

1 Tablespoon Worcestershire sauce,

1 bay leaf,

1 lemon,

30 oz beef broth,

1 cup white wine,

14 ½ oz diced tomatoes

When just 6 minutes are remaining, lift the lid and stir in 1 pound shrimp and 1 cup peas. Replace the cover and cook until the shrimp is opaque and pink, and the rice and peas are tender. Remove the cover and stir in the beef. Garnish with parsley, serve, and enjoy!

1 pound shrimp raw,

1 cup peas,

parsley
Notes
You can use a large skillet if you don't have a paella pan. If you do have a paella pan, feel free to use it!
I used thinly-sliced sirloin steak as it is easy to cook quickly and tastes amazing in the paella. However, you can use leftover s
Nutrition
Serving:
1
person
|
Calories:
465
kcal
|
Carbohydrates:
47
g
|
Protein:
33
g
|
Fat:
12
g
|
Saturated Fat:
4
g
|
Polyunsaturated Fat:
1
g
|
Monounsaturated Fat:
3
g
|
Trans Fat:
0.1
g
|
Cholesterol:
124
mg
|
Sodium:
14932
mg
|
Potassium:
531
mg
|
Fiber:
3
g
|
Sugar:
2
g
|
Vitamin A:
2405
IU
|
Vitamin C:
26
mg
|
Calcium:
75
mg
|
Iron:
5
mg