Best Beef Recipes is an Amazon Associate. We receive compensation for purchases made through affiliate links.
My Beef Short Ribs in the Slow Cooker recipe will quickly become a favorite for your family dinner! They are melt-in-your-mouth, tender, and so flavorful, cooked low and slow in a rich red wine sauce with carrots and onions. Only 15 minutes of prep and they're keto-friendly, too!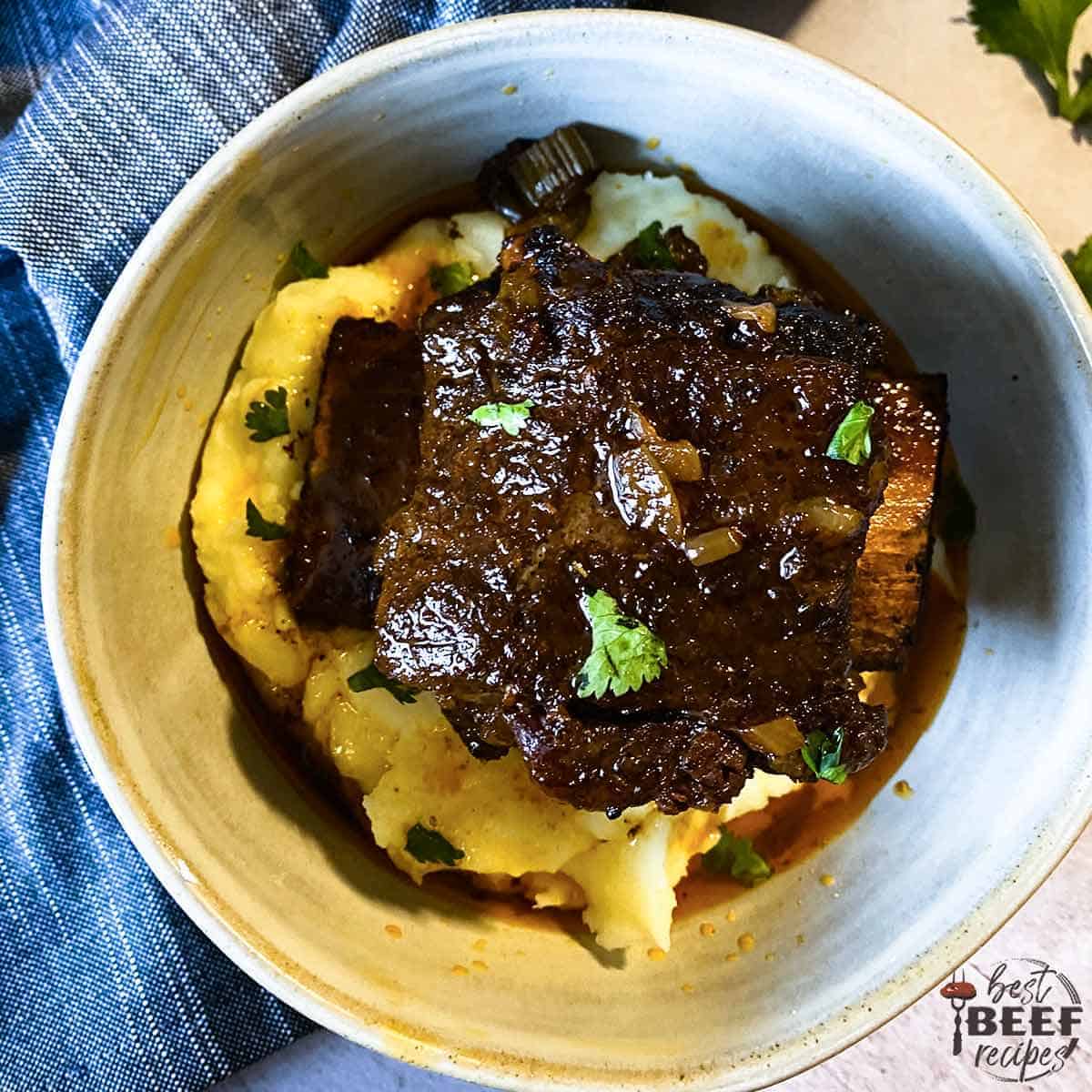 Jump to:
Slow cooker beef is so delicious and tender! By far, these are the most delicious beef short ribs we have ever made. They take just 15 minutes of prep and completely hands-off cook time with just two pots to clean. It doesn't get any better than that!
One of the best things about this crockpot beef short ribs recipe is that you have very little to clean up after! Just like our Instant Pot Beef Recipes, you'll be saving yourself some dishes making these ribs.
The ingredients are very simple, but the combination of flavors is incredible. Everything is intensified by cooking in red wine and beef broth for a truly delicious slow cooker dinner!
What are Short Ribs?
Beef chuck short ribs are a cut of beef from the front section of the backbone area. They generally have beautiful marbling, making them a perfect choice for braising.
There are two primary cuts of ribs: flanken and English-style.
Flanken short ribs: The bones are cut into short 1-2" lengths. Sometimes, cross-sections of ribs will be left in a strip. Or, they are sold in separate pieces, as in this recipe.
English-style short ribs: These ribs have larger pieces of bone left in, and the meat is cut parallel to the bone.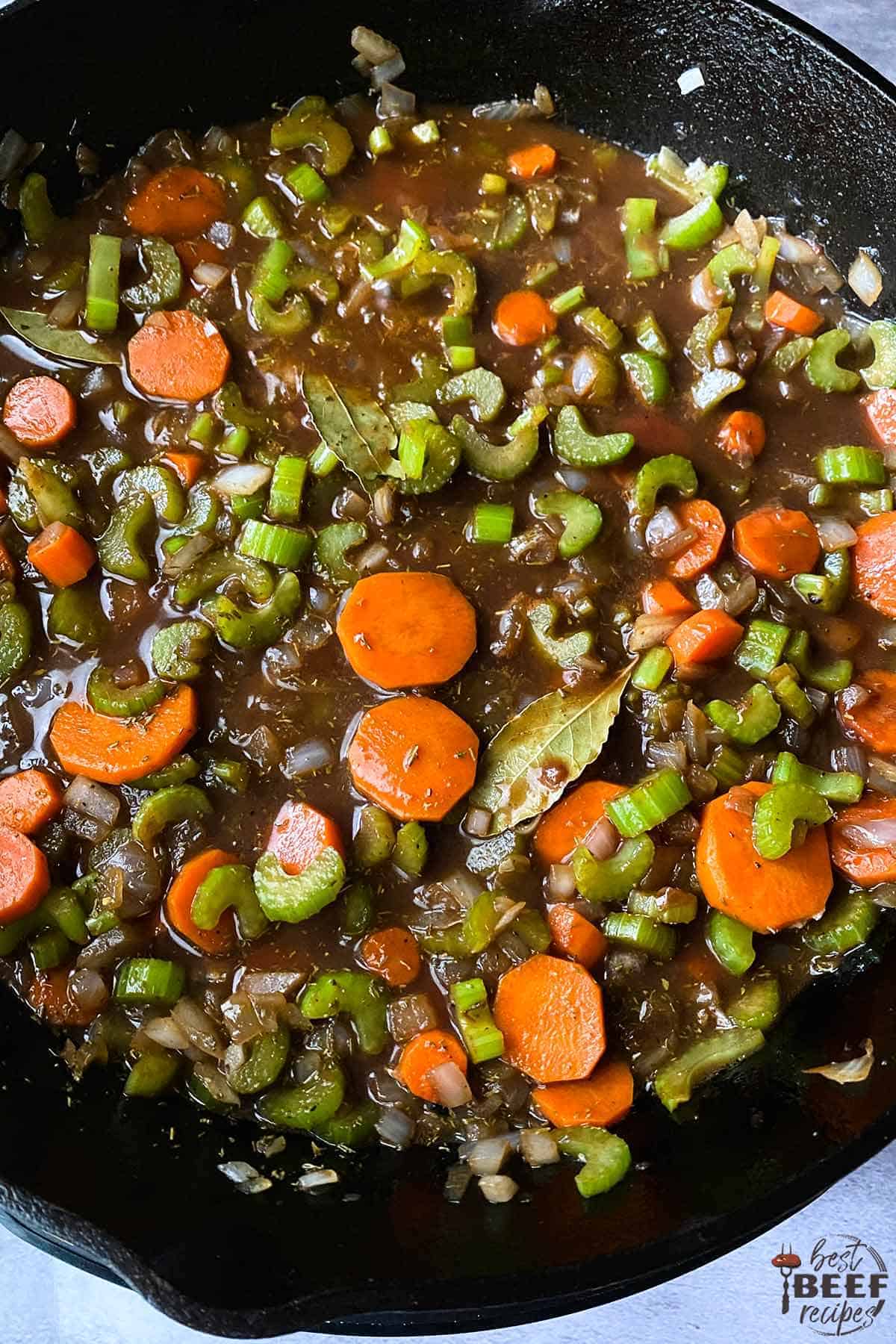 Tools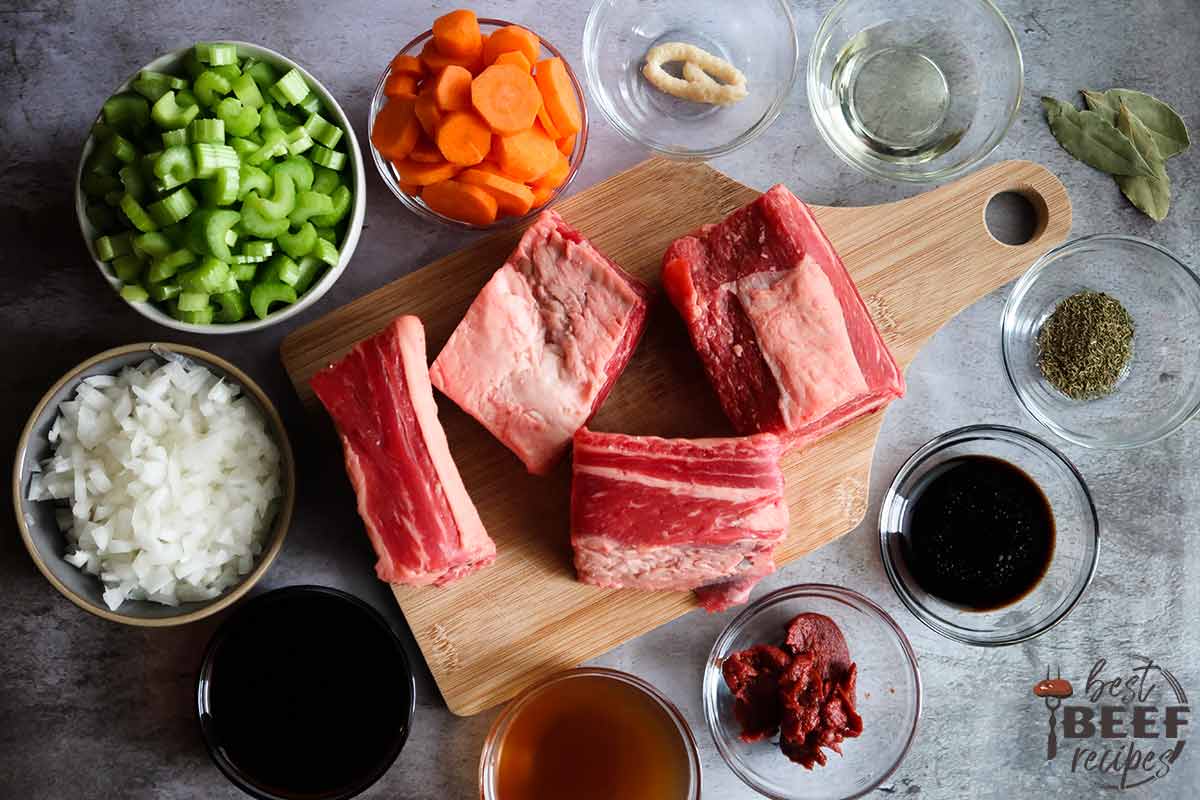 How to Cook Short Ribs
Make sure you don't overcrowd the pan when searing your ribs. They won't get a nice sear if it's crowded, so it's best to sear in batches. You want a beautifully browned crust on your ribs for the most flavor.
Season your beef ribs generously! A nice coating of salt and pepper means better flavor and a beautiful sear.
When choosing any cut of beef, look for beef that has plenty of marbling. Marbling refers to the white lines of fat running through a cut of beef. The more web-like marbling there is, the more flavorful your cut of beef will be!
Save the drippings in the slow cooker after removing the ribs. You can make them into a sauce or gravy! Check our instructions below for how to use the drippings for a beef sauce or gravy.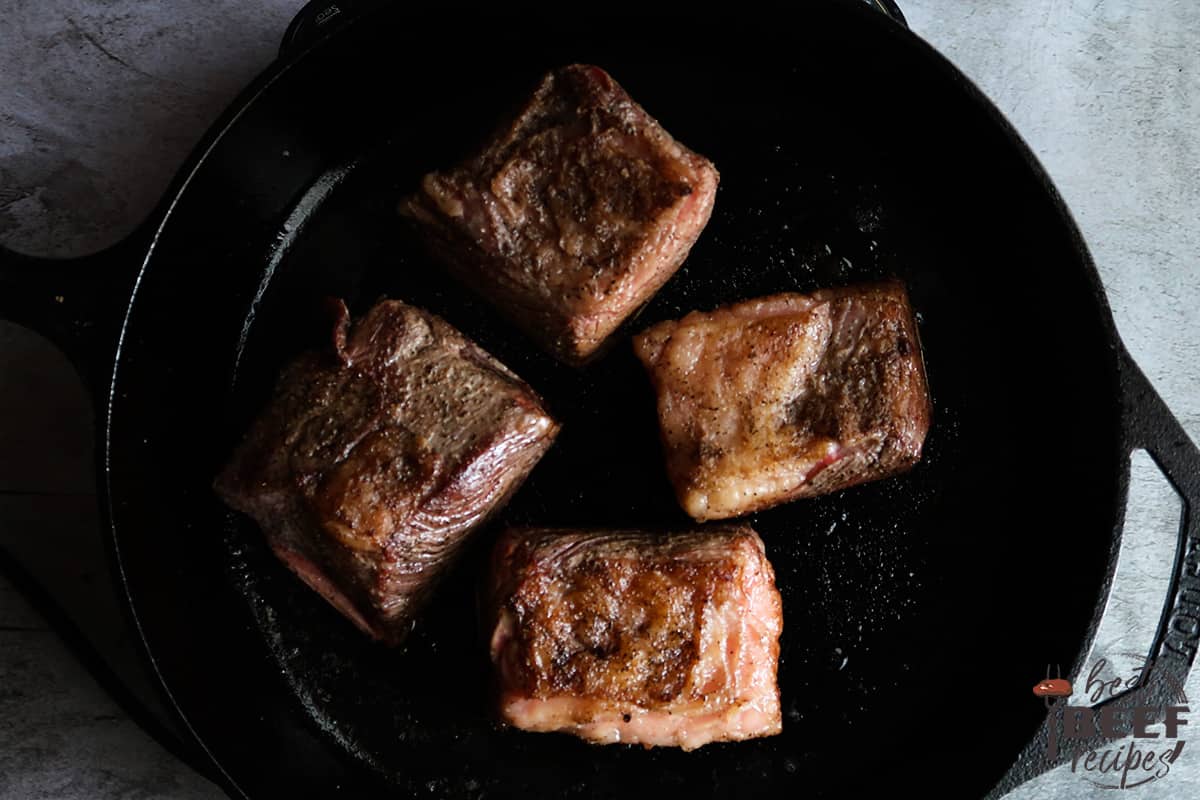 Recipe Scaling
This recipe serves 4. Perfect for family dinner! To scale up for a larger serving size, follow these instructions:
6 servings: Multiply ingredients by 1.5 (ex. 3.75 pounds ribs).
8 servings: Double all ingredients
Make sure to use a larger skillet if necessary.
Should I use boneless or bone-in short ribs?
Whether you make this a bone-in beef short ribs slow cooker recipe or boneless is up to preference, but we use bone-in. Try both and see which you prefer!
Either way, you are guaranteed a delicious meal.
What is deglazing?
Deglazing a pan is a cooking technique that refers to adding a liquid to a pan to loosen up browned bits from searing. This will give you so much flavor and creates a perfect sauce!
The sauce created from deglazing the pan can be used as a gravy. We add the sauce with the ribs to make beef short ribs with gravy in the slow cooker. Cooking it in the pan first after searing means more flavor!
Save the drippings from your crockpot beef short ribs to make into a sauce or a gravy.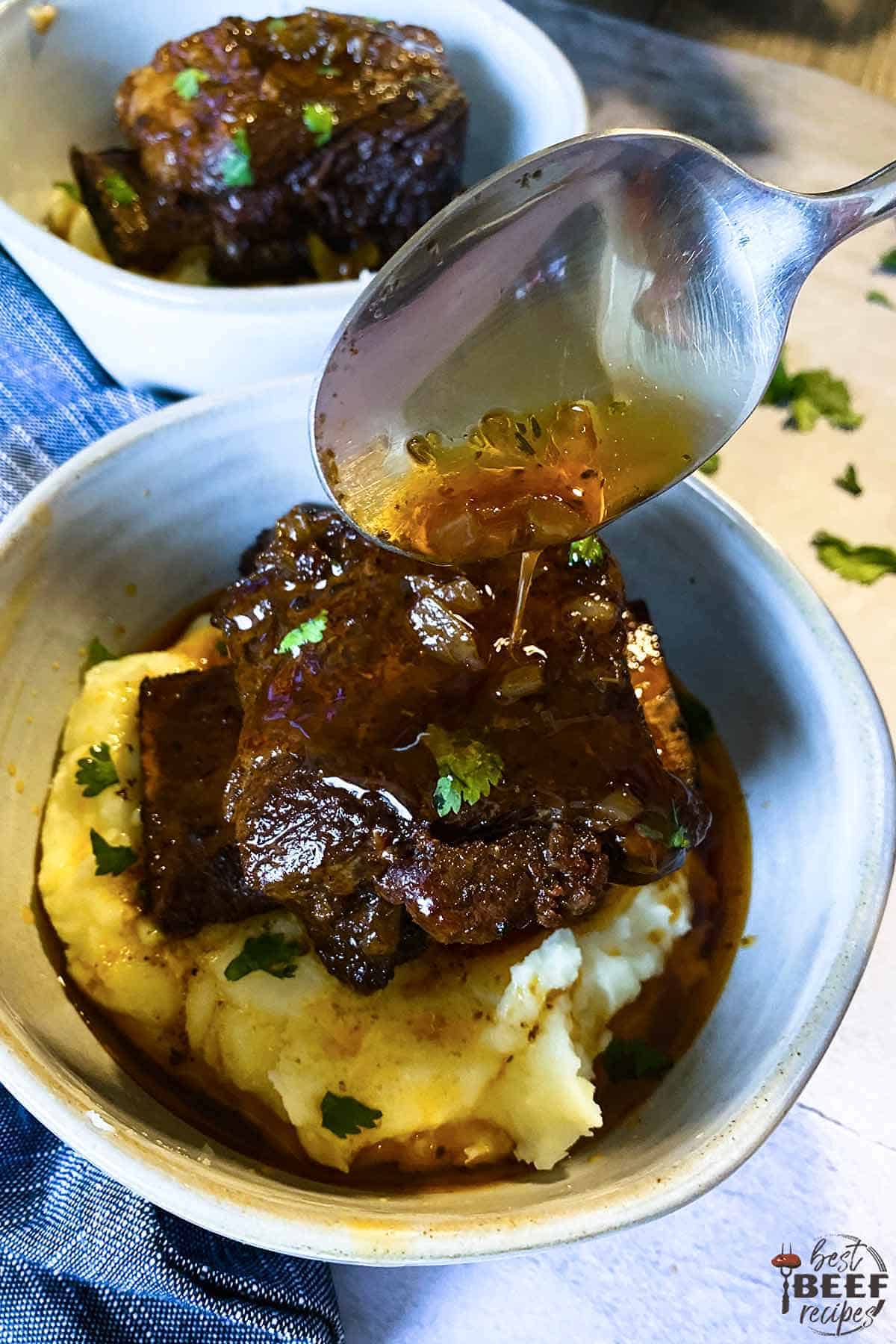 How to Make Sauce from Beef Drippings
Remove the crockpot beef ribs from the slow cooker, then pour the juices into a pan.
Bring to a boil, then reduce the heat.
Simmer until the sauce reduces, about 15 minutes.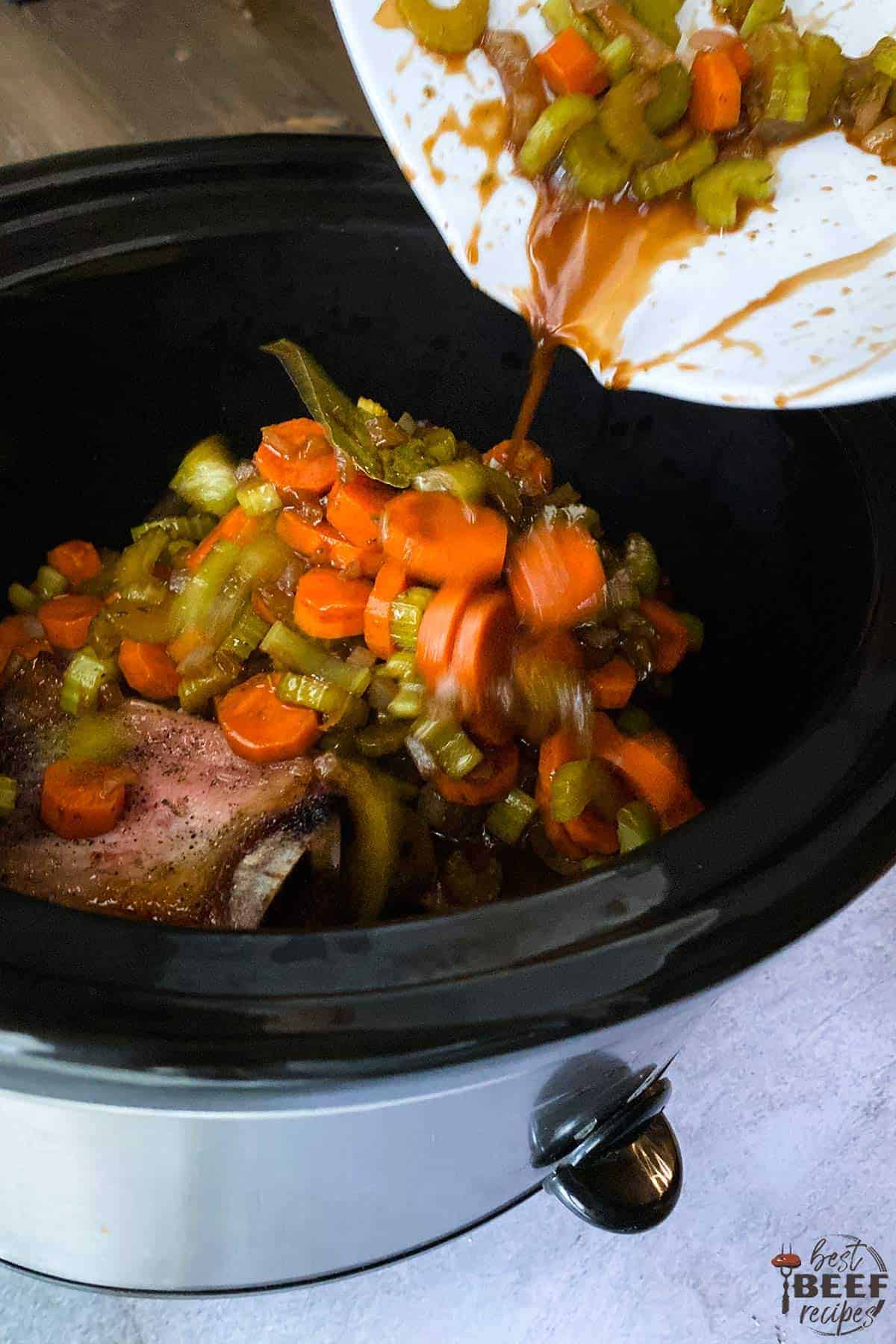 How to Make Gravy from Beef Drippings
Melt 2 Tablespoons butter in a skillet. Add 2 Tablespoons of flour, and quickly stir into a paste.
Pour the drippings from the slow cooker into the pan with the roux while stirring. Heat over medium-high heat until it thickens.
This easy beef sauce or beef gravy is perfect for serving over the ribs and any side dishes you make with it, like Creamy Mashed Potatoes.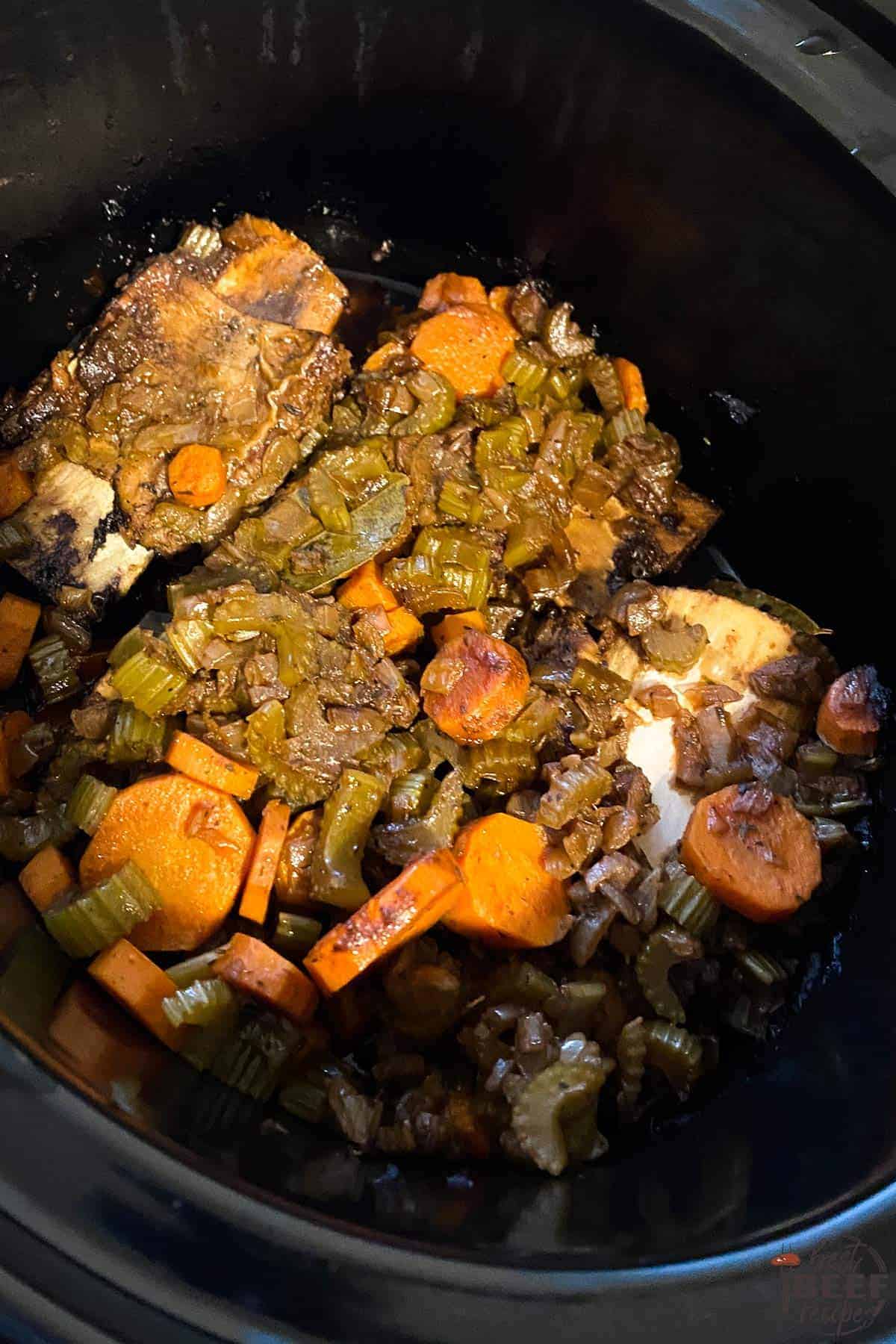 Are beef short ribs keto-friendly?
One serving of this beef ribs slow cooker recipe has around 9 carbs. This is a great choice for a keto-friendly meal!
Serve it with low-carb vegetable side dishes or cauliflower mashed potatoes to keep it keto-friendly.
Is this recipe gluten-free?
Yes! All of the ingredients necessary to make this Slow Cooker Beef Ribs recipe are gluten-free. The only ingredient you may want to double-check is the beef broth, but most varieties will be gluten-free.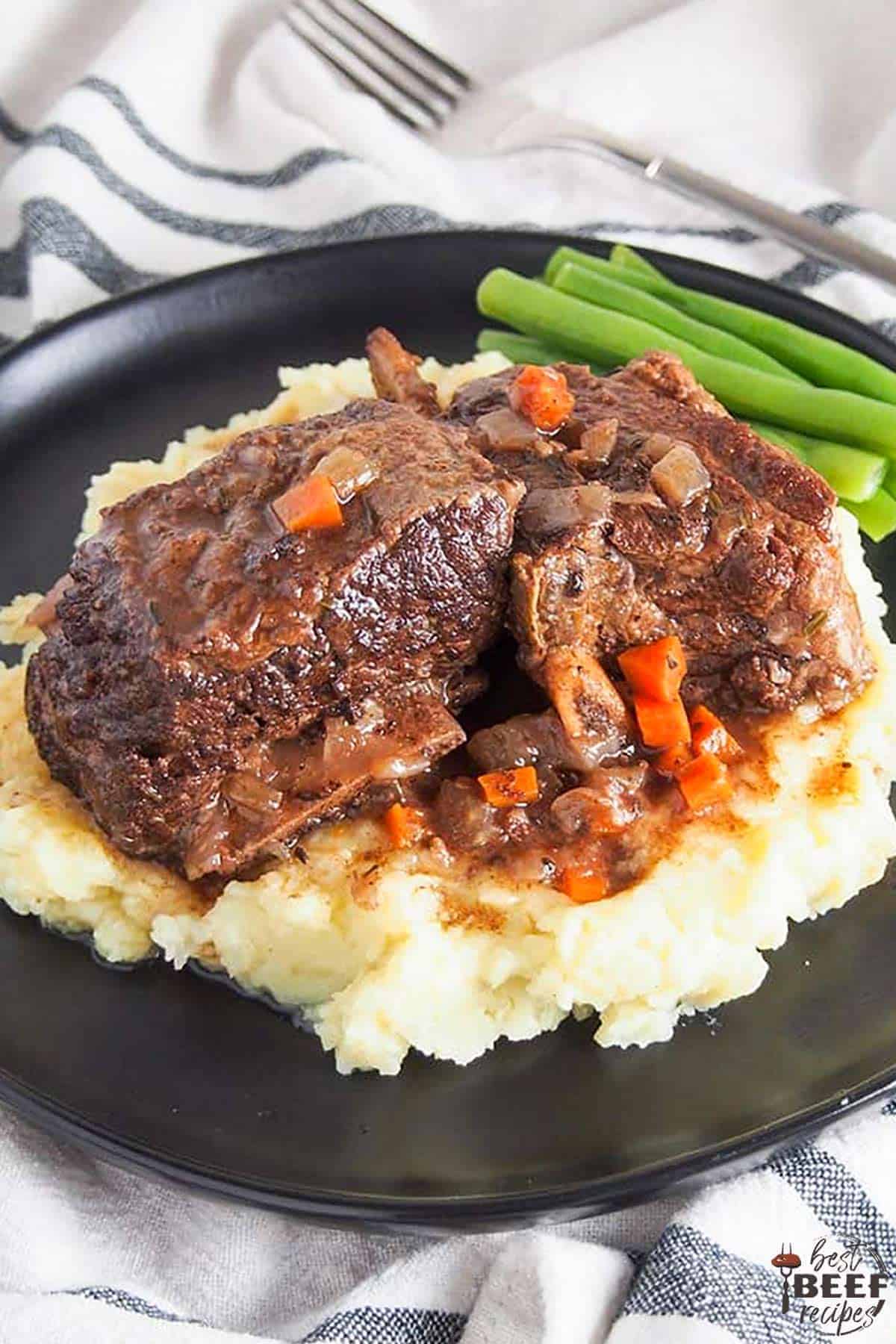 Slow Cooker Beef Recipes
Short Ribs Recipes
This was so good!

@sharyljean

Yum!!! It was delicious!

@tishstump
I made this tonight and it was truly amazing so tender and juicy. Will definitely be making it again.

@bz4u22003

Check out our Slow Cooker Beef Ribs Web Story!
Did you try these slow cooker beef ribs? Let us know in the comments below what you think, and be sure to leave a rating! We love to hear from you.
When you make the recipe, take a picture and share it with us on Pinterest. We love to see your creations!
📋 Recipe
Slow Cooker Beef Ribs Recipe
Slow cooker beef ribs will be your new favorite slow cooker recipe for dinner! These beef short ribs are cooked low and slow in a red wine sauce with carrots, onions, celery, and herbs for intense flavor.
Ingredients
2½

pounds

beef chuck short ribs

¼

teaspoon

each salt and pepper

approx., or more to taste

1

onion

8

ribs of celery

or 1 stalk

3

medium carrots

1½

Tablespoons

vegetable oil

or other flavorless oil, divided

1

clove

garlic

crushed (or 1 teaspoon minced garlic)

½

cup

red wine

2

Tablespoons

balsamic vinegar

2

Tablespoons

tomato paste

¾

cup

beef broth

½

teaspoon

dried rosemary

3

bay leaves
Instructions
Pat 2½ pounds beef chuck short ribs dry, then sprinkle them all over with salt and pepper. Coat them well with seasoning to intensify the flavor. Finely chop 1 onion, 8 ribs of celery (or 1 stalk), and 3 medium-size carrots.

Warm ¾ Tablespoon vegetable oil (half of your 1½ Tbsp.) in a skillet over medium-high heat. Sear the short ribs on all sides in two batches – don't overcrowd the skillet.

Sear just until you have a nice mahogany crust on all sides. After browning, add the short ribs to the slow cooker in one layer with the bones facing up.

Add the diced onion, celery, and carrots to the skillet with the remaining ¾ Tablespoon vegetable oil. Reduce the heat just slightly as needed, so the vegetables do not burn.

Cook for 2 minutes, then add 1 clove of crushed garlic (or 1 tsp. minced garlic) and cook for 1 minute more. Add ½ cup red wine to deglaze the pan. Scrape up any brown bits from the bottom of the skillet – that's flavor!

As the skillet starts to simmer, add in 2 Tablespoons balsamic vinegar, 2 Tablespoons tomato paste, ¾ cup beef broth, ½ teaspoon dried rosemary, and 3 bay leaves. Allow it to come to a simmer again, then pour the mixture over the short ribs in the slow cooker.

Turn the slow cooker to low and cook for 6 to 8 hours. Remove the bay leaves when the ribs are done cooking and discard them.

Serve and enjoy!
Notes
Make sure you don't overcrowd the pan when searing your short ribs.
Season your beef short ribs generously!
When choosing any cut of beef, look for beef that has plenty of marbling.
Marbling refers to the white lines of fat running through a cut of
beef.
Save the drippings in the slow cooker after removing the short ribs. You can make them into a sauce or gravy! Check the post for instructions.
Nutrition
Serving:
1
g
|
Calories:
972
kcal
|
Carbohydrates:
10
g
|
Protein:
114
g
|
Fat:
51
g
|
Saturated Fat:
17
g
|
Polyunsaturated Fat:
28
g
|
Trans Fat:
2
g
|
Cholesterol:
375
mg
|
Sodium:
547
mg
|
Fiber:
2
g
|
Sugar:
5
g