This post may contain paid links. If you make a purchase through links on our site, we may earn a commission.
I love beef and have the Best Beef Dishes for everybody's tastes! Try my favorite popular beef dishes, from steak to roast beef and even our best keto recipes.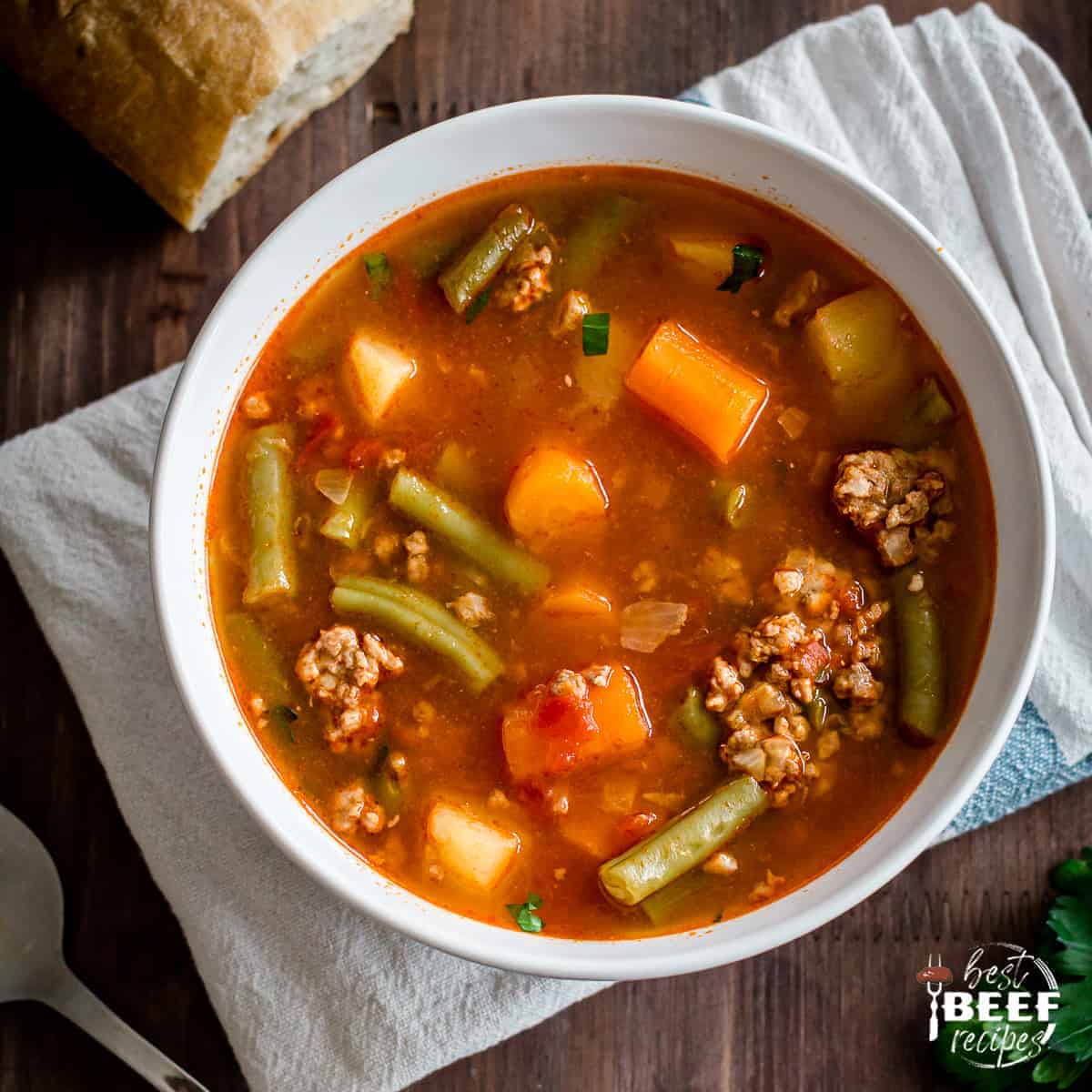 Jump to:
Best Beef Dishes
These are my most popular beef recipes that readers love and visit this site time and time again! They have all been tested, and I know your family is going to love them as much as we do.
From our Instant Pot beef recipes to our favorite roast beef recipes, you're sure to find a new favorite!
Beef Steak Recipes
Sous Vide Steak
Coulotte Steak
This is the most amazing sirloin cap recipe you will ever try. Complete with delicious Santa Maria seasoning, this is one of our most tasty beef recipes!
Air Fryer Steak
Our air fried steak with garlic butter is one of the juiciest steak recipes that takes just minutes to cook to perfection. Top it off with garlic butter, and you have a perfect steak dinner.
Reverse Sear Steak
Reverse searing ribeye is one of the best ways to cook a gorgeous steak! Try our easy reverse seared ribeye recipe.
Stuffed Flank Steak
Chuck Steak Recipe
This is the most tender chuck steak recipe you will ever try! Top it off with garlic butter, and you are good to go.
Beef Roasts and Prime Rib Recipes
Sous Vide Prime Rib
Sous vide is one of my favorite ways to cook prime rib! Sous Vide Prime Rib is easy and perfectly cooked every time.
Horseradish Sauce
If you're making prime rib, definitely try our horseradish sauce for prime rib! This easy sauce is the perfect pairing for beef and is one of our most popular beef recipes.
Beef Tenderloin Roast
Whole beef tenderloin roast makes an amazing holiday dish and is so unbelievably tender. Try it with a side of steakhouse mashed potatoes!
Sous Vide Beef Tenderloin
Best Prime Rib Recipe
What could be better than slow-cooked prime rib? This slow-roasted rib roast is easy enough for beginners to make, but makes a gorgeous holiday centerpiece.
Crock Pot Roast
Fall-apart tender slow cooker roast beef makes an amazing family meal, especially during the colder months. It's easy to prep and so flavorful!
Boneless Rib Roast
Love prime rib? Then you need to try our boneless prime rib roast recipe! This easy rib roast is so tasty and makes a gorgeous holiday centerpiece.
Prime Rib Seasoning
Best Pot Roast Recipe
This beautiful, easy pot roast is a one-pot recipe that is fall-apart delicious. It is one of the best beef recipes you can make on a budget!
Au Jus Sauce
Southwestern Beef Recipes
Picada
Get ready for one of the tastiest beef recipes: our Slow Cooker Carne Picada! It's easy to make and clean up after, and it tastes incredible in a bowl over rice or even in tacos.
Beef Empanadas
Everyone loves our baked beef empanadas! These Pastelillos de Carne are a Puerto Rican-style recipe with the most incredible flavor. This is easily one of our best beef recipes.
Birria Tacos
Tacos de Birria are a dream come true! These earthy, mildly spicy tacos are filled with fall-apart tender chuck roast and Mexican cheese. You will savor every bite!
Crockpot Taco Meat
Mexican Casserole
One of the best beef recipes you'll find, Mexican ground beef casserole is a wonderful family dinner with so much flavor.
Beef Soup Recipes
Instant Pot Hamburger Soup
Our easy hamburger soup recipe is a must-try. It is one of our most popular beef recipes - it's budget-friendly, wholesome, and so flavorful! Give this easy recipe for beef soup a try!
Beef Pho
Yes, you CAN make pho in the Instant Pot! Our Instant Pot Beef Pho is one of our favorite beef main dishes. It takes a favorite traditional Vietnamese recipe and makes it quick and easy. We know you'll love it!
Beef Slow Cooker Recipes
Short Ribs Recipe
Our best short ribs recipe is absolutely irresistible and easily one of our most popular beef recipes!
Slow Cooker Beef Brisket
One of the easiest recipes for brisket ever, my slow cooker beef brisket is a show-stopper. It is delicious!
Slow Cooker Lasagna
One of the easiest recipes for brisket ever, my slow cooker beef brisket is a show-stopper. It is delicious!
Smoked Beef Recipes
Smoked Brisket
Smoked brisket is a favorite in my household, and this recipe delivers on every level! I guarantee you'll love my juicy smoked beef brisket.
Smoked Short Ribs
Smoked Tomahawk Steak
Smoked Burgers
Beef Burger Recipes
Wagyu Burgers
Burger Seasoning
Mushroom Burger
Ground Beef Recipes
Instant Pot Meatballs
Try making beef meatballs in the Instant Pot, and you will want to make them this way all the time! Instant pot meatballs are so moist and delicious.
Air Fryer Meatballs
This is your old-school meatball recipe – only better! It's even crispier than traditional meatballs. So soft and juicy on the inside and so crispy on the outside. This is one of our best ground beef recipes!
Grilled Beef Recipes
Grilled London Broil
Grilling London Broil steak is perfect for a special weekday meal or even for entertaining at a cookout. After marinating, it's ready in less than 20 minutes! This is one of our favorite grilled beef recipes.
Grilled Porterhouse
Grilled Short Ribs
Keto Beef Recipes
Hamburger Casserole
Our Keto Cheeseburger Casserole is always a hit with everyone in the family. It's a great way to sneak veggies into dinner for the kids, and it's low carb, too!
Keto Beef and Broccoli
Low carb beef and broccoli is so easy to make and a perfect way to enjoy this delicious Chinese-inspired recipe on a keto diet! Keto recipes like this make some of our favorite types of beef dishes. We love this recipe!
Keto Meatloaf
Keto Stuffed Peppers
Keto Taco Casserole
Did you try one of our popular beef recipes? Let us know in the comments below which your favorite is or send us an email!
Try more of the best beef cuts according to your needs and budget by following my guide on the Best Cuts of Beef!
📋 Recipe