Best Beef Recipes is an Amazon Associate. We receive compensation for purchases made through affiliate links.
My creamy horseradish sauce is the Best Horseradish Sauce for Prime Rib! Ready in 5 minutes using a handful of ingredients all mixed together in a bowl, this is a quick and easy sauce with tons of flavor. Try it with all your favorite beef recipes, but especially with prime rib!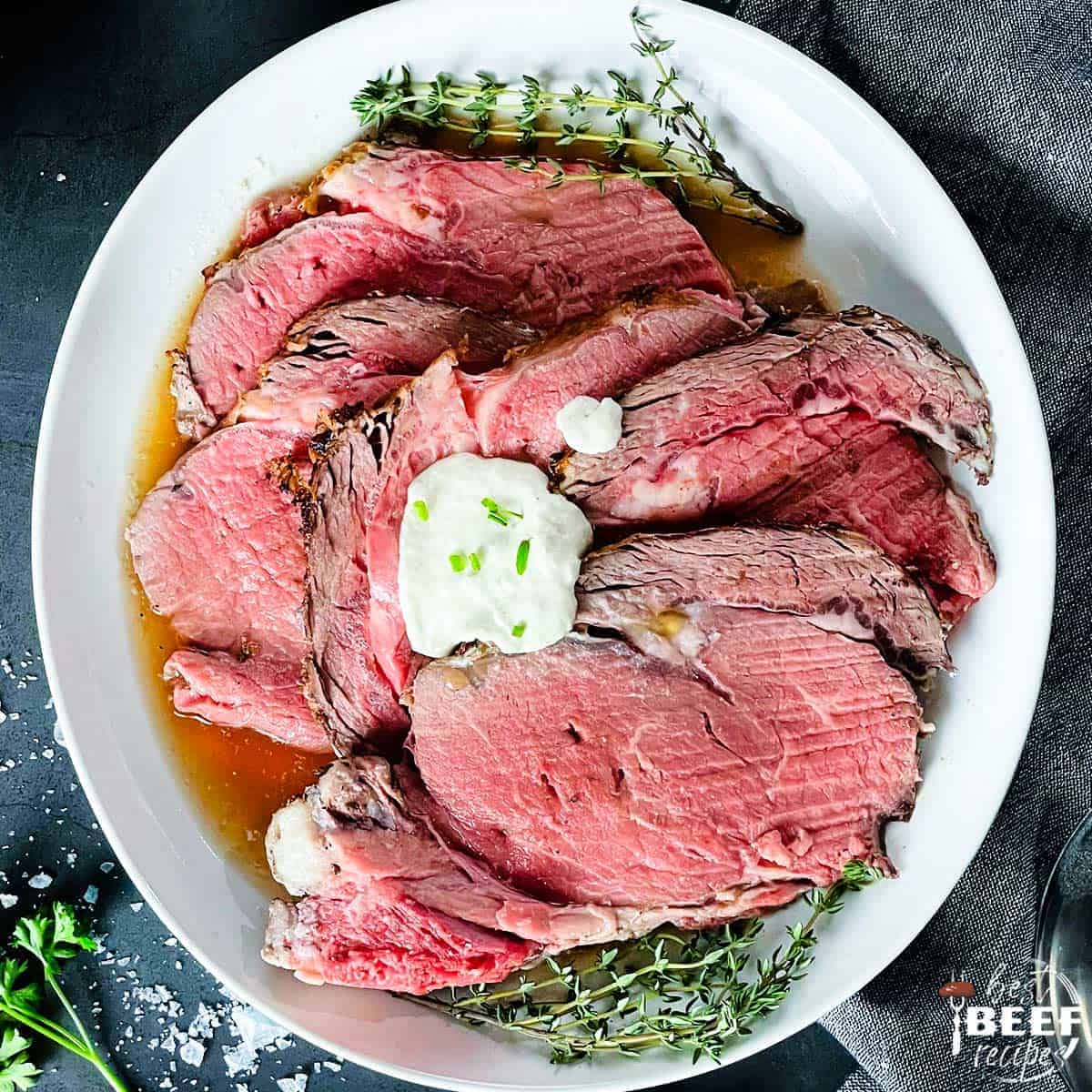 Jump to:
Easy Horseradish Sauce for Beef
There is nothing like horseradish sauce for beef. Creamy and delicious, this easy horseradish sauce recipe pairs perfectly with beef recipes of all kinds. The best part about it is how quickly and simply it comes together: it only takes 5 minutes to whip it up using a handful of easy ingredients!
My family loves this recipe, and I know I, for one, cannot resist horseradish sauce for steak, pot roast, beef tenderloin, and prime rib... the list goes on. I'll admit, sometimes I cook up beef for dinner just to enjoy it with creamy horseradish sauce!
That's why I guarantee you're going to love this easy sauce recipe as much as I do. Pair it with my Au Jus for Prime Rib, and you will have the most tender, flavorful rib roast of your life.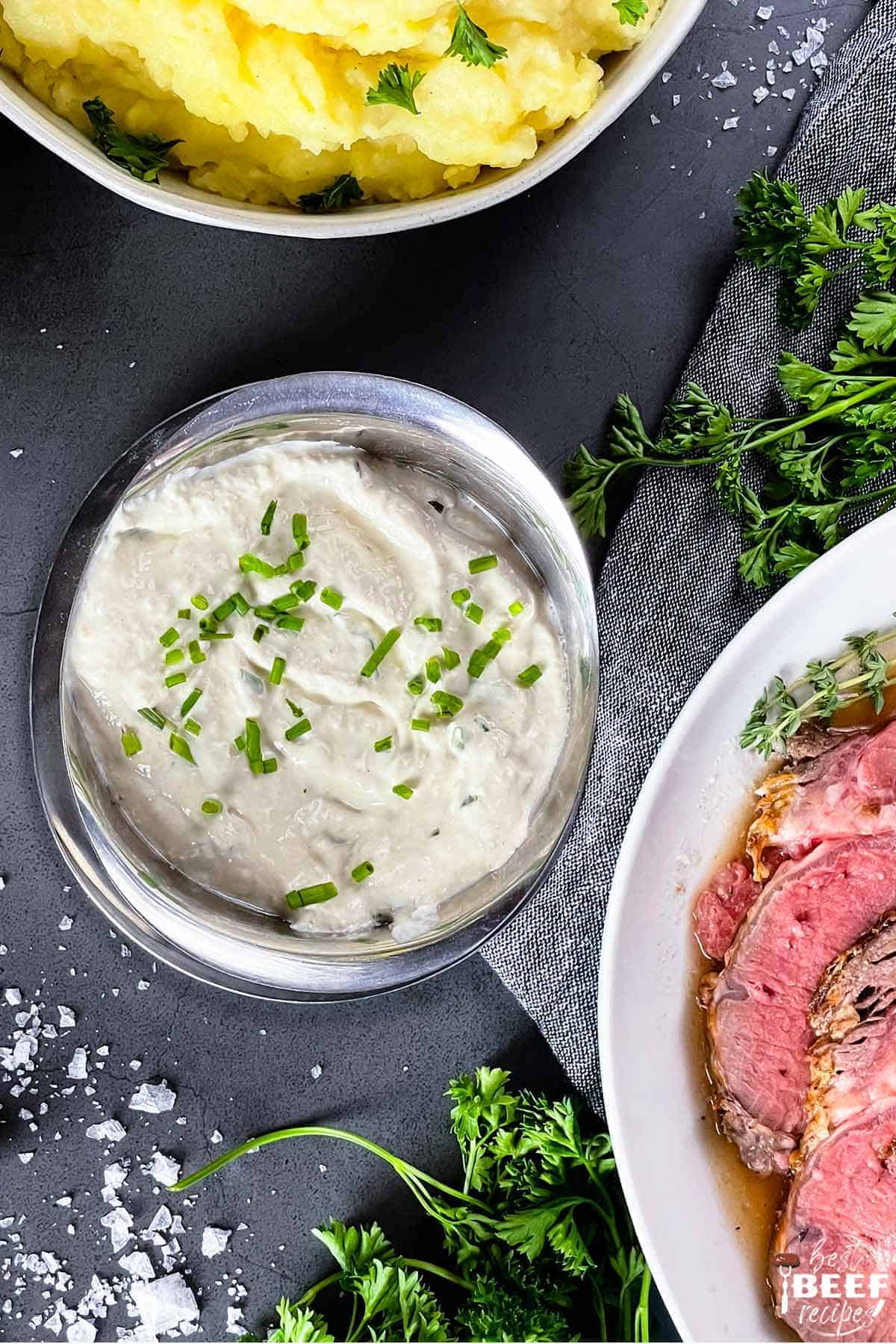 FAQs
What is horseradish sauce made from?
My recipe for horseradish sauce uses sour cream, prepared horseradish, Dijon mustard, champagne vinegar, Worcestershire sauce, chopped chives, salt and pepper, and Tabasco sauce (optional). Personally, I love the kick Tabasco sauce adds!
What is horseradish?
Horseradish is a spicy root vegetable in the same family as mustard and wasabi. By itself, it is widely used as a condiment and as an ingredient in dressings and sauces.
What is the difference between horseradish and prepared horseradish?
Prepared horseradish is a condiment made from the horseradish root, and is readily available at the grocery store. You will use prepared horseradish to make horseradish sauce. Horseradish is strong, so if you are not familiar with it, use only a little bit to begin with.
What is the difference between horseradish and horseradish sauce?
Prepared horseradish, also known as pickled horseradish, is made using vinegar, salt, and sugar. On its own, it is more of a condiment than a sauce. Creamy horseradish sauce such as this recipe combines prepared horseradish with other ingredients, such as sour cream or, in some cases, mayonnaise.
Why do you put horseradish on prime rib?
Horseradish pairs well with richer cuts of beef, such as prime rib, as it cuts through the rich flavor to give the beef a lighter taste. This makes it a great choice for prime rib and roast beef sandwiches, though it also pairs well with steak, beef tenderloin, and even burgers.
What meat goes best with horseradish?
Horseradish goes best with beef recipes of all kinds, but in particular is a perfect pairing for fattier cuts or roast beef.
Does creamy horseradish sauce use mayonnaise?
Some recipes for horseradish sauce use mayonnaise, but this recipe uses sour cream. Using sour cream gives you a lighter version of the sauce and adds a tang to the flavor.
Is horseradish sauce gluten-free?
As long as you use a gluten-free Worcestershire, this sauce recipe is completely gluten-free.
Can you freeze horseradish sauce?
Horseradish sauce can be frozen by placing it in an airtight freezer bag, pushing all the excess air out, and freezing for up to 6-8 months. Label with the freezing date and allow it to thaw in the refrigerator before using.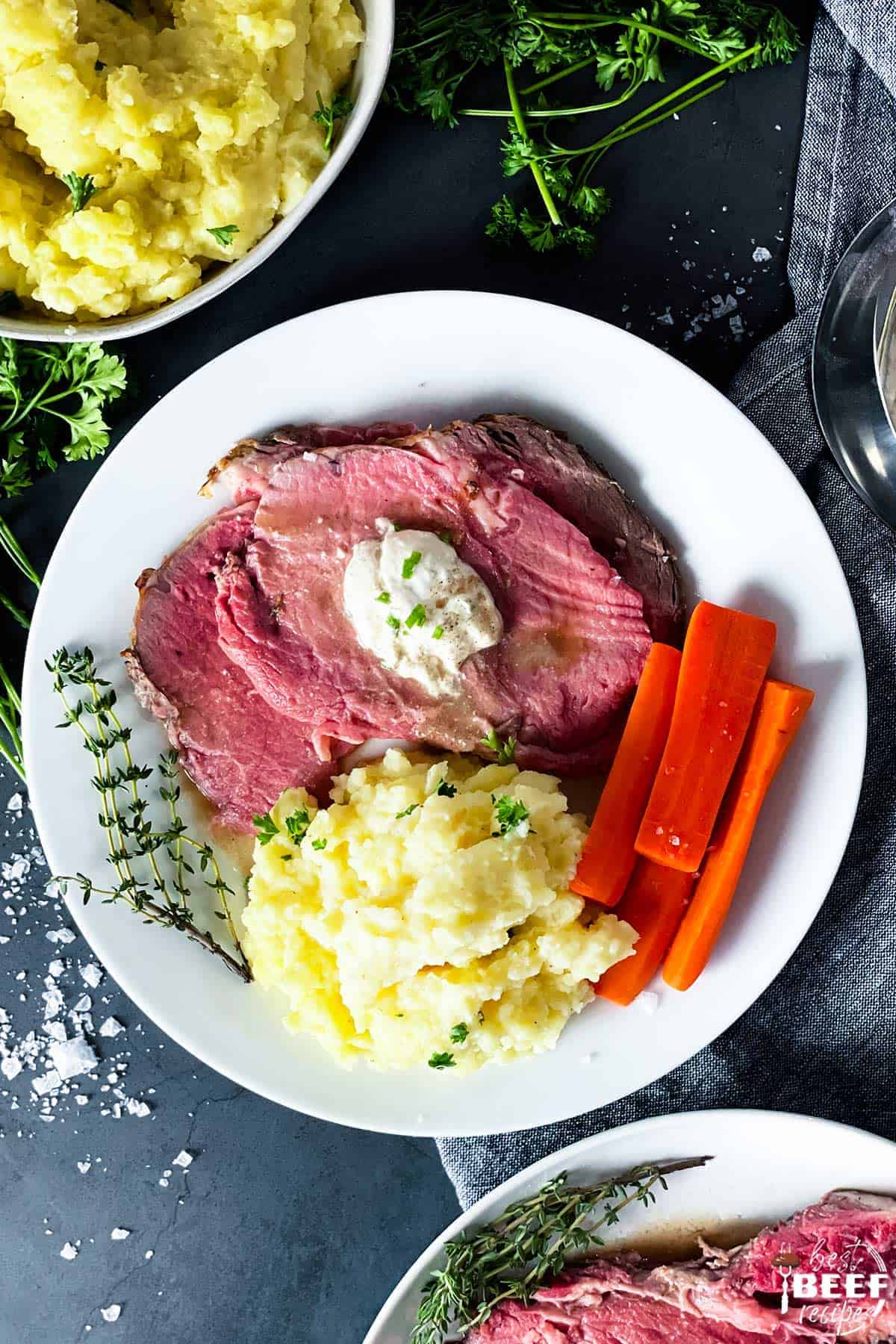 How to Store Horseradish Sauce
Store any leftover horseradish sauce in an airtight container in the refrigerator. It lasts up to 1 week. I personally like to add it to a mason jar and use it as a dip for vegetables like carrots and celery sticks.
Recipes for Prime Rib with Horseradish Sauce
For more tips on cooking prime rib and what to pair it with, follow my guide on Best Way to Cook Prime Rib Roast. Use my Prime Rib Temperature Chart and a meat thermometer to find your ideal degree of doneness. Enjoy your holiday meal!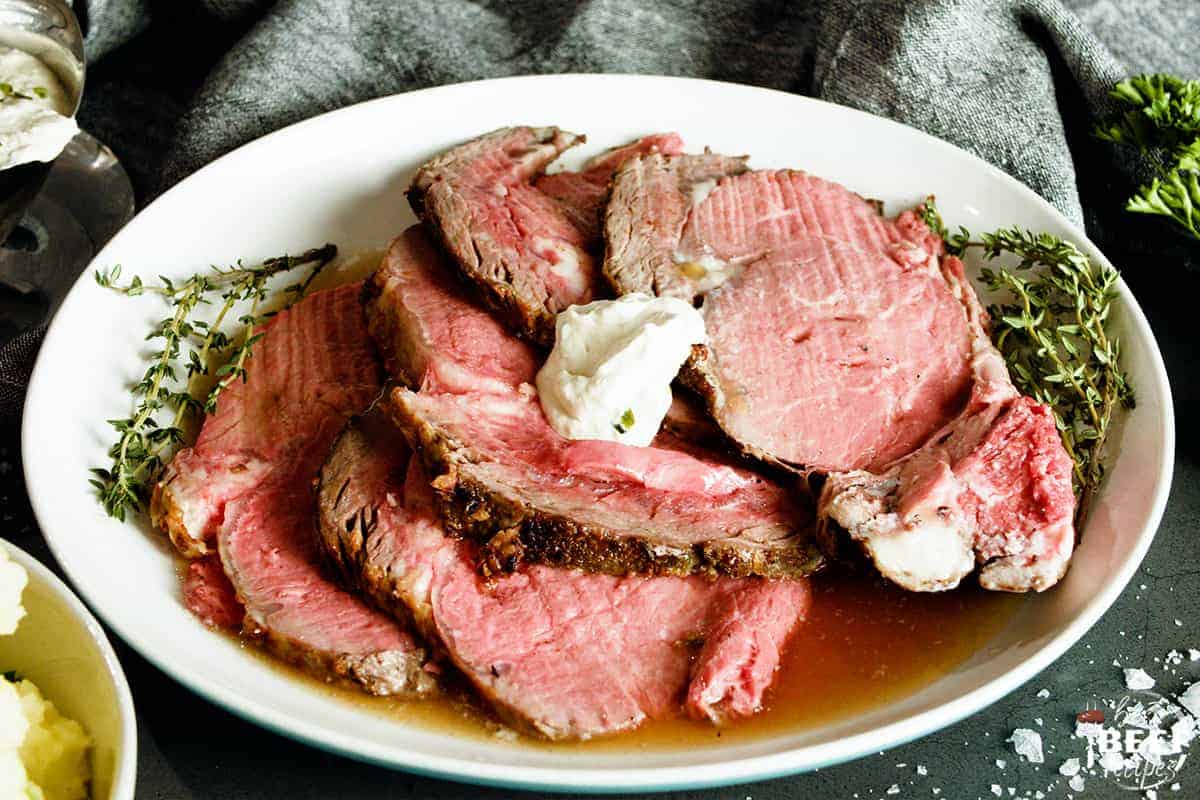 Sauces for Beef
📌 Pin it for later!
Did you enjoy this page? Save it on Pinterest for later!



Did you try this recipe? Leave a comment and a rating below to let us know what you think! We love to hear from you!
📋 Recipe
Horseradish Sauce for Prime Rib
Learn how to make horseradish sauce for prime rib, steak, and more! Creamy, delicious, and ready in 5 minutes using simple ingredients.
Equipment
Medium bowl

Whisk or fork

Measuring spoons
Ingredients
1

cup

sour cream

¼

cup

prepared horseradish

1½

tablespoons

Dijon mustard

1

teaspoon

White vinegar

1

teaspoon

Worcestershire sauce

½

tablespoon

fresh chopped chives

plus extra for garnish

salt and pepper to taste
Instructions
Add all ingredients to a bowl and mix.

1 cup sour cream

,

¼ cup prepared horseradish

,

1½ tablespoons Dijon mustard

,

1 teaspoon White vinegar

,

1 teaspoon Worcestershire sauce

,

½ tablespoon fresh chopped chives

,

salt and pepper to taste

Whisk ingredients together until fully combined.
Notes
Store leftover horseradish sauce in an airtight container in the refrigerator for up to 1 week.
Use as much or as little horseradish as you prefer to vary the taste of this sauce.
Nutrition
Serving:
157
g
|
Calories:
248
kcal
|
Carbohydrates:
9.5
g
|
Protein:
3.5
g
|
Fat:
22.5
g
|
Saturated Fat:
11.5
g
|
Polyunsaturated Fat:
1.1
g
|
Monounsaturated Fat:
5.5
g
|
Trans Fat:
0.9
g
|
Cholesterol:
68
mg
|
Sodium:
954
mg
|
Potassium:
233.5
mg
|
Fiber:
1.4
g
|
Sugar:
6.5
g
|
Vitamin A:
10
IU
|
Vitamin C:
14
mg
|
Calcium:
10.5
mg
|
Iron:
2
mg