This post may contain paid links. If you make a purchase through links on our site, we may earn a commission.
Get the best tips for Cooking Prime Rib using any method from roasting to sous vide following this easy prime rib cooking guide! Choose from the best ways to cook prime rib, calculate how much prime rib per person you need, and never worry about overcooking your dinner again - we have you covered!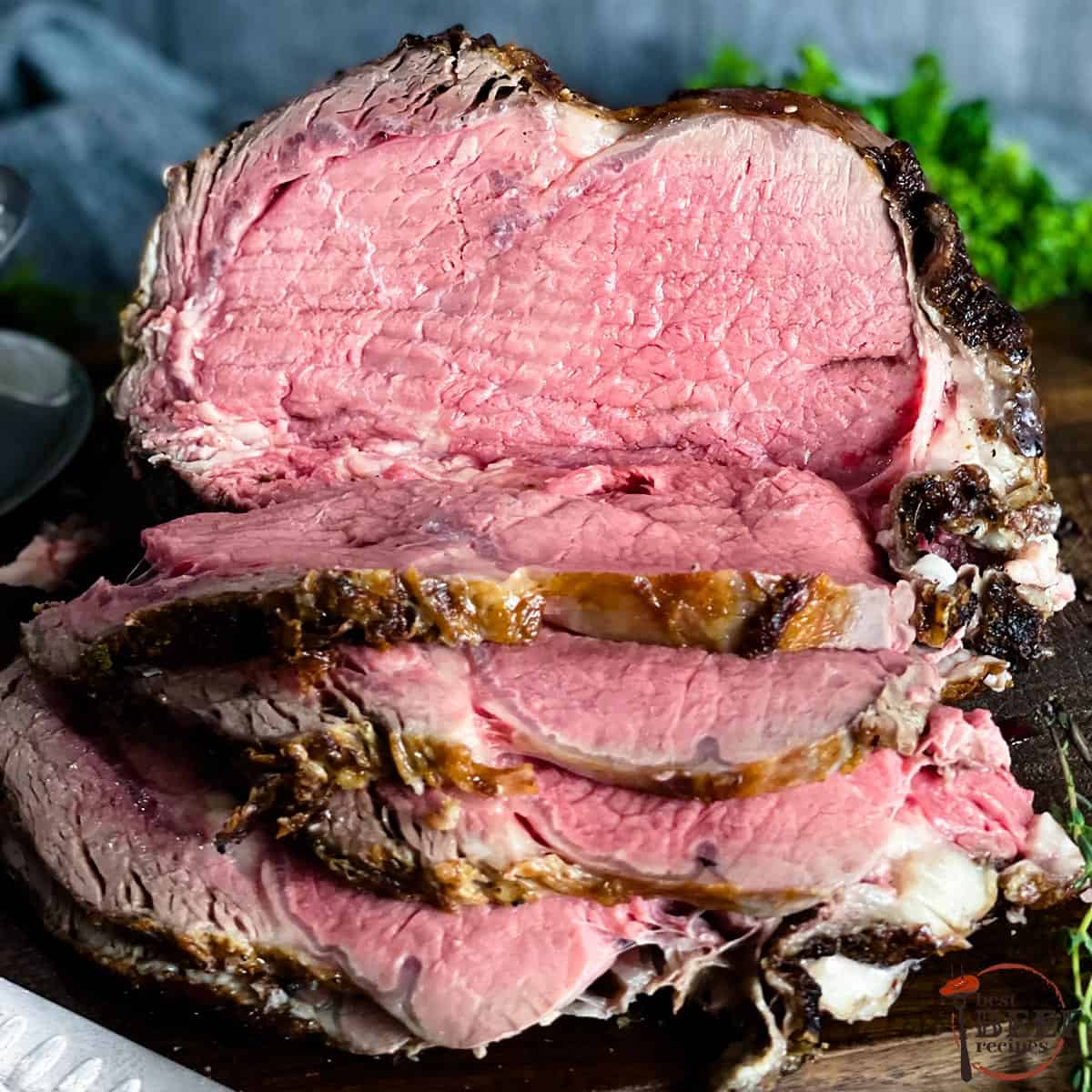 Jump to:
Cooking Prime Rib
Every year, the holiday meal I look forward to the most is cooking prime rib. There is nothing like a gorgeous, tender prime rib as the centerpiece to a holiday table, surrounded by friends and family who all can't wait to dig in.
Prime rib is a truly special dinner to serve, but if you're not sure how to cook prime rib, it can be intimidating. Anyone who has ever cooked prime rib has worried about overcooking it, and let me tell you - I have done it before myself!
By following this guide, you won't have to worry about overcooking your prime rib roast anymore. I will share my best prime rib recipes with you, along with cooking tips, the best side dishes for prime rib, how to plan for your number of guests, and more.
Tips for Cooking Prime Rib
Always use a meat thermometer to check the internal temperature of your prime rib roast throughout the cooking process to ensure you do not overcook or undercook the roast.
Always allow your prime rib roast to rest before slicing after it's finished cooking.
Always slice against the grain for best results and the most tender cuts of beef.
Liberally season prime rib roast to give it a nice crust no matter what cooking method you're using. A good prime rib roast only needs salt and pepper, but herbs are always a nice touch.
Let your prime rib sit at room temperature for about 30 minutes before cooking it so it cooks evenly throughout.
If you are not planning on enjoying the entire roast in one sitting, only slice what you're planning on serving. Keep the rest of the roast intact, and this will keep the roast succulent and tender.
How to Cook the Best Prime Rib in the Oven
Learn how to cook prime rib in the oven following one of my best prime rib oven recipes: my slow-cooked prime rib, standing rib roast, and boneless prime rib roast! Each one of these oven prime rib recipes is easy for even a beginner to prepare.
Remember that oven temperatures vary, so it's important to keep an eye on your roast throughout the cooking process using a meat thermometer.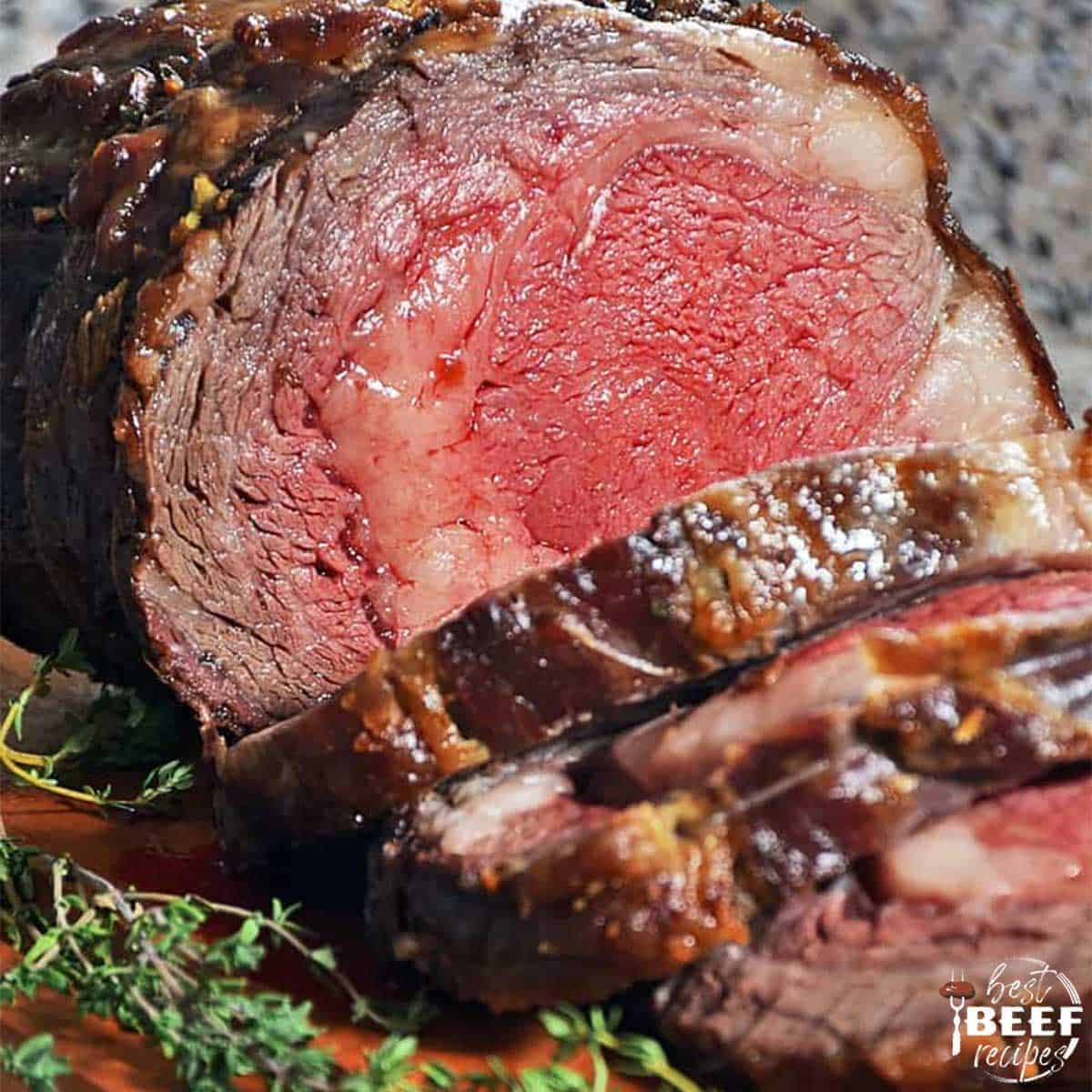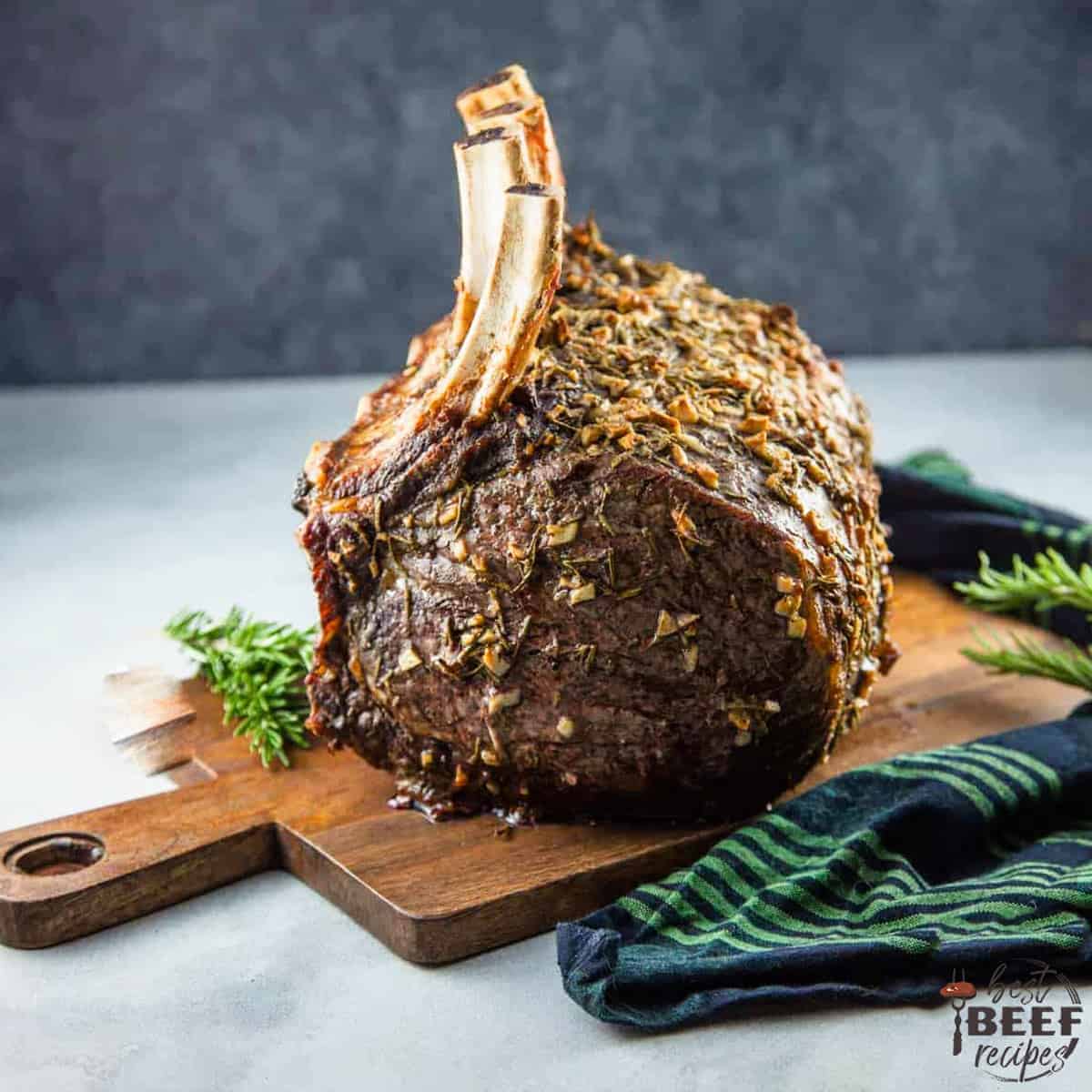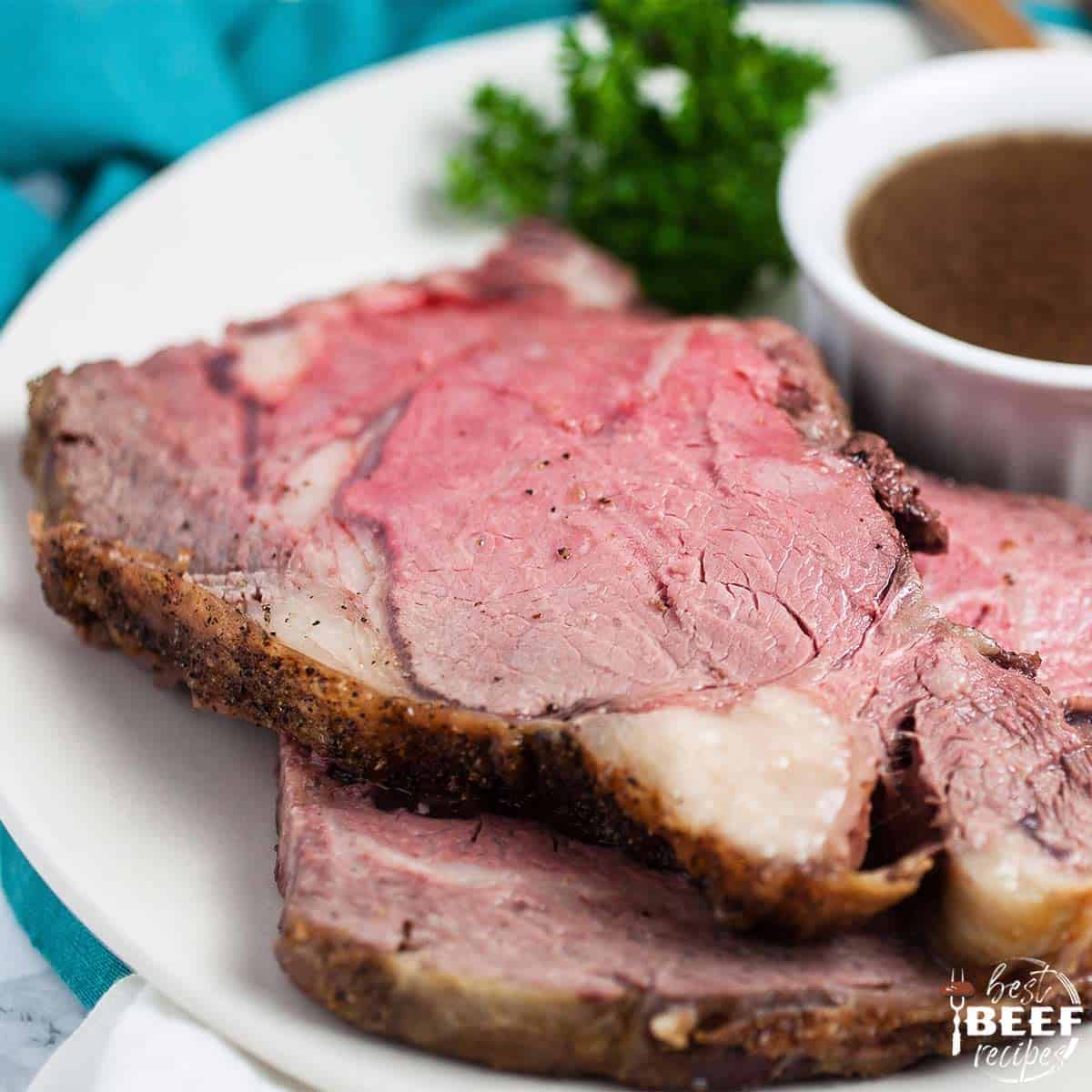 Tips for Cooking Prime Rib in the Oven
A roasting rack should be used when cooking prime rib in the oven so it cooks evenly on all sides.
You can create a roasting rack by rolling aluminum foil into tight cylinders, then resting them at the bottom of a roasting pan. Roll three pieces of foil tightly, placing them 2 inches apart from one another at the bottom of the pan, then position the roast on top of the rolls of foil so it is raised above the bottom of the pan.
To sear a prime rib roast in the oven before cooking it at a lower temperature, add it to the oven and cook for 15 minutes at 450°F so it develops a crust. Then, lower the oven temperature and continue cooking until it reaches your desired doneness.
As a general rule, for medium-rare prime rib, cook for about 13-14 minutes per pound when roasting at 325°F.
Grilling the Best Prime Rib
Prime rib on the grill is deliciously juicy and tender - and surprisingly easy to prepare! Try grilling prime rib this year following my best grilled prime rib recipe, and you will be hooked!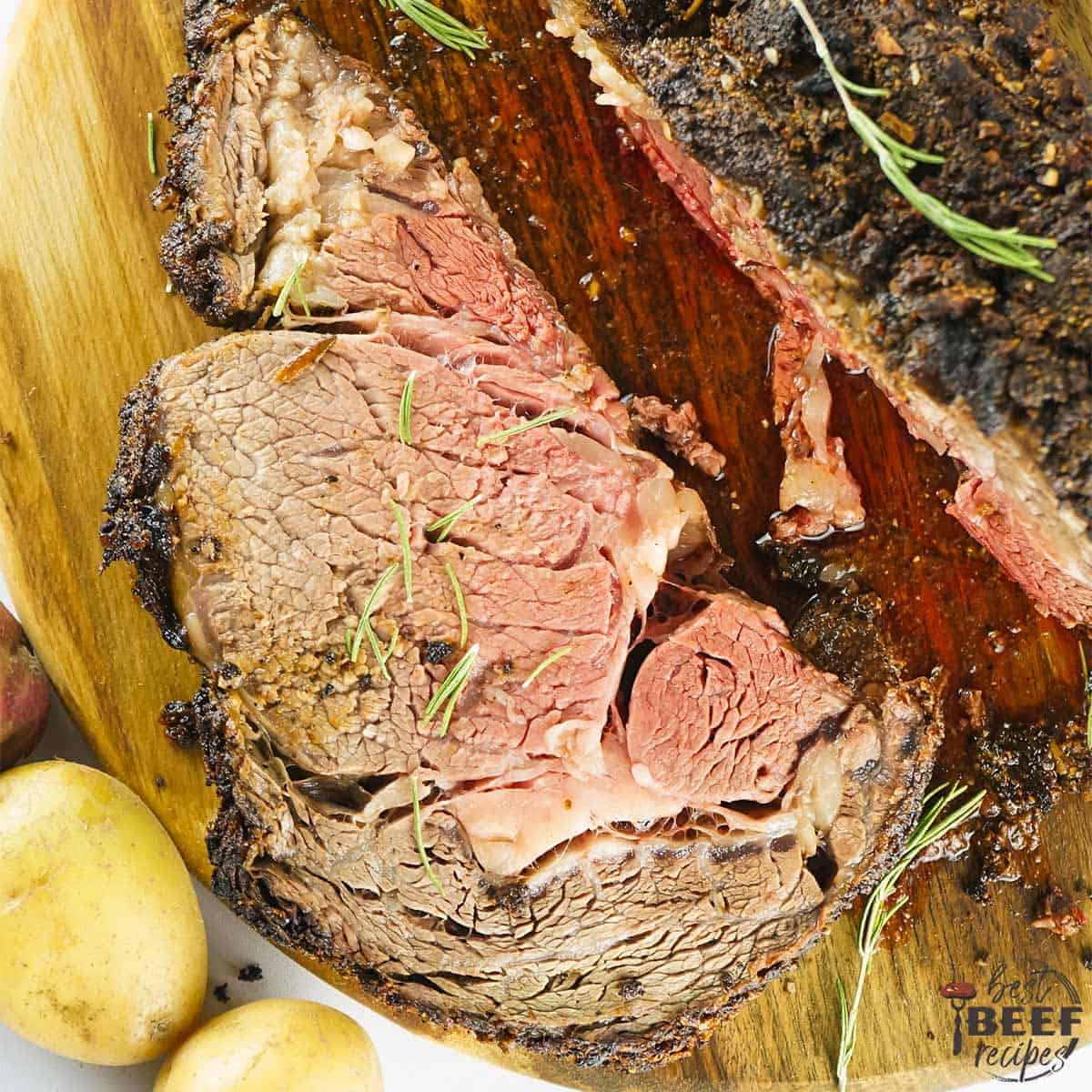 Grilled Prime Rib
Learn how to grill prime rib so delicious, you'll want to make it this way every year! My grilled prime rib recipe with coffee rub is so juicy and simple to make.
Get the recipe!
Tips for Grilling Prime Rib
Focus on the internal temperature of the meat. You can grill any weight prime rib as long as it is 130°F internally before you remove it from the grill.
Skip using the burners in the middle of your grill and instead use the two burners on the sides. Start them at low and then work your way up to the desired temperature for the best results.
Don't rush grilling prime rib. It needs to cook slowly, due to how thick the meat is. Rushing the process will result in unevenly cooked prime rib.
Smoking the Best Prime Rib
Smoking prime rib is one of my family's favorite ways of cooking prime rib. It results in deliciously juicy, tender beef, with a gorgeous crust! Smoked prime rib makes a beautiful centerpiece on any holiday table.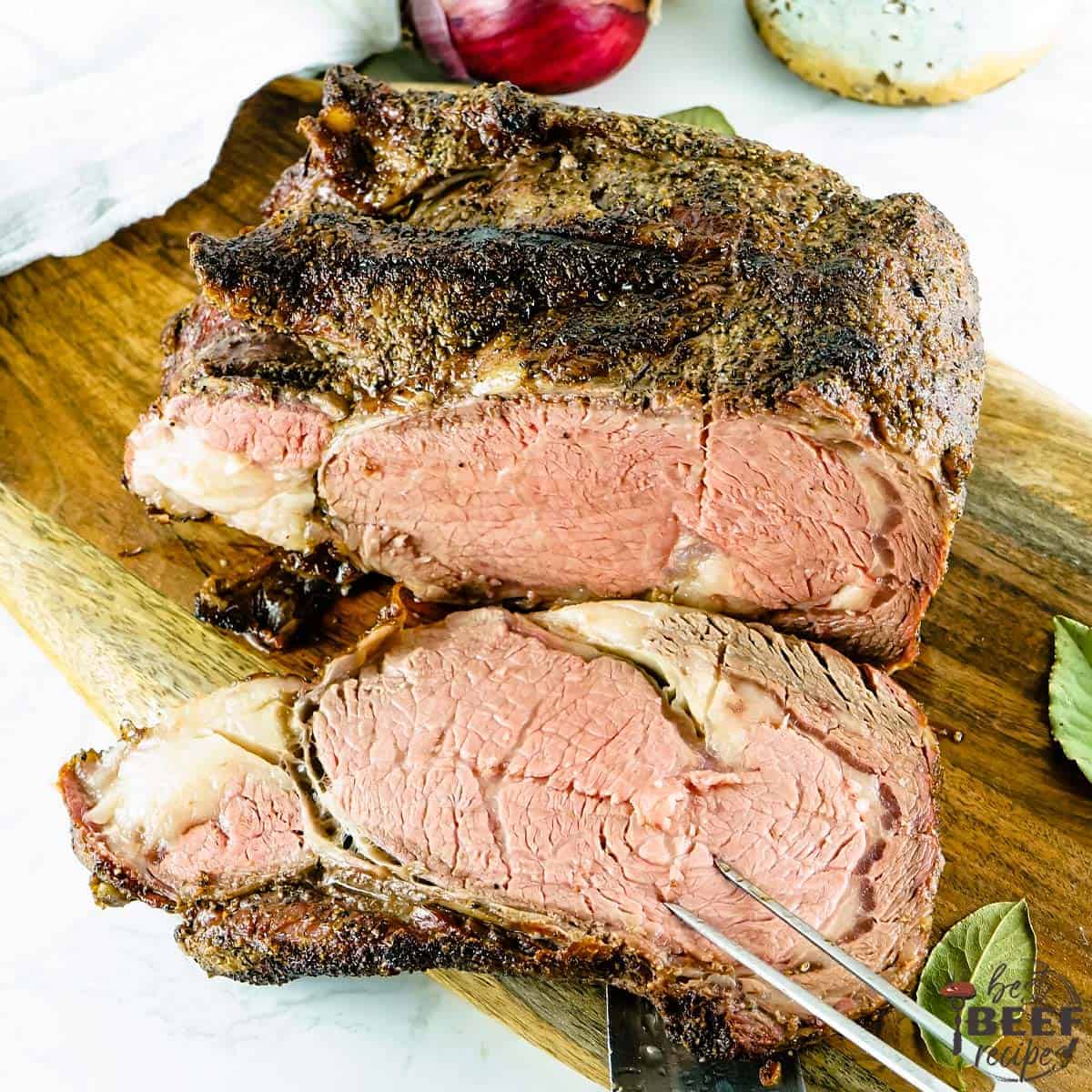 Easy Smoked Prime Rib
My Smoked Prime Rib recipe is easy, tender, and so flavorful. Even if you have never tried smoking prime rib before, you can make this recipe!
Get the recipe!
Smoking Prime Rib Recipe Tips
Heat-resistant gloves are a must when handling smoked prime rib, especially when you need to sear it. Be sure to wear them.
Use a cast iron grill pan for the most gorgeous sear marks.
You can add oil to your searing pan when searing the prime rib, but it isn't necessary.
The Best Prime Rib Sous Vide
There is nothing quite like cooking prime rib sous vide. Sous vide prime rib is the ultimate, melt-in-your-mouth, tender prime rib recipe, and it's so easy. If you have a sous vide machine, you should cook your prime rib sous vide - you will love it!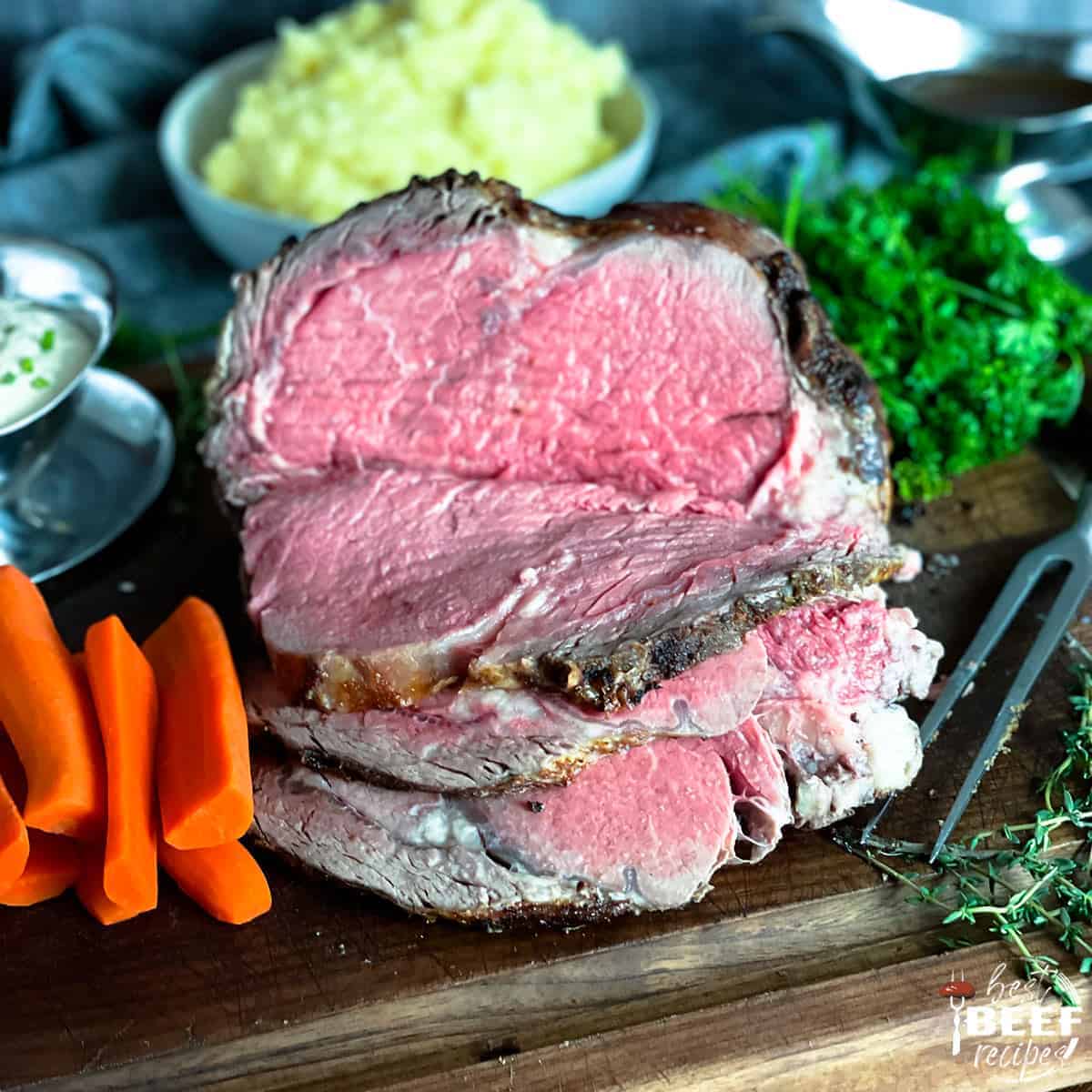 Sous Vide Prime Rib Recipe Tips
Be sure to use a proper, large-size container for your sous vide bath. A large pot or a Dutch oven works perfectly. So long as the bag containing the prime rib is completely submerged in the water, you can use any large container you want.
You can use a clip or a small weight to keep the bag submerged and ensure it stays submerged throughout the cooking process.
How to Cook the Best Prime Rib in the Air Fryer
Yes, you can prepare prime rib in the air fryer! It takes barely over 1 hour and is so easy to do. Plus, the crust on the air fryer prime rib is unbelievable! If you're cooking for a smaller crowd with a small prime rib, air-frying prime rib is the perfect way to prepare it.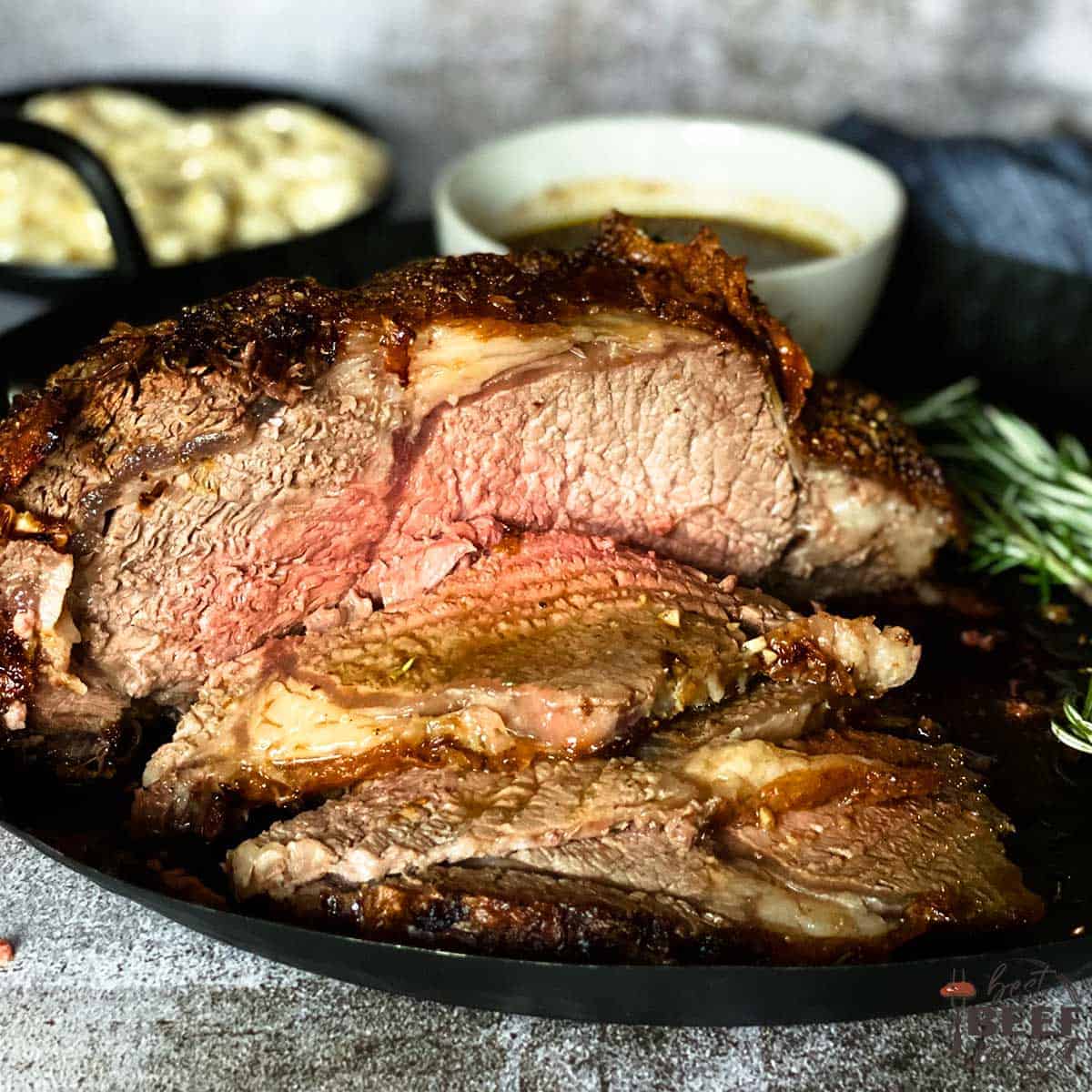 Tips for Air Frying Prime Rib
Pull the roast from the air fryer 5 degrees below your desired degree of doneness and let it rest for 15 minutes before you slice it.
How to Cook the Best Prime Rib in the Instant Pot
Cooking prime rib in the Instant Pot is perfect for a smaller prime rib, and the reverse sear adds an unbelievable depth of flavor! I guarantee you will love this easy Instant Pot prime rib recipe - give it a try!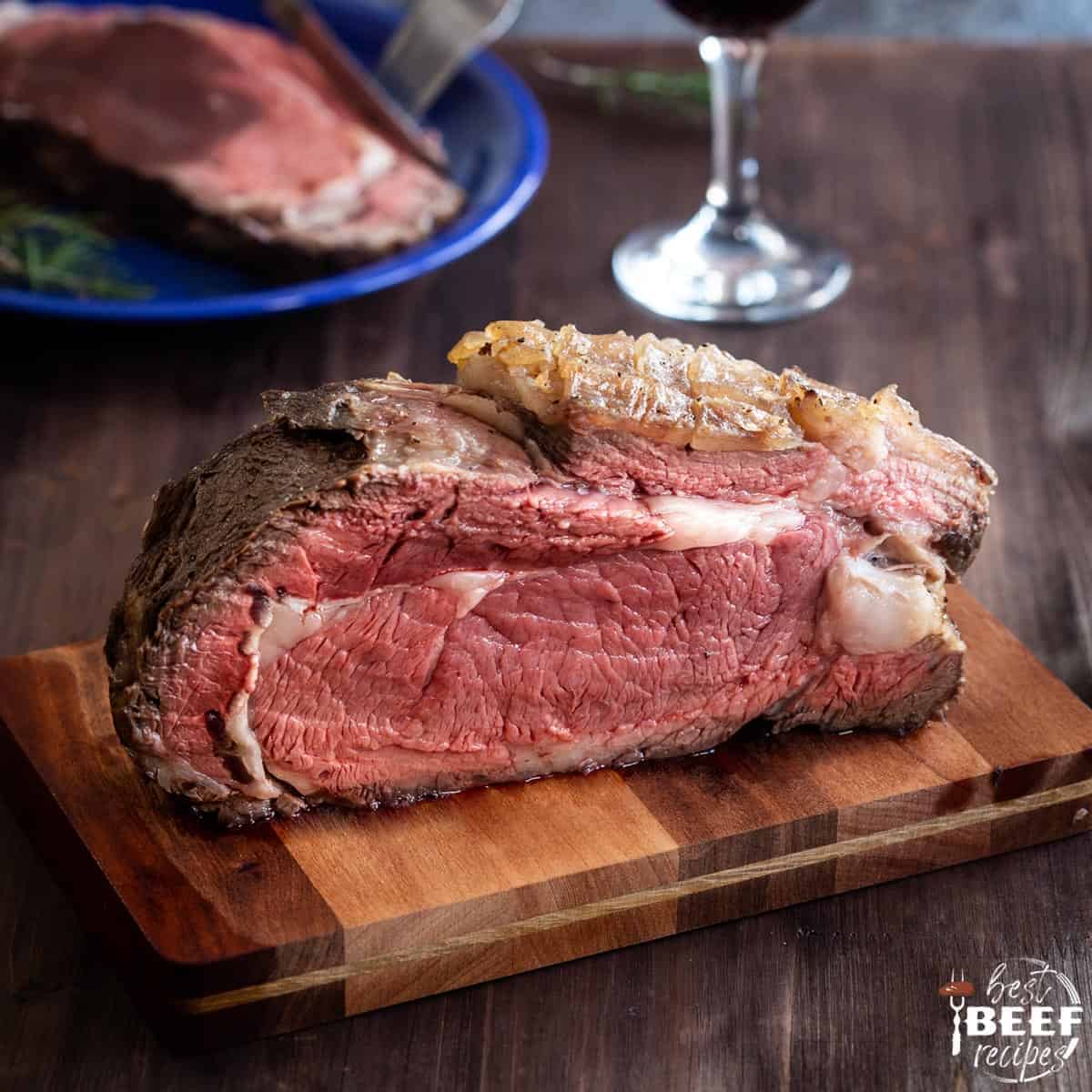 Tips for Cooking Prime Rib in the Instant Pot
When searing, the temperature will rise. Pull the prime rib out of the Instant Pot early, before it cooks to your desired temperature.
The roast should have a nice crust on it when you sear it in the Instant Pot, so let the pot heat up first before adding the rib roast.
You will have to add more time if you want your your prime rib medium well to well done or if you purchase a larger roast.
Dry Aging Prime RIb
Any one of our prime rib recipes can be made using dry aged prime rib - that you can dry age yourself at home! Follow our guide below.
Dry Aged Prime Rib
Cook up a prime rib fit for a 5-star restaurant from your own home with my foolproof Dry Aged Prime Rib Recipe! It's so much easier than you think!
get the recipe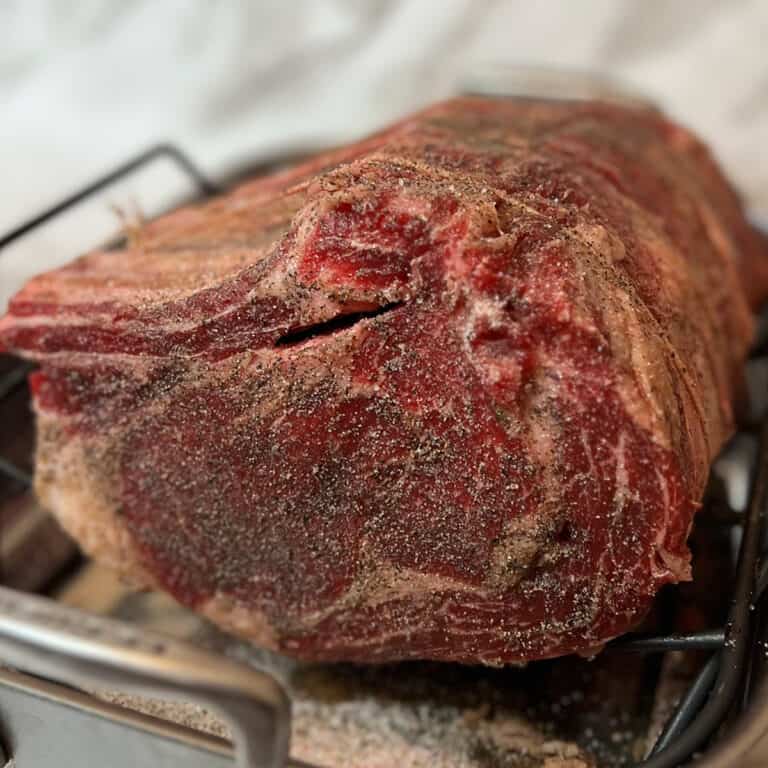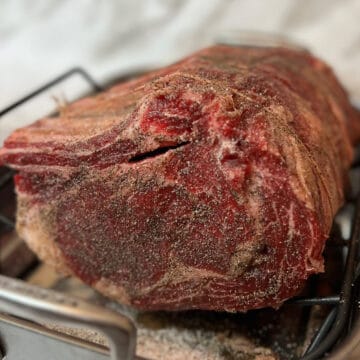 Best Sauces for Prime Rib
Prime rib pairs very well with sauce recipes that will give you a more tender, flavorful meal overall. Try one of my best Sauces for Prime Rib with any of the cooking methods above!
Side Dishes for Prime Rib
If you're wondering what to serve with prime rib, look no further than my Best Side Dishes for Prime Rib. I guarantee you will find your new favorite prime rib side dishes here! Start with:
Prime Rib Temperature Chart
| Beef Doneness | Internal Temperature |
| --- | --- |
| Rare beef temp | 125°F - bright red in the middle |
| Medium-rare roast | 135°F - warm red in the middle with slight pink around the edges |
| Medium roast | 145°F - warm pink throughout |
| Medium-well roast | 150°F - slightly pink at the center |
| Well-done roast | 160°F - little to no pink throughout |
For more info on prime rib temps and more, take a look at my prime rib temperature chart.
How Much Prime Rib Per Person
You will need about ½ pound of prime rib per person when the roast is part of a holiday buffet, or ¾ pound per person if it's the main entree.
| Number of Guests | Recommended Size of Prime Rib |
| --- | --- |
| 4 | 2-3 pounds |
| 6 | 3-4 pounds |
| 8 | 4-5 pounds |
| 10 | 5-6 pounds |
| 12 | 6-7 pounds |
| 14 | 8-9 pounds |
How to Choose the Best Prime Rib
Cooking the best prime rib roast starts with choosing the perfect prime rib. Prime rib is a richly flavorful cut of beef from the rib primal section of the cow, and generally features impressive marbling, which is what enables it to be so tender.
You may find prime rib sold as "standing rib roast" or simply "rib roast", and both bone-in and boneless varieties exist. First choose whether you want to prepare boneless or bone-in prime rib, then select the grade of beef.
Bone-in Prime Rib vs. Boneless Prime Rib
Bone-in prime rib tends to be the preferred choice as the bone allows the beef to be more flavorful and tender, but a boneless prime rib is a great option and easier to carve.
Tip for boneless prime rib: You can ask your butcher to remove the bones from the rib roast, then tie them back onto the cut of beef, to benefit from having them if you're cooking boneless prime rib.
Rib Roast Grading Scale
Rib roast comes in three grades: USDA Prime, USDA Choice, and Select.
The best variety of rib roast is USDA Prime. It is at the top percentage of all beef and has plenty of marbling all throughout.
USDA Choice is one grade down from USDA Prime, with a little less marbling, but is a great high-quality choice that is widely available.
Finally, Select is a more budget-friendly rib roast which varies in marbling but will be less than the two grades above it.
Chuck end or loin end?
After selecting the grade, there is one more option to consider in choosing the quality of beef: whether you want the cut of beef from the loin end or the chuck end.
The chuck end contains more connective and fatty tissue than the loin end, which some people prefer for the flavor the fat gives the beef.
The loin end contains less connective and fatty tissue and features leaner beef, and is generally considered to be more desirable for its large, tender rib-eye muscle.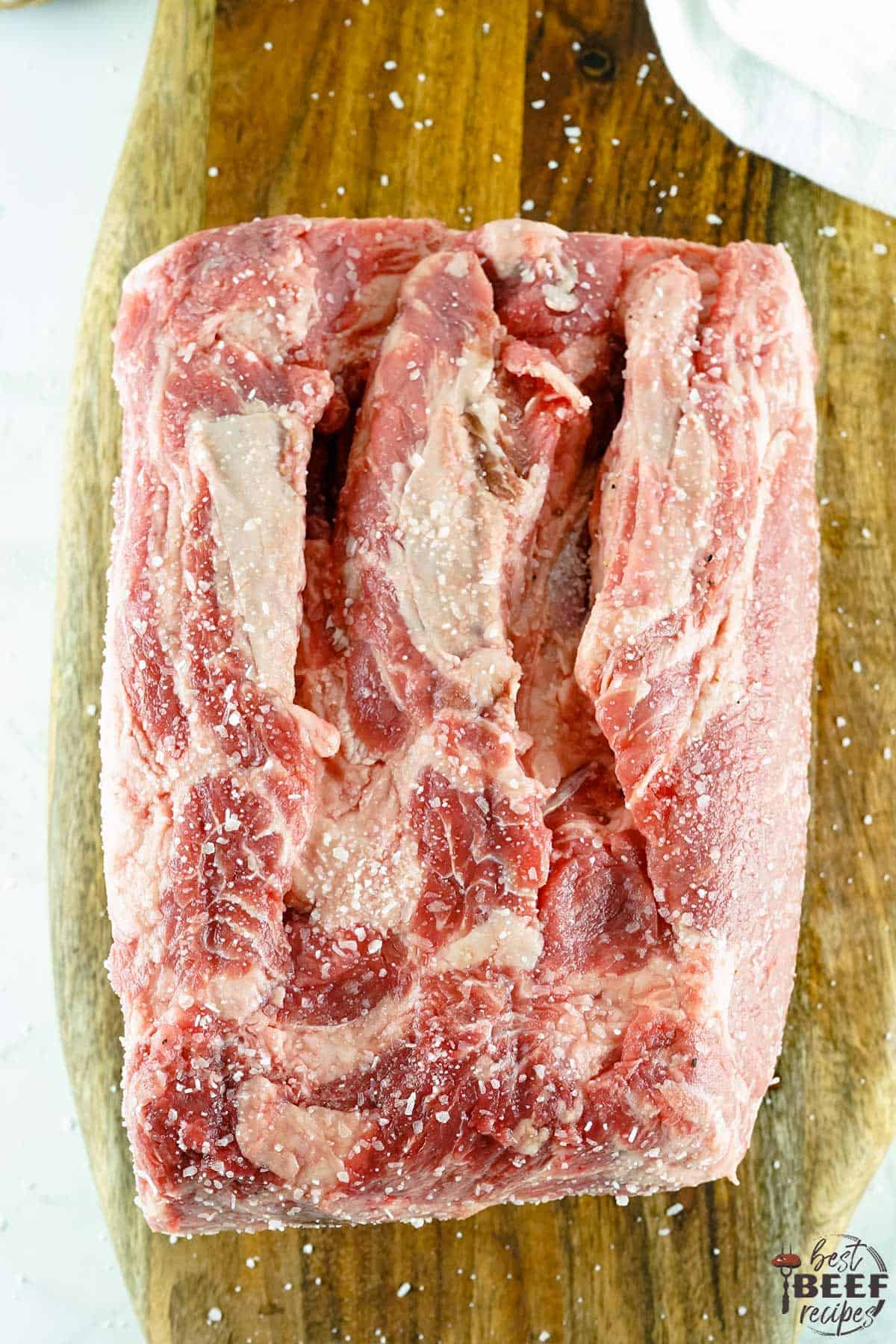 How to Slice Prime Rib
Allow your prime rib roast to rest for 15-20 minutes before carving it.
If carving a bone-in rib roast, you will first want to carve away the bones using a boning knife. Start slicing at the top of the roast where the bones are most prominent, and cut along the curve of the bone all the way down to free the bones and cut them away. Slice between each of the rib bones you just cut away - there's still meat to enjoy there!
To carve the boneless part of the prime rib after cutting away the bones, or if starting with a boneless rib roast, use a sharp and long carving knife (or just the sharpest knife you have). Cut your slices about ½-inch thick to have enough per person. Always slice against the grain - the direction of the muscle fiber - to cut the most tender slices.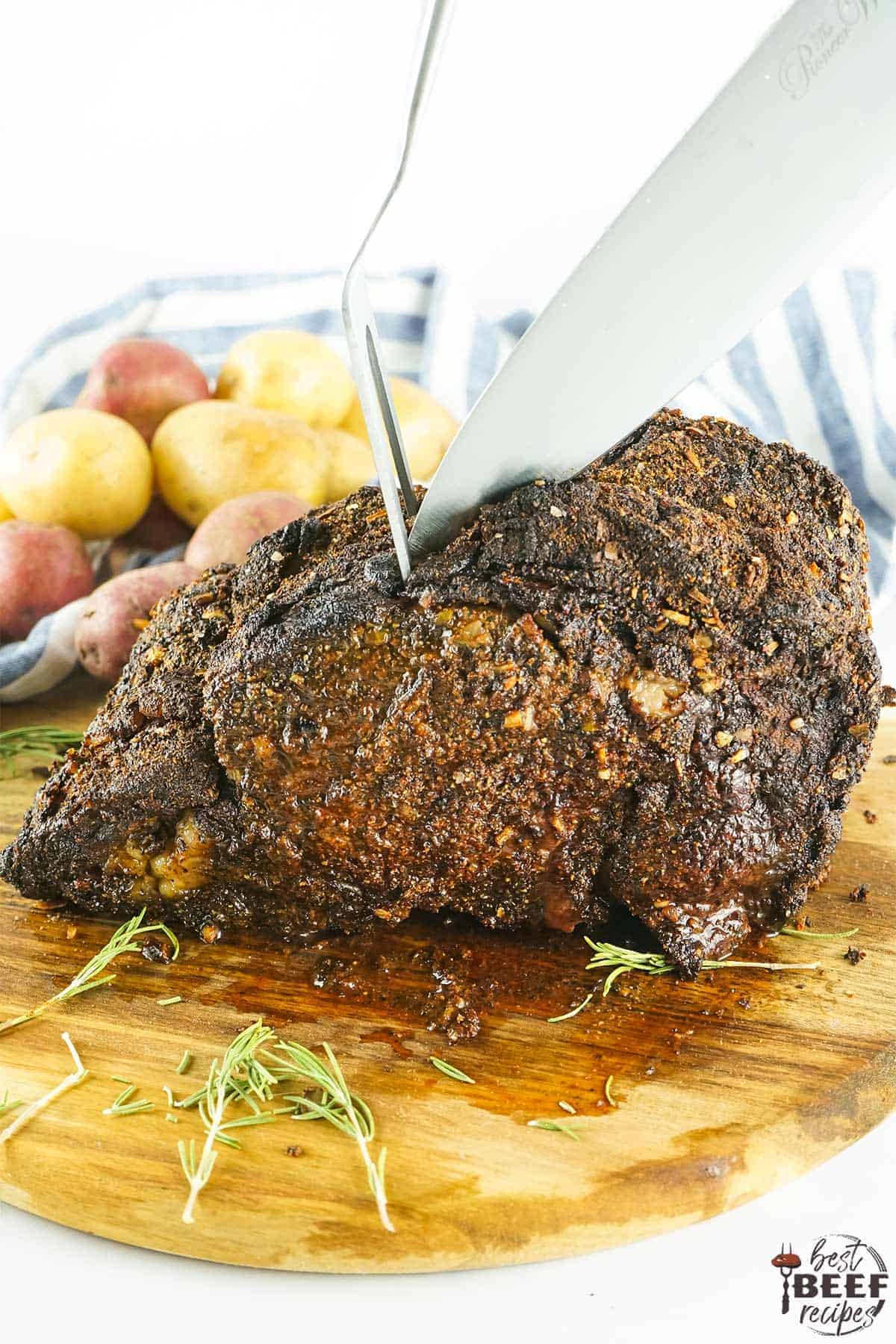 How to Reheat Prime Rib
Gently reheat prime rib in the oven by first preheating to 250°F.
Add sliced prime rib to a baking pan with leftover juices from the rib roast or with a few spoonfuls of beef broth.
Tightly cover the pan with foil. Warm in the oven about 10 minutes or until heated through.
📌 Pin it for later!
Did you enjoy this page? Save it on Pinterest for later!


📋 Recipe
The Best Prime Rib
Learn how to cook prime rib using any method, including sous vide prime rib, with this easy guide!
Equipment
Sous vide machine

Roasting pan with rack

Large Dutch oven or pot to hold water

Wooden cutting board with juice grooves

Vacuum sealed or Gallon Ziplock bag
See our Beef Temperature Chart for helpful tips on cooking any cut of beef!
Instructions
Generously season the roast with kosher salt and place in the refrigerator, uncovered, for 1 hour. Then, remove prime rib from refrigerator.

Kosher salt,

5-6 pound prime rib roast

Place the roast in a large vacuum bag, and seal it tightly.

Set sous vide machine to 132-degrees (for medium-rare) and attach it to a large pot filled with water. Place sealed roast in the water bath. Clip the bag to the side of the pot to ensure it stays submerged. Sous vide for 6 to 10 hours.

Remove the beef from the bag once the cooking time is up. Reserve the cooking liquid! Pat the roast dry. Preheat oven to 550°F. In the meantime, in a small bowl, combine butter with garlic powder, rosemary, thyme, and pepper. Coat the top and sides of the roast with the garlic herb butter.

1 stick salted butter,

2 Tablespoons garlic powder,

1 Tablespoon fresh rosemary,

1 Tablespoon coarse ground black pepper,

1 Tablespoon fresh thyme

Place in a roasting pan with a rack. Roast the prime rib for 8-10 minutes, until the crust is golden (keep a close eye on it!).

Remove from the oven and let rest. While the roast rests, make the au jus. In a large skillet, bring the sous vide cooking liquid and beef broth to a boil.

1 quart low-sodium beef broth

Reduce the heat and simmer until reduced by half. Skim off any solids that rise to the top.

Whisk sour cream, horseradish, Dijon mustard, champagne vinegar, Worcestershire sauce, chives, salt, pepper, and tabasco sauce in a medium size bowl to make your horseradish sauce.

Serve sliced prime rib and serve with creamy horseradish sauce and Au Ju on the side.
Notes
When preparing the sous vide, be sure to find the correct sized container for your water bath. I suggest using a large pot or Dutch oven.The bag containing the prime rib must be completely submerged in water.
Use a roasting pan with a rack so air can circulate around the whole roast.
Let your roast rest! Once it's done roasting, tent your beef with foil and let it sit for 15 minutes before carving.
Slice against the grain. This is vital! The grain refers to the lines running through the beef. Slice against the grain for the most tender sliced prime rib.
To ensure the sous vide bag containing the meat is completely covered in the water, use a clip or small weight to keep submerged.
Nutrition
Serving:
1
g
|
Calories:
773
kcal
|
Protein:
50.7
g
|
Fat:
61.3
g
|
Saturated Fat:
24.8
g
|
Polyunsaturated Fat:
2.2
g
|
Monounsaturated Fat:
26.7
g
|
Cholesterol:
189.3
mg
|
Sodium:
144
mg
|
Potassium:
733.3
mg
|
Calcium:
2.3
mg
|
Iron:
29.3
mg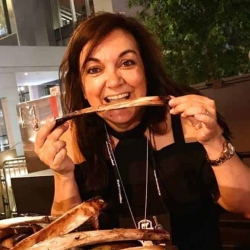 Latest posts by Isabel Laessig
(see all)