Best Beef Recipes is an Amazon Associate. We receive compensation for purchases made through affiliate links.
Prime rib roast makes a gorgeous centerpiece for your holiday meal, and is easier to make than you might think! I will show you the best way to cook prime rib roast using six different cooking methods, and give you tips for each one.
Learn how to season prime rib, how to know when it's done cooking, how to slice it, and even what to serve with it for a holiday buffet!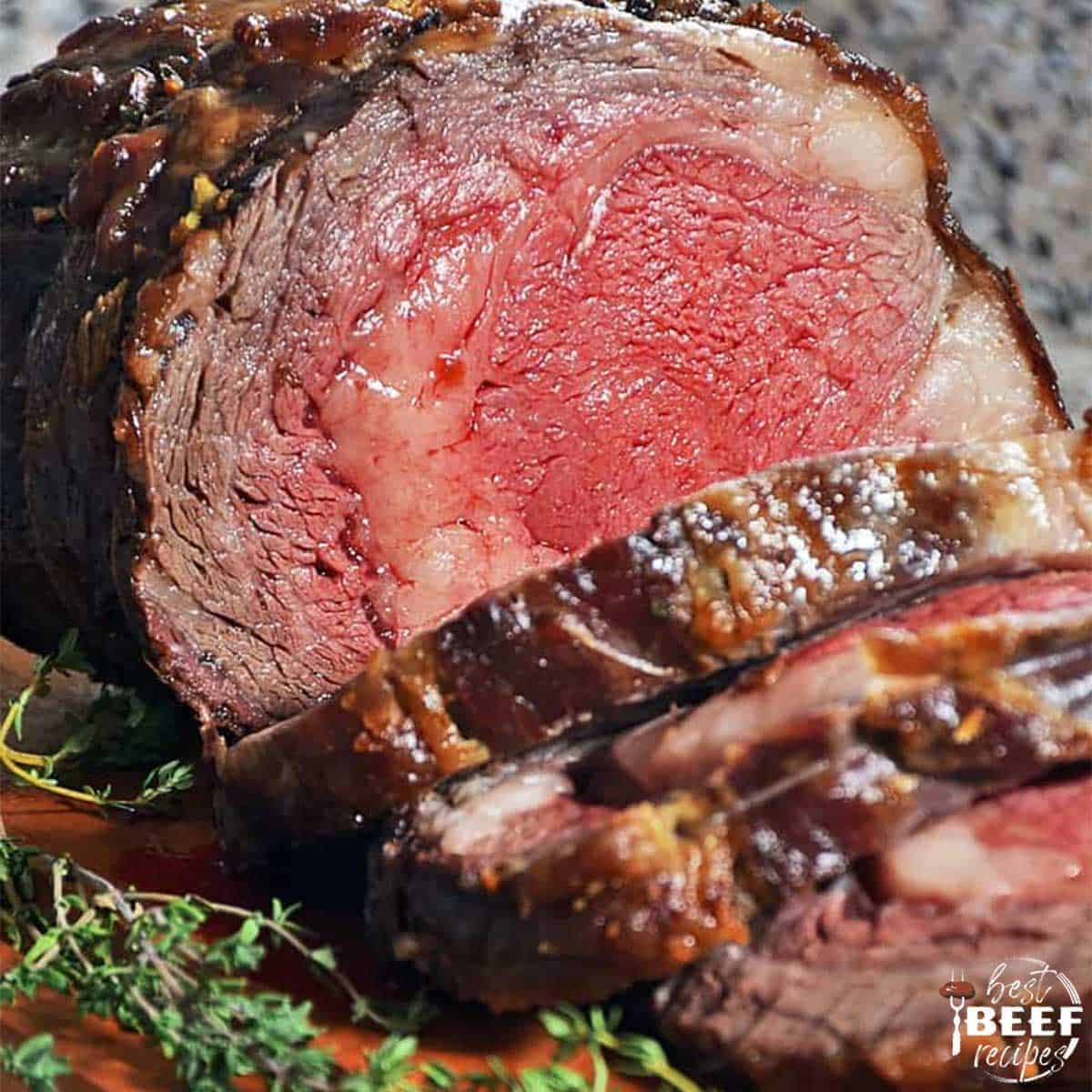 Jump to:
Cooking Prime Rib
I love prime rib roast for the holidays, don't you? My family looks forward to a rib roast recipe every year. Cooking prime rib is something I look forward to, from choosing the cut of beef at the store to which cooking method to use.
If it's possible, I've most likely tried it: oven roasting, Instant Pot prime rib, sous vide prime rib, prime rib on the grill, and even smoked prime rib have all been featured at my family table. It's hard to choose a favorite!
Whether you're familiar with cooking prime rib or not, I will share all the tips and tricks I have picked up along the way from years of experience with this cut of beef. Plus, every method I mentioned is a recipe on our site - so you can learn how to cook a prime rib roast the best way for you and your family!
Which is better: prime rib or beef tenderloin?
Both prime rib and beef tenderloin are incredible cuts of beef with plenty to offer. Beef tenderloin is supremely tender and lean, with much less fat than prime rib. As the beef is aged, tenderloin is stretched by hanging upside-down, which makes it even more tender.
No matter which degree of doneness you cook tenderloin to, it will live up to its name as a tender cut of beef.
Prime rib is more fatty than tenderloin and offers plenty of marbling, which gives it a ton of flavor. Rib roast also offers a gorgeous presentation at any holiday table, especially if served bone-in as a standing rib roast.
At the end of the day, both beef tenderloin and prime rib are flavorful, juicy, and tender cuts of beef, each with their own appealing attributes. Although you may pay a higher price point for beef tenderloin, it is up to preference whether you consider it better than prime rib or not.
Personally, I love both cuts of beef for different reasons, and can't choose between the two!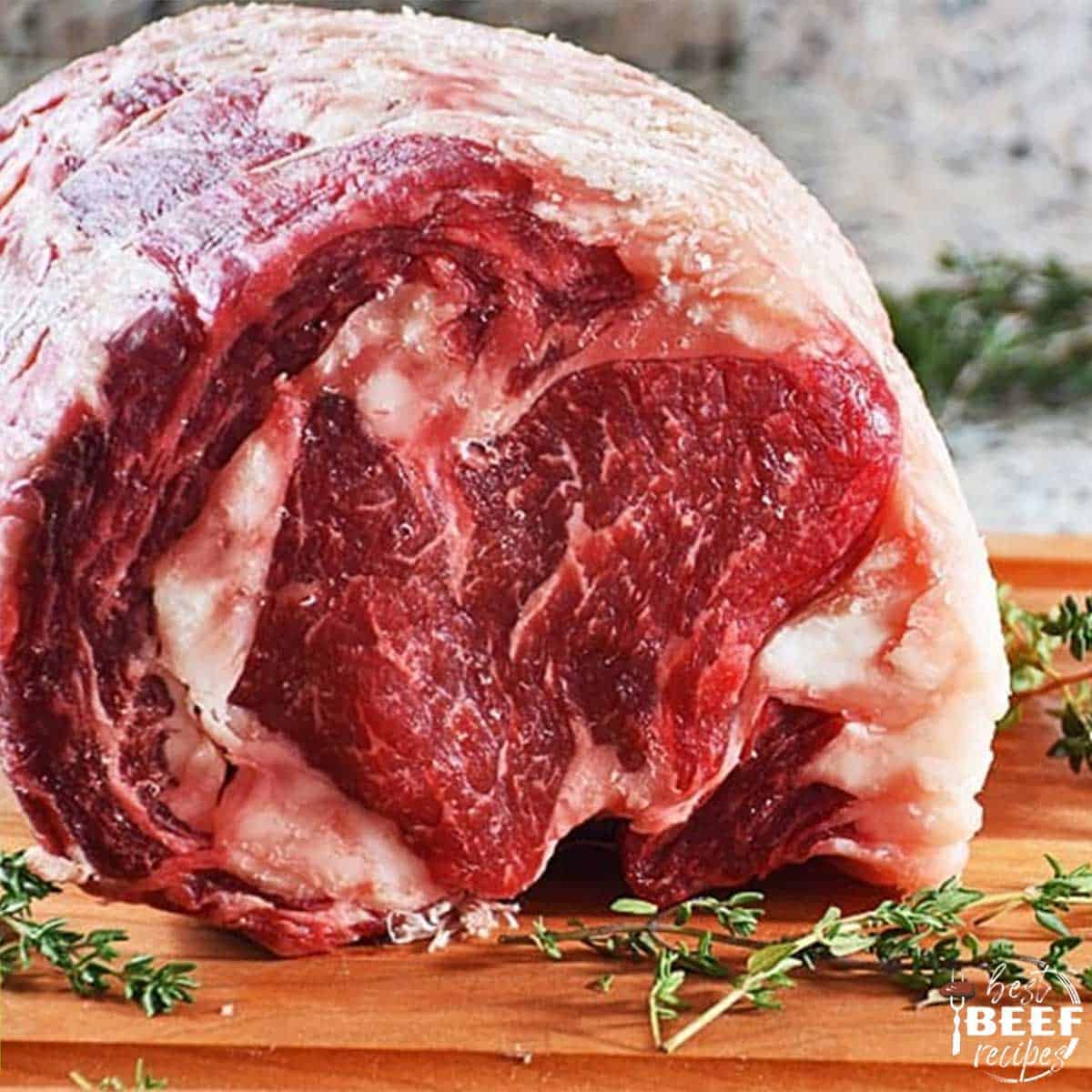 How to Choose the Best Prime Rib
Cooking the best prime rib roast starts with choosing the perfect prime rib. Prime rib is a richly flavorful cut of beef from the rib primal section of the cow, and generally features impressive marbling, which is what enables it to be so tender.
You may find prime rib sold as "standing rib roast" or simply "rib roast", and both bone-in and boneless varieties exist. First choose whether you want to prepare boneless or bone-in prime rib, then select the grade of beef.
Why is prime rib so expensive?
Prime rib is higher in price as it is considered one of the best cuts of meat available. It features impressive marbling, or lines of fat running through the beef which give it flavor and make it tender. Prime rib has a rich natural flavor and is juicy and tender.
Though it may seem expensive, prime rib is worth its price. You can serve a truly unforgettable holiday meal by preparing a rib roast, and you will not believe how flavorful it is.
Thankfully, there are a few grades of prime rib, and some are less expensive than others and still an excellent choice, making it easier to fit into your budget.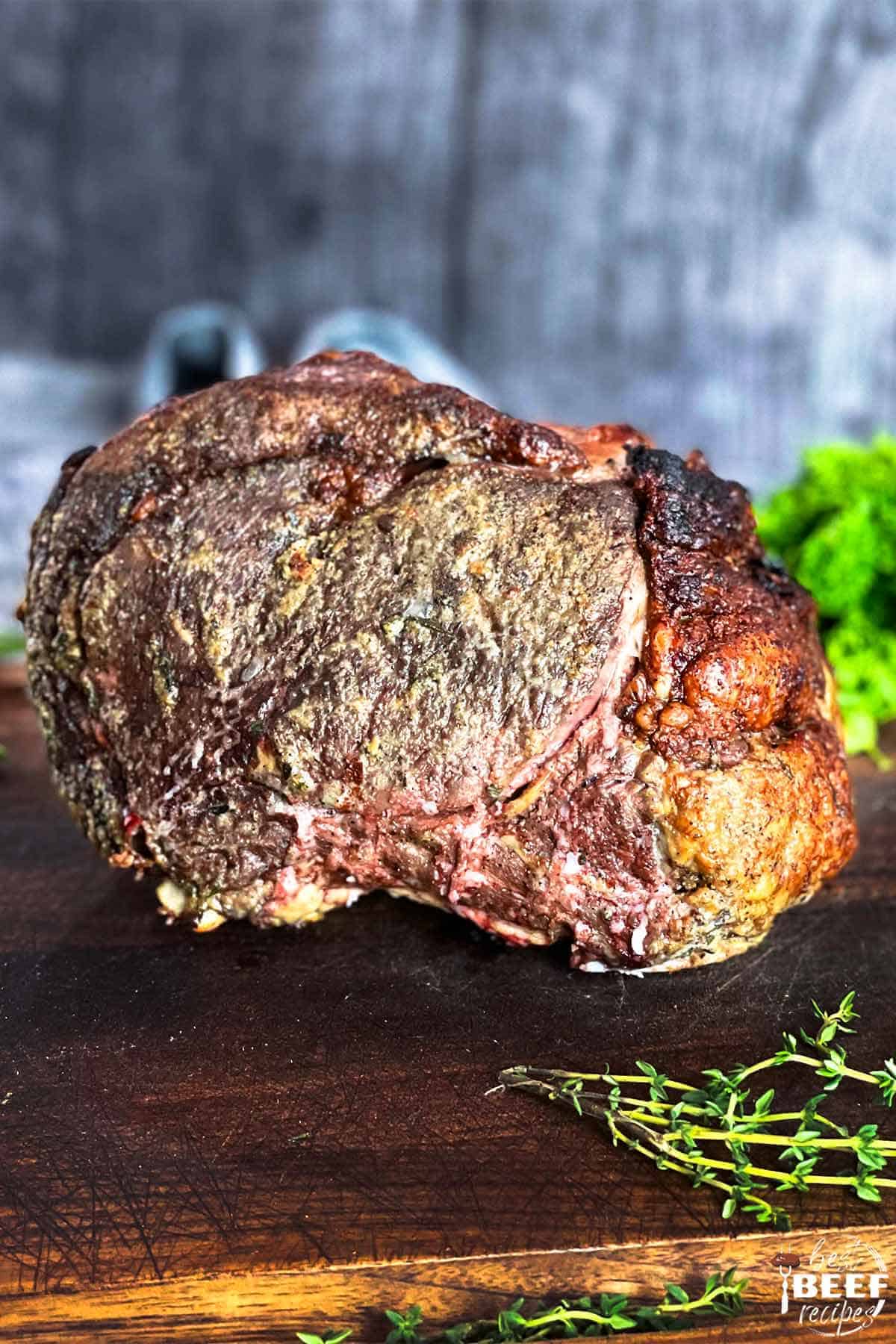 How much prime rib per person should I serve?
Before selecting your roast, consider how many people you are serving and account for 1 pound of beef per person. This will ensure you have enough for everyone and, most likely, leftovers. If prime rib is not the only choice at your holiday table, ¾ pound per person will also suffice.
Bone-in Prime Rib vs. Boneless Prime Rib
Bone-in prime rib tends to be the preferred choice as the bone allows the beef to be more flavorful and tender, but boneless prime rib is a great option and easier to carve.
Tip for boneless prime rib: You can ask your butcher to remove the bones from the rib roast, then tie them back onto the cut of beef, to benefit from having them if you're cooking boneless prime rib.
Rib Roast Grading Scale
Rib roast comes in three grades: USDA Prime, USDA Choice, and Select.
The best variety of rib roast is USDA Prime. It is at the top percentage of all beef and has plenty of marbling all throughout.
USDA Choice is one grade down from USDA Prime, with a little less marbling, but is a great high-quality choice that is widely available.
Finally, Select is a more budget-friendly rib roast which varies in marbling but will be less than the two grades above it.
Chuck end or loin end?
After selecting the grade, there is one more option to consider in choosing the quality of beef: whether you want the cut of beef from the loin end or the chuck end.
The chuck end contains more connective and fatty tissue than the loin end, which some people prefer for the flavor the fat gives the beef.
The loin end contains less connective and fatty tissue and features leaner beef, and is generally considered to be more desirable for its large, tender rib-eye muscle.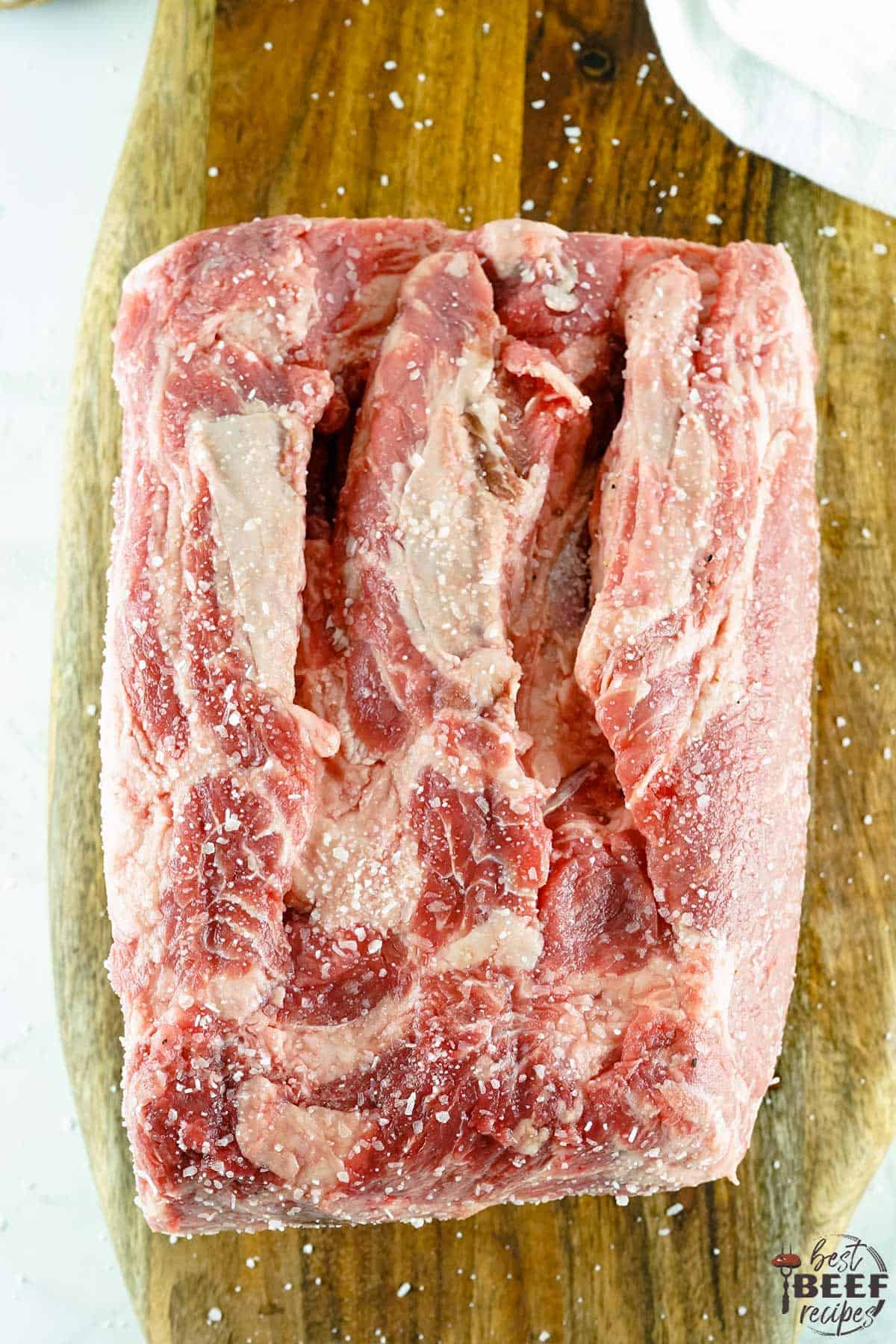 Prime Rib Recipes
Try one of my best prime rib recipes below for perfect results every time, no matter which cooking method you prefer!
How to Cook a Bone-in Prime Rib
Standing Rib Roast
Learn how to make a gorgeous Standing Rib Roast perfect for the holidays! Even total beginners can make this stunning rib roast recipe.
get the recipe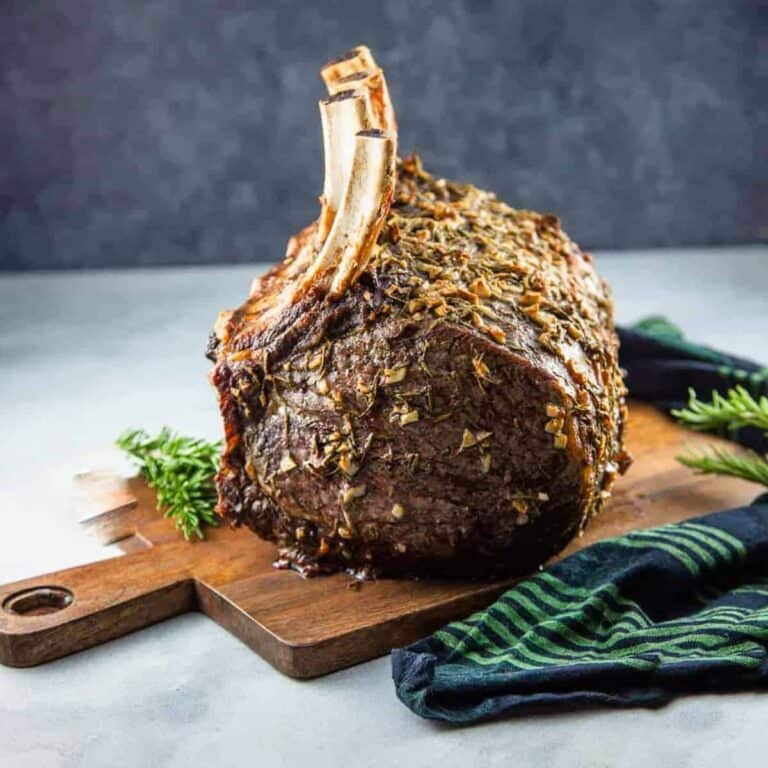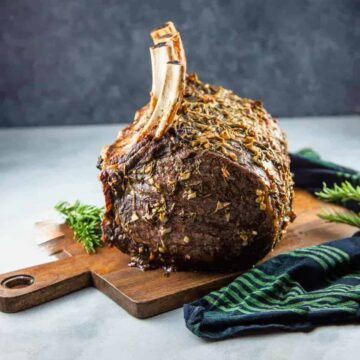 How to Cook a Boneless Prime Rib Roast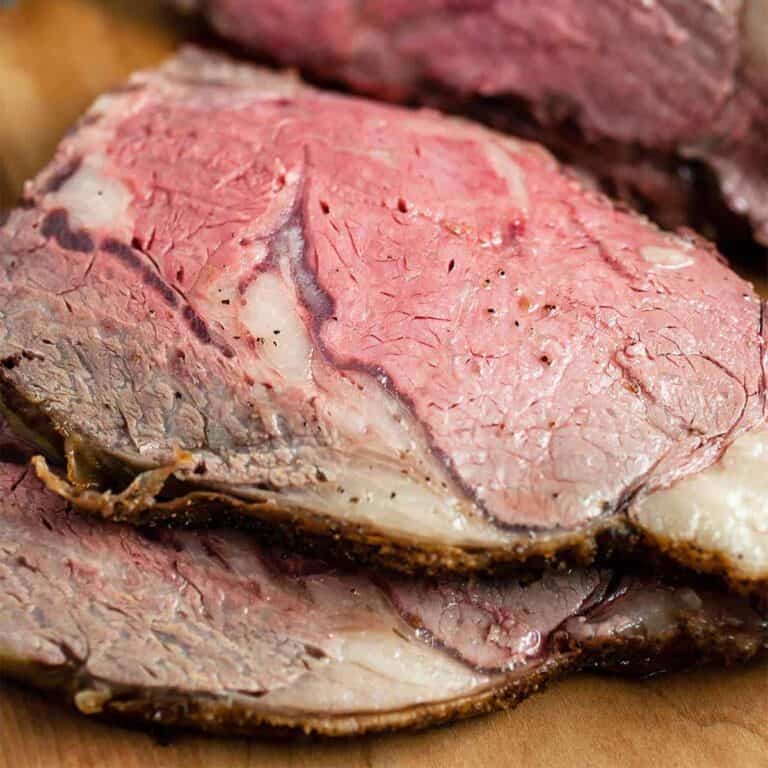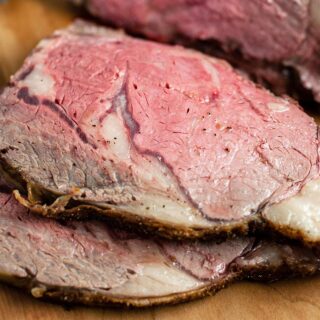 Restaurant-Style Prime Rib (Sous Vide)
Perfect Sous Vide Prime Rib Roast
My sous vide prime rib recipe is a melt-in-your-mouth holiday classic. The prime rib is first cooked using a sous vide machine, then slathered with delicious garlic herb butter and seared in the oven for a golden crust. This is an easy rib roast recipe that will really wow your guests!
get the recipe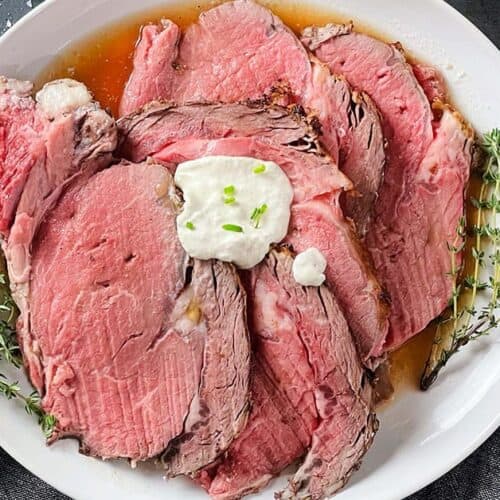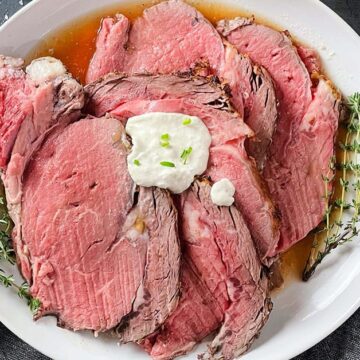 How to Cook Prime Rib in the Oven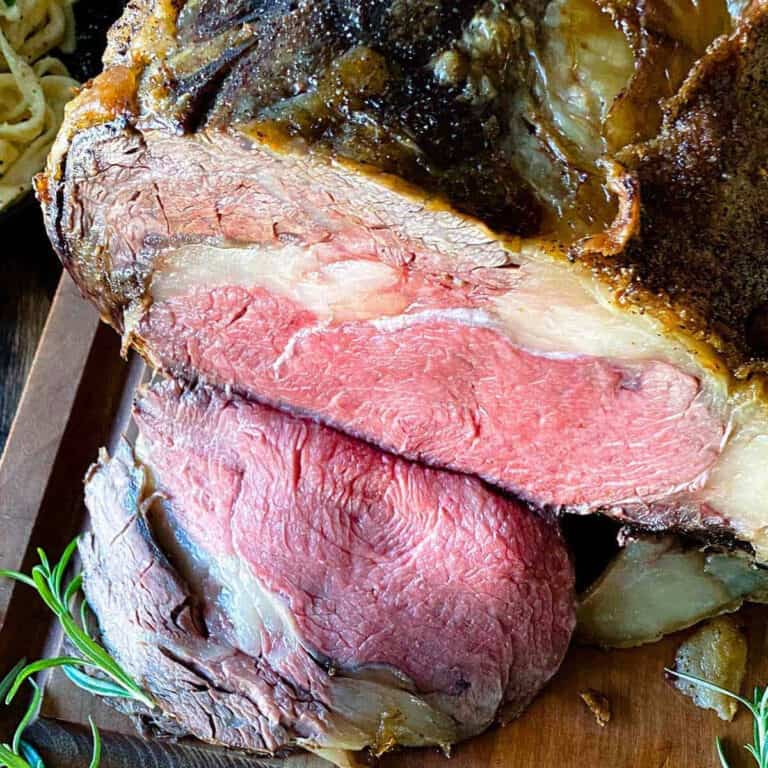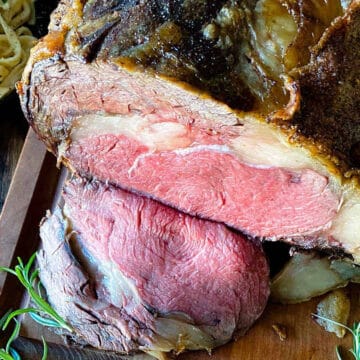 How to Cook Prime Rib in the Smoker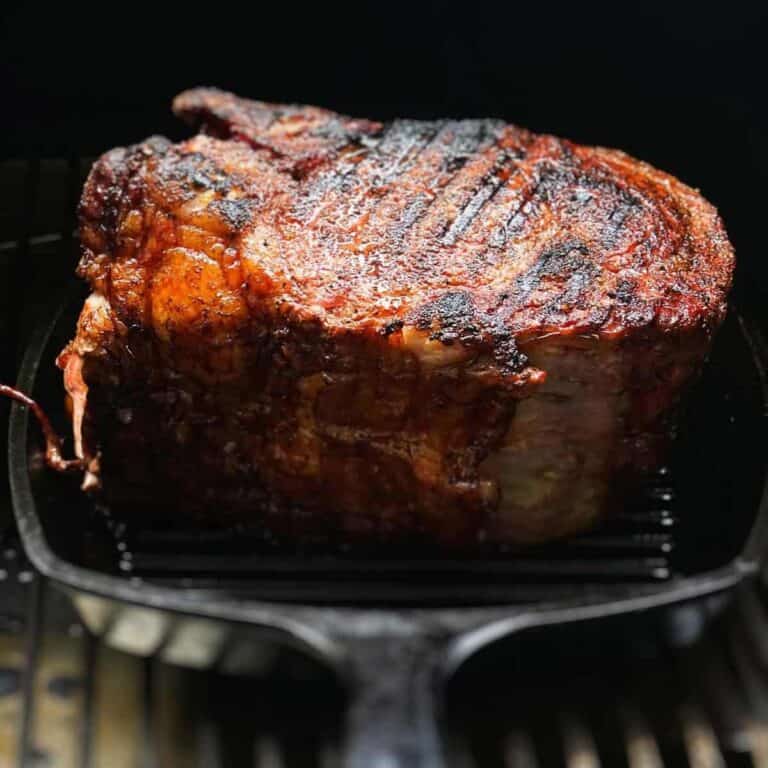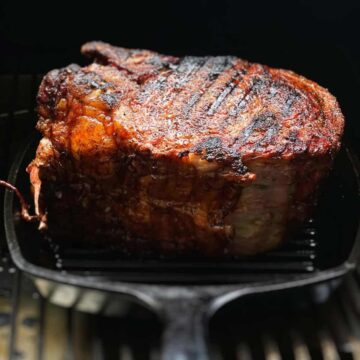 How to Cook Prime Rib on the Grill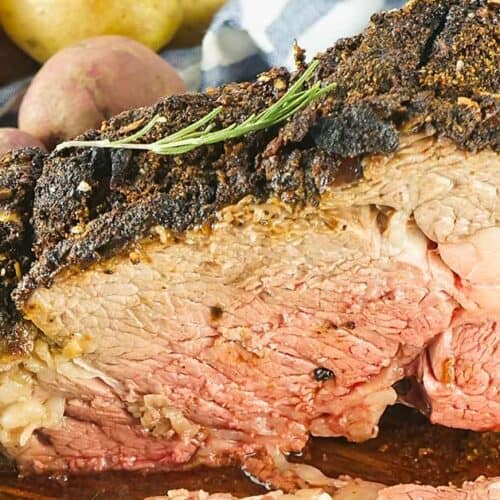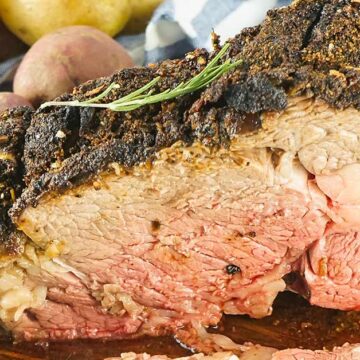 FAQs
How is prime rib supposed to be cooked?
A prime rib roast can be prepared multiple ways. You can roast a prime rib in the oven, cook a prime rib on the grill, smoke a prime rib, and even sous vide a prime rib (which is, in our opinion, the easiest way to ensure the perfect rib roast).
Should you season prime rib overnight?
Whether you should season prime rib overnight is contentious; salting the rib roast the night before will draw out some of its juices, but will also allow the beef to better absorb the flavor from your seasoning. For best results, season the night before with your seasoning of choice excluding the salt, then add salt at least 1 hour before cooking your cut of beef. Ultimately, this is up to preference.
Do I cover prime rib while it's cooking?
Generally, you do not need to cover prime rib while it is cooking and more often than not, will not cover it. However, some recipes call for covering the roast with foil, so it is best to refer to what the recipe calls for.
How do I make sure my prime rib is tender?
For the most tender prime rib roast, use plenty of salt in your seasoning and follow recipe instructions carefully. Use a meat thermometer to ensure your beef is done no matter which method of cooking you choose. Let your prime rib rest before slicing it, and always slice against the grain. The grain refers to the muscle fiber lines running through the beef. Slice against the direction of the grain for the most tender cuts.
What is the best temperature to cook a prime rib?
The temperature you cook a prime rib varies from recipe to recipe; however, for best results, you should always sear the rib roast at a high temperature, then cook it through at a low temperature (or sear after cooking the roast through; this is up to preference). For example, I sear my slow roasted prime rib at 500°F after allowing it to cook at 200°F for several hours in the oven.
Can you freeze prime rib?
You can freeze prime rib by first allowing it to cool first. Add slices to a freezer bag or freezer-safe container labeled with the freezing date. You can also freeze the prime rib as one large portion by wrapping it tightly in plastic wrap, then placing into a heavy-duty freezer bag or airtight container, before freezing. Freeze for up to 6 months.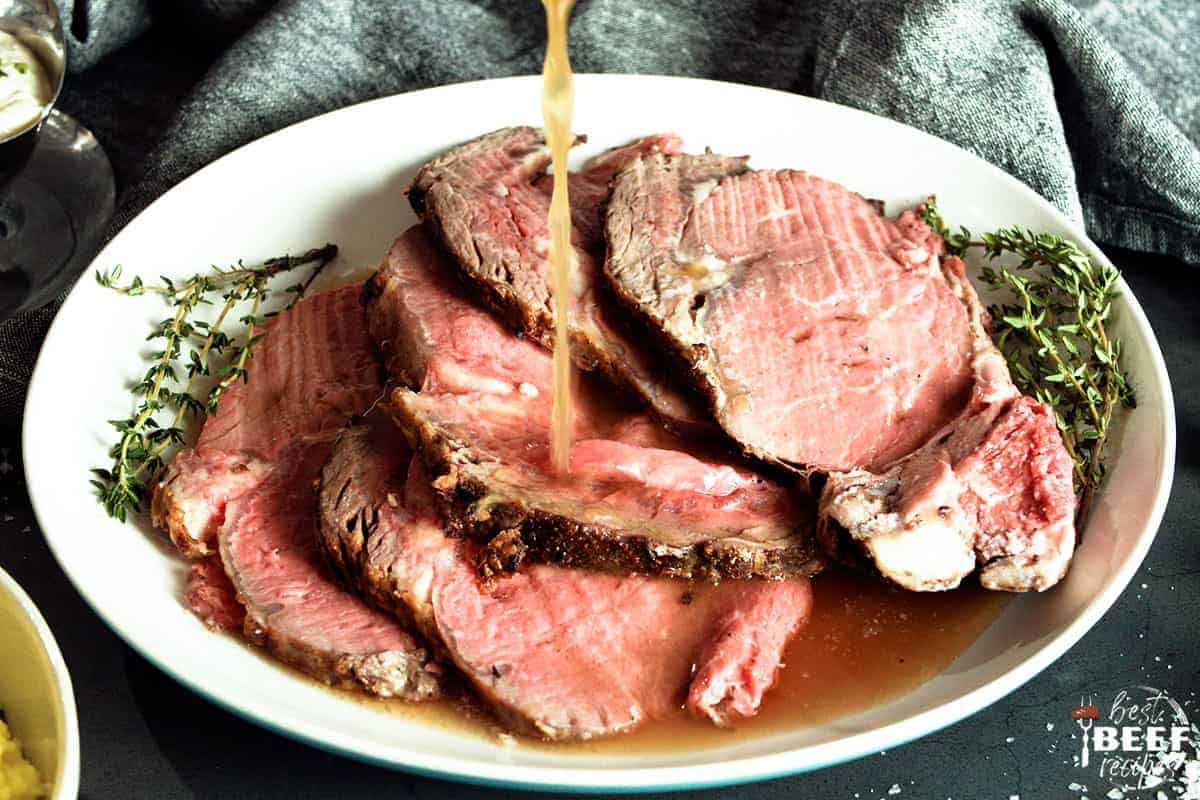 What should I season my prime rib with?
Prime rib seasoning should be kept simple. A generous coat of salt and pepper are all you need. However, you can also add herbs for additional flavor, or a rub depending on how you're preparing your prime rib roast.
Each of my prime rib recipes features its own seasoning; however, here are two of my favorite seasoning recipes to use:
How to Know When My Prime Rib is Done
First, refer to our Prime Rib Temperature Chart to determine your desired degree of doneness and the temperature of beef required to meet it.
Prime Rib Temperature Chart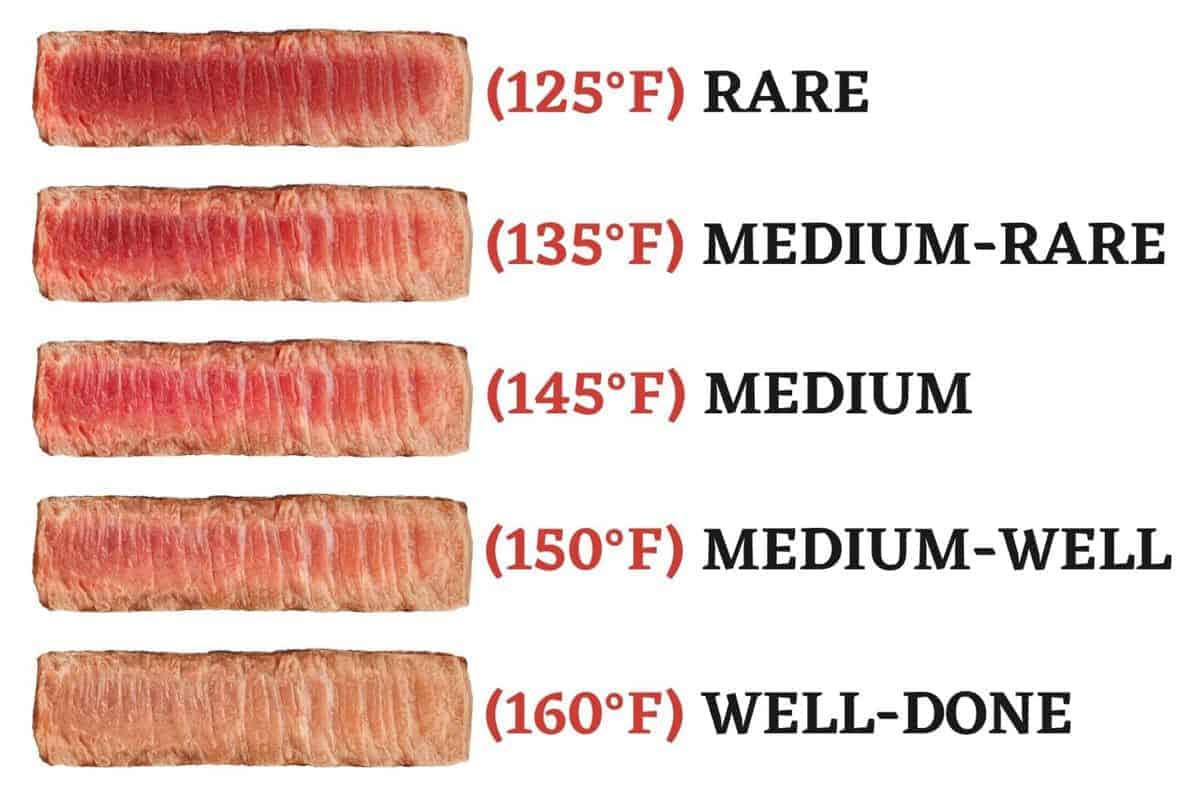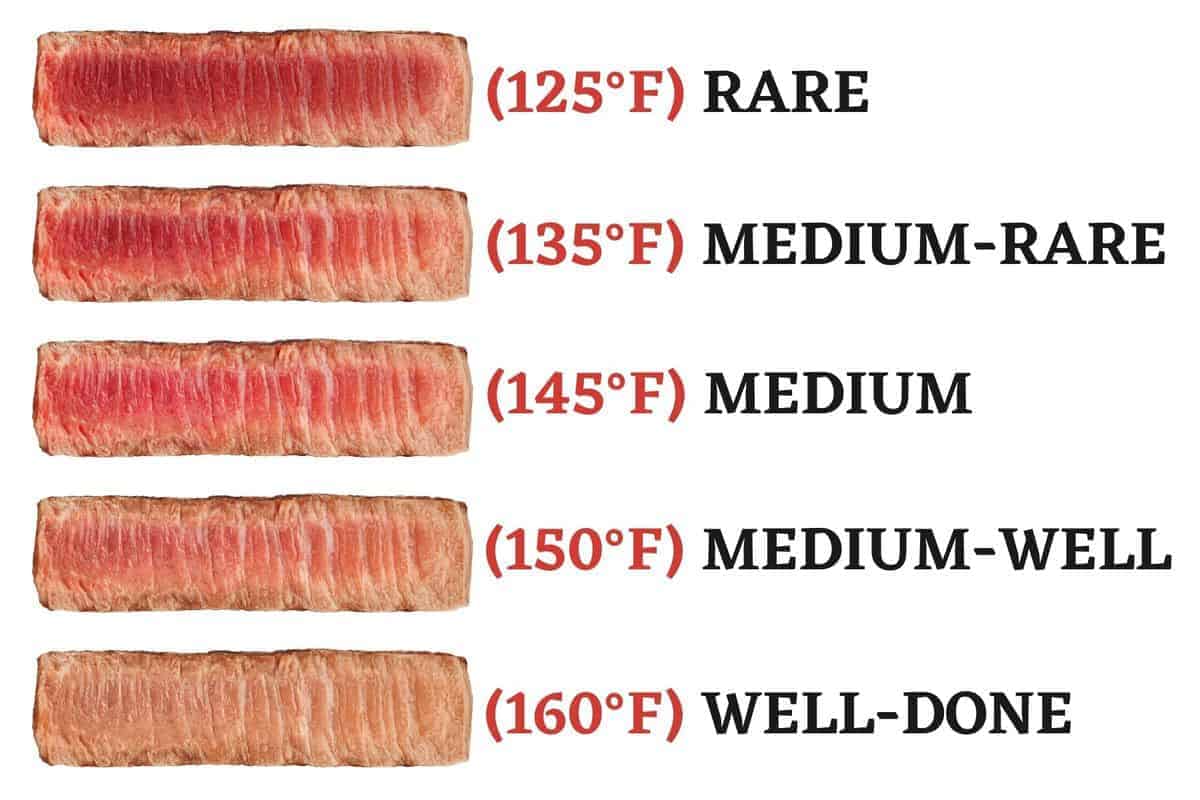 Then, to check your desired degree of doneness, use a meat thermometer. A meat thermometer is the best way to check the internal temperature of your beef to know whether or not it is properly cooked.
When it comes to prime rib, you don't want to risk it by not using a meat thermometer. If you don't have one already, be sure to pick one up before cooking prime rib roast.
How to Cut Prime Rib Roast
Allow your prime rib roast to rest for 15-20 minutes before carving it.
If carving a bone-in rib roast, you will first want to carve away the bones using a boning knife. Start slicing at the top of the roast where the bones are most prominent, and cut along the curve of the bone all the way down to free the bones and cut them away. Slice between each of the rib bones you just cut away - there's still meat to enjoy there!
To carve the boneless part of the prime rib after cutting away the bones, or if starting with a boneless rib roast, use a sharp and long carving knife (or just the sharpest knife you have). Cut your slices about ½-inch thick to have enough per person. Always slice against the grain - the direction of the muscle fiber - to cut the most tender slices.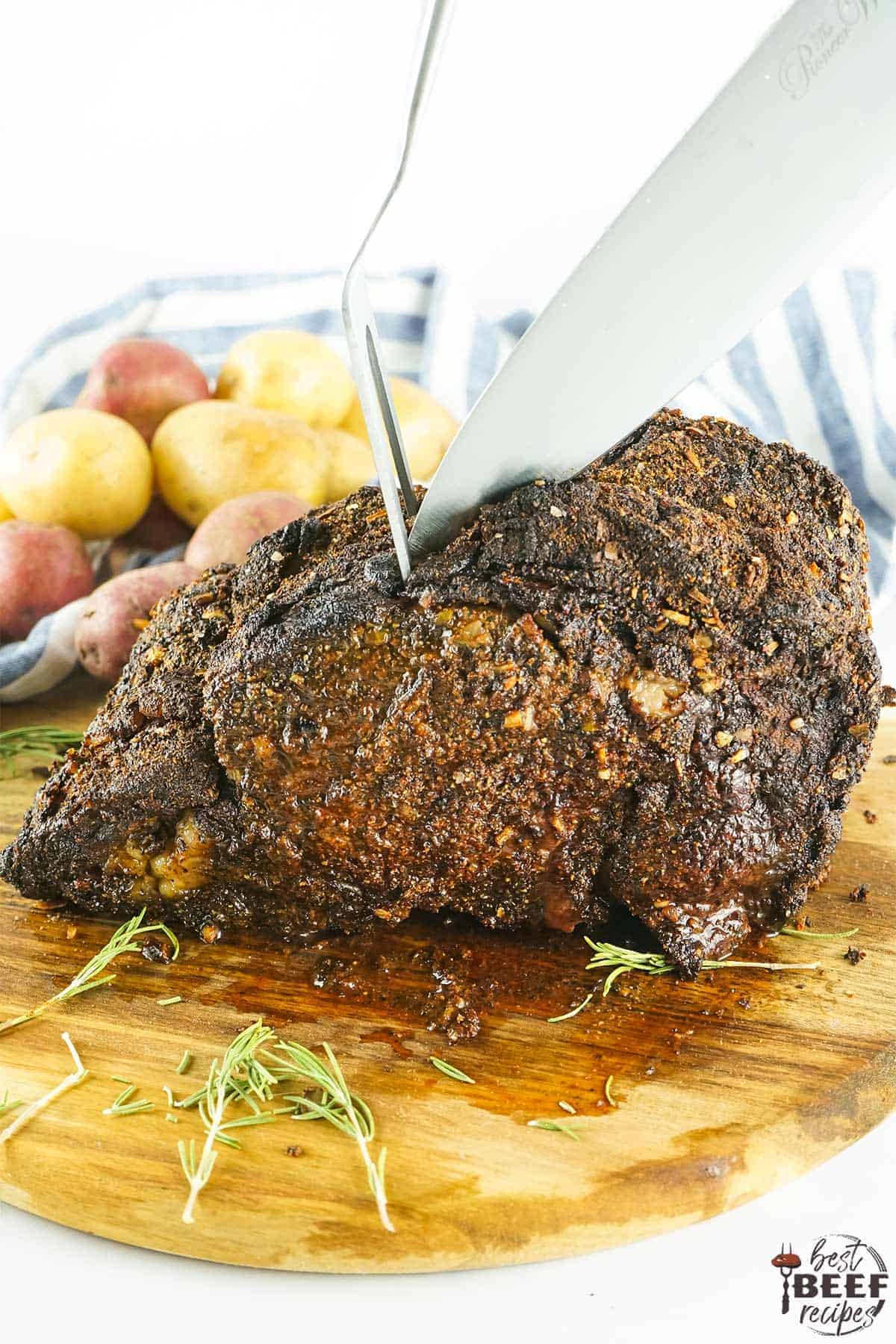 How to Reheat Prime Rib
Gently reheat prime rib in the oven by first preheating to 250°F.
Add sliced prime rib to a baking pan with leftover juices from the rib roast or with a few spoonfuls of beef broth.
Tightly cover the pan with foil. Warm in the oven about 10 minutes or until heated through.
Transfer immediately to a serving dish so the beef does not overcook.
What sauces go with prime rib?
Serve prime rib with a sauce that complements its flavor and does not overpower the beef, such as au jus or creamy horseradish sauce.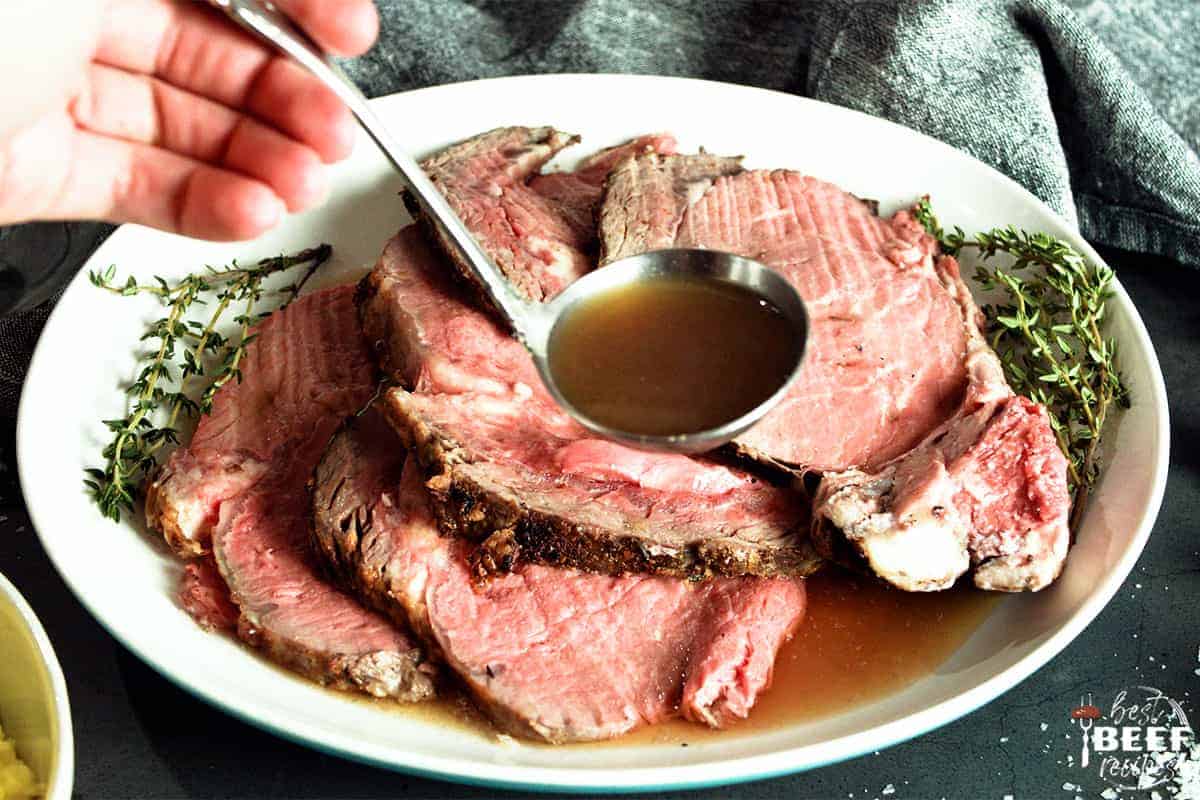 What to Serve with Prime Rib
Serve prime rib with complementary holiday side dishes such as mashed potatoes, green beans, and Yorkshire pudding. I also love to serve prime rib with caramelized onions.
Serve with Horseradish Sauce for Prime Rib and Au Jus for Prime Rib, as well as my best Side Dishes for Prime Rib!
What do I make with leftover prime rib?
For using up leftover prime rib, try making:
What is your favorite way to serve prime rib? I would love to hear from you! Let me know in the comments below.
---
---