Best Beef Recipes is an Amazon Associate. We receive compensation for purchases made through affiliate links.
Meet your new favorite roast beef recipe! Reverse Sear Instant Pot Prime Rib Roast is the EASIEST way to make a rib roast. Our reverse searing method results in a gorgeous, perfectly cooked roast every time! Plus, it's ready in under an hour.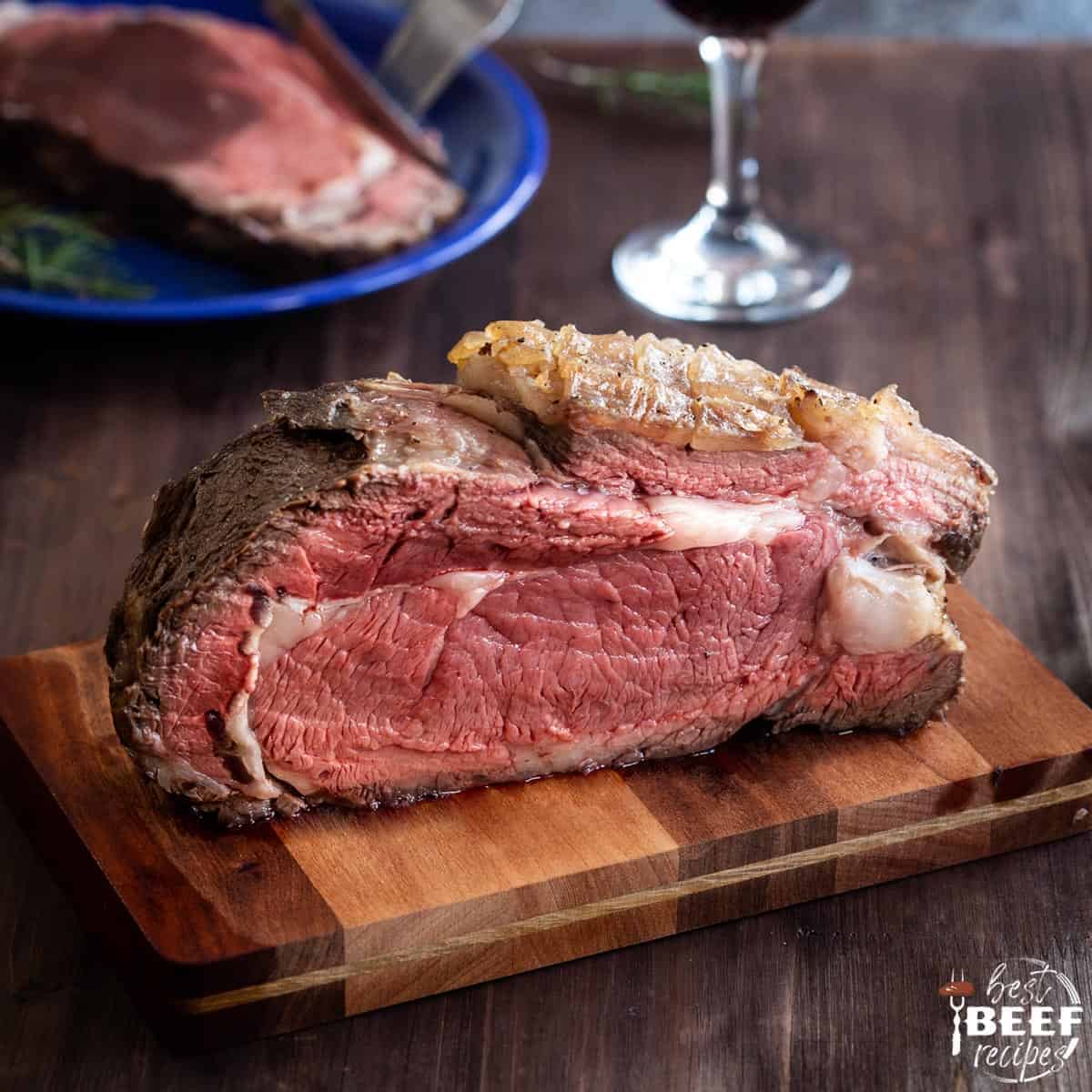 Jump to:
Can you make prime rib in an Instant Pot?
Yes! Not only can you make boneless rib roast in an Instant Pot, but it will also be perfect. Tender, perfectly cooked, and so flavorful! It's so good, we're convinced the Instant Pot is the best way to cook prime rib.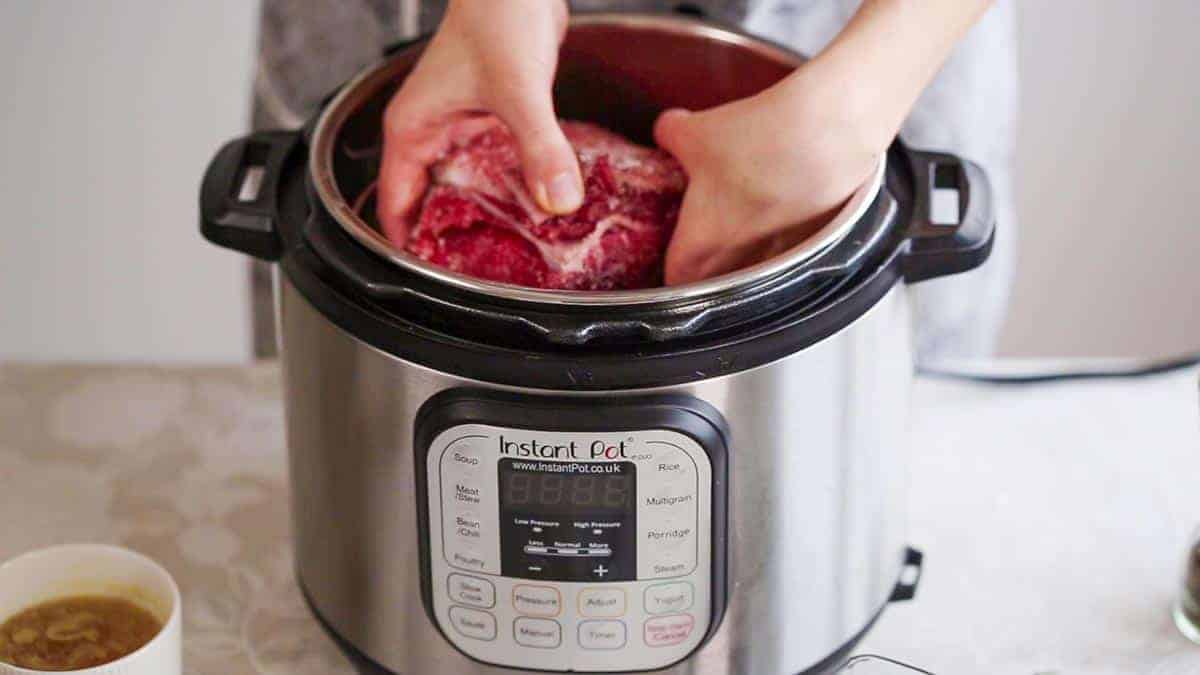 Cooking an Instant Pot rib roast means freeing up space in your oven and having only one pot to clean. It makes everything from the roast itself to the gravy easy and stress-free!
We have tried plenty of different roast beef recipes in the oven, from Slow Roasted to Boneless Rib Roast, to a quick Eye of Round Roast and even a Standing Rib Roast, and we love them all. But, cooking prime rib in the Instant Pot is our favorite way to save on time and oven space!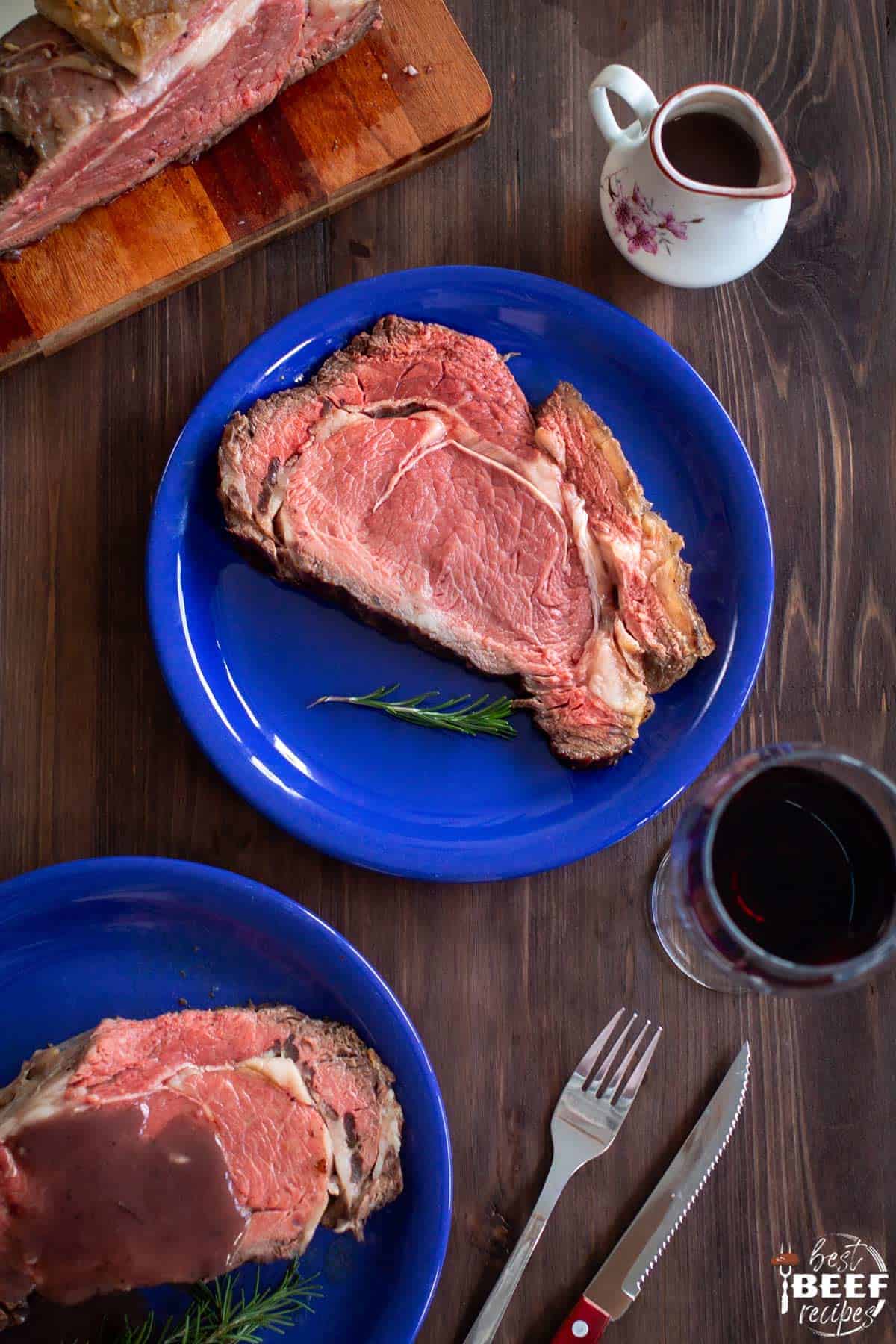 Free up oven space by learning how to cook prime rib in Instant Pot! We have the perfect rub to use, and make the gravy from drippings. This is the best rib roast recipe you will ever try!
How is prime rib cooked in an Instant Pot?
You can easily cook a great prime rib in the Instant Pot by using the reverse sear method. Reverse searing the beef browns the outside while leaving the inside tender, juicy, and perfectly cooked.
Along with the easy homemade gravy from drippings, everything can be done in one pot. This makes Instant Pot roast beef a great choice for a quick and easy holiday dinner or special occasion meal!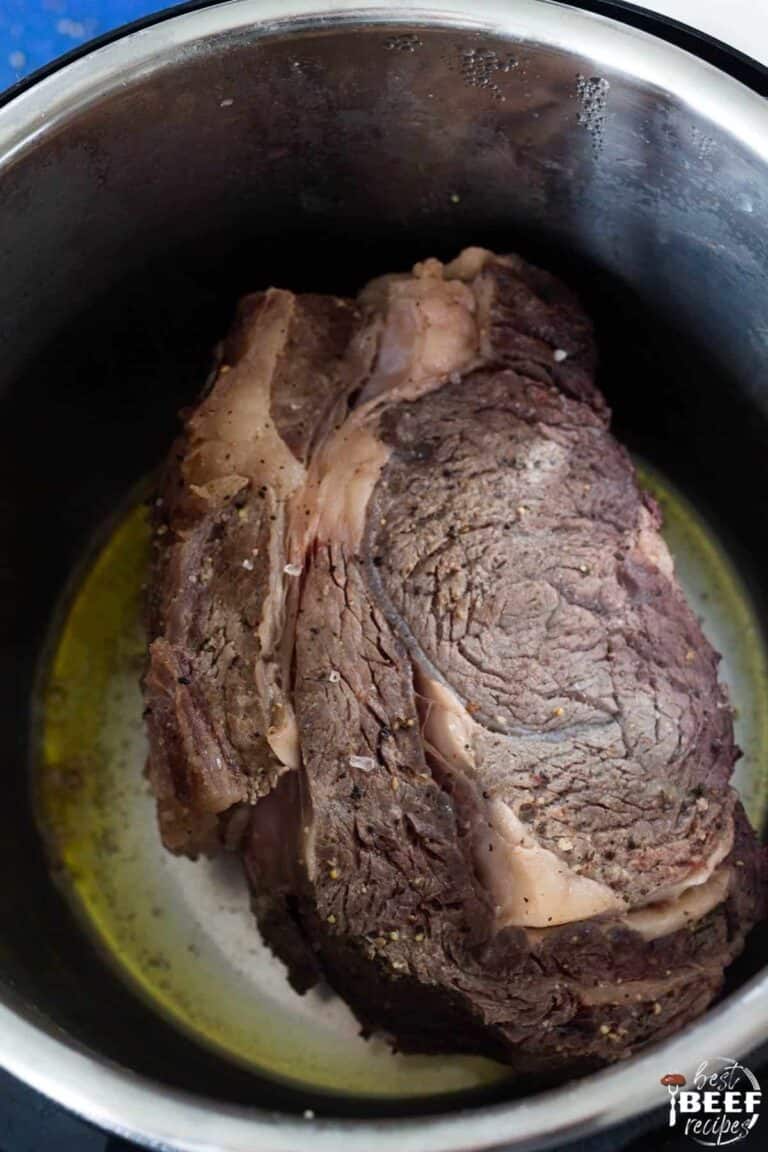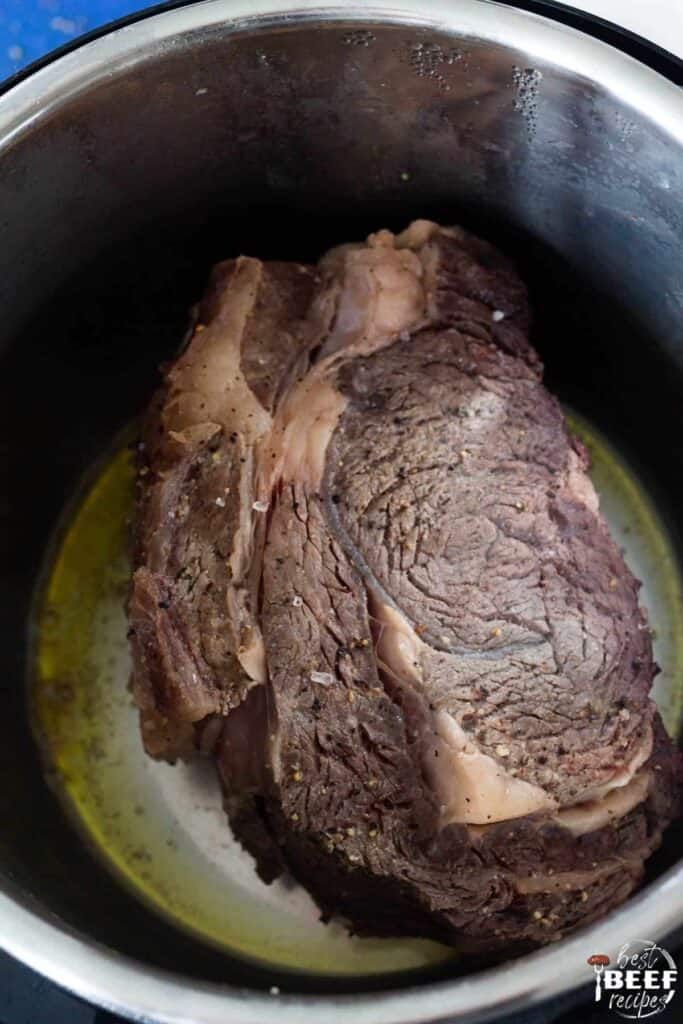 Best Prime Rib Cut
To make the best prime rib recipe, you will need the best cut. Look for a boneless rib roast with plenty of marbling.
Marbling refers to the streaks and flecks of white fat throughout a cut of beef. Fat is flavor, so plenty of marbling means your roast beef will taste amazing!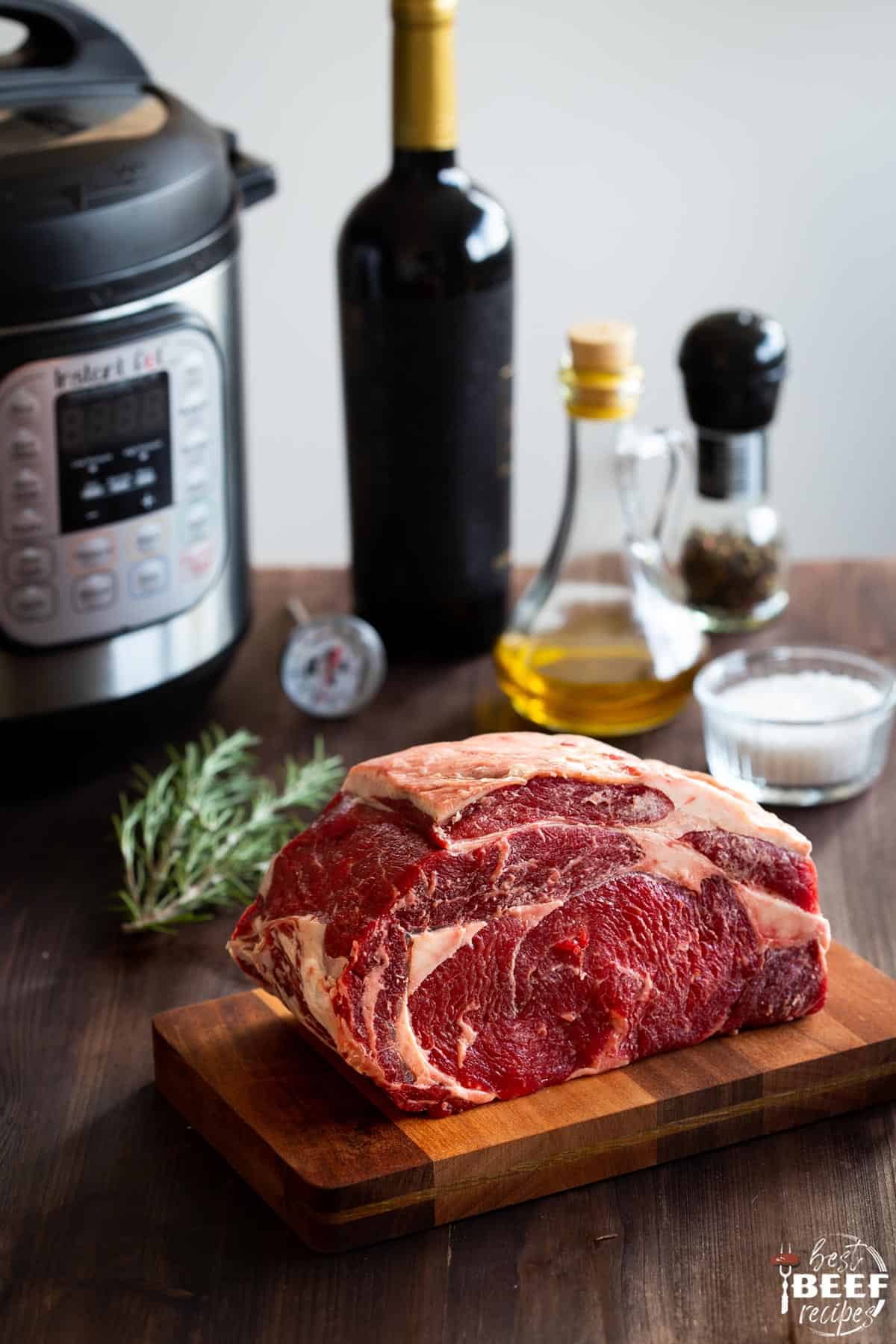 Seasoning
The seasoning is as simple as using salt and pepper. Use plenty of sea salt and black pepper for your rub. Double-check your beef stock is unsalted, as you won't want to over-salt your beef. You can also use our prime rib rub recipe.
Fresh herbs like rosemary, thyme, and parsley are optional, but add a lovely flavor to the beef.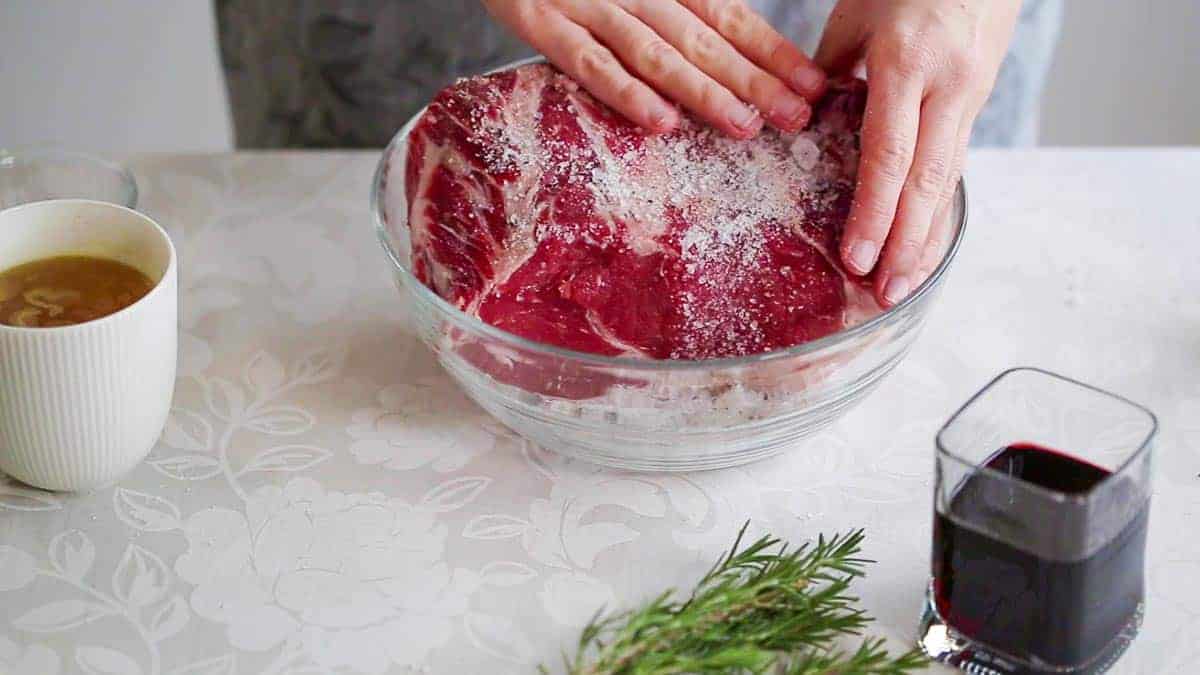 Use the leftovers to make Leftover Prime Rib Pasta!
Prime Rib Gravy
Homemade gravy from drippings adds a lot of flavor to a roast beef recipe. It's simple to make, and tastes incredible!
To make the gravy, you will be mixing drippings with flour. It's very easy to do, and we'll show you how. It's incredible how such a simple, easy gravy recipe can taste as flavorful as this!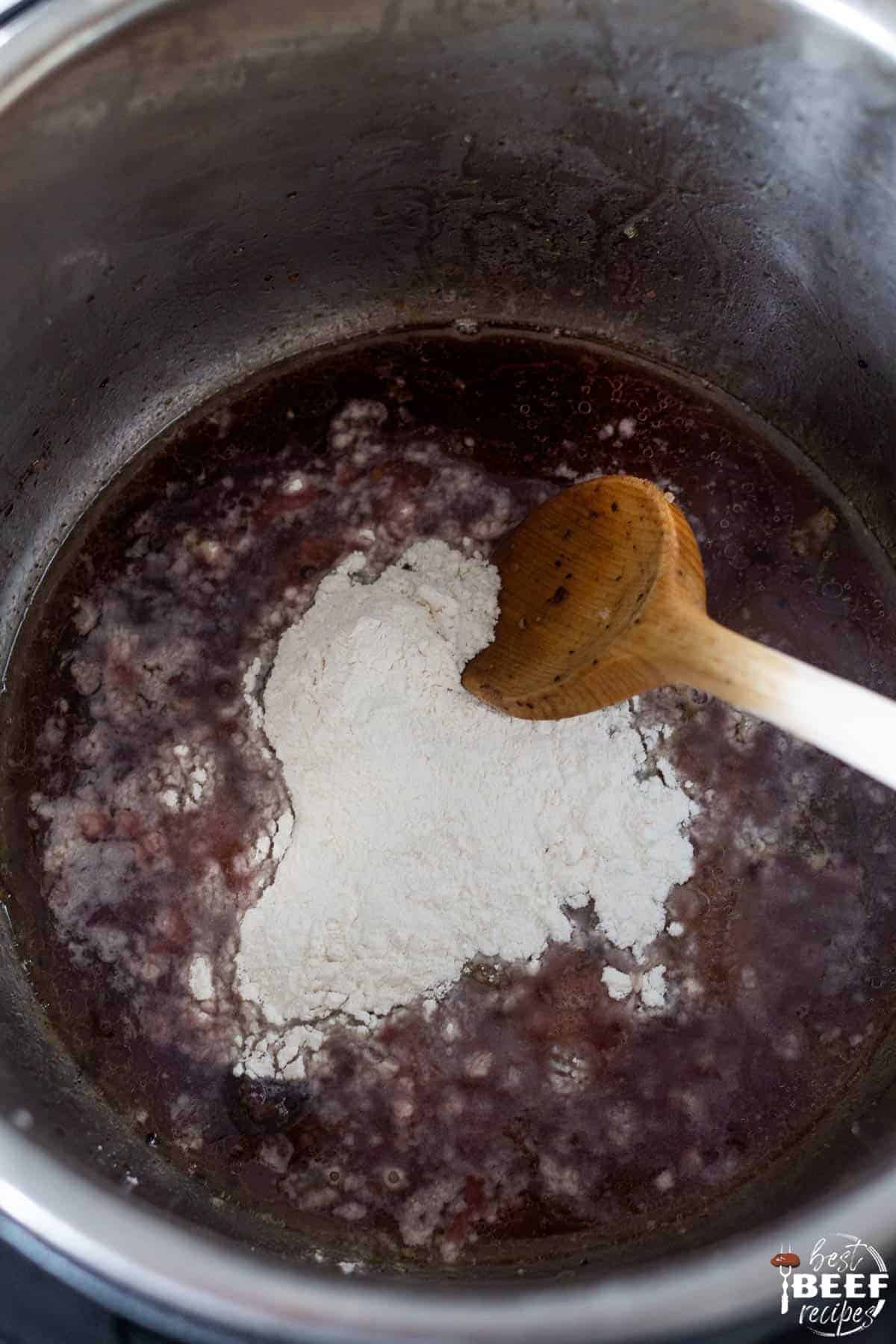 Recipe Tips
Follow our Beef Cooking Chart to find your ideal temperature.
When searing, the temperature will rise. This is why you want to pull the prime rib out of the Instant Pot early, before it cooks to your desired temperature.

You can brown the roast in a cast-iron skillet on the stovetop if you prefer. This is another method of reverse searing prime rib.
The roast should have a nice crust on it as you're searing it in the pot. Let the pot heat up first before adding the rib roast.

Let the rib roast rest 15 minutes before carving. This helps lock in the flavor.
Slice against the grain when cutting for the most tender prime rib.
Our reverse seared prime rib Instant Pot recipe makes it easy to cook your roast to the perfect temperature and get that beautiful crust on the outside.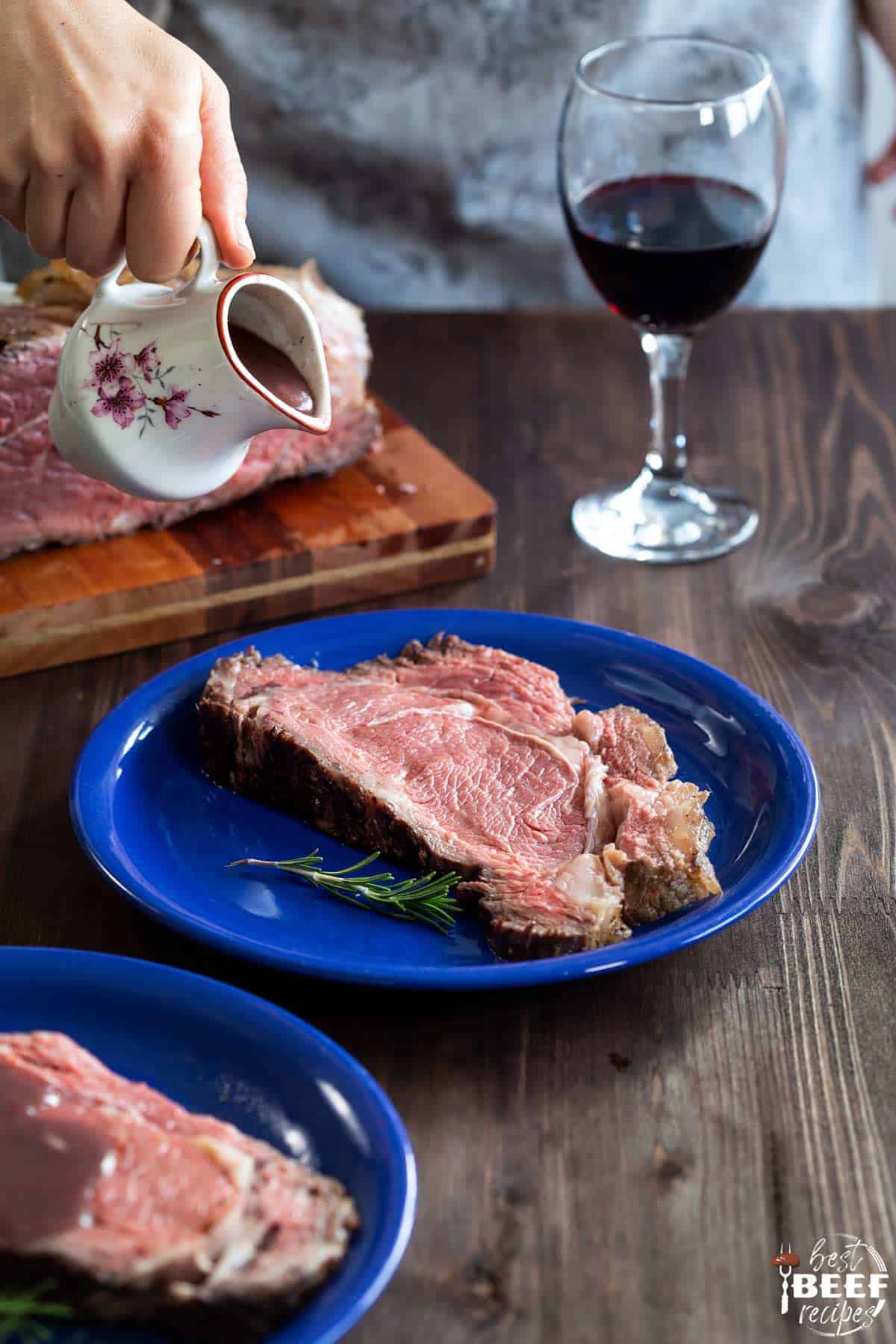 This recipe is keto friendly. Try more of our Best Keto Beef Recipes!
Prime Rib Temperatures for Tender Roast Beef
Rare: 125°F
Medium-rare: 135°F
Medium: 145°F
Medium-well: 150°F
Well-done: 160°F
Follow this easy chart for your desired degree of doneness. Use a meat thermometer for accuracy.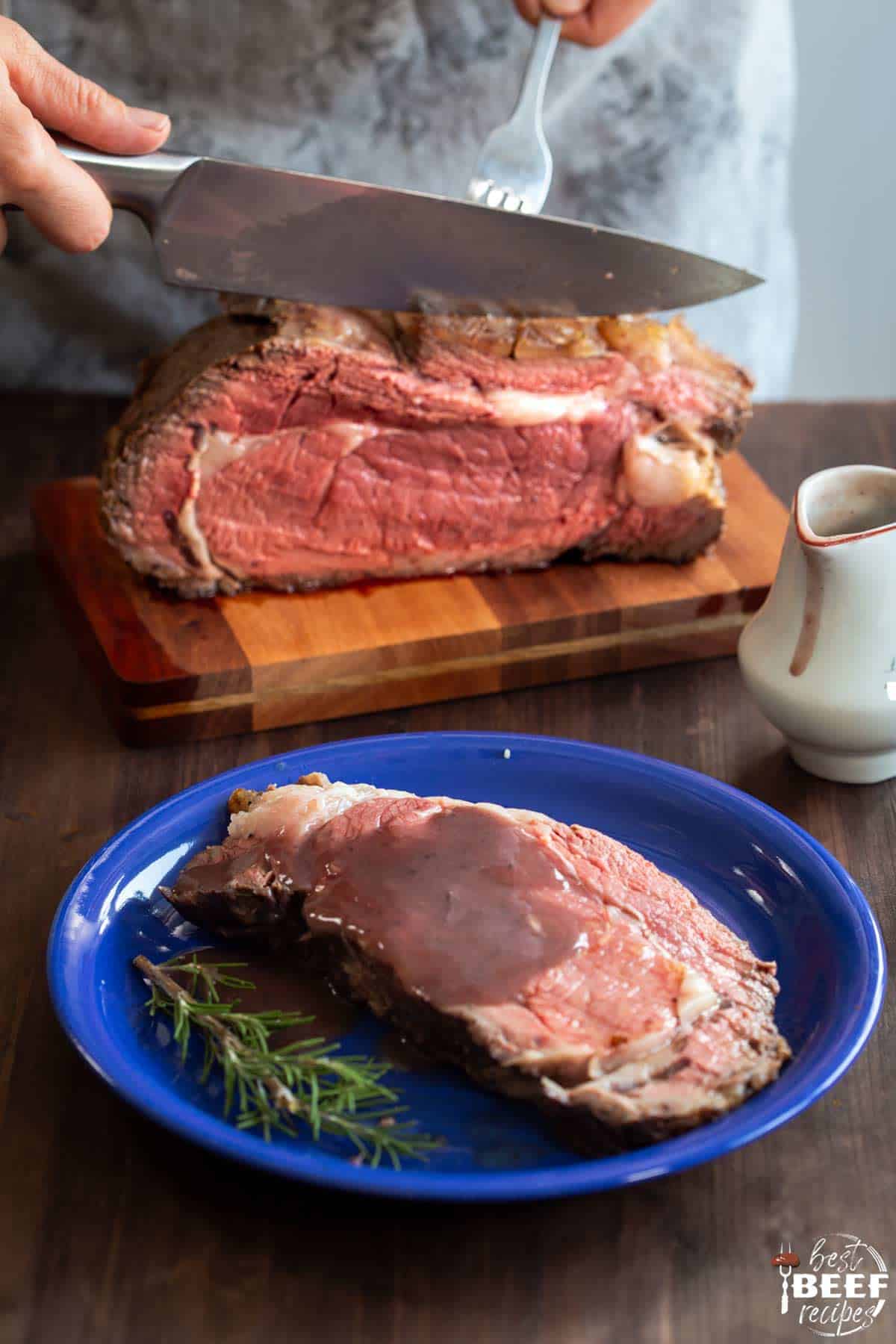 How Much Prime Rib Per Person
As a 3-pound roast, this Instant Pot boneless prime rib recipe serves about 6 people. This is at ½ a pound of meat per person. For larger portions, it will serve 4 people.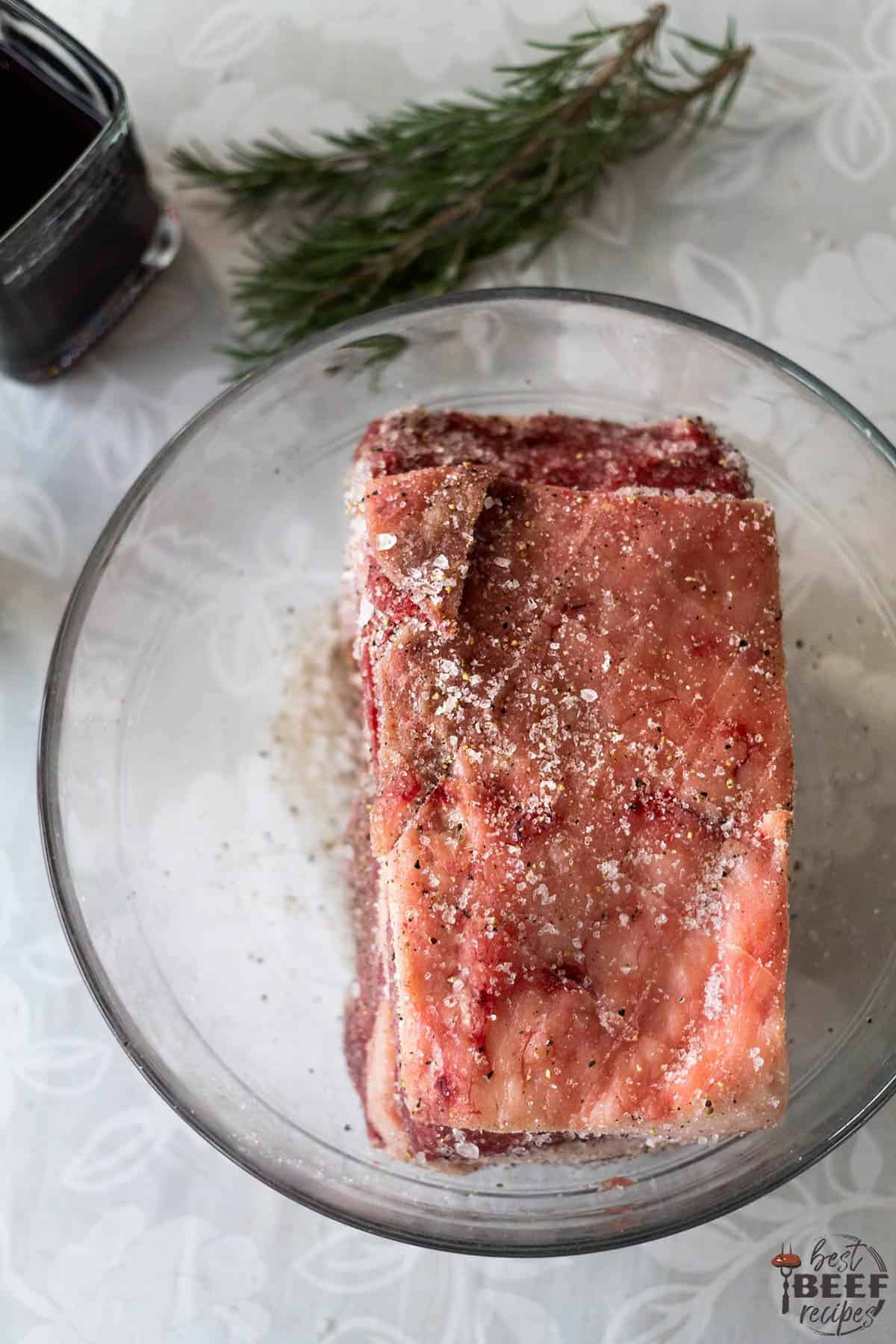 Roast Beef Dinners
Try more of my favorite roast beef dinners and Instant Pot recipes:
Try it with Herb Garlic Butter for Steaks!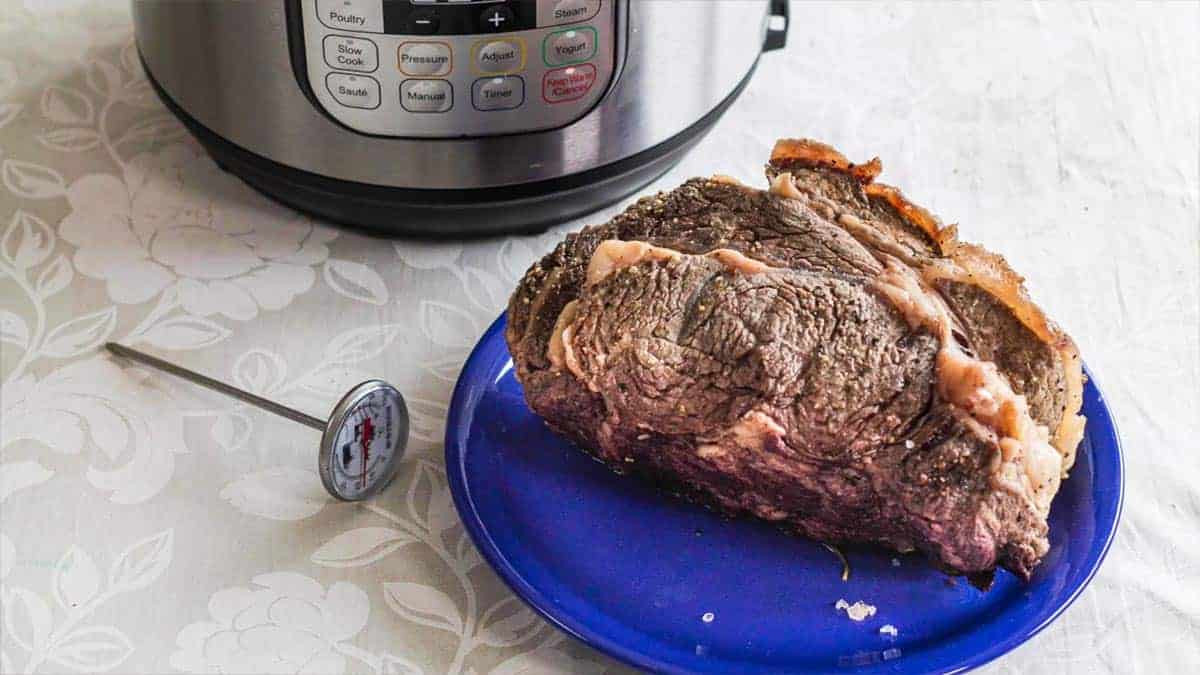 This was so good!

@sharyljean

Yum!!! It was delicious!

@tishstump
I made this tonight and it was truly amazing so tender and juicy. Will definitely be making it again.

@bz4u22003

Fantastic and Super Moist!

@supplee2

Check out our Reverse Sear Prime Rib Web Story!
📋 Recipe
Reverse Sear Instant Pot Prime Rib Roast
Make the most gorgeous, PERFECT prime rib right in your Instant Pot! Our Instant Pot Prime Rib is as easy as it gets and delicious, too.
Ingredients
3

pounds

boneless beef rib roast

Sea salt to taste

Black pepper to taste

1

cup

unsalted beef stock

½

cup

red wine

3

tablespoons

vegetable oil

3

tablespoons

all-purpose flour

Fresh herb sprigs like thyme

rosemary, or parsley; optional
Instructions
Score the fat cap of a 3-pound boneless beef rib roast by cutting in a cross-hatch pattern.

Generously season the roast on all sides with sea salt and ground black pepper. Give it a good coating, even if it seems like too much salt.

Place the trivet in the Instant Pot, then place the roast on top of the trivet. Add 1 cup unsalted beef stock and ½ cup red wine.

Optionally, add a few sprigs of fresh herbs.

Lock the lid in place and make sure the vent is in the "sealing" position. Choose the manual setting, low pressure, and set the time for 5 minutes.

Once the time is done, do not remove the lid or release the pressure. Leave the roast in the pot for 30 more minutes. The Instant Pot will automatically switch to the "keep warm" setting.

Once 30 minutes is up, open the pot and insert a meat thermometer at the thickest part of the rib. Be careful when removing the lid. The meat thermometer should read 115°F. If it is too low, put the lid back on and leave it on warm for 5 to 10 more minutes.

Remove the roast to a plate and strain the liquids from the pot into a cup. Set aside.

Remove the trivet from the pot. Select the highest saute setting. Add 3 tablespoons vegetable oil and place the prime rib roast back into the pot. Sear on all sides until it browns, approximately 10-15 minutes.

Check the temperature of the roast again to make sure it's cooked to your desired degree of doneness. For medium-rare, it should read 135°F. Tent with foil and let it rest for 15 minutes before carving.

To make the gravy, add the strained liquids back to the pot along with 3 tablespoons all-purpose flour. Stir.
Notes
If you prefer, you can sear the prime rib in a cast-iron skillet on the stove instead of in the pot.
You can substitute the red wine for additional beef stock if you prefer.
Always use a meat thermometer when checking the temperature of beef for the best results and highest accuracy.
Slice against the grain for the most tender prime rib.
Nutrition
Calories:
872
kcal
|
Carbohydrates:
5
g
|
Protein:
52
g
|
Fat:
68
g
|
Saturated Fat:
25
g
|
Polyunsaturated Fat:
35
g
|
Cholesterol:
188
mg
|
Sodium:
321
mg