This post may contain paid links. If you make a purchase through links on our site, we may earn a commission.
Your new favorite recipe for roast beef is waiting for you on this list of the Best Pot Roast Recipes! All of my recipes for pot roast take 15 minutes or less for prep and use simple pantry staple ingredients.
Find recipes for how to make pot roast in the slow cooker, in the oven, and in the pressure cooker!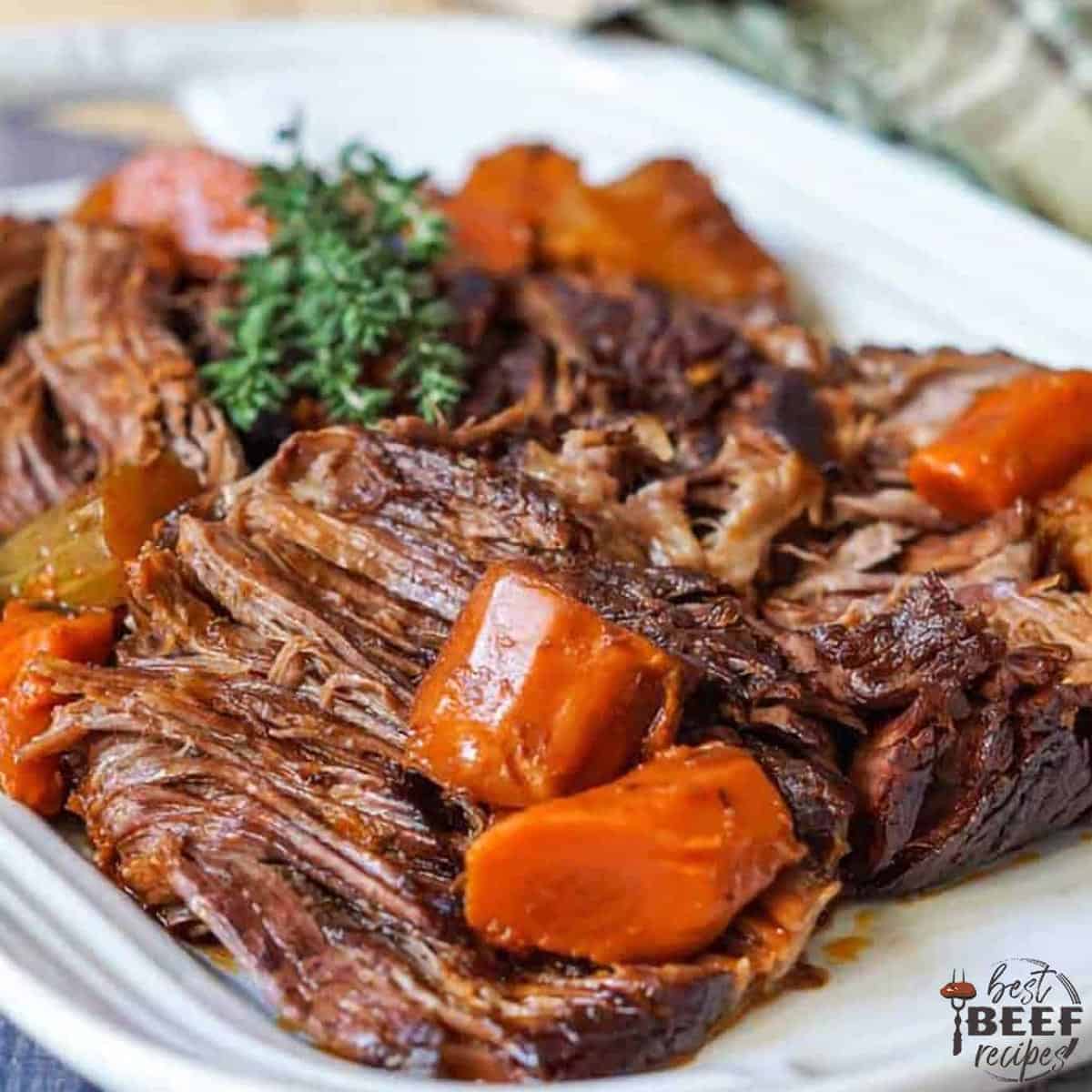 Jump to:
Pot Roast Recipe
My family and I love pot roast. It is a common choice for dinner in my household and frequently requested, especially during the colder months! I love making pot roast on busy days, knowing I can set it to cook at the start of the day and come home to an incredibly flavorful dinner with minimum effort.
There are so many ways to make pot roast. I want to share my favorite methods with you, from slow cooker roast beef to pressure cooker pot roast and classic oven baked roasts. Every recipe has its own tips and tricks, but what each of my best pot roast recipes has in common is how easy they are to make and how little prep they require.
I know you're going to find a new favorite pot roast recipe on this list. Let me know your favorite in the comments below!
I love an easy recipe for pot roast. This is the best one I have found online. Thank you!

Janice on Pinterest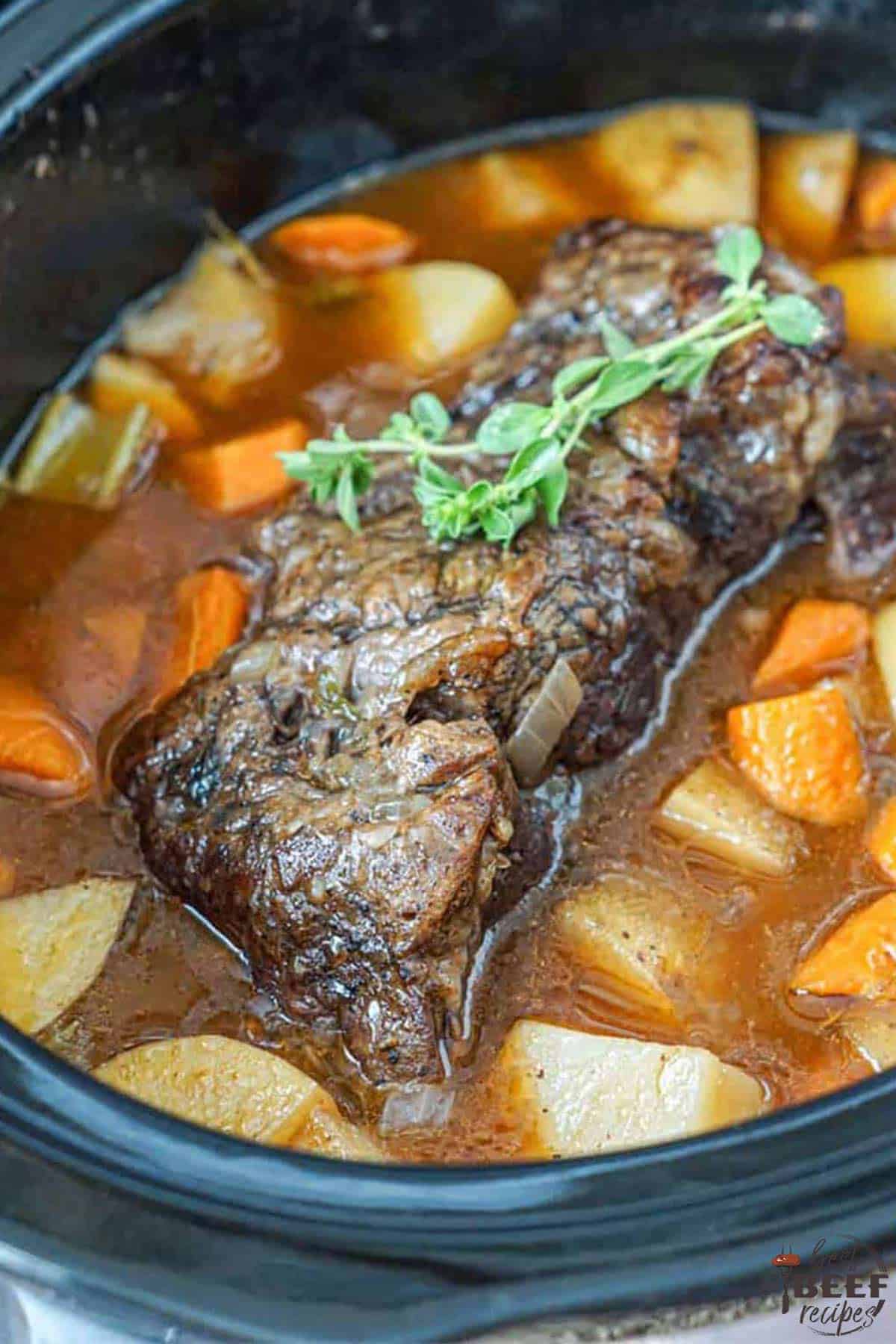 Best Pot Roast Recipes
Dutch Oven Pot Roast
Learn how to make an incredible Dutch Oven Pot Roast with just 10 minutes of prep! Dutch Oven Pot Roast is easy to make and deeply flavorful.
get the recipe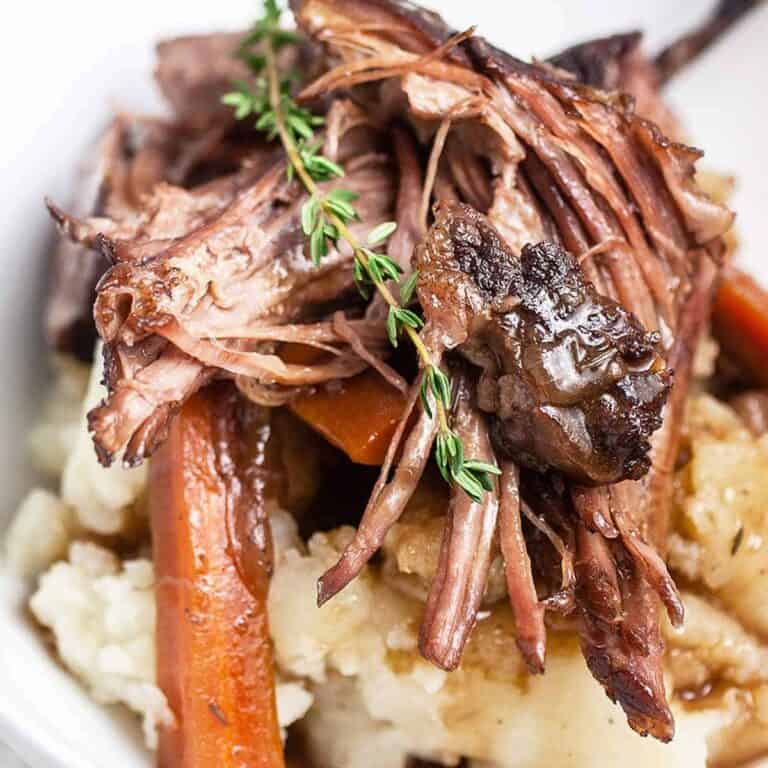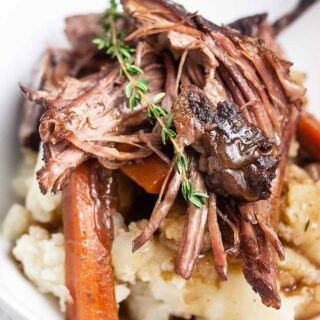 Instant Pot Roast Beef
Instant Pot Pot Roast is as simple as pot roasts get, and so delicious! This easy pot roast beef recipe is fall-apart tender and ready in just over an hour.
get the recipe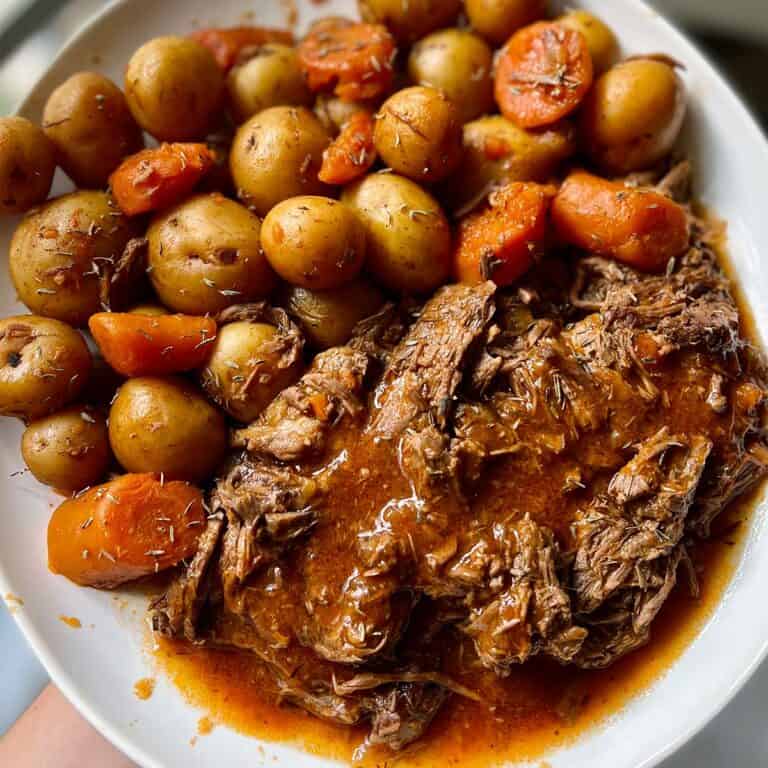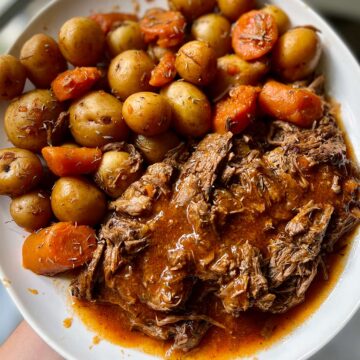 Mississippi Pot Roast Recipe
My Mississippi Pot Roast Recipe is a slow cooker pot roast with so much to bring to the table! It is packed with flavor and easy to make in your crockpot with just 5 ingredients and 5 minutes of prep.
get the recipe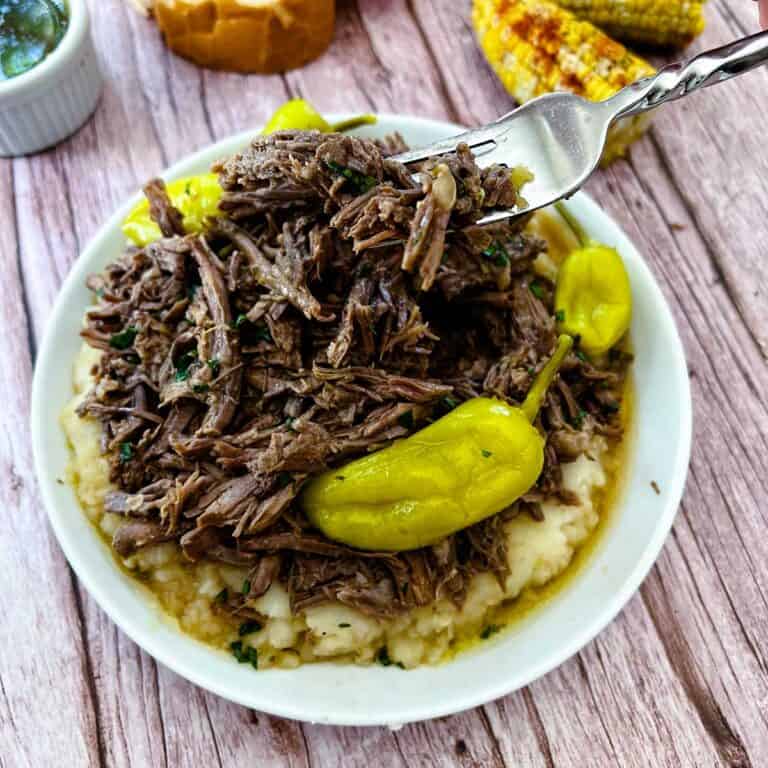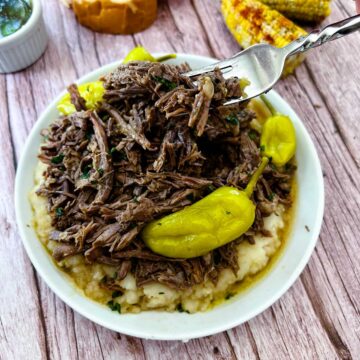 Beef Chuck Roast
My Oven Baked Chuck Roast recipe is one of my most popular pot roast recipes for a reason. This deeply flavorful roast beef recipe is easy to make even for total beginners to making pot roast, and is truly a classic in every way.
get the recipe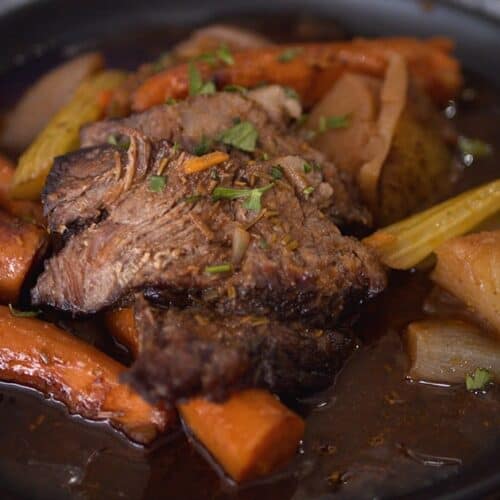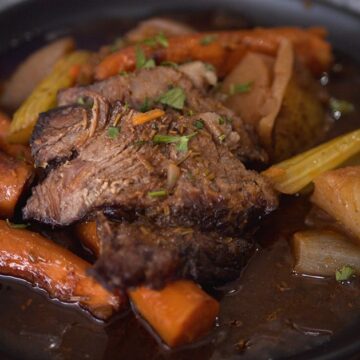 Slow Cooker Roast Beef
Learn how to make slow cooker roast beef with potatoes and carrots that is tender enough to shred with a fork and so yummy! This is a complete dinner you can make with just 15 minutes of prep.
get the recipe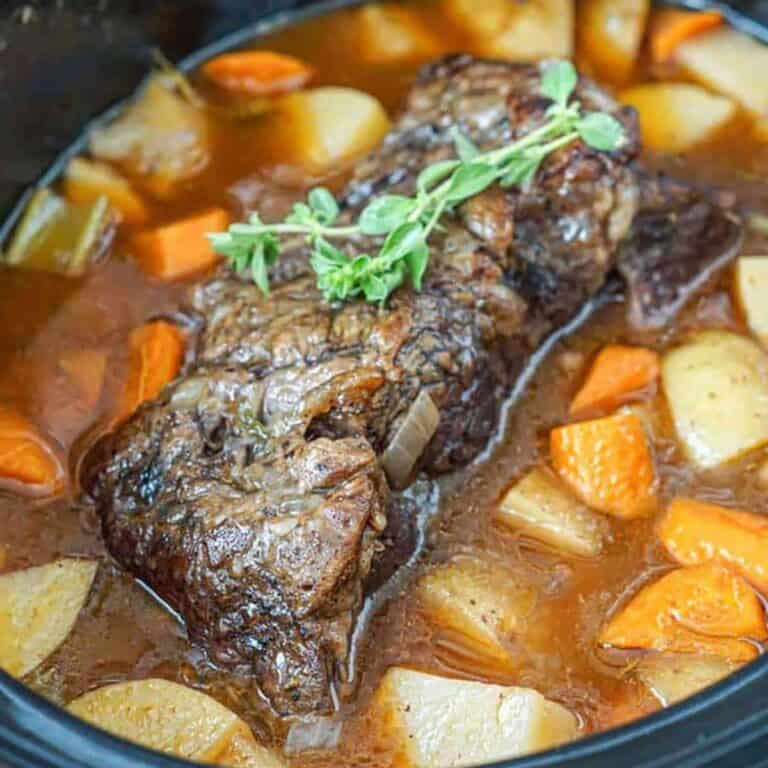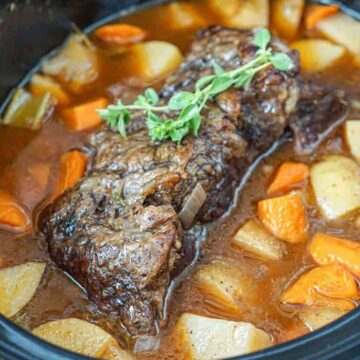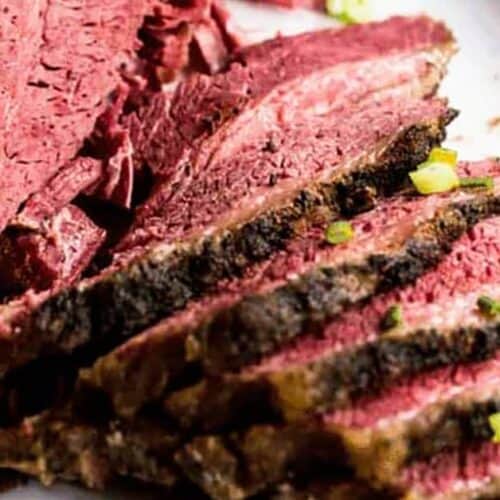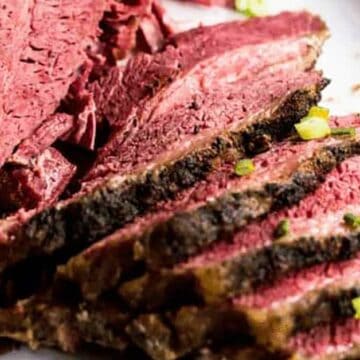 Instant Pot Mississippi Pot Roast
My easy Instant Pot Mississippi Pot Roast recipe is a must-try for everyone who loves a good pot roast! This delicious Mississippi roast pairs with pepperoncini peppers and a flavorful blend of seasonings for a uniquely delicious dish you will love.
get the recipe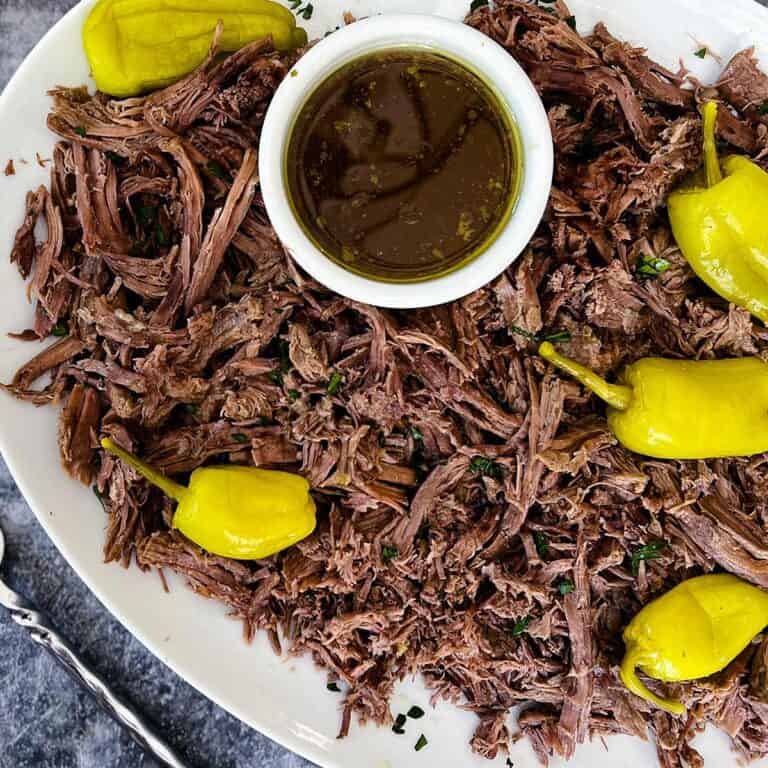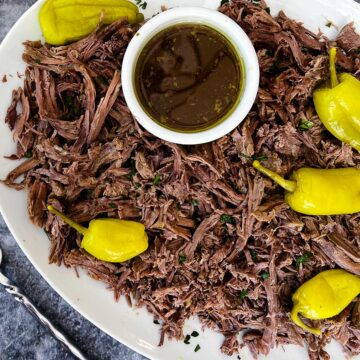 Eye of Round Roast
Our tender Eye of Round Roast recipe is a budget-friendly solution to the holidays, complete with sweet potatoes, tomatoes, and corn!
get the recipe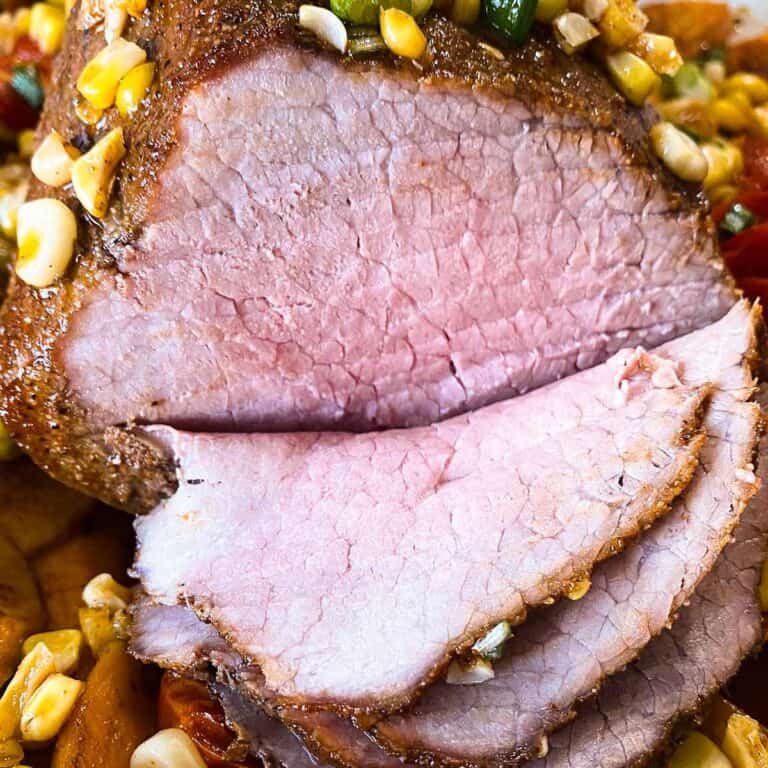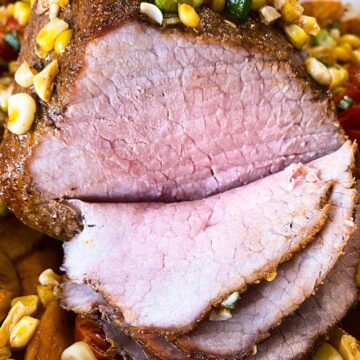 Pot Roast Recipe FAQs
What is the most tender roast for pot roast?
The most tender roast for pot roast is a beef chuck roast. When cooked low and slow, the chuck roast becomes fall-apart tender and easy to shred with a fork. Other cuts, like brisket, top round, and bottom round roasts may be used, but are more appropriate for slicing than shredding and are not as tender as chuck roast as a result.
Does pot roast get more tender the longer it cooks?
The longer you cook a pot roast, the more tender it will become. If you have the option to roast your beef for longer, you should for a more tender roast! Timing varies from recipe to recipe, but at 350˚F, 5 to 6 hours of roasting in the oven will generally give you the most tender roast.
How do you keep pot roast moist and tender?
To keep the pot roast moist and tender, cook it at low heat over several hours in a liquid. The longer you cook the roast, the more tender it will be.
Should the pot roast be submerged in liquid?
The pot roast does not need to be fully submerged in liquid. There should always be liquid present in a pot roast recipe, but the level of liquid used in cooking a pot roast varies from recipe to recipe.
How do you make pot roast taste better?
To make pot roast taste the best it can be, season it generously. Using fresh herbs will heighten the flavor of your roast, although dried herbs can also be used. The braising or simmering liquid used should be flavorful on its own; beef stock and red wine are common and tasty choices.
I also like to use my roast beef seasoning. For the best taste, let your roast cook long enough to become fork-tender.
Beef Pot Roast Temps
Check the beef internal temp using a meat thermometer and our beef temperature chart for best results.
| Beef Doneness | Internal Temperature |
| --- | --- |
| Rare beef temp | 125°F - bright red in the middle |
| Medium-rare roast | 135°F - warm red in the middle with slight pink around the edges |
| Medium roast | 145°F - warm pink throughout |
| Medium-well roast | 150°F - slightly pink at the center |
| Well-done roast | 160°F -fall-apart shredded beef |
Try serving these easy side dishes with pot roast, along with au jus gravy and horseradish sauce.
Best Roast Beef Recipes
Try more of my best roast beef recipes, including prime rib!
What's your favorite recipe for pot roast? Let me know in the comments below! Is there a preparation you'd like for us to try and share with you?
📋 Recipe
Pot Roast Recipe
My Best Pot Roast Recipe combines all the flavors you love into one gorgeous, easy-to-make roast beef recipe!
See our Beef Temperature Chart for helpful tips on cooking any cut of beef!
Instructions
Preheat oven to 350°F. Heat a Dutch Oven greased with olive oil over medium-high on the stove. Add roast and brown on each side, 1-2 minutes per side. Remove from pan and set aside.

Add onions to the pan and cook for 3 minutes before adding garlic. Stir.

Pour red wine in the pan with the onions and garlic to deglaze it. Use a wooden spoon to gently scrape up any brown bits from the bottom of the pan.

Add in beef stock, carrots, rosemary, salt, and pepper, and stir.

Place the roast back in the Dutch Oven and submerge it in the liquid.

Roast in the oven for 4 hours or until the beef is tender enough to shred with a fork. Remove when done, and let it rest for 10 minutes.

Shred the roast with two forks after resting. Serve over mashed potatoes with gravy, and enjoy!

To make thick beef gravy, place the Dutch Oven back on the stove after removing the cooked pot roast and bring the liquid to a boil. Leave it uncovered and add a mixture of ½ Tbsp. cornstarch and 2 Tbsp. beef stock to the pot and mix it in, then simmer for 5 minutes to thicken.
Notes
At 350°F, cook your roast for 1 hour per pound of beef. However, if you want, you can cook your roast for longer to develop the flavors even further and make it even more tender. We cook our 3 lb. roast for 4 hours.
Sear your beef first over high heat so it browns on both sides. This guarantees a juicy pot roast with so much flavor!
Use a high quality beef stock and check on the level of liquid in the Dutch Oven every hour. If it reduces too much, add ½ cup of water so it doesn't dry out.
Nutrition
Serving:
1
g
|
Calories:
536
kcal
|
Carbohydrates:
10
g
|
Protein:
51
g
|
Fat:
30
g
|
Saturated Fat:
12
g
|
Polyunsaturated Fat:
15
g
|
Trans Fat:
2
g
|
Cholesterol:
164
mg
|
Sodium:
979
mg
|
Fiber:
2
g
|
Sugar:
4
g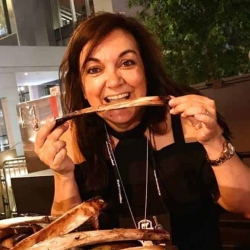 Latest posts by Isabel Laessig
(see all)