This post may contain paid links. If you make a purchase through links on our site, we may earn a commission.
Salting steak is an easy trick that's going to change how you cook steak! Armed with my guide for How to Salt Steak, you'll enter a whole new world of tender, flavorful steak in two easy steps!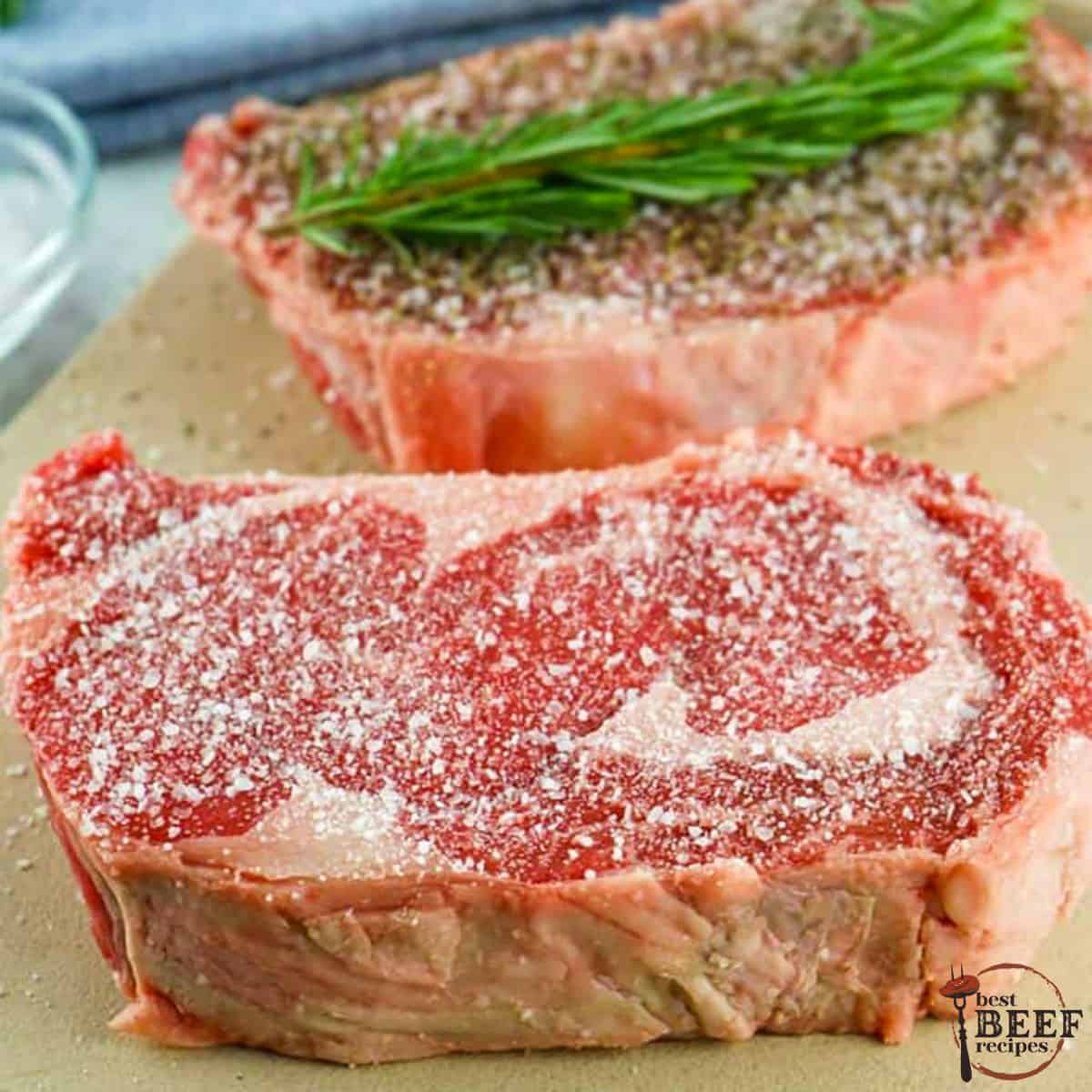 Jump to:
Salted Steak
You may have heard the advice before: "salt steak thoroughly before cooking". But if you're like me, that advice was never quite enough! When do you season it, and how much? Do you let it rest, and how long? What does salting steak even do?
It turns out, those are important questions to ask! How long you let salt rest, what salt you use, when you salt it, and if you should salt it at all make all the difference. By salting the steak with the correct coarse-grain salt and letting it rest for 40+ minutes, you can tenderize steak with no extra work required.
By adding large-grain salt to the outside of the steak, the salt draws out the moisture in the beef. Then, over time, the moisture dissolves the salt and reabsorbs back into the meat, where the salt breaks down proteins and flavors the meat.
Yes, it's that simple! Read on for all the nitty gritty details to make sure your next steak dinner is the best steak you've ever served.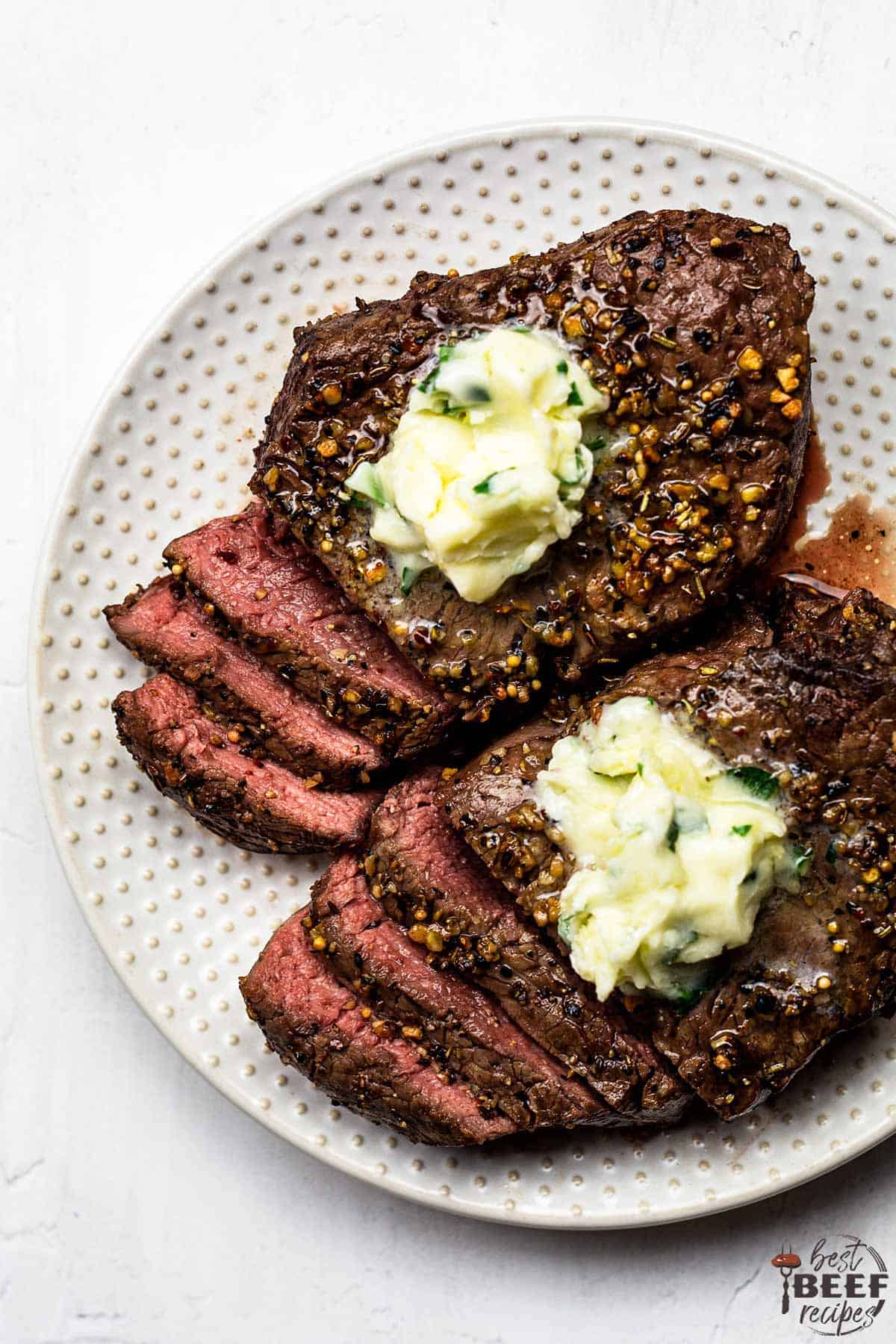 When to Season Steak
When you season steak with salt makes all the difference! Ideally, steak should be salted 24 hours before cooking it- but don't worry if you don't have that kind of time. There are four times that are best for seasoning steak.
24 hours before cooking: Salt the steak 24 hours before cooking, then set it in the fridge, uncovered. Remove from the fridge 20 minutes before cooking.
Salting the steak long before cooking it gives it the optimal amount of time to wet-cure, deeply flavoring the entire steak and tenderizing the meat.

1 hour before cooking: Salt the steak 1 hour to 40 minutes before cooking, then let it rest on the counter until it's ready to be cooked.
This method will not tenderize the meat as much as a 24 hour cure, but it will still add flavor and begin tenderizing the meat, which will enhance the flavor!

Right before cooking: You can still salt the beef right before cooking it, but never let it rest unless it's going to rest for 40+ minutes! If you don't have time to wait, salt the meat directly before placing it on the heat.

After cooking: If you're not sure of the taste preferences of the people eating, it's okay to salt the meat after it cooks, too. It won't tenderize the meat, but it'll taste nice.
The most important thing to know is to never let salted steak rest for less than 40 minutes.
That's because of what salt does: it draws out the moisture of the steak, then absorbs the moisture back into the meat, now seasoned with salt. Rest it for too short a time, and the beef won't reabsorb the juice, leaving it dry and unsatisfying.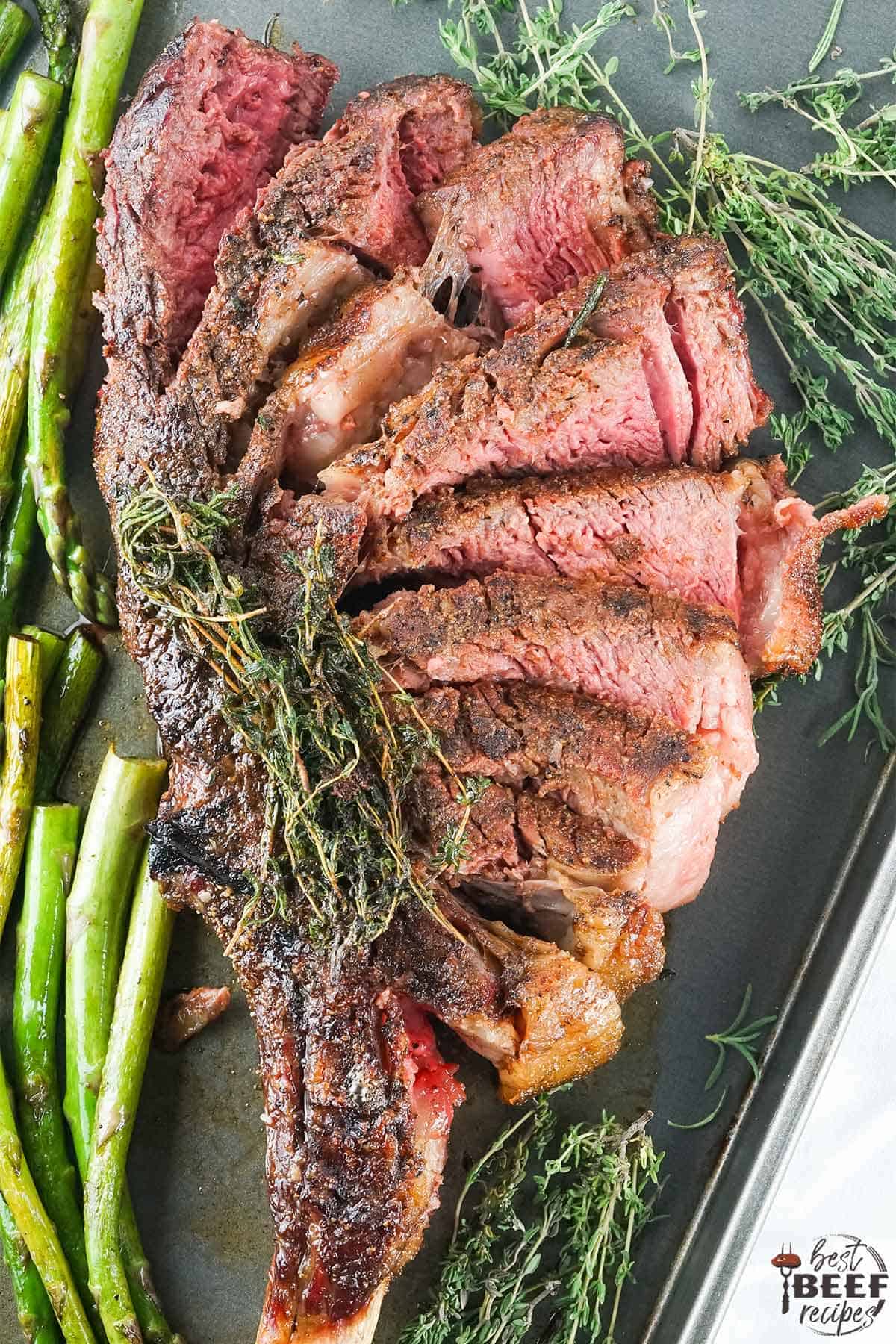 Best Salt for Steak
Sea salt
Kosher salt
Himalayan pink salt
The salt matters for salting steak! Don't use table salt- the grains are so small, they won't properly bind with the steak and will hardly make a difference. Instead, use a quality flake salt like sea salt or kosher salt.
How to Salt Steak
Starting up to 24 hours before cooking the steak, pour ½ to 1 teaspoon of coarse salt on the steak and pat it into the meat so it's evenly coated on all sides. Let the meat rest in the fridge, uncovered, until 20 minutes before cooking.
Remove from the fridge and let the steak come to room temperature. You can brush off any excess salt at this point.
Cook, and enjoy!
Looking for a perfect recipe for salted steak? Scroll to the bottom of the page for my mouthwatering, out-of-this-world tender Pan Seared Steak!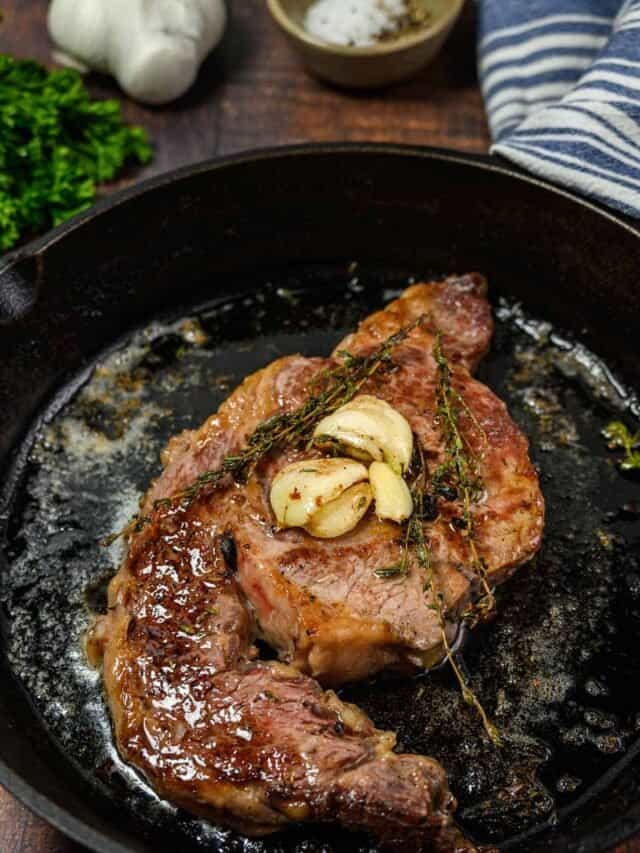 Tips for Salting Beef
The more fat in a cut, the more salt that should be used! Fat covers up flavor, which is the same reason it makes spicy things less spicy. For steak, that means salting fatty cuts more heavily, and lean ones less.
Salt liberally, and just tap or wipe off excess salt before cooking. Do not rinse the meat- after resting, most of the salt will have absorbed into the meat itself.
Salting steak is a fantastic way to tenderize tougher, fattier cuts of meat. For super-lean cuts that are already soft, such as filet mignon, salting isn't necessary.
Salting Meat FAQ
How long do you leave salt on steak?
After salting, steaks should be left to rest for anywhere between 24 hours and 40 minutes, but never less. Any less time and the salt will dry out the meat without giving it time to reabsorb the moisture.
What does salting a steak do?
Salting steak is an easy way to wet-cure the meat! Salt crystals added to the surface of the meat draw out the beef's moisture, which then proceeds to dissolve the salt. Once dissolved, the moisture is drawn back into the meat over time. Once this happens, the dissolved salt proceeds to start breaking down the tough connective proteins in the beef, tenderizing it and flavoring it from within.
Do you leave a steak out after salting?
If a steak is going to be resting for 40 minutes, it's safe to leave it out on the counter. That will serve both as effective resting time and also as time for the meat to come to room temperature, which will ensure even cooking and more tender steaks!
Beef Guides and Tips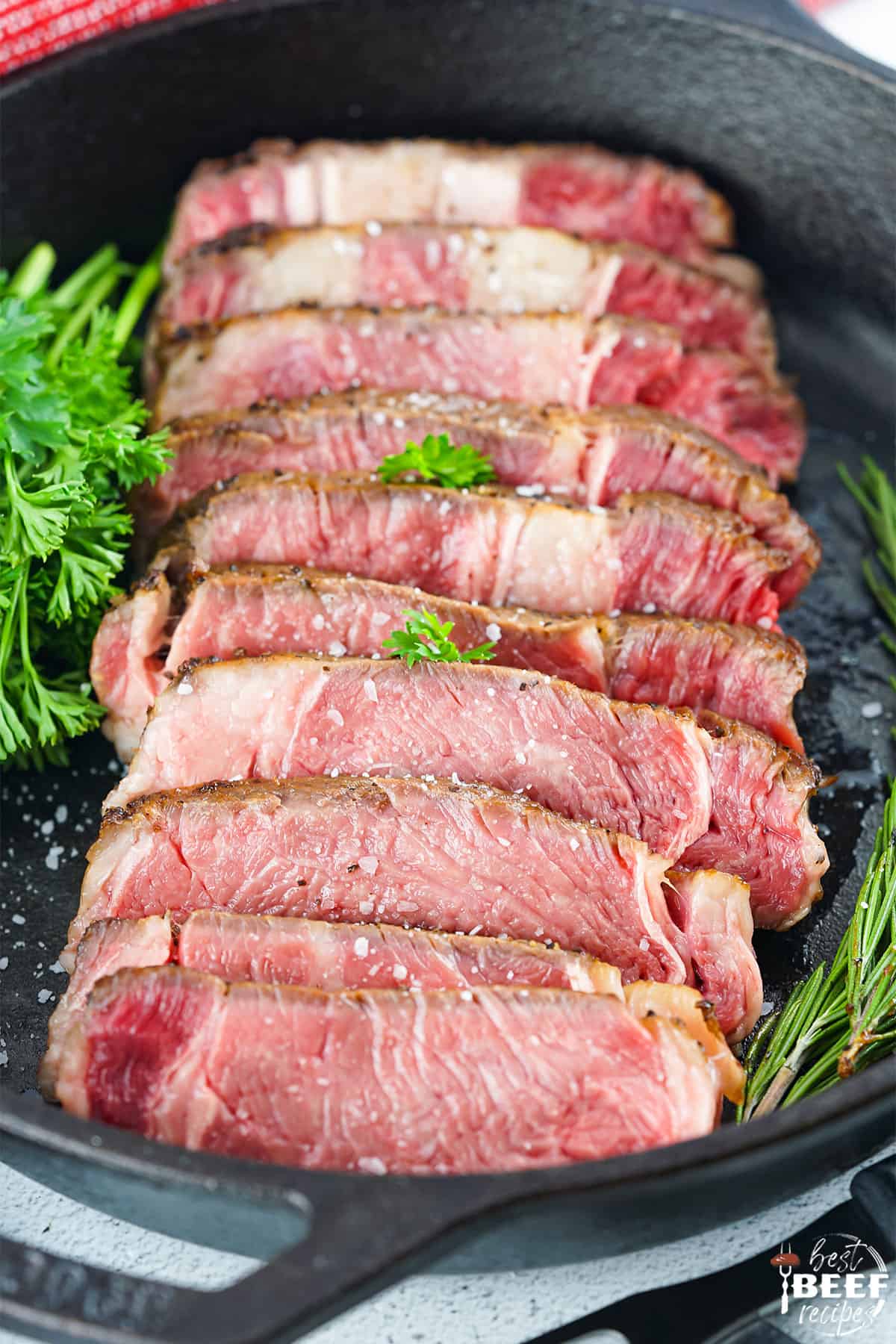 📌 Pin it for later!
Did you enjoy this page? Save it on Pinterest for later!



If you enjoyed the recipe, leave a comment and a rating below!
📋 Recipe
Salting Steak
My guide for Salting Steak is about to change how you cook steak forever! Who knew tenderizing and flavoring steak was so simple?
Ingredients
1

large thick-cut ribeye steak

½

teaspoon

coarse kosher salt

¼

teaspoon

freshly cracked black pepper

2

thyme sprigs

2

garlic cloves

partially crushed

4

Tablespoons

butter
See our Beef Temperature Chart for helpful tips on cooking any cut of beef!
Instructions
40 minutes to 1 day before cooking, salt the steak with ½ teaspoon salt.

1 large thick-cut ribeye steak,

½ teaspoon coarse kosher salt

When ready to cook, season steak with pepper, and preheat your oven to 450°F. While it heats, place a cast iron pan (or other oven-proof pan) into the oven for 5 minutes.

¼ teaspoon freshly cracked black pepper

When the oven is heated, carefully remove skillet using oven mitts and place on the stovetop over medium heat.

Place ribeye steak in the skillet and sear for 2 minutes on each side. Top the steak with garlic and thyme, and place the skillet back in the oven for 6-7 minutes.

2 thyme sprigs,

2 garlic cloves

After 6-7 minutes is up, carefully remove the pan from the oven and place it back on the stovetop over low heat.

Flip the steak and top with butter. Using pot holders, carefully tilt pan to pour the melted butter, garlic, and thyme over the steak for approximately 3 minutes. Cook to the desired doneness with an instant-read thermometer.

Allow to rest for at least 10 minutes before slicing and serving. Cut against the grain for best results. Enjoy!
Nutrition
Serving:
1
steak
|
Calories:
884
kcal
|
Carbohydrates:
3
g
|
Protein:
46
g
|
Fat:
77
g
|
Saturated Fat:
43
g
|
Polyunsaturated Fat:
3
g
|
Monounsaturated Fat:
27
g
|
Trans Fat:
2
g
|
Cholesterol:
258
mg
|
Sodium:
1681
mg
|
Potassium:
662
mg
|
Fiber:
1
g
|
Sugar:
1
g
|
Vitamin A:
1532
IU
|
Vitamin C:
5
mg
|
Calcium:
51
mg
|
Iron:
4
mg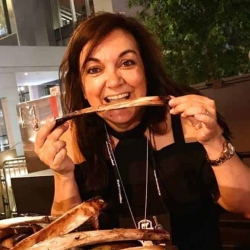 Latest posts by Isabel Laessig
(see all)