This post may contain paid links. If you make a purchase through links on our site, we may earn a commission.
These Steak Nachos are the ultimate nachos! Tangy, creamy, and a little bit spicy, this sheet pan dinner makes the best-loaded nachos recipe ever. They are perfect for your next game day party or for a fun family dinner!
Every bite of this easy nachos recipe is a treat. Packed with guacamole, shredded cheese, and salsa, it has everything you love about classic nachos, plus you can use your leftover steak!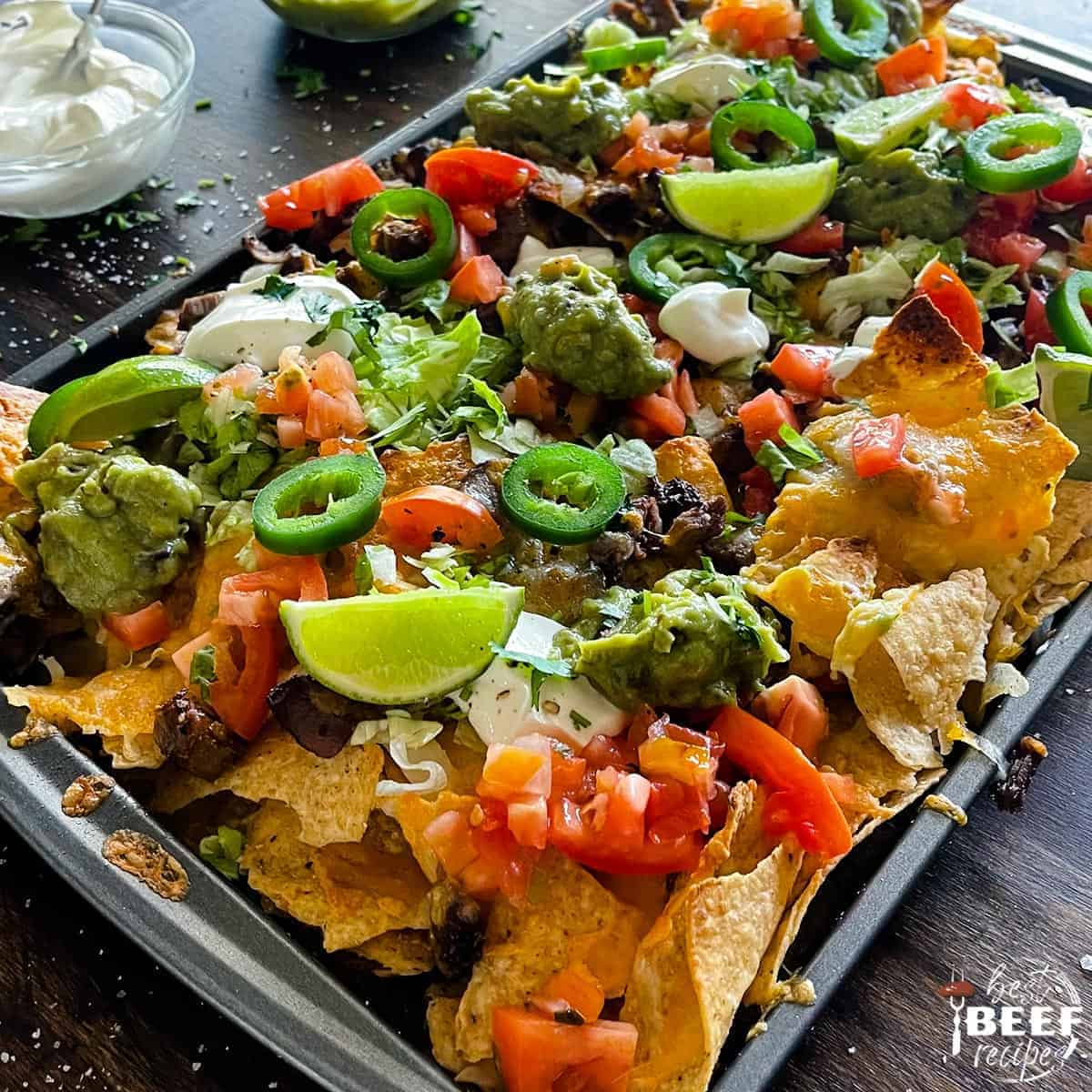 Best Steak Nachos
Let's be completely honest, what we really need is wider and shorter trays of nachos. No more tall towers of chips and toppings. Spread those toppings across a layer of chips and cover all those chips, not just the top layer. Who's with me?
It goes without saying we love steak recipes. Everything from pan seared steak to air fried steak makes it to the top of our favorite beef recipes list!
These amazing beef nachos make a perfect treat for game day or movie night, especially for a summer sleepover. They're one of the easiest dinners to make, especially since you can even use leftover steak to make them!
Jump to:
Steak Nachos Ingredients
leftover steak
Tortilla chips
Shredded cheese (we use Monterey Jack)
Shredded lettuce
Chopped tomatoes
Sour cream
Salsa
Guacamole
Lime for a fresh squeeze
Nothing could be easier than making sheet pan nachos. The best part about this steak nachos recipe is you can mix it up and play with the ingredients to create your perfect plate of nachos.
Add your favorite toppings. Whatever you love on a taco works perfectly for baked nachos!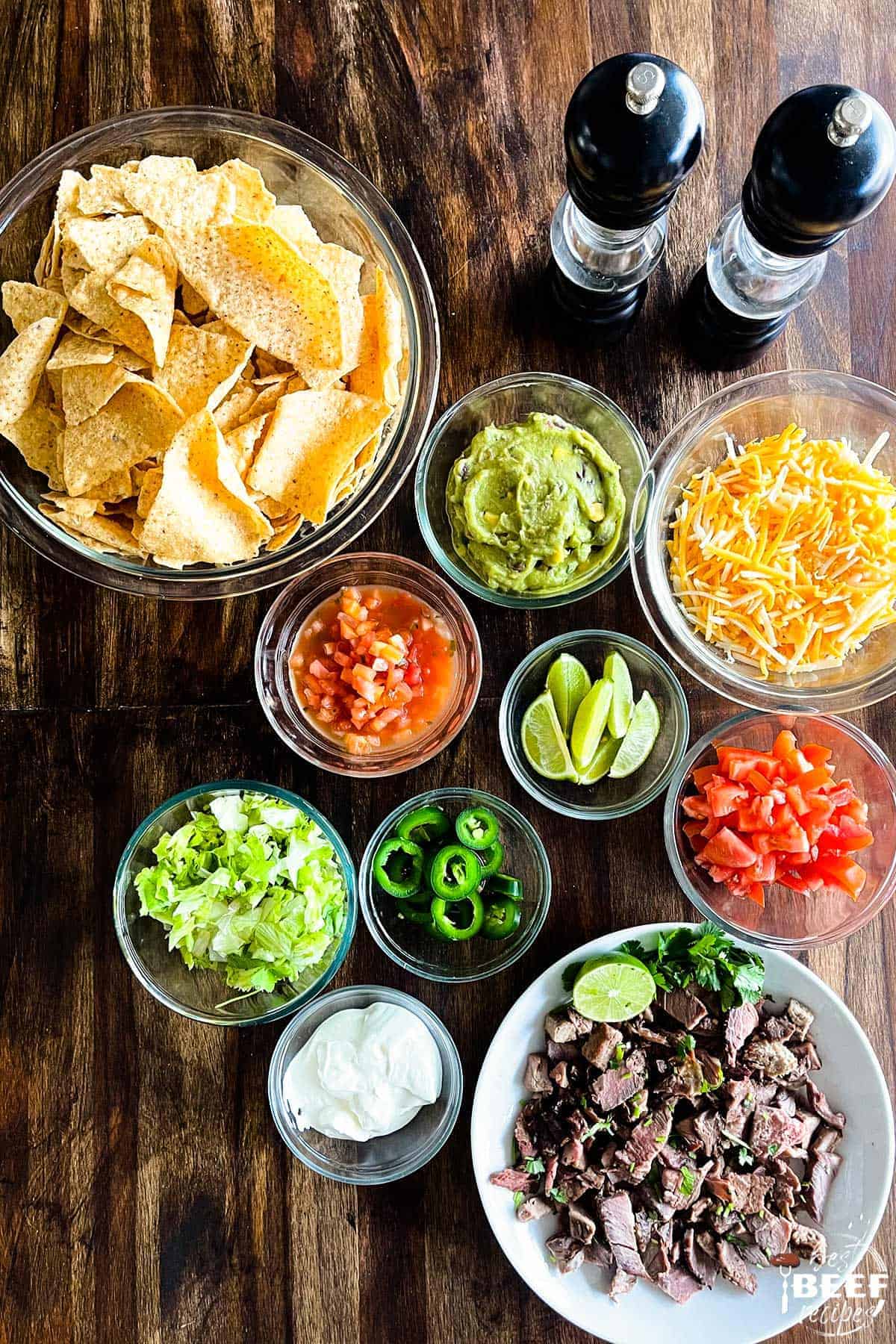 Best Cheese for Steak Nachos
Monterey Jack cheese melts and becomes so creamy and delicious. This is what we use, and it is the best cheese for nachos.
You can also try a Mexican cheese blend
Queso Fresco is also amazing
Shredded Cheddar is also great
The most important thing about picking which cheese to use for a nachos recipe is how well the cheese melts. As a rule, shredded cheese works best!
Best Steak for Steak Nachos
In short, the answer is any steak you have leftover. Here are some of my favorites.
My family loves steak nachos so much that I tend to add an extra steak when we are enjoying one of these recipes. It's perfect for reinventing recipes like these beef nachos.
Beef Nachos with Leftovers
Any type of beef works really well on nachos. I love using any leftover beef recipes I have to make ultimate nachos. My kids always look forward to leftover prime rib and ground beef nachos! Here are some other leftover beef recipes I like to use.
Steak Nacho Toppings
Tomatoes
Shredded Lettuce
Jalapeno slices
Fresh Guacamole
A sprinkling of cilantro
You can also add:
Olives
Avocado slices - learn How to Cut an Avocado
Chimichurri Steak Nachos are also amazing! This is one of my favorite nacho sauces!
How to Make Steak Nachos
Preheat your oven broiler to high. Spread tortilla chips in a single even layer on a baking sheet.
Lay slices of steak over the chips, then sprinkle with shredded cheese. Put the pan in the oven until the cheese melts and the chips crisp up, about 3-4 minutes. Make sure to babysit this step because most ovens get really hot on broil.
Top with lettuce, chopped tomatoes, guacamole, salsa, sour cream, and other nacho toppings of choice.
Sprinkle with a bit of lime. This makes these nachos perfectly light and flavorful.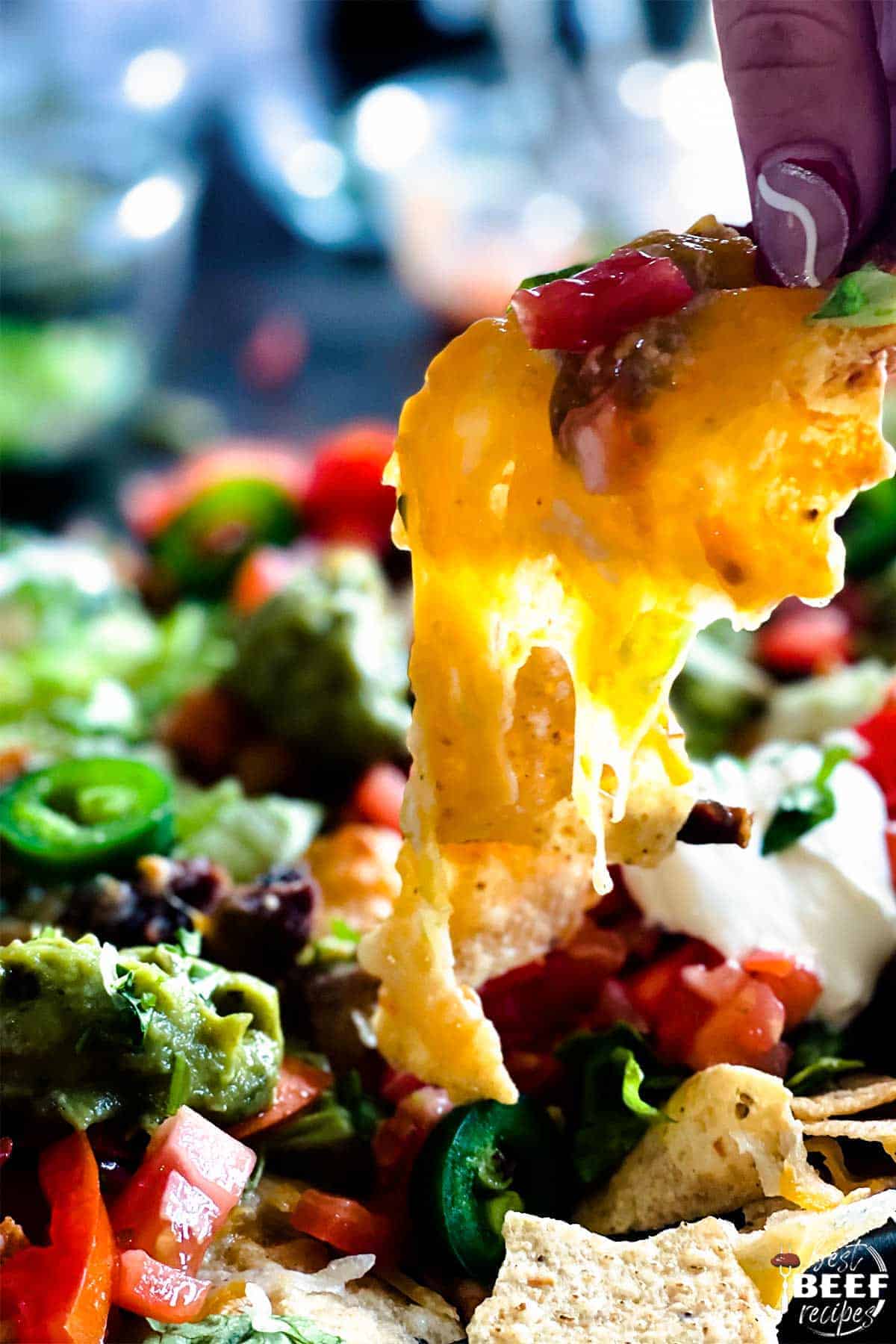 Beef Nacho Recipe Tips
Make sure you watch your oven carefully while on broil, It will cook really fast.
Make a nacho bar! Melt the cheese over your sheet pan of chips, then set out with bowls of toppings. Serve options like steak, shrimp, ground beef, pulled pork, or shredded chicken. Put out bowls of toppings, such as lettuce, chopped tomato, onion, peppers, and extra cheese to sprinkle on top.
This is a super fun way to serve nachos for the whole family or a party to enjoy!
Best Leftover Beef Recipes
What to Do with Leftover Steak
This is one of my favorite recipes to make using leftover steak! Try making more of our best Leftover Steak Recipes.
If you love Mexican-inspired recipes, try our Steak Milanesa!
📌 Pin it for later!
Did you enjoy this page? Save it on Pinterest for later!



Did you try these steak nachos? Let us know in the comments below what you think, and be sure to leave a rating! We love to hear from you.
📋 Recipe
Ultimate Steak Nachos Recipe
This Steak Nachos recipe is the best nachos recipe ever! Every bite will leave you wanting more. Takes 4 minutes to bake with ready-made steak on a sheet pan for a quick dinner recipe and easy clean up!
Ingredients
1.5

cups

leftover steak, thinly sliced

14.5

ounce

bag tortilla chips your choice

1

cup

shredded lettuce

1

cup

tomatoes chopped

⅓

cup

sour cream

½

cup

salsa your choice

½

cup

guacamole

1

lime, quartered(optional)
See our Beef Temperature Chart for helpful tips on cooking any cut of beef!
Instructions
Preheat your oven broiler to high. Spread 1 bag of tortilla chips in a single even layer on a baking sheet.

Lay slices of steak over the tortilla chips, then sprinkle with shredded Monterey Jack cheese. Put the pan in the oven until the cheese melts and the chips crisp up, about 3-4 minutes.

Top with shredded lettuce, chopped tomatoes, salsa of your choice, and sour cream and guacamole. Squeeze some lime over the nachos. (optional) Enjoy!
Notes
Be sure to watch the cooking time when the oven is on broil. It will cook very quickly and every oven runs a little different. 
Add your favorite nacho toppings! Mexican crema, peppers, jalapenos, olives, avocado, shrimp, and fresh herbs like cilantro are great choices. So are other cheeses, like Queso Fresco or Cotija.
Nutrition
Serving:
1
g
|
Calories:
566
kcal
|
Carbohydrates:
22
g
|
Protein:
37
g
|
Fat:
37
g
|
Saturated Fat:
15
g
|
Polyunsaturated Fat:
20
g
|
Trans Fat:
1
g
|
Cholesterol:
126
mg
|
Sodium:
604
mg
|
Fiber:
2
g
|
Sugar:
2
g
Photos and recipe by Sarah Bates.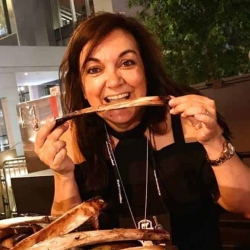 Latest posts by Isabel Laessig
(see all)