Best Beef Recipes is an Amazon Associate. We receive compensation for purchases made through affiliate links.
Get ready to take a bite of the juiciest, most delicious grilled steak recipe! My Brazilian steakhouse favorite Grilled Picanha Steak, also known as Sirloin Cap Steak, is one of the most flavorful and tender cuts of beef you will ever try.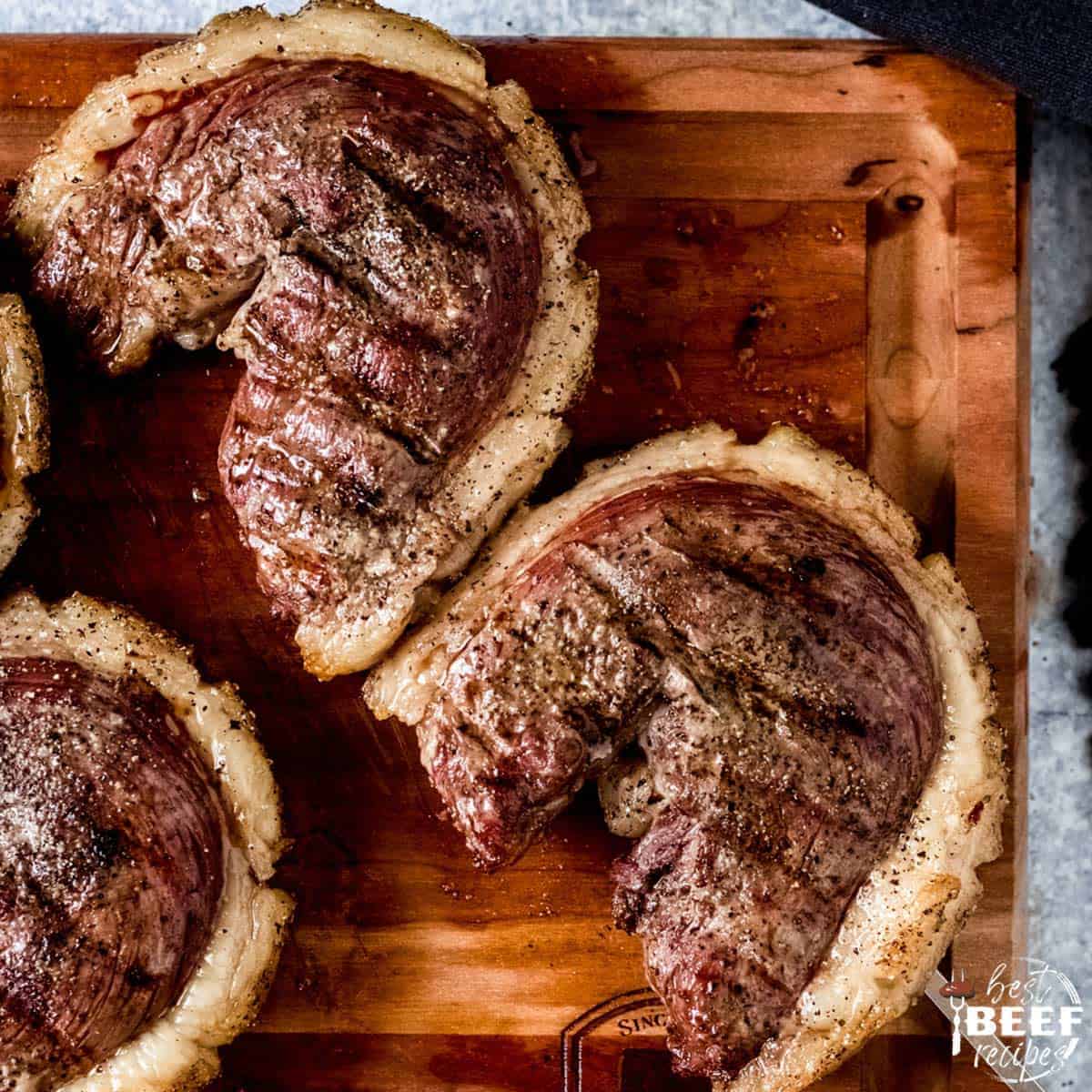 Jump to:
What is picanha?
Picanha (pronounced pi-can-ya) is a cut of beef also known as top sirloin cap steak, rib cap, rump cover, rump cap, and culotte steak. Grilled Picanha Steak is a churrasco steak recipe, which is a Brazilian method of cooking meaning "barbecue".
There is nothing better than a grilled sirloin cap steak. No cut of beef is more tender and succulent than the sirloin cap. It's a beautifully marbled beef cut that surrounds the ribeye steak.
The marbling, or white specks of fat content throughout the beef, is what gives sirloin cap its incredible flavor!
Picanha beef is also known as the prime rib cap, spinalis steak or spinalis dorsi, rib eye cap steak, and the other names listed above!
Picanha Steak recipes are a specialty of Brazilian churrascaria; that is, Brazilian steakhouses! Oftentimes, you will hear it referred to as the picanha grill or picanha BBQ.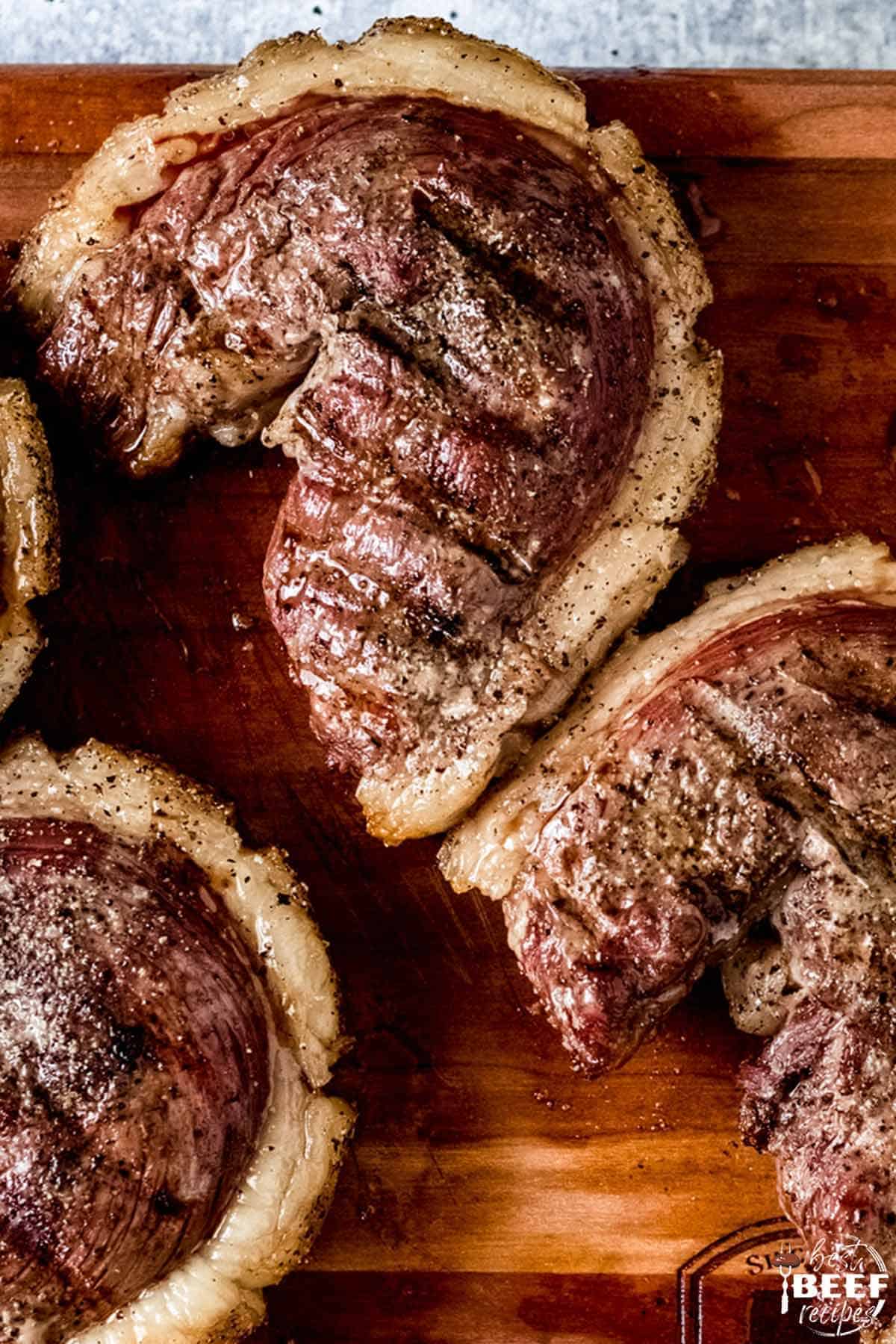 Grilled Picanha Recipe Ingredients
Sirloin Cap Steak/Picanha Cut Steak
Santa Maria seasoning
Metal Meat Skewers
Yes, it's that simple! You won't need much seasoning to give this sirloin cap steak plenty of flavor. The secret to the great taste of this Brazilian steak recipe is in the beef itself! If you want to add a little something extra, try grilling your steak with garlic butter.
Sirloin cap steak has a layer of fat that should not be removed or trimmed. This is what gives the steak so much flavor.
Santa Maria Steak Seasoning
Simple is better when it comes to seasoning steak! Santa Maria steak seasoning is essentially a mixture of salt and pepper, granulated honey or sugar, granulated garlic, and onion powder. It's so simple, but the flavors are powerful!
If you do not have Santa Maria seasoning readily available, use 1 tablespoon of coarse sea salt and 1 tablespoon of cracked black pepper. The steak is so good, it barely needs any seasoning.
Where to Buy Picanha
Most U.S. butchers divide Picanha into other cuts of meat, with it being a part of the ribeye, so you most likely will not find it with the other cuts of beef on display. However, if you ask the butcher at your local grocery store, they will be able to provide you with sirloin cap steak!
Keep in mind that picanha steak goes by many names, so your butcher may know it by one and not the other.
You are going to love this amazing beef cut. Rib cap picanha steaks are tender, juicy, and packed with so much flavor!
Grilling Churrasco-style Picanha Steak
Preheat your grill
Score the fat cap of the sirloin cap in a crosshatch pattern. You do not want the cuts to go too far through the layer of fat.

Rub Santa Maria seasoning all over the scored fat cap.

Cut the Picanha steak into 1-inch strips. Fold each strip into a "C" shape, then slide onto metal skewers. Season with more of Santa Maria rub.

Grill over indirect heat, turning every 5 minutes until your steak reaches your desired level of doneness. For medium-rare, you will want an internal temperature of 135°F, or 145 for medium.


Remove from the grill and allow to rest for 5 to 10 minutes before serving.
This recipe is keto friendly. Try more of our Best Keto Beef Recipes!
How to Cook Picanha Steak on the Stove
Melt a pat of butter until it begins to smoke in a cast-iron skillet over high heat.
Add picanha steak. Cook one at a time to avoid over-crowding the pan.
Cook for 3 minutes on one side, then 2 on the other. This will give the steak a nice crust on the outside while keeping it from overcooking. This should cook the steak to medium-rare.
Tips for cooking on the stove:
- Follow the same steps as above to prepare the beef cut before cooking.
- Use wooden skewers instead of metal skewers, as you can trim them to fit your pan.
Always use a meat thermometer to make sure you achieve your degree of doneness. The last 15 minutes of grilling time are critical and you should always keep an eye on the cap steaks as you do not want to overcook.
One of my absolute favorite stovetop recipes is my dutch oven pot roast. The leftovers are even better than the first time around!
Red Wine Sauce
The perfect sauce to pair with this steak is our amazing red wine sauce for steak. It is truly a match made in heaven!
Steak Temperature Chart
Follow this chart and our Steak Temperature Chart to find your ideal degree of doneness!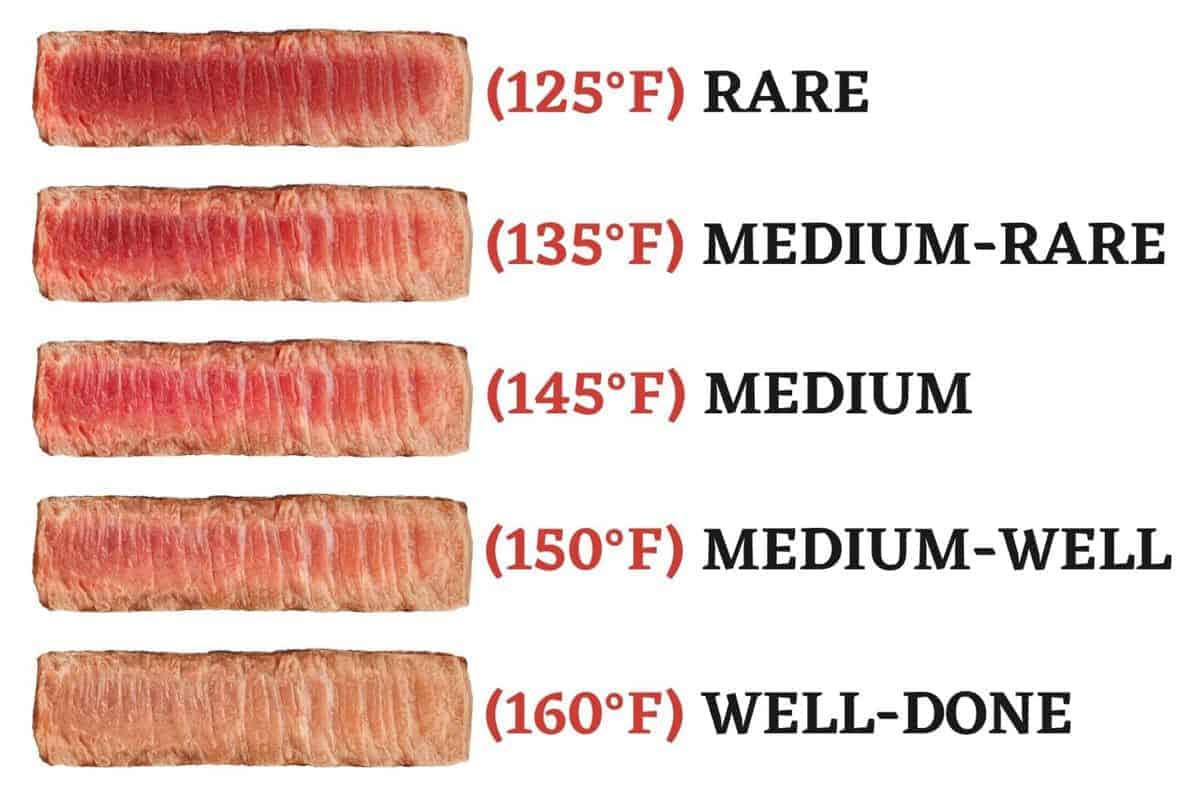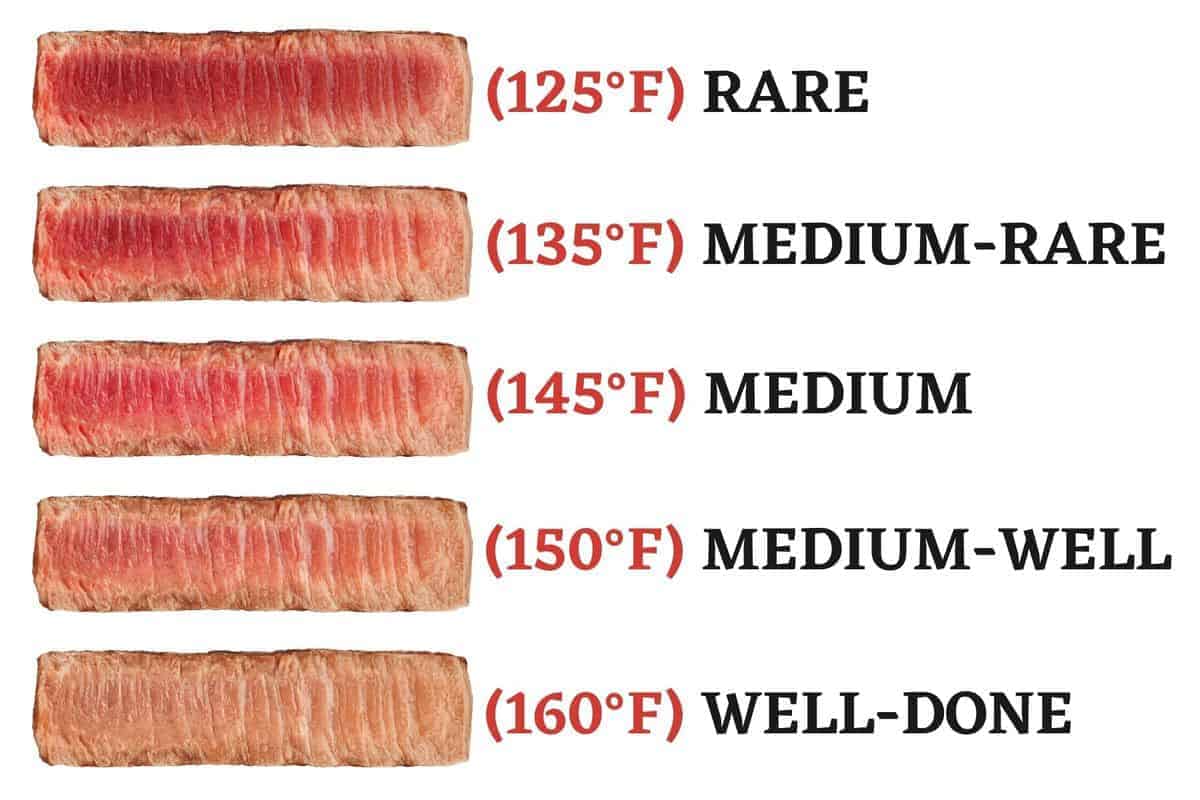 Is this recipe gluten-free?
Yes! With only two ingredients - the steak and rub - everything in this Picanha steak recipe is 100% gluten-free.
Is this recipe keto-friendly?
Absolutely. Picanha steak is a great choice for mixing up your favorite keto steak recipes. It's even better with garlic butter!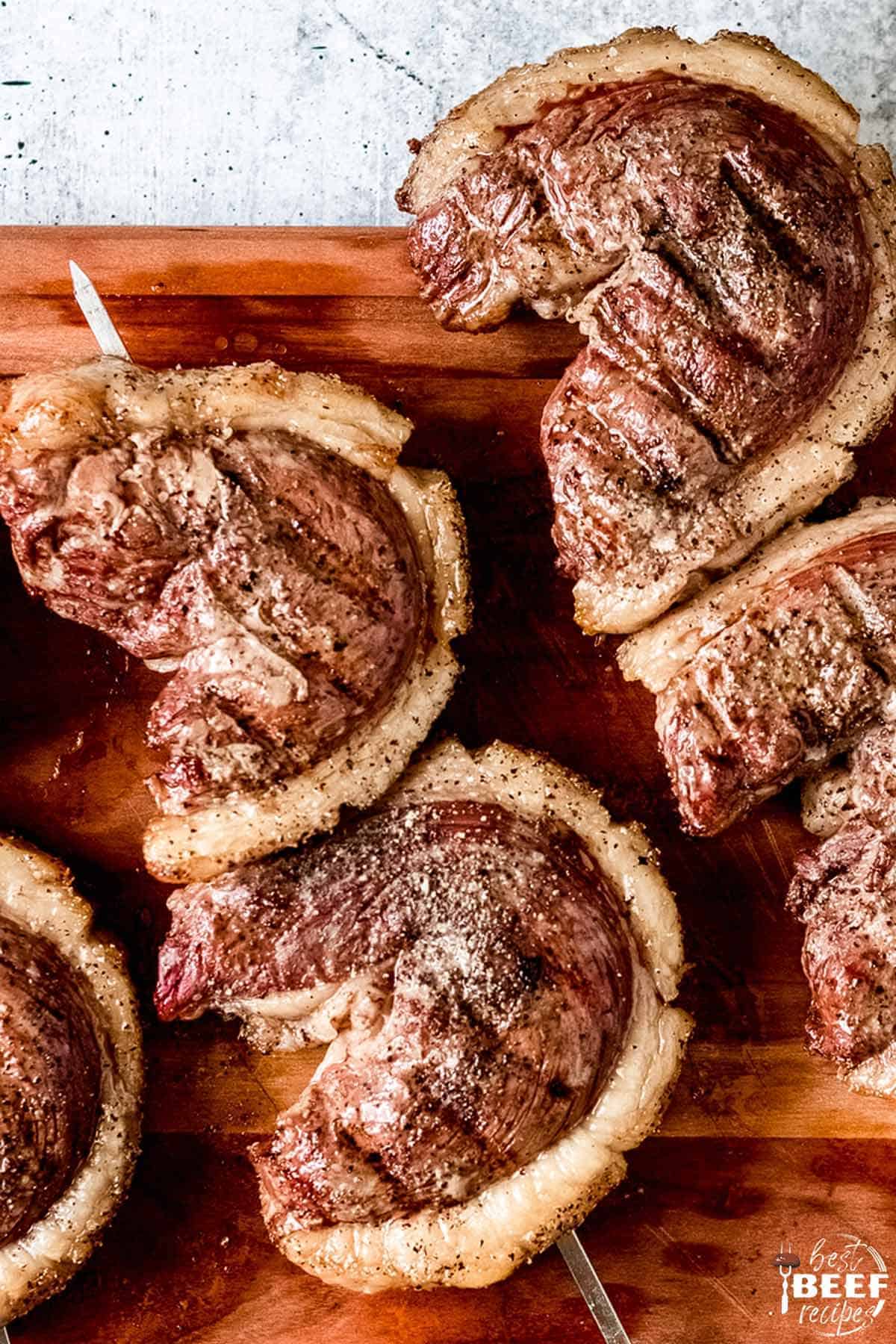 Grilled Steak Recipes
When not grilling, I love using my air fryer. My Air Fried Steak is out of this world! Another favorite always on rotation at our home is my beef chuck roast. It melts in your mouth and is so delicious!
Try serving our steaks with Easy Chimichurri Sauce for Steak!
Try more of our most Popular Best Beef Recipes!
📌 Pin it for later!
Did you enjoy this page? Save it on Pinterest for later!



Check out our Picanha Steak Web Story!
📋 Recipe
Grilled Picanha Steak
Grilled Picanha Steak is the juiciest, most delicious way to enjoy a Brazilian steakhouse classic at home! You will love this sirloin cap recipe!
Ingredients
3-4

pound

Picanha cut sirloin cap

1

tablespoon

Santa Maria seasoning
Instructions
Preheat grill to 400°F. Score the fat cap of a 3 to 4 pound picanha cut sirloin cap in a crosshatch pattern. Do not cut too deep into the fat cap.

Season the fat cap with 2 teaspoons Santa Maria seasoning.

Cut Picanha into 1-inch strips. Fold each strip into a "C", then slide onto metal skewers.

Grill steaks over indirect heat (see notes for tips). Place skewers on the grill and grill for 15 to 20 minutes, turning every 5 minutes, until the steaks reach desired level of doneness (135°F for medium-rare, 145°F for medium).

Remove and allow to rest for 5 to 10 minutes before serving. Enjoy!
Notes
If you do not have Santa Maria seasoning readily available, use 1 tablespoon coarse salt and 1 tablespoon cracked black pepper.
To grill over indirect heat, turn one side of the burners off on your grill, or rearrange the hot coals to one side.
You can also cook Picanha steak on the stove. Melt butter in a cast-iron pan over high heat on the stove until it begins smoking. Prepare picanha steak as above, then add to the grill one at a time, using wooden skewers so you can trim them if needed. Cook for 3 minutes on one side, then 2 on the other.
Nutrition
Serving:
1
g
|
Calories:
392
kcal
|
Carbohydrates:
2
g
|
Protein:
68
g
|
Fat:
11
g
|
Saturated Fat:
4
g
|
Cholesterol:
178
mg
|
Sodium:
170
mg
|
Fiber:
1
g
|
Sugar:
1
g
Photography by Jennifer Schreckengost