Best Beef Recipes is an Amazon Associate. We receive compensation for purchases made through affiliate links.
We have the juiciest, most tender Grilled Chuck Steak recipe ever to share with you. Topped with compound butter, every bite is full of mouthwatering flavor. Budget-friendly and ready in just 15 minutes. The trick is in the marinade and garlic butter!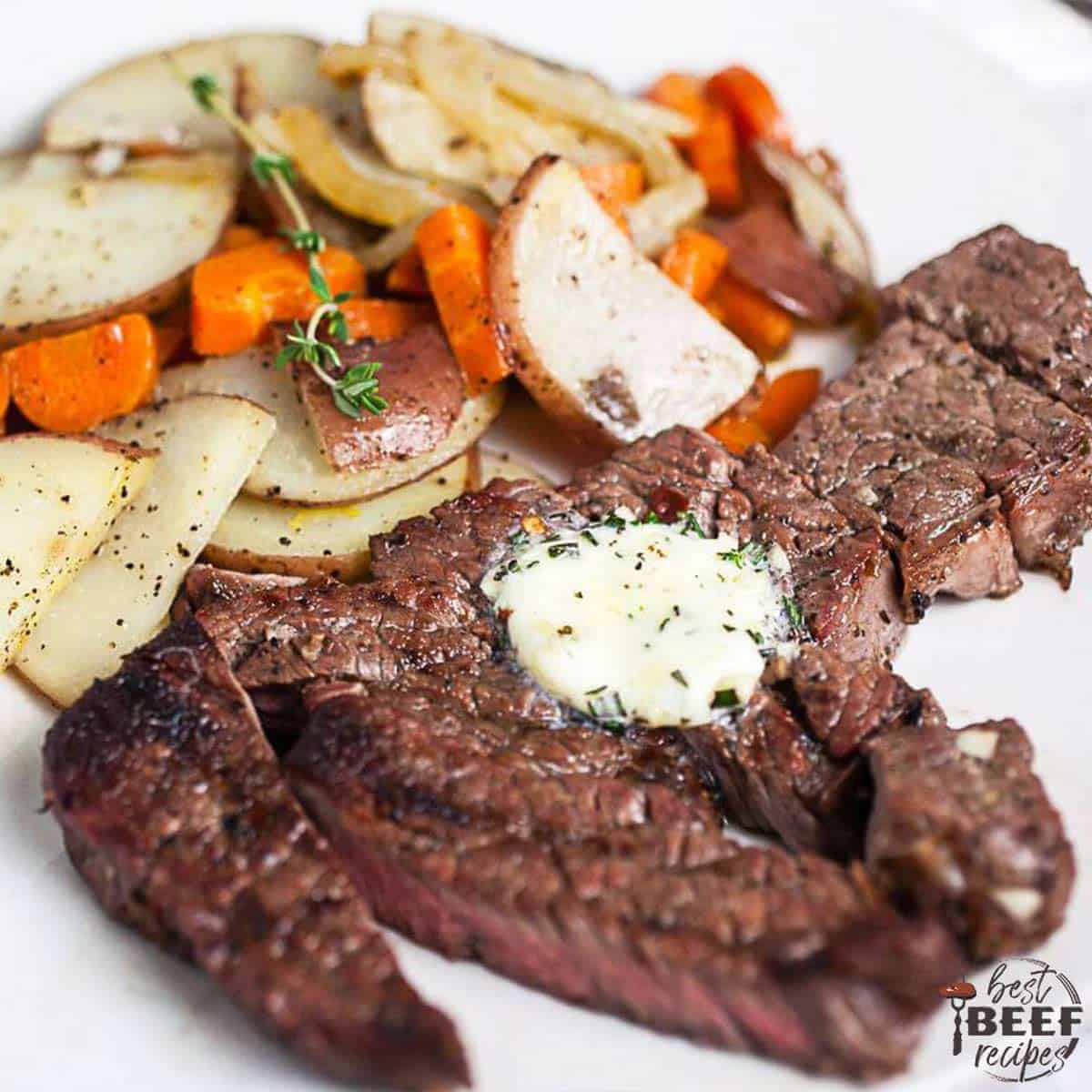 When we think of steak, what usually comes to mind is a classic ribeye, porterhouse, sirloin, or even filet mignon and boneless prime rib ... I bet you're drooling just thinking about your favorite right now!
Those cuts aren't always budget-friendly, though, and when you're feeding a family of four or more, you have to make do. I know how that goes, and I'm happy to share you can cook up a mouthwatering steak dinner on a budget.
Economical and flavorful beef chuck steak recipes like ours are the solution!
You can make this inexpensive cut of beef taste just like a ribeye on the grill. Top it off with garlic butter and you have yourself a flavorful chuck steak recipe that cooks in just 15 minutes!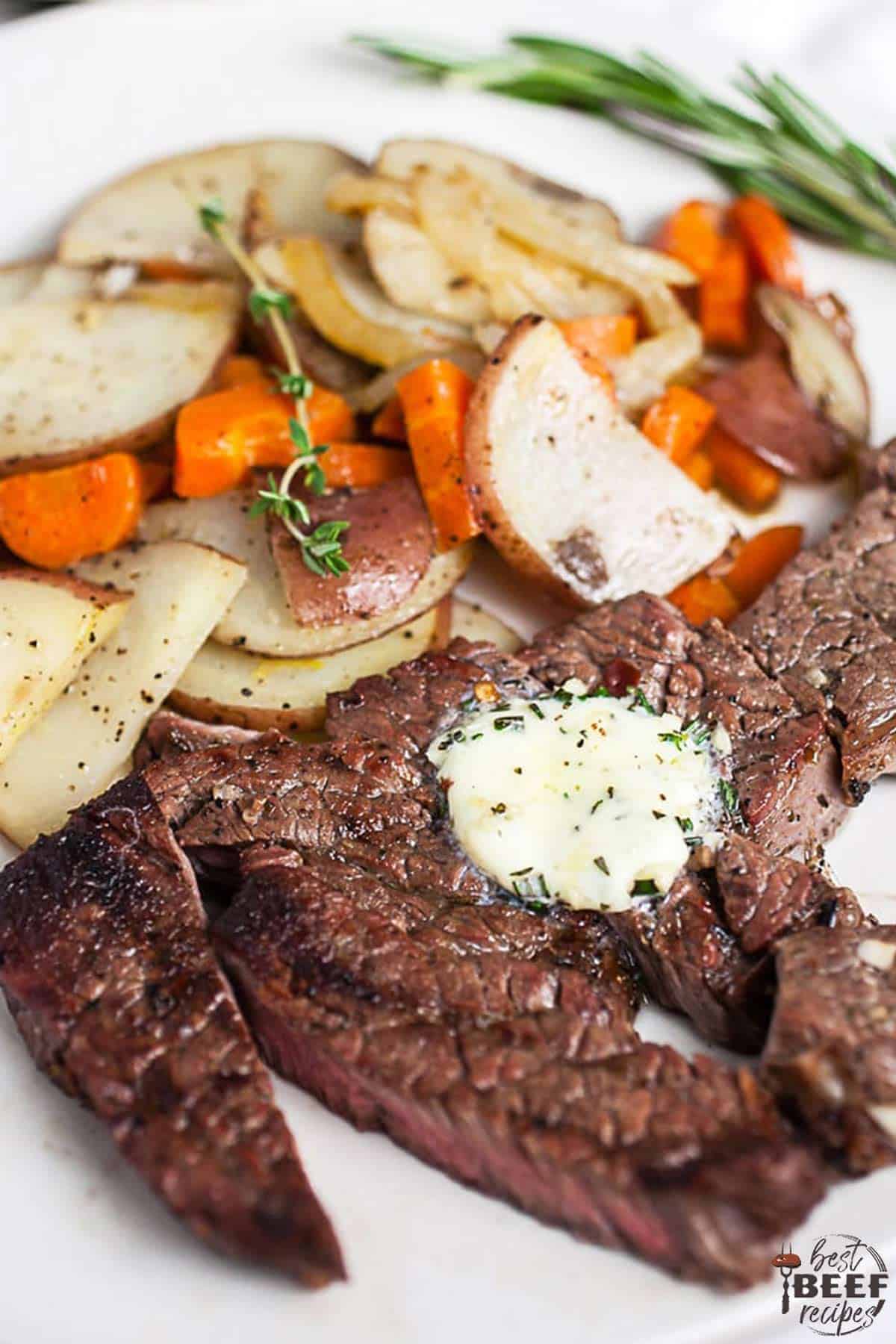 What is chuck steak?
Chuck beef is cut from the neck and shoulder section of the cow. It starts out tough, but if you cook it properly, it becomes tender, juicy, and so delicious!
Tender chuck eye steak actually comes from the same part of the cow that creates the most delicious pot roast recipes, too. Tenderize it with the perfect marinade, and you'll have a restaurant-quality dinner on a budget.
This is one of the best affordable steak cuts available, along with London Broil.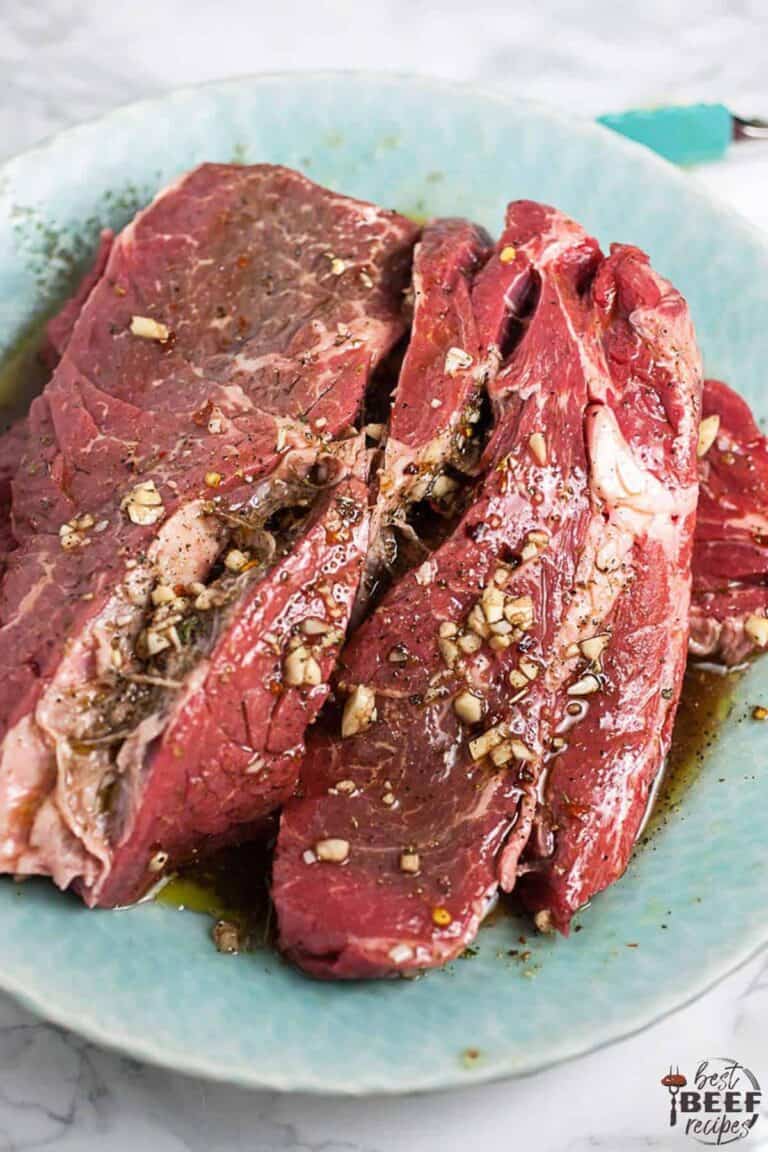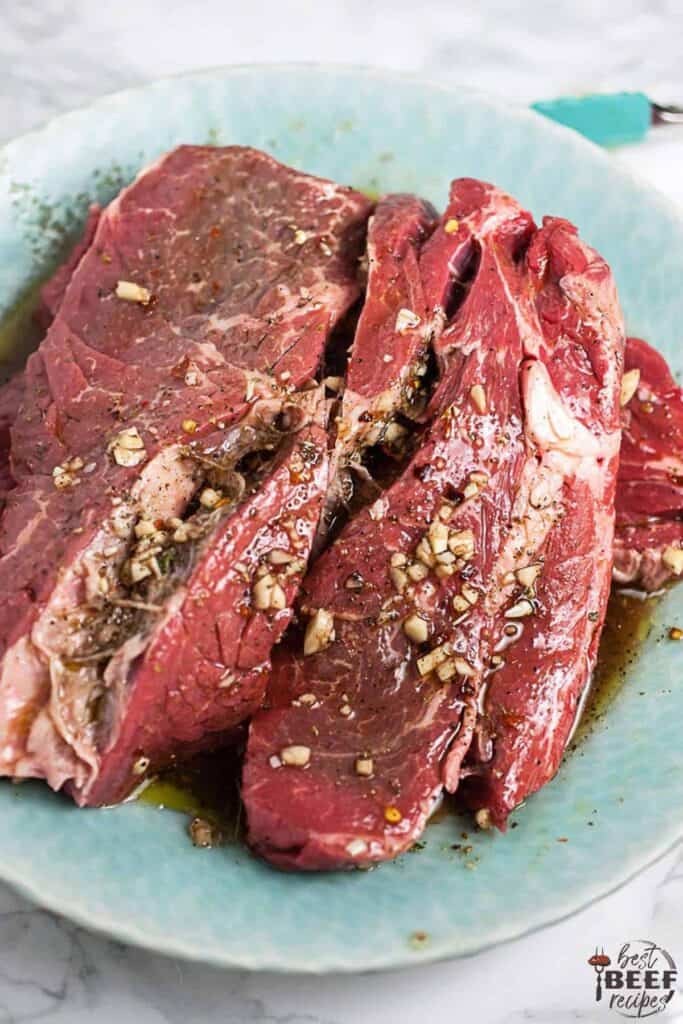 This was a great recipe, the steak turned out flavorful and tender.

Bambi on Pinterest
Types of Chuck Steak
There are several different cuts that fall under this name. These are chuck eye, flat iron, ranch, mock tender, and shoulder steak. For the best beef chuck steak recipe, use chuck eye.
Tools
Chuck Eye Steak Marinade
olive oil
red wine vinegar
garlic
brown sugar
Italian seasoning
salt and pepper
red pepper flakes
Our beef marinade gives this cut so much flavor. After letting it marinate for a full day, it grills up to juicy perfection. You can also try our Homemade Steak Seasoning.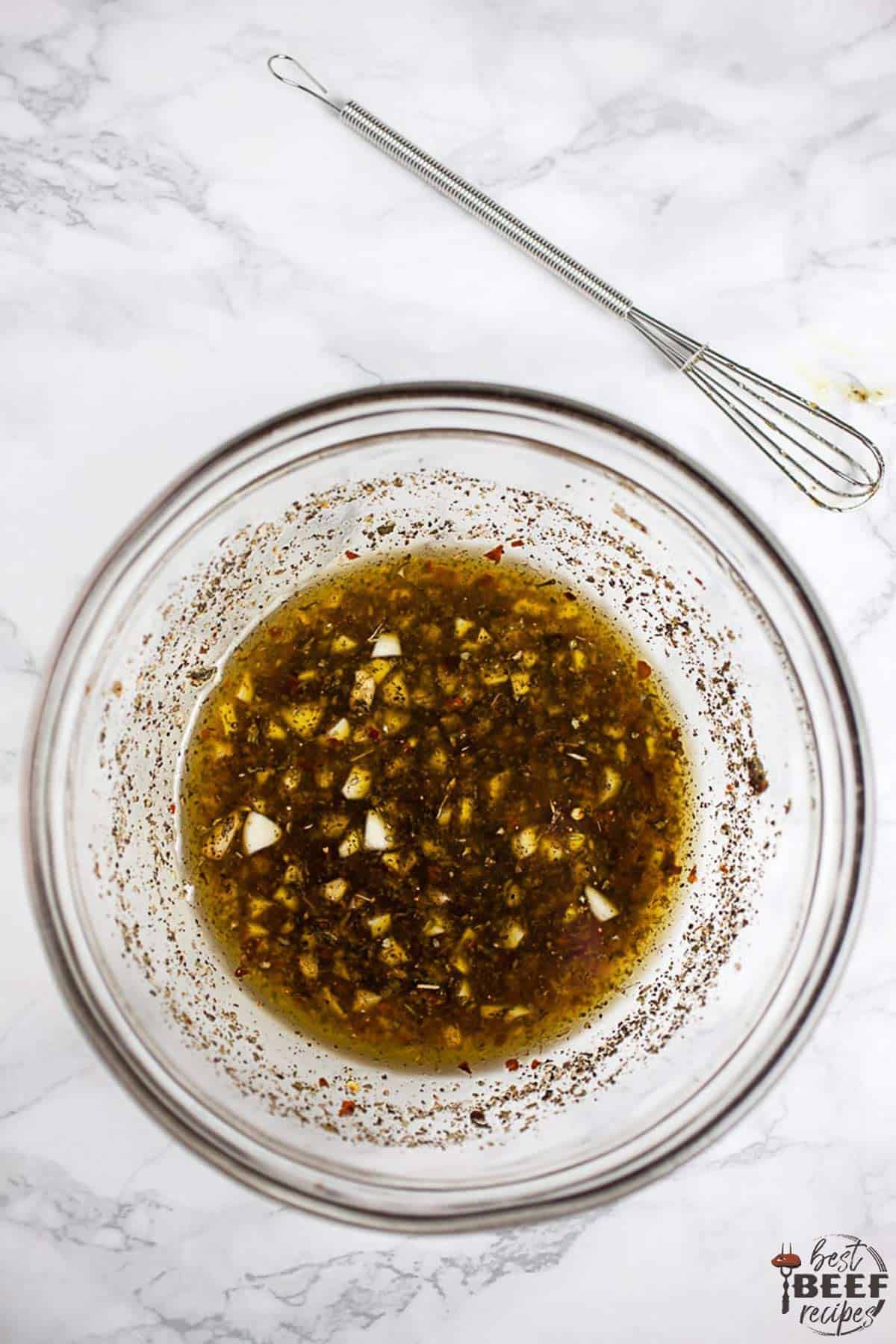 Compound Butter
garlic
thyme
rosemary
butter
Garlic butter is a delicious topping and a total must! We use garlic butter sauce on our Garlic Butter Steak Bites, and love it in this chuck tender recipe, too. Try it with Easy Chimichurri Sauce for Steak to change things up!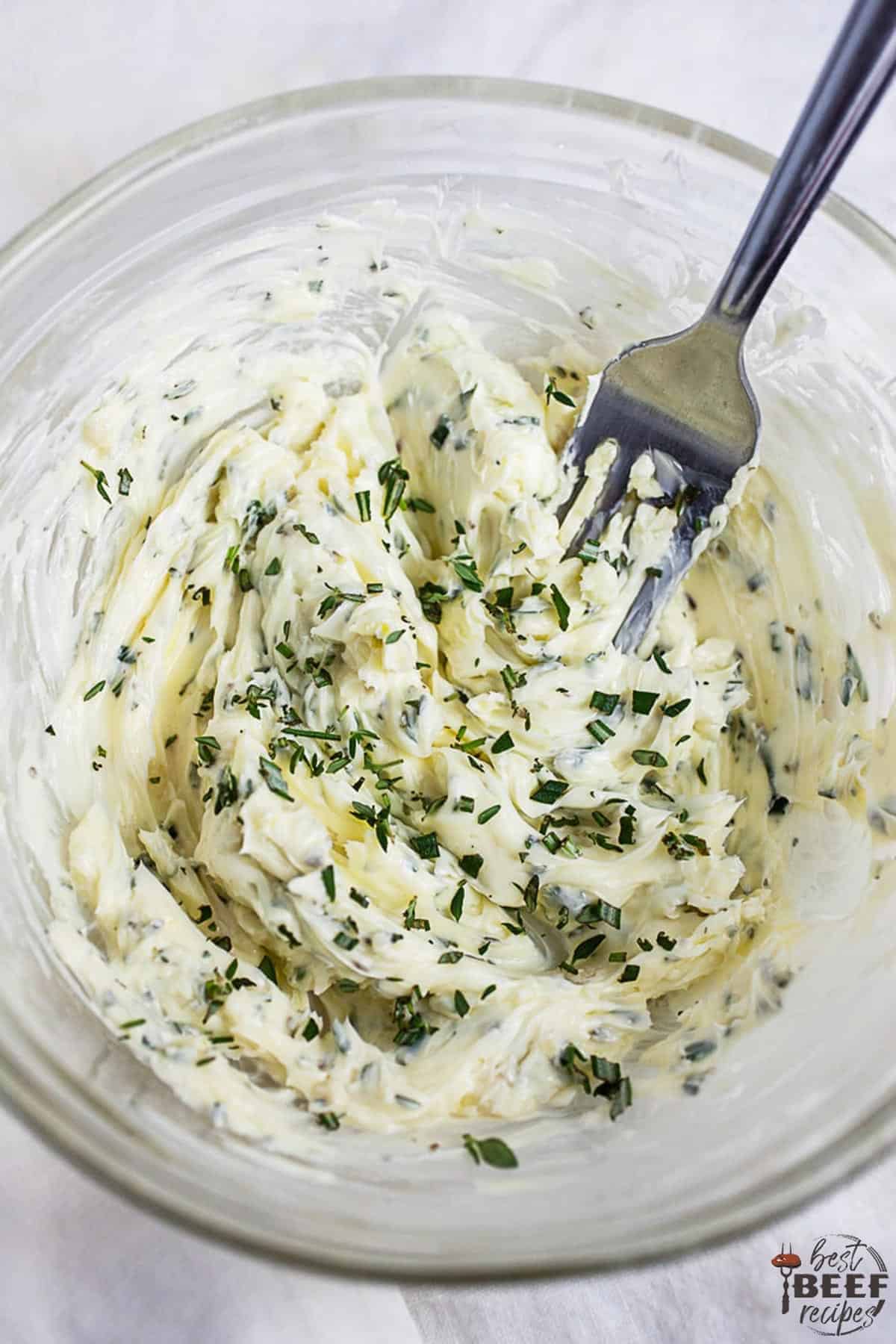 This recipe is keto friendly. Try more of our Best Keto Beef Recipes!
How to Cook Chuck Steak on the Grill
The steps are easy: simply marinate the beef, mix the compound butter, then grill it for a few minutes on each side.
Mix together your marinade ingredients and let the beef soak up those juices for a full day under plastic wrap on a plate, or in a zip-lock bag. This is the trick to perfectly tender beef, so don't skip marinating!
Bring the butter to room temperature and mix it with fresh herbs and garlic. Scrape the compound butter onto plastic wrap and roll into a log. Pinch the ends together to hold it in shape, then place it in the fridge and allow it to harden.
On a charcoal or gas grill, grill the beef for 3-4 minutes on each side, then move to indirect heat and cook until they reach your desired degree of doneness.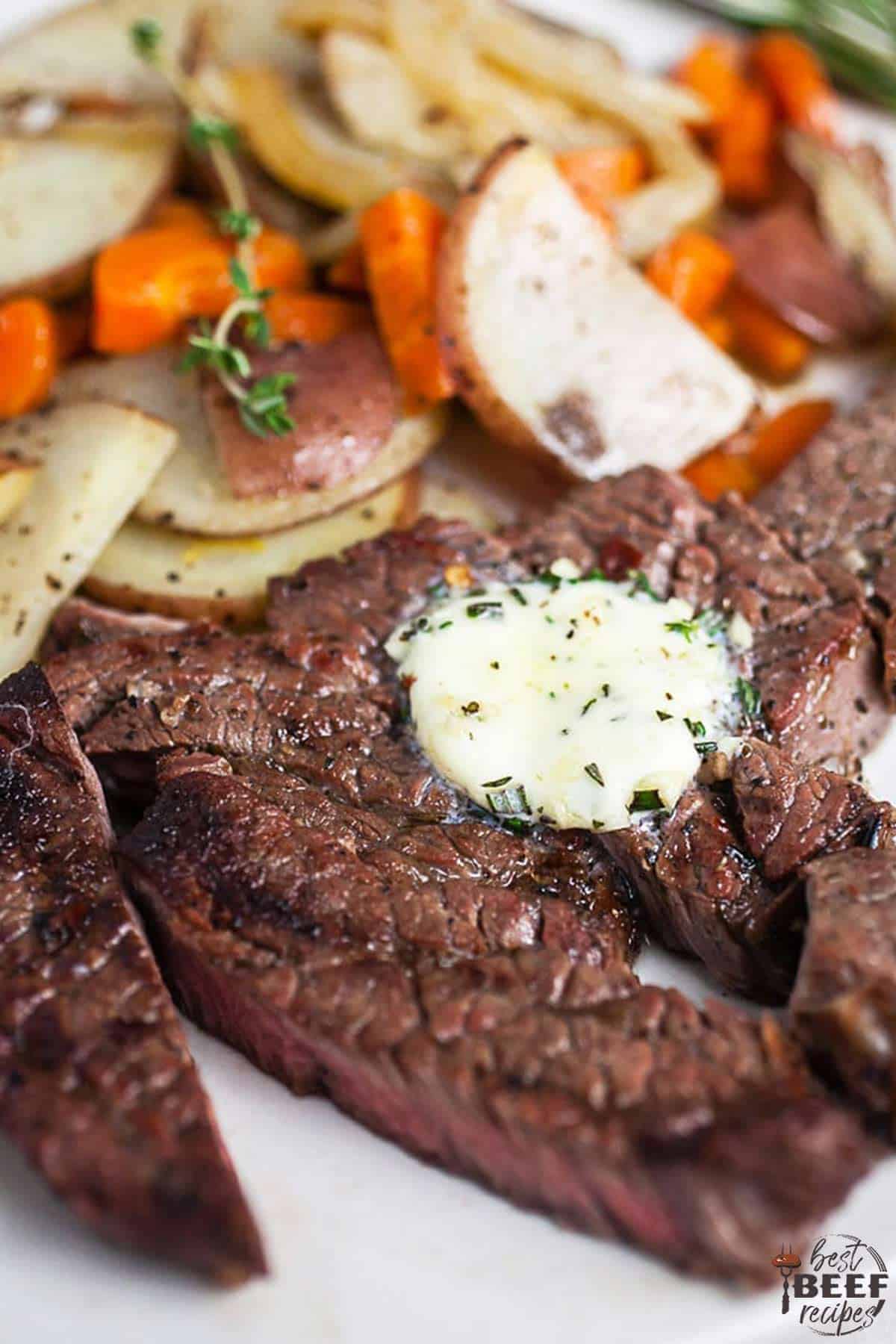 Steak Degree of Doneness
Always use a meat thermometer for grilling for best results in getting the perfect temperature. With boneless chuck steak recipes, if you overcook them, they will become tough. You want a beautiful medium-rare. Follow our Steak Temperature Chart for more info.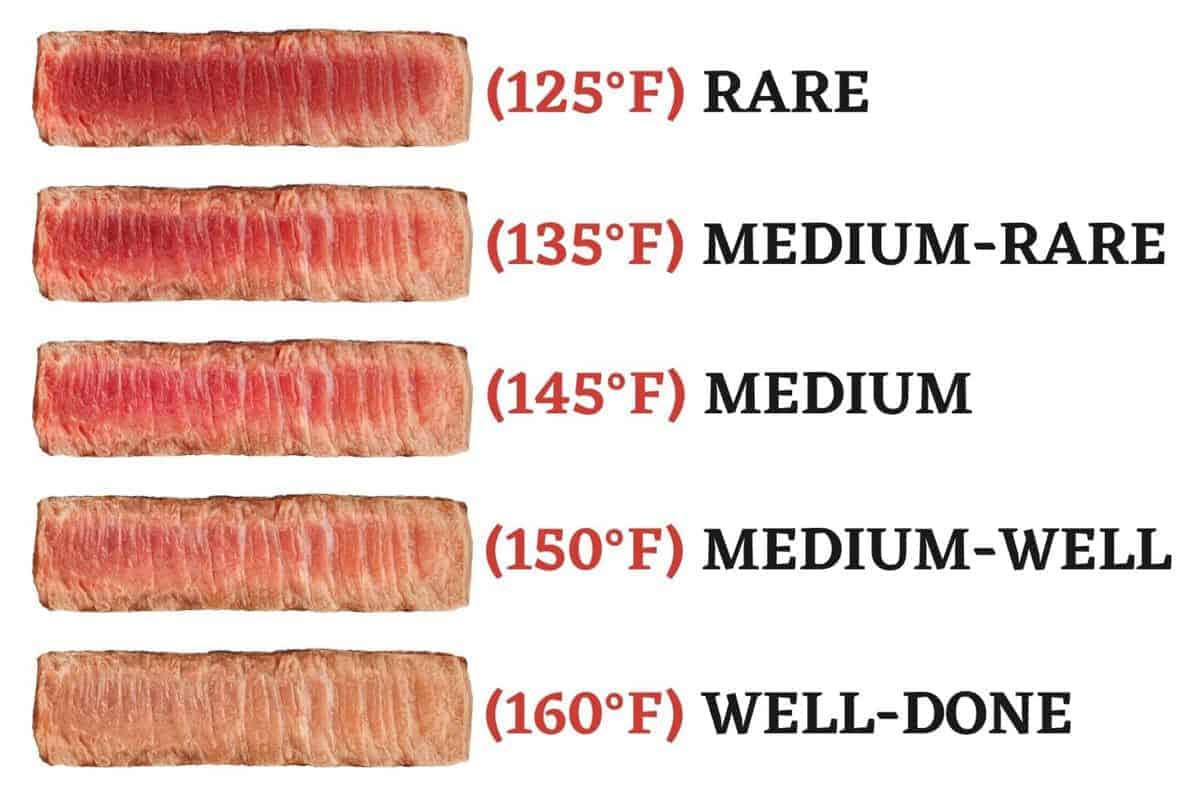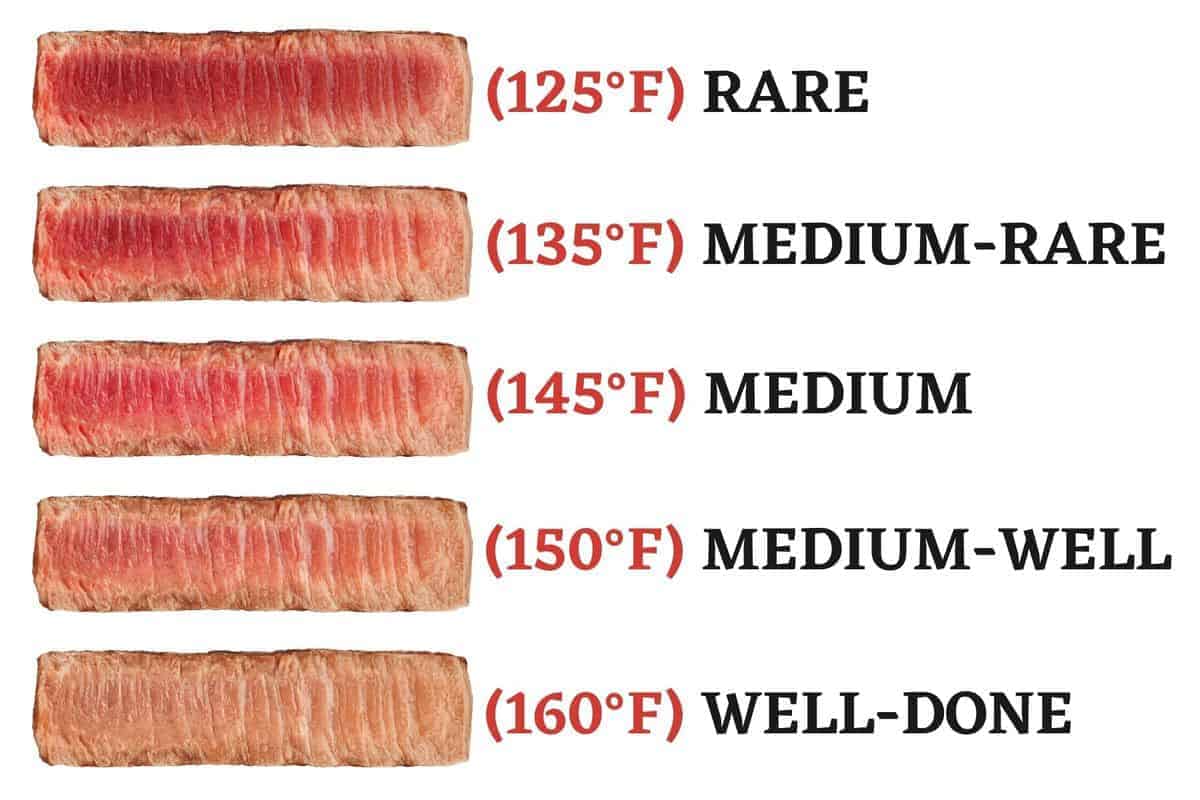 Get more delicious steak recipes by checking out our Steak Dinner Ideas!
Is this recipe gluten-free?
Yes! Everything used to make this tender steak recipe is gluten-free. It's perfect for diets of all kinds and tastes incredible. It is the perfect choice for serving at a backyard BBQ - everyone can enjoy it!
Best Steak Recipes
If you're looking for some good old-fashioned comfort food, my favorite recipe is my dutch oven pot roast! When I am in the mood to smoke, these tender short ribs are always my go-to!
You will love our Best Beef Recipes. These are the recipes that our readers turn to time and time again!
📌 Pin it for later!
Did you enjoy this page? Save it on Pinterest for later!



Check out our Grilled Chuck Steak web story!
Grilled Chuck Steak Recipe with Compound Butter
Juicy, flavorful, and tender grilled chuck steak is the perfect budget-friendly steak recipe!
Ingredients
Grilled Chuck Steak Ingredients
3

pounds

boneless beef chuck steak or chuck eye steak

4

tablespoons

olive oil

5

tablespoons

red wine vinegar

4

cloves

garlic

minced

1

teaspoon

brown sugar

1

teaspoon

Italian seasoning

¼

teaspoon

each salt and pepper

¼

teaspoon

red pepper flakes
Compound Butter Ingredients
2

cloves

garlic

minced

1

tablespoon

fresh thyme

chopped

1

tablespoon

fresh rosemary

chopped

1

stick unsalted butter

softened
Instructions
Mix 4 cloves minced garlic, 4 tablespoons olive oil, 5 tablespoons red wine vinegar, 1 teaspoon brown sugar, 1 teaspoon Italian seasoning, ¼ teaspoon each salt and pepper, and ¼ teaspoon red pepper flakes in a small bowl. Combine completely using a fork or whisk.

Place 3 pounds boneless chuck steak in a cake pan or flat-bottom pan. Pour the chuck steak marinade over the steaks and toss until completely coated.Place plastic wrap over the top of the pan and place in the refrigerator for 24 hours. Do not skip this step! 

Marinating the chuck steak is what allows it to be so tender and delicious after cooking.

Place 1 stick of room temperature unsalted butter in a small bowl. Add 2 cloves minced garlic, 1 tablespoon chopped fresh rosemary, and 1 tablespoon chopped fresh thyme to the butter. Stir with a fork or hand mixer to combine.

Scrape the compound butter onto a piece of plastic wrap and roll it into a log.

Pinch the ends of the plastic wrap together to hold the butter in shape.

Place the butter log in the fridge and allow it to harden while the steak marinates.

Heat a charcoal or gas grill. Place your marinated steaks on the grill over direct heat. Grill for 3-4 minutes per side.

Move the steaks to indirect heat, cover, and continue to grill until they reach your desired level of doneness.

 Use a grilling thermometer to check the temperature and see our chart below for degree of doneness.

Remove the steaks and place a pat of compound butter on each one. Allow the steaks to rest as the butter melts.
Notes
Always use a meat thermometer for grilling for best results in getting the perfect temperature. With chuck steak, if you overcook it, it will become tough. You want a beautiful medium-rare for grilled chuck steak.
Nutrition
Serving:
1
g
|
Calories:
1333
kcal
|
Carbohydrates:
3
g
|
Protein:
102
g
|
Fat:
102
g
|
Saturated Fat:
43
g
|
Polyunsaturated Fat:
54
g
|
Trans Fat:
4
g
|
Cholesterol:
406
mg
|
Sodium:
316
mg
|
Sugar:
1
g
Recipe and photography by Christine Rooney.